Garuda Airlines cabin crew to abandon face masks following complaints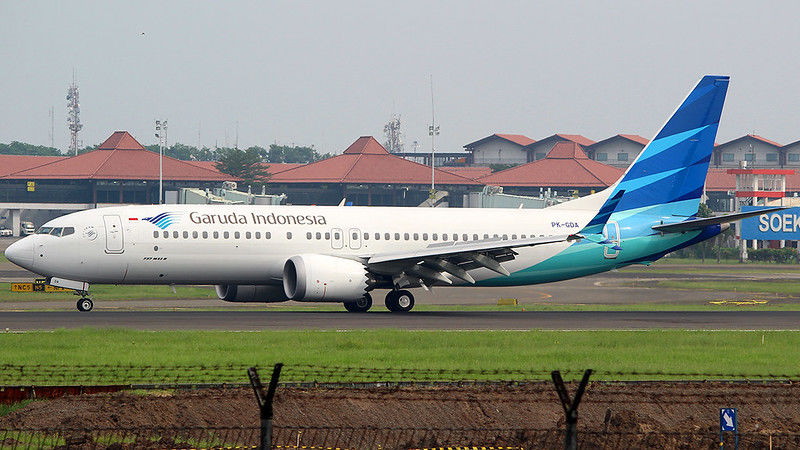 After a number of complaints from passengers (we assume male passengers), Indonesian carrier Garuda Airlines is preparing to have cabin crew ditch face masks in favour of face shields. The decision comes after some passengers said they couldn't tell if the crew were smiling, pouting, angry or couldn't care less.
In response, Garuda CEO Irfan Setiaputra says the airline will gradually move to the wearing of face shields only. Current Garuda regulations dictate the wearing of face masks for crew, in addition to face shields and gloves, as do the regulations of competing Indonesian carriers such as Air Asia Indonesia.
"Many Garuda passengers complained that flight attendants are wearing masks because the passengers can't see the attendants facial expressions. So, gradually, our flight attendants will wear only face shields."
A Coconuts report says Irfan has made controversial remarks about cabin crew having to wear personal protective equipment in the past, despite many international carriers now adopting it as standard practice.
"All those PPE make flight attendants look like astronauts. I ask, is that a hospital or an airplane?"
However, his announcement that Garuda's cabin crew will eventually ditch face masks has not gone down well on social media, with Indonesian netizens accusing the airline of risking the health of its employees because of complaints from a few passengers.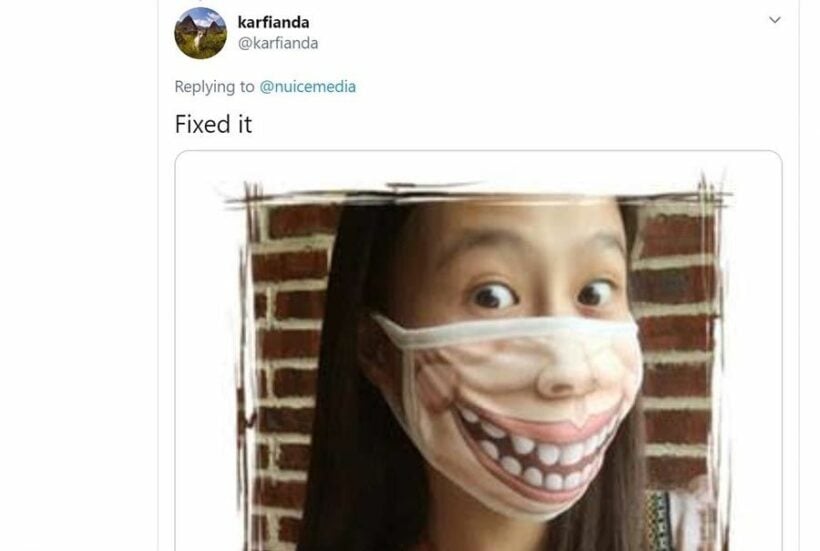 PHOTO: @karfianda/Twitter

SOURCE: Coconuts
Keep in contact with The Thaiger by following our Facebook page.
Never miss out on future posts by following The Thaiger.
Indonesian and Thai foreign ministers meet with Myanmar counterpart, seek peace after coup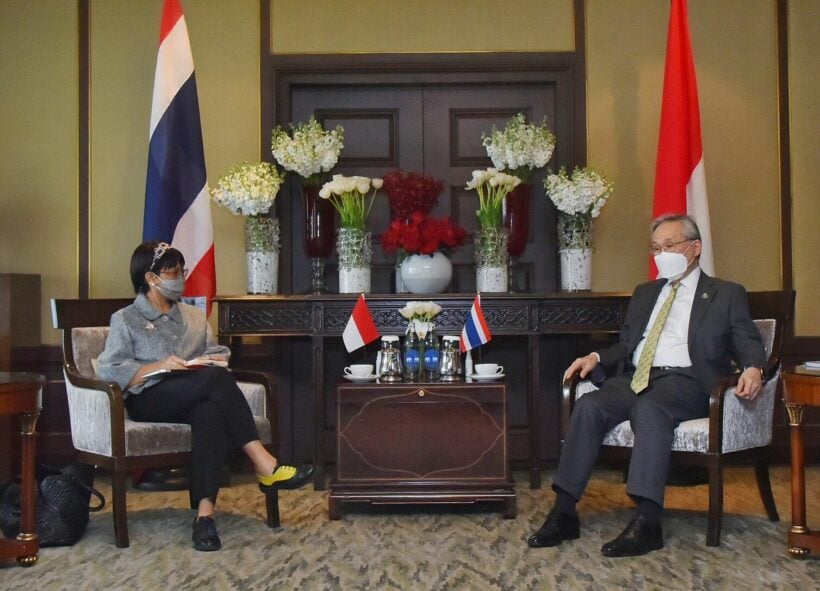 To seek a peaceful solution in Myanmar after the country's military seized power, foreign ministers of Indonesia and Thailand met with the new, military-appointed foreign minister of Myanmar Wunna Maung Lwinat at Bangkok's Don Mueang Airport for a brief, 20 minute discussion.
Both the Indonesian and Thai counterparts say they want peace, but the Indonesian foreign minister says Thailand has a "special position" to play because of its proximity to Myanmar and the number of Burmese nationals in Thailand. The Thai-Myanmar land border is 2,400 kilometres long. There are around 2 million Burmese people who live in Thailand.
With the elected civilian government pushed out and many political leaders arrested, including Aung San Suu Kyi, who won the election for state counsellor in a landslide and also served as the foreign minister, there have been daily protests in Myanmar. A strike on Monday shut a number of businesses. Burmese nationals living in Thailand have even held demonstrations in Bangkok. Some rallied outside the US Embassy in Bangkok, calling on the American government to step in.
The meeting between the 3 foreign ministers was the first overseas visit for a senior Myanmar official since the military coup on February 1. A spokesperson for the Thai Foreign Ministry, Tanee Sangrat, says the ministry insists on peace and stability in Myanmar and hopes to see the situation improve.
"It was also a good opportunity for Thailand to directly listen to Myanmar about issues that Myanmar prioritizes, as well as exchanging opinions on issues important to the people for both countries."
At a press conference in Jakarta, Indonesian Foreign Minister Retno Marsudi said she asked her Myanmar counterpart to "prioritise the safety and wellbeing" of the people. She says all 10 members of the Association of Southeast Asian Nations must respect the principles in the ASEAN Charter which outlines principles of democracy as well as protection for human rights and fundamental freedoms.
"This shuttle diplomacy is surely not easy to do during the times of pandemic, but Indonesia has to do it because there are some principles that must be respected…Indonesia chooses not to stay silent…To do nothing is not an option."
Indonesia has been pushing for a special ASEAN foreign ministerial session to discuss the Myanmar situation. Thai and Indonesian foreign ministers also discussed potentially holding an informal ASEAN meeting in August. The forum has not met in person since the Covid-19 pandemic.
SOURCE: Kyodo News
Keep in contact with The Thaiger by following our Facebook page.
Never miss out on future posts by following The Thaiger.
Mount Merapi, Indonesia's most active volcano, erupts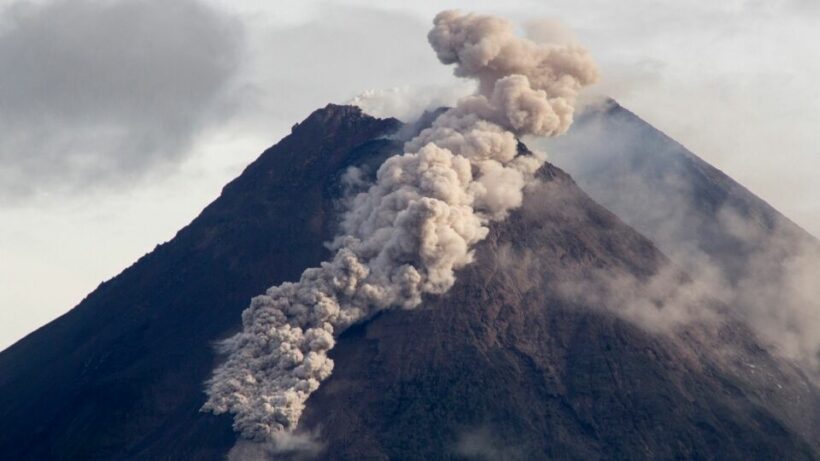 The most active volcano in Indonesia, Mount Merapi, erupted yesterday, shooting rocks and a cloud of ash into the sky and streaming a river of lava down the side. Local residents within 5 kilometres of the volcano evacuated the area due to the risk of lava flows reaching the roads. Officials say the sounds from the eruption could be heard 30 kilometres away.
Mount Merapi is a 2,963 metre high volcano on Java island near Yogyakarta. Its last major eruption was in 2010. 347 people were killed and around 20,000 residents evacuated.
The vast archipelago is on the Pacific's "Ring of Fire" and is prone to earthquakes, volcanic eruptions and tsunamis. Just a week ago, a 6.2 magnitude earthquake shook Sulawesi island, killing dozens and injuring hundreds.
SOURCE: Associated Press
Keep in contact with The Thaiger by following our Facebook page.
Never miss out on future posts by following The Thaiger.
UPDATE: At least 34 dead and 600 injured after Indonesia earthquake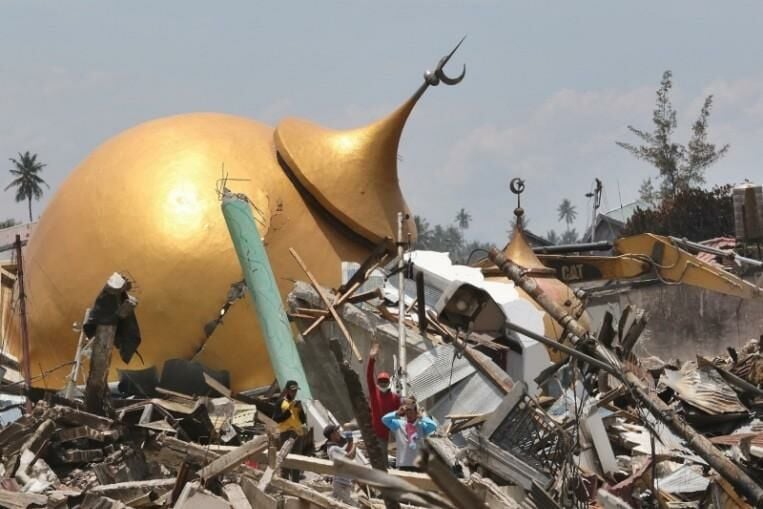 UPDATE: At least 34 people were killed after a 6.2 magnitude earthquake shook Indonesia's Sulawesi island just after midnight today. As of this evening, reports say more than 600 people were injured during the earthquake which caused buildings to collapse and residents to flee their homes in the dark.
Original story below…
Indonesian island Sulawesi was shook by a 6.2 magnitude earthquake shortly after midnight today, toppling over buildings and injuring hundreds. Reports are continuously being updated as rescuers search through rubble. As of early this afternoon, at least 10 people were killed.
Thousands evacuated their homes in West Sulawesi. The earthquake impacted the coastal city Majene where at least 3 people died and neighbouring Mamuju where at least 7 people died. Several buildings, including hotels, were severely damaged and many homes were flattened. A hospital was partially damaged and reports say more than a dozen patients and staff were trapped under the rubble. Others are trapped in rubble after their homes collapsed. A rescuer says "We are racing against time to rescue them."
Videos have been released of those crying for help. A father crying, calling out for help to save his children under their home's wreckage. In another, a girl's voice cried out from a collapsed home, saying "please help me, it hurts." The video was released by the National Disaster Mitigation Agency. Rescuers say they need an excavator to say the girl and other people who are trapped under the collapsed buildings.
The area was first hit by a 5.9 magnitude undersea quake on Thursday. It damaged several buildings, but no deaths were reported.
Since the most recent earthquake is inland, the district's disaster agency chief says it does not have the potential to cause a tsunami, but people in coastal areas ran to higher ground just to be safe.
The vast archipelago is located on the "Ring of Fire" of volcanoes and fault lines, prone to earthquakes, volcanic eruptions and tsunamis.
SOURCE: Associated Press
Catch up with the latest daily "Thailand News Today" here on The Thaiger.
Keep in contact with The Thaiger by following our Facebook page.
Never miss out on future posts by following The Thaiger.