Formal complaint made about Phuket OrBorTor chief for inaction over environmental issues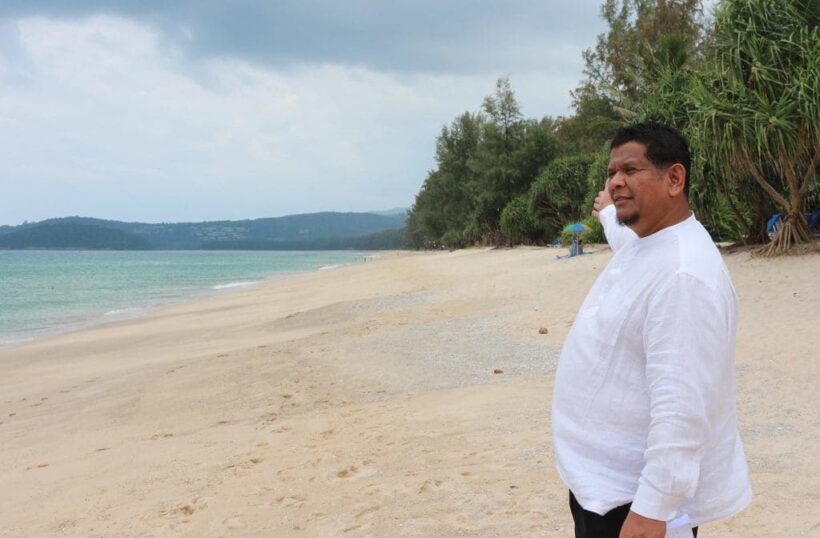 Danai Yardee and Chamroon Kerndum, representing a group of Phuket environmental groups, have made a formal complaint against Cherng Talay President Ma 'Ann Samran. The complaint calls for investigation into the construction of an anti-erosion sea wall at Surin Beach, unfinished wastewater treatment plants and alleged tampering of evidence.
A report by IsraNews.org says they've filed a complaint with Department of Special Investigation and National Anti-Corruption Commission officials in Surat Thani.
One of the complaints alleges possible corruption in the 350 million baht wastewater treatment construction project that serves Surin and Bang Tao beaches on Phuket's west coast. The plant, discussed and planned over many years, came into action three months ago but has not appeared effective at preventing wastewater flowing into the beaches.
The high profile tambon President has made excuses for a decade about the untreated blackwater flowing, very publicly, into the two beaches and recently even conceded that the new plants would be unable to treat all the wastewater generated in the area.
Recent Thaiger report HERE.
The complaint also alleged negligence that could be responsible for damage to Phuket's environment.
Meanwhile the unfinished anti-erosion sea wall at Surin Beach, with a published budget of 12 million baht, remains unfinished after 18 months of stalled works.
Read more about that story HERE.
It's not the first time the long-serving Cherng Talay President has come under fire. Four years ago a Phuket judge dismissed a 10 million baht "dereliction of duty" lawsuit.
The Public Prosecutor Jessada Banditmongkolkul said at the time, "The case was dismissed due to lack of evidence. Additionally, Mr Ma 'Ann had followed all legal procedures during the eviction and demolition process."
The owners of two establishments, Beach Bar and Paul Restaurant, located on Laypang Beach, claimed that Mr Ma 'Ann had ruined their businesses by forcing them to close.
The President also came under fire from the Phuket Governor at the time for inaction over the eviction of illegal Layan Beach coastal businesses following a Supreme Court eviction order.
Read more about that story HERE.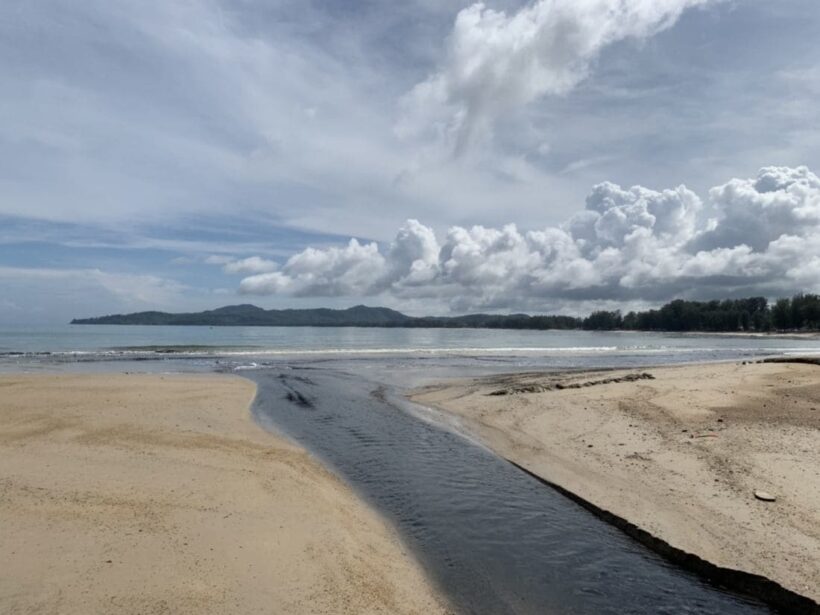 Another sea turtle saved from a random trawling net in Phuket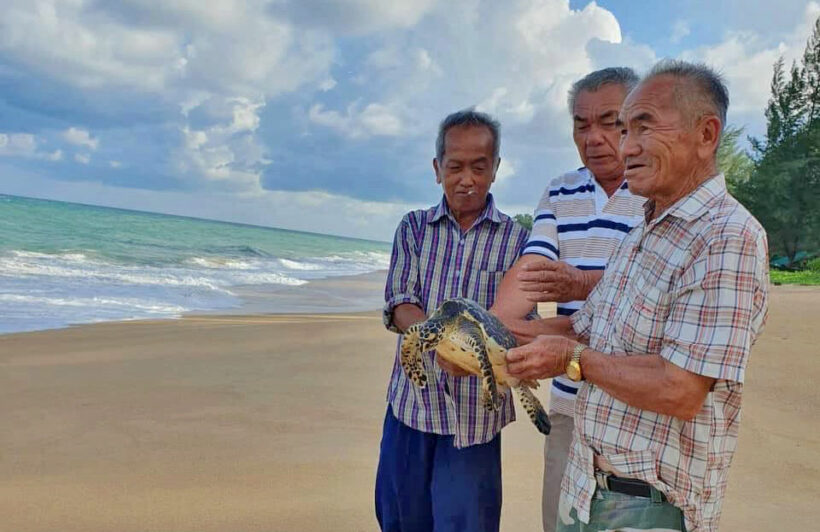 PHOTOS: Andaman Flying Tiger
Today (July 15), local seniors have discovered a sea turtle trapped inside an old fishing net (trawl) at Mai Khao beach along the northern west coast of Phuket. The turtle was luckily uninjured and was rescued, then released back to the ocean.
Excellent photos from Andaman Flying Tiger.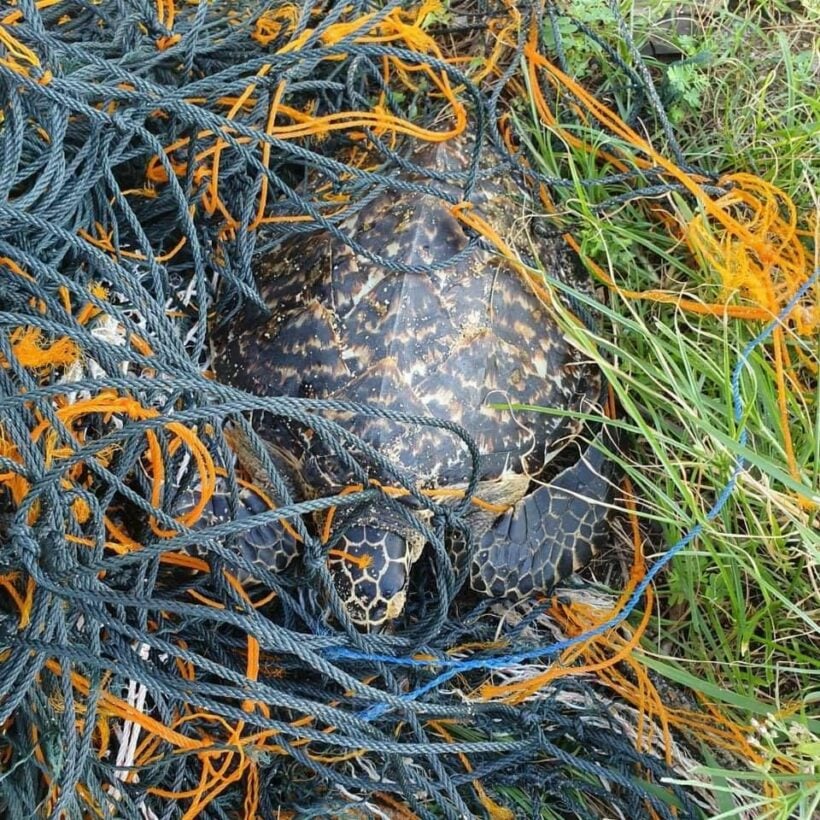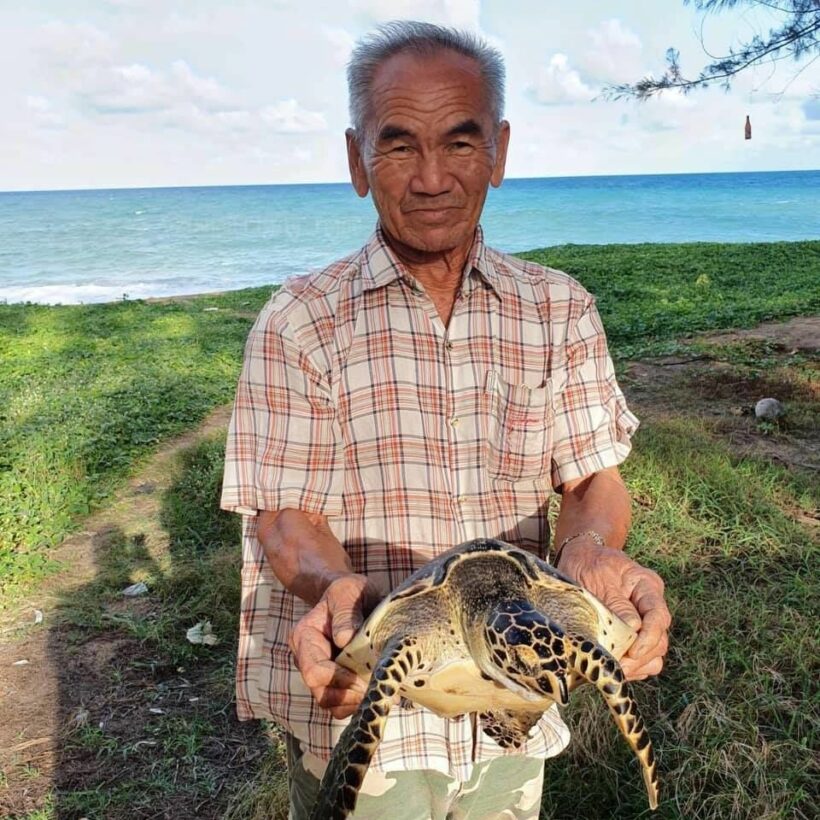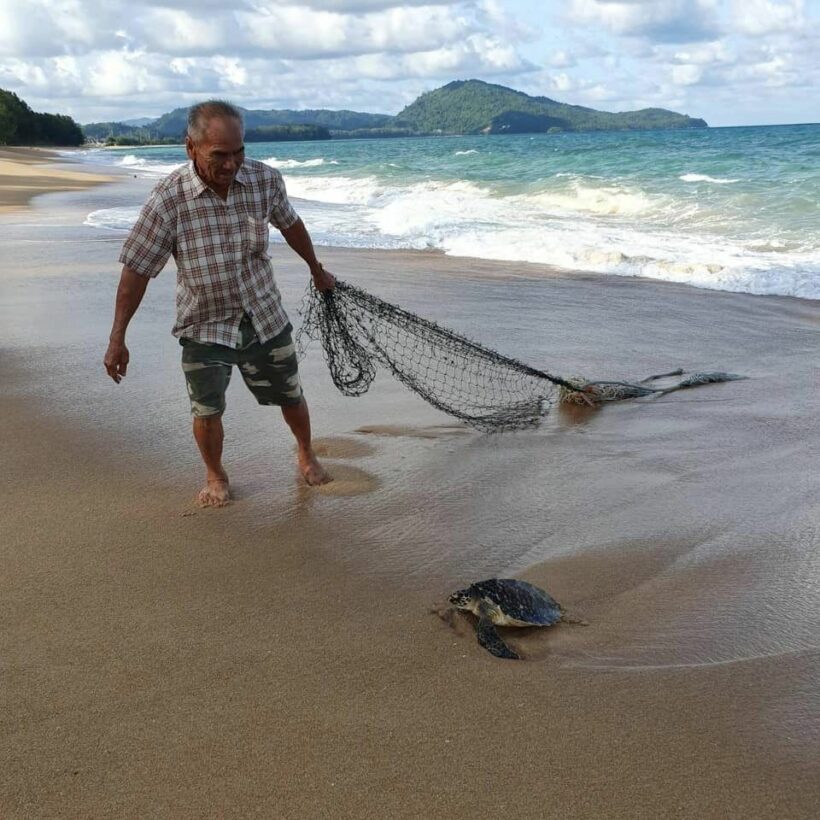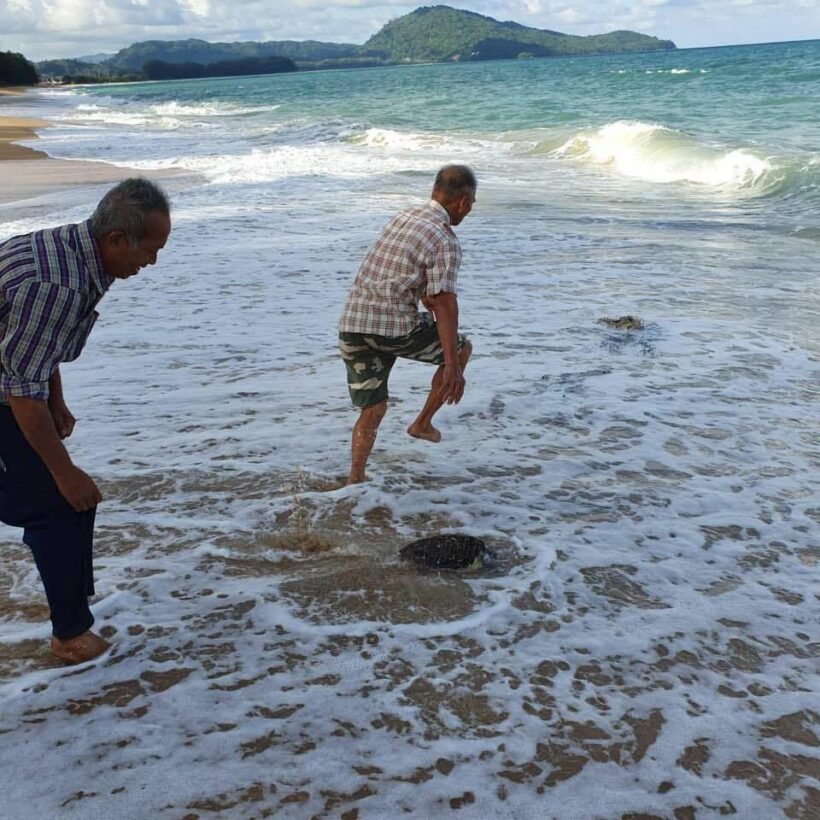 Fishermen find dead leatherback turtle on Saun Son beach, Rayong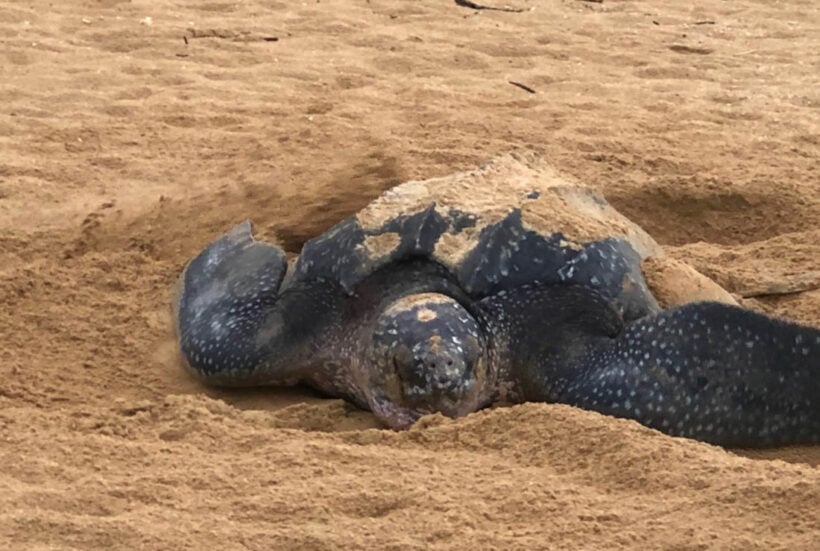 PHOTO: Department of Marine and Coastal Resources
A group of fishermen in Rayong, eastern Thailand, found a dead leatherback turtle on Saun Son beach in Rayong province on Friday.
Department of Marine and Coastal Resources officials estimate the dead turtle was about 10 years old and 79 x123 centimetres in size. The remains were already in a bad condition with the front left foot missing, two deep cuts on its upper back and one on the head. The parallel cuts are believed have been caused by a boat's propeller. No microchip was found in the remains.
They also discovered some jellyfish, nine plastic bag pieces and other plastic waste in its stomach. It was apparent that the animal had not been eating well for some time, possibly as a result of ingesting the plastic.
They believe the death, however, resulted from the injuries sustained from the boat propeller.
DMCR officials say they found signs of bleeding in its respiratory system and a blood clot in its left lung, which indicated that it had bled to death.
Leatherback turtles are now a protected species in Thailand, following an announcement on May 29, along with Bryde's and Omura's whales and the whale shark.
ORIGINAL STORY: Thai PBS
Visiting time to see baby dugong Mariam is now restricted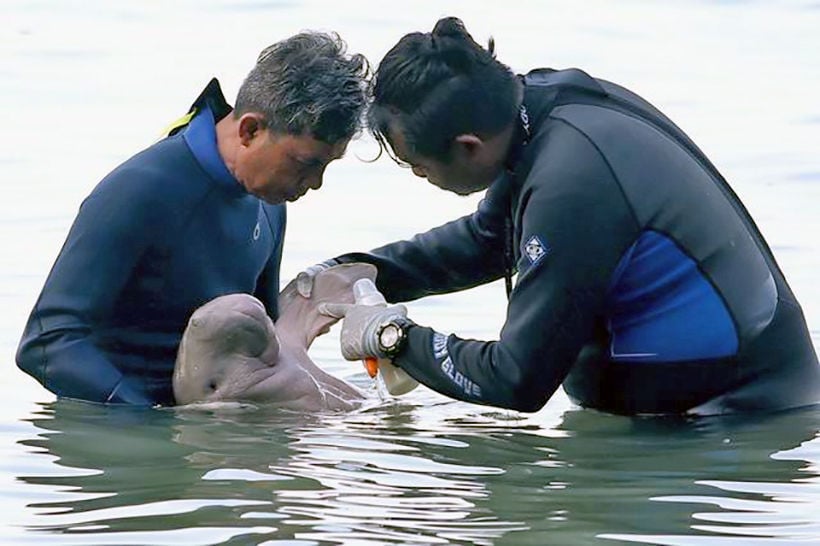 Tourists and local well-wishers are flocking to get a glimpse of 'Mariam'. She's become an internet hit. But that's also caused other problems.
The high number of Thai and foreign tourists heading to Duyong Bay in Tambon Koh Libong in Kantang district, Trang, to watch officials looking after seven month old orphan dugong Mariam is prompting authorities to issue regulations to regulate their numbers.
Mariam became an internet sensation after being rescued in Krabi province on April 29 and placed under care in a dugong conservation area at Koh Libong. She became the new face of sea conservation and is helping boost public awareness on the extinction risks faced by some 300 dugongs in Thai waters.
Mariam is the first baby dugong in Thailand raised by humans in a natural environment and her activities, especially a bird's-eye view of a volunteer cuddling Mariam in the sea, went viral.
The Department of Marine and Coastal Resources has set up cameras for live broadcast of Mariam's life but tourists said they would like to have a chance to see the baby dugong with their own eyes.
The high number of tourists prompted the department's officials at the site to hold a meeting where they resolved to allow only 30 tourists at a time to enter the restricted zone to get up close and personal with the title pink mammal. Operators of group tours are now also required to inform the authorities in advance of the arrival of their tourists.
The authorities sought cooperation from operators of resorts and tuk tuk drivers to inform tourists not to make noise when they visit the site. The officials said the baby dugong has gained two kilos, going from 30 to 32kg and the authorities have extended the milk feeding period to 10 pm.
SOURCE: The Nation