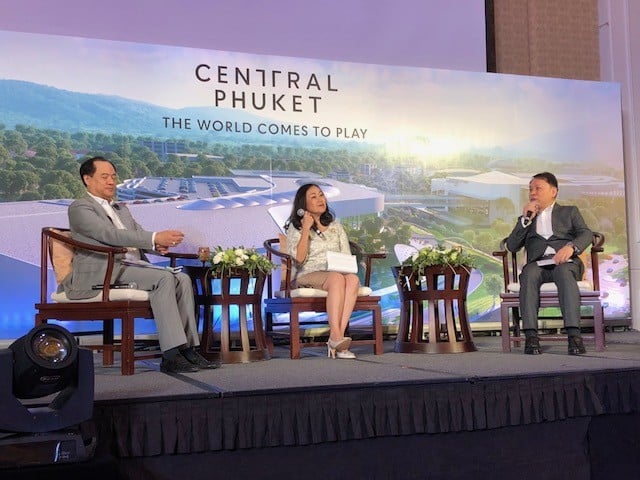 The new Central Phuket is set to open its doors on September 10. The announcement was made at Centara Grand Beach Resort, also owned by the Central Pattana Group.
The concept of the new shopping centre, twice as big as the current Central Festival, is 'The World Comes To Play'. The new complex will feature 20 of the world's biggest luxury brands and three new attractions – 'Tales of Thailand', 'Tribhum – the world's first 3D walkthrough adventure park' and 'Aquaria – a modern format Aquarium'.
The shopping centre is also moving beyond just shopping experiences with a new 'Star Catcher' entertainment show which is described as an 'innovative live performance 360 degree theatrical experience'.
Central Phuket claims its customers will be coming from a 50/50 mix – 50% domestic and 50% international visitors.
Central Pattana says the new shopping centre will help to stamp Phuket, internationally, as on of the world's best 'complete' beach destinations to rival the French Riviera, Miami and Hawaii.
The Group have also announced that the new Central Phuket will be CPN's first model for full-cycle waste reduction saying that they will have a complete system to reduce waste and separate and recycle rubbish. They say that they will be encouraging shoppers to use cloth bags and reduce the use of plastic bags.
There will be room for 4,200 cars, 4,800 motorbikes and 62 buses at the new Central Phuket
Central Pattana also announced this morning that they will be doing some major refurbishment of the current Central Festival. The two shopping centres are linked by a sky-bridge.