Video: Rare, endangered mammal safely rehabilitated in Phuket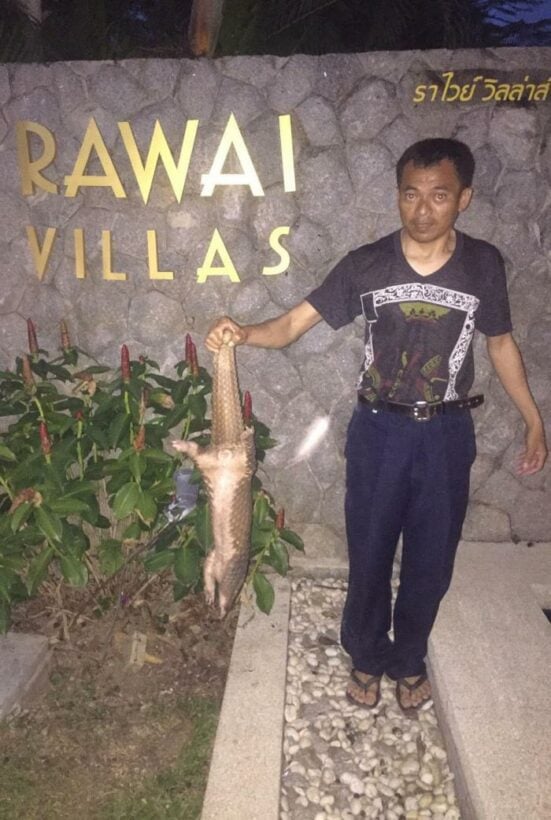 PHUKET: A night guard working in Rawai discovered a rare and endangered mammal early yesterday morning, and quickly sprang into action to protect the creature from harm.
Guard Sanya Ritto noticed a creature in the undergrowth during one of his security rounds at the Rawai Villas development. Recognizing it as a Sunda pangolin, he approached it. However, following its natural instincts against predators, the pangolin wrapped itself into a tight ball.
Mr Sanya grabbed it by its tail and delivered it to the estate, informing the estate manager, Sorapan Ruffier, of his discovery.
Working quickly to make the creature as comfortable as possible, another guard, named Rungroj Jaengmeg, built a temporary enclosure for it and dug up ant hills to feed it.
"Such was his concern for the animal's well-being that he didn't realize he was being bitten all over his arms at the time," Rawai Villas estate developer Bob Windsor told the Phuket Gazette.
"I've named him Houdini, after he amazed us by using his strong claws and tail to escape from a dog cage built to contain a 16kg animal."
Mr Windsor and his team at the estate contacted the head of the wildlife department to seek assistance in finding a suitable area for it to be relocated. They were introduced to the Ton Sai Waterfall nature reserve, where the creature has now been housed.
"We are all very proud and appreciative of our group of guards and their efforts to save and protect this beautiful creature. We hope it will live safely for many years and find a partner to expand its very endangered species, so future generations will be able to enjoy the natural wonders of our world," said Mr Windsor.
Pangolins are currently among the most heavily poached and exploited animals, hunted for their skin, scales, and meat, which are used in manufacture of clothing and traditional medicine. Unlike other mammals, they don't have hair on their body, but instead have scales made of keratin.
There are eight species in total; four in Africa and four in Asia.
Despite enjoying protected status globally, illegal international trade, largely driven by Chinese and Vietnamese buyers, has led to rapidly decreasing population numbers, making it a 'critically endangered' species, according to the 'International Union for Conservation of Nature'.
The International Union for Conservation of Nature Species Survival Commission (IUCN-SSC) Pangolin Specialist Group estimates that more than a million pangolins have been snatched from the wild in the past decade.
— Sahar Aftab Paliwala
Keep in contact with The Thaiger by following our Facebook page.
Never miss out on future posts by following The Thaiger.
The Area Hotel Quarantine – tweaking Thailand's arrival options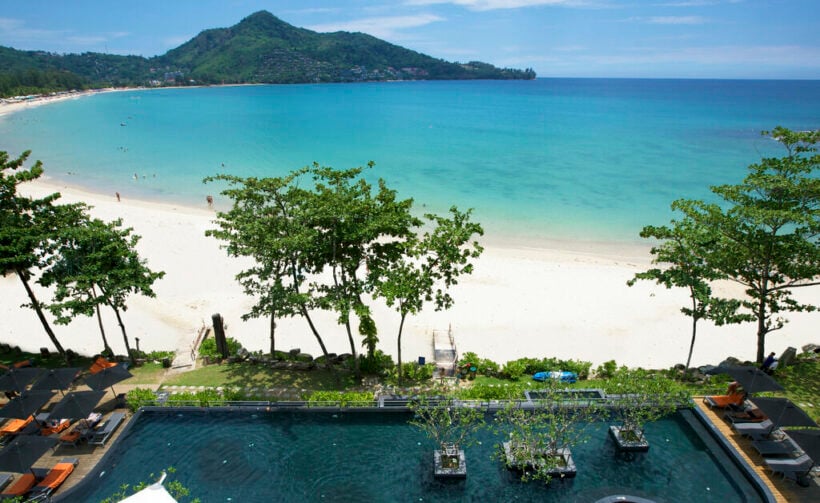 We spoke about the new proposal for an Area Hotel Quarantine last Friday and in Thailand News Today. The mandatory 14 day quarantine (magically extended a couple of days at many facilities at the foreigner's cost) remains the key sticking point for the return of tourists or travellers, in any significant or useful numbers. A number of visas and quarantine programs has done little to increase the numbers of foreign arrivals to Thailand.
The proposal, leaked out as a 'discussion' pending cabinet talks and a final decision, has not received much support from the overseas community that are trying to travel to Thailand, or former expats that are trying to get back. Many of the comments believe the 14 days, even restricted to a larger set of walls, is still too restrictive, costly and inconvenient.
"It would also be nice if the two weeks quarantine was not part of the visa! You get a two month visa minus the two weeks."
"It's still a prison if you can't get out. Voting with my feet"
"There's just not going to be any tourism until Thailand stops this 14-day quarantine nonsense."
The proposal allows guests to leave their hotel rooms after the first 3 days of a 14 day stay. The proposal is on the agenda for the next CCSA weekly meeting. The proposal was mooted at a meeting last Thursday and chaired by Thailand's Tourism and Sports Minister Phiphat Ratchakitprakarn.
After the first 3 days, guests would have another swab test before being able to spend the remaining 11 days meandering around the rest of the hotel complex (so, suddenly, REALLY large hotels in great locations become much more attractive). But they wouldn't be able to leave the hotel property.
The Area Hotel Quarantine is being seen as an accommodation for the hardest hit tourist zones in Thailand – Chiang Mai, Phuket, Krabi, Surat Thani (the 3 islands of Koh Samui, Koh Pha Ngan and Koh Tao) and Chon Buri (Pattaya). In all cases the key tourist zones are desperate for the government to ease restrictions or do something… anything… to help boost travel to the battered tourist economies that rely, mostly, on the visits from tourists.
After the 14 day AHQ the visitor will be free to travel anywhere around Thailand.
Last Thursday's conference call says that Ministers are trying to come up with ways to start re-opening up Thailand to more travellers from next month by expanding the options and slowly easing restriction.. They also want to re-open talks with neighbouring countries and other countries deemed 'low risk', or with high vaccination uptake, with travel bubble options, hopefully by May.
About vaccinations, the government is also considering plans to have a no-quarantine option for visitors to come to Thailand as long as they've been vaccinated. But the Public Health Ministers says they are looking at the lead from the World Health Organisation about how to administer this sort of 'vaccine passport' access as there needs to be a greater body of knowledge about the efficacy of various vaccines. The International Air Transport Association is also in discussion with airlines and governments about restricting access to international travel for people who have been vaccinated.
It was also disclosed this week that some foreigners in the first batch of golf quarantine, where they have to stay in their room for 3 days then can roam around the golf course and play golf, have tested positive for the coronavirus after the test on the third day of their stay. Another batch of Villa Quarantine tourists, visiting Phuket at the end of February, have all returned negative test results.
SOURCE: Bangkok Post
(The hotel depicted in the main photo may, or may not, be associated with the Area Hotel Quarantine program)
Keep in contact with The Thaiger by following our Facebook page.
Never miss out on future posts by following The Thaiger.
2 Phuket Town nightclubs shut down after allegedly violating multiple laws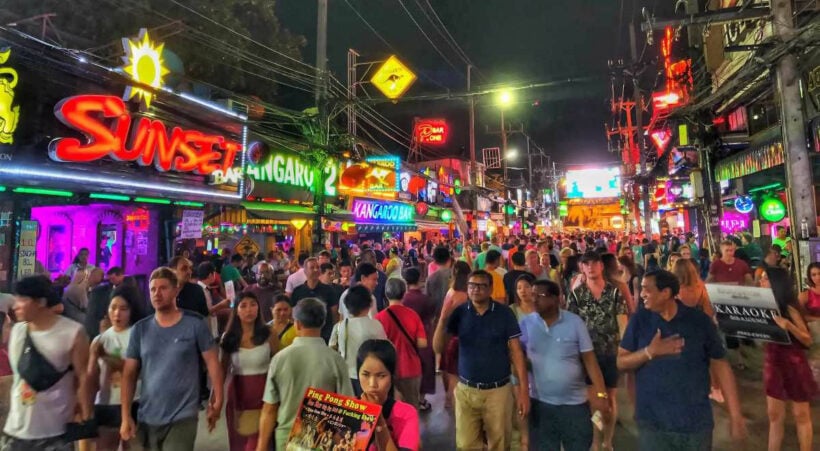 2 Phuket Town nightclubs are shutting down after allegedly violating multiple laws. The Maldives and H20 on Lim Sui Ju Road, on the south end of Phuket Town were ordered by the Phuket Governor to close immediately, with the Maldives being ordered to close for 5 years.
The order comes after the Phuket City Police inspected the Maldives club, arresting the manager for operating an entertainment venue without a permit, allowing people under 20 years old to work or "use services in the venue," and for selling alcohol without a permit.
Governor Narong cited his authority under Section 4 of NCPO order 22/2558 to order the Maldives nightclub to be closed for 5 years, from March 5, 2021 to March 4, 2026.
The order also prohibits the operators from opening any other entertainment venues during the same period. The H20 nightclub was ordered to close by a provincial order after Phuket City Police say they inspected the venue and charged the operator for selling or providing shisha, or baraku, without permission.
The owner was also accused of operating an entertainment venue without a permit and violating the provincial order for enforcing Covid-19 safety measures. But it is unknown what penalties were handed down to the operator of the H20 nightclub, unlike the Maldives operator, who received a penalty.
Instead, the governor cited the Revolution Council announcement of 1959, to shut down the establishment for 30 days from March 5, 2021 to April 3, 2021. The orders noted that both operators of the clubs have the right to appeal the closures, having 15 days to file an appeal directly with the Phuket Governor.
Meanwhile, Phuket is set to open its doors to vaccinated, international tourists by October, pending the government's approval. The local government's initiative, named Phuket First October, proposes vaccinating a majority of its population over 18 years of age in time for the high season.
The move would allow thousands of vaccinated Europeans to enter Thailand, while locals would be protected from the virus symptoms.
SOURCE: The Phuket News
Keep in contact with The Thaiger by following our Facebook page.
Never miss out on future posts by following The Thaiger.
Early morning drug busts in Phuket yield 9 arrests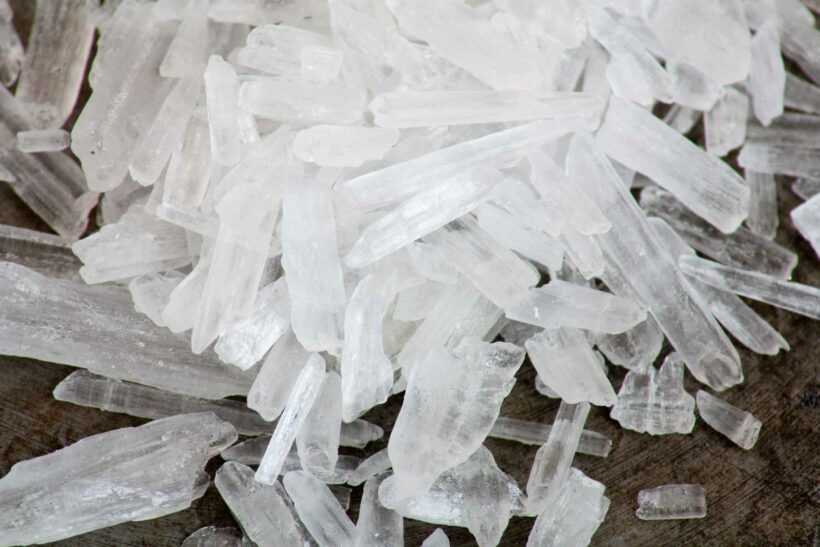 An early morning drug bust in Rawai, Phuket has yielded 9 arrests. The first raid yesterday consisted of 30 task force members who raided a sea gypsy shack near the beachfront in Rawai.
43 year old Saroch Homhuan, and 34 year old Juree Bangjak, were arrested and charged with posession of a Category I drug with the intent to sell, after police found 9 pills of methamphetamine, or yaba in Thai, over 6 grams of crystal meth, or ya ice in Thai, and 3 other "items of evidence."
31 year old Suriyan Na Takuathung, and 29 year old Prathip Areerop, were arrested and charged with possession of a Category 1 drug with intent to sell, and possession of a Category 5 drug respectively. Police say they found 20 pills of methamphetamine, 0.92 grams of dried marijuana and 5 items of drug paraphernalia.
Police also raided 2 houses in Moo 2, arresting 5 suspects, named as 21 year old Vikrom Kongwiriyakul, 32 year old Narunat Chanthamuwong, 18 year old Chanchai Damrongkaset, a woman named Chantha Hansaithong, and 21 year old Warut Rodphan.
Warut was allegedly found with a bottle containing 500 millilitres of kratom juice. Police also say they seized 150 grams of kratom leaf dregs which are used to boil leaves in order to make the juice. Police charged him with posession of a Category 5 drug.
Police say they confiscated a total of 13 litres of kratom juice from 4 other suspects, which was contained in 10 bottles along with other ingredients and equipment to produce the drug cocktail called '4×100.'
All 9 suspects were taken to the Chalong Police Station in which only 1 agreed to undergo drug rehabilitation.
The raids come after the Phuket Provincial Government ordered officers of the Muang District Office to target villages where drugs are prevalent. A spokesman for the government said police will continue to remove drug traffickers from the community while working to improve the quality of local people's lives so they don't have to use drugs anymore.
SOURCE: The Phuket News
Keep in contact with The Thaiger by following our Facebook page.
Never miss out on future posts by following The Thaiger.