Thousands pawn valuables to cover back to school costs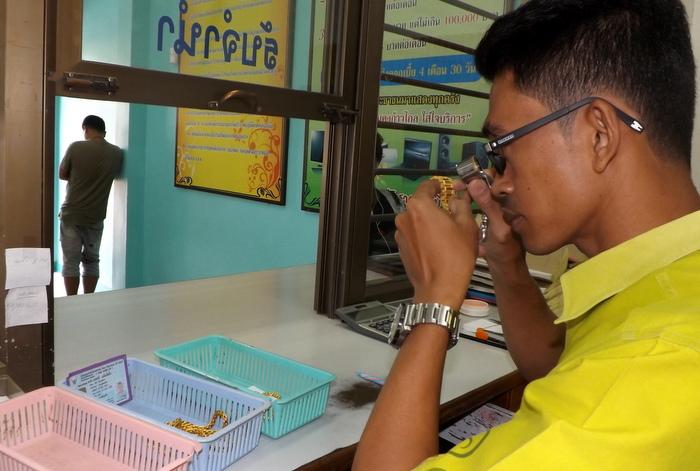 PHUKET: Phuket's pawn brokers said transactions on May 10 totalled nearly 12 million baht, as families pawned valuables to cover their children's school costs.
Phuket City Municipality Pawnshop representative Apirat Chaiyakul said transactions between May and June are expected to increase by as much as 30 per cent over last year.
Mr Apirat said his store will do around 180mn baht in total transactions this year, mostly with items such as gold jewelry, watches, TVs and cameras.
"In order to help parents who need money for their child's education, we are thinking of implementing a discounted interest rate policy for this demographic," Mr Apirat said. "The customers would bring the school fee receipt and would only get a one per cent interest rate, down from our current 1.25 per cent rate."
Nida Sengsuda, together with her six-year-old granddaughter, Kuntida Maimung, was one of those customers at the Phuket City Municipality Pawnshop.
"She is studying at Kanchanawat Witthaya and the total expense per term is about 13,000 baht," Ms Nida said. "We have to pay twice a year and her mother doesn't have enough money, so I have brought my gold here."
"We do this twice a year, every year, as we cannot earn enough money by the time we have to pay for the school terms and other expenses. Normally, we try our best to get enough money to buy our gold back within a few months," she added.
Another woman, who wished to remain nameless, echoed Ms Nida's comments.
"I have three children, six, 10, and 15 years old," she said. "In the past few years, I've earned enough to support them at school, around 40,000 baht, but now that they're older I need more money. I am working a freelance job, so I cannot guarantee my income," she added.
"When I had money, I bought gold items so I could pawn them if I ever needed it quickly. I've always gotten the gold back on time because I also need to show off to my family when I go back to my home town."
Every year, the Phuket City Municipality Pawnshop seizes approximately two million baht worth of items from those who cannot afford to buy their things back.
"It's not much out of the 12mn baht in trading that we do," Mr Apirat said. "Most [of the seized items] come from teenagers who pawn for smaller amounts. The pawned items are then put on sale every second Saturday of the month."
— Kongleaphy Keam
Keep in contact with The Thaiger by following our
Facebook page
.
Phuket Governor and Vice Governor deny million baht bribe accusation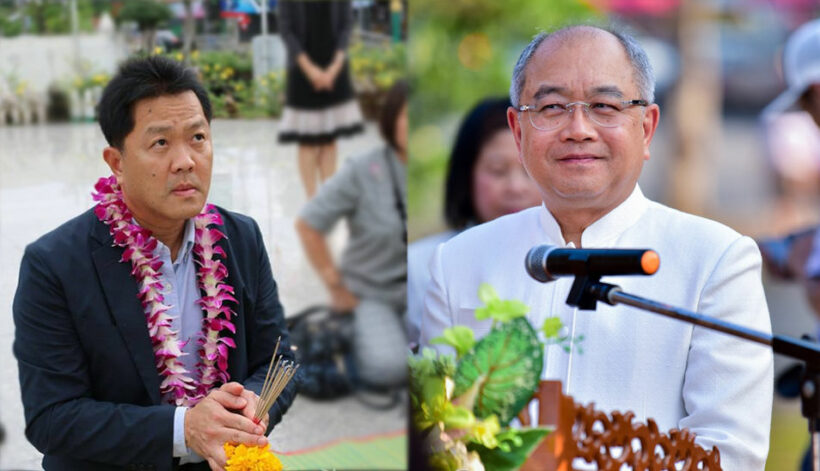 Recently, an audio clip went viral, claiming to have recorded a conversation between an anonymous man and an employee from a project accused of having encroached on Sirinat National Park (in Phuket's north west).
Phuket Governor, Pakkapong Tawipat, says that he had nothing to do with the voice recording, which detailed a 7 digit negotiation deal to end an encroachment case over the encroachment case.
Phuket Hotnews reports that, in the recording, the voice of an anonymous man can be heard calling the employee of a project owner, who had been charged over land encroachment.
The man on the phone asked for a 7 digit amount in order to drop the case, mentioning that the person who would sign on the case would be the Vice Governor Supot Rodruang Na Nongkhai, and that the Governor was aware of the matter as well.
The voice clip reveals the conversation between the anonymous man and the female employee of the illegal project, "Have you reached a conclusion? Everyone is waiting for the answer", while the employee replied that she already informed her boss that the money they wanted is in the millions, but her boss questioned why do they have to pay and where the money is going to go.
"Is it for the Governor? And who sign the papers?"
The man replied that Vice Governor Supot is the one who signs and that he knew about the negotiation and that there were 2 documents drafted in different ways.
The man also mentioned the name of a Phuket provincial Prosecutor and claimed that the prosecutor is very powerful as he had extended powers from the new laws enacted by the National Council for Peace and Order (NCPO).
The man also said that if they face any issues, the owner of the project would be blacklisted and it would be difficult for him to travel to and out of Thailand.
The woman on the line proceeded to make an appointment for her boss to meet with the 'prosecutor'.
After the voice clip went viral, Governor Pakkapong said that he was made aware of the recording of the conversation earlier this month and that he had asked Vice Governor Supot, who was accused of bribery in the clip as well, to make a report to the police on August 6, in order to prove their transparency. He also reported the matter to his commander.
"I insist that the Vice Governor and I have nothing to do with the voice recording and we were falsely accused as being involved. This could have come from an individual from a "certain organisation" (un-named) that has called for bribes and used Governor's and Vice Governor's names for their benefits.
"After reporting the matter to the police we are waiting for an investigation and to see whether I have to take part as an informer," said the Governor.
He said that the encroachment case is an old case from 2013. The Thalang District Chief has an agreement to prosecute the encroacher but when the case went to the provincial prosecutor, the prosecutor declined to prosecute the case and sent it back to Police Region 8.
The Police Region 8 sent the case back to Phuket provincial attorney office who would have to file the case to the Phuket Governor, but he insists that the case has not been filed yet.
The Phuket Governor said that he also informed the company that owns the project that he has never learned about the bribe and in any case, if anyone uses his name to ask for bribe, please contact him immediately because he has never asked for bribes and is ready to work on every case openly.
Meanwhile, Phuket Vice Governor Supot said that he has already reported to the police about the accusations in the voice recording and insists that he has nothing to do with it either.
SOURCE: Phuket Hotnews
Keep in contact with The Thaiger by following our
Facebook page
.
Daytime closure looms for Patong beach road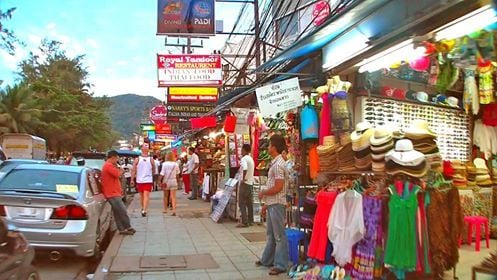 The mayor of Patong, Chalermluck Kebsup, has announced that from August 25, Thaweewong Road, better known as the Patong beach road, will be closed during the day while power and communication cables are installed.
Apologising for the inconvenience, Mayor Chalermluck explains that the closures will be between 6.00am and 4.00pm and expected to last until September 30. She says the work will take place during low season and will be paused for the busy high season.
A 400 metre section of road will be affected, from Bangla Road to Sawatdirak Road, with vehicles prohibited from accessing the area until 4.00pm. However, the restriction does not apply to pedestrians, with footpaths remaining open.
The Thaiger understands that certain vehicles will still be granted access, including those of business owners who need to reach their premises. Such vehicles will need to have permission granted by Patong Municipality. Taxis and tuk-tuks dropping off or picking up customers at these businesses will also be given access.
In total, the 228 million baht joint venture project will see the installation of communications cables, power lines and fibre-optic mains, along a 3 kilometre stretch of the beach road.
It has a completion date of March 5, 2020.
SOURCE: Provincial Electricity Authority
Keep in contact with The Thaiger by following our
Facebook page
.
Palang Pracharath MP chastises Karon Police for not offering protection during condo visit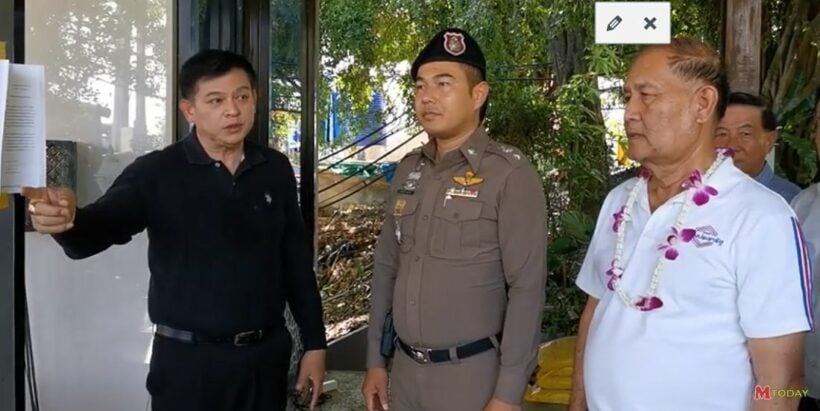 VIDEO & SCREENGRAB: M Today
The Palang Pracharath member of parliament from Bangkok, Sira Jenjaka, had an argument with Lt Col Pratuang Polmana, Deputy Superintendent of Karon Police during his inspection to the controversial Peak Condominium in the Karon area of Phuket.
MP Sira was surveying the construction site of the project and the sales office, which also serves as a coffee shop, where he saw Lt Col Pratuang inside.
He stopped there and asked why the Deputy Superintendent didn't send any officer from Karon Police Station to provide security for him, a standard protocol when parliament members visit a specific area.
The MP had publicly stated he had received death threats for revealing 'problems' with the 'paperwork' for the Phuket condo project that he claims has been built on land without the proper documentation.
Lt Col Pratuang said that he already prepared a team of officers to provide security for the MP but they were waiting for a confirmation. Then the MP asked his team to record a video of the conversation and said that, while he was not threatening anyone, he believed the police must respect and offer protection for a government MP who comes to work in the area, which was then followed by an argument.
There was a "middleman" who eventually separated the Deputy Superintendent and pulled him aside to calm him down. The 'police whisperer' then came back to apologise to the MP before they went inside the coffee shop for further private talks.
Read the original article about the allegations against Peak Condominiums in Karon HERE.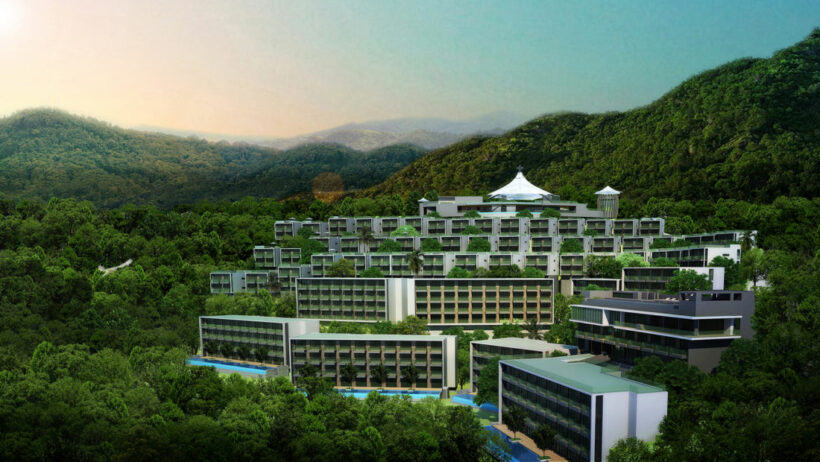 The Peak Condominiums in Karon, currently under investigation after allegations made by Government MP Sira Jenjaka, who claims death threats have been made against him over the matter.
Keep in contact with The Thaiger by following our
Facebook page
.