Smoke clears from Myanmar's first dive boat sinking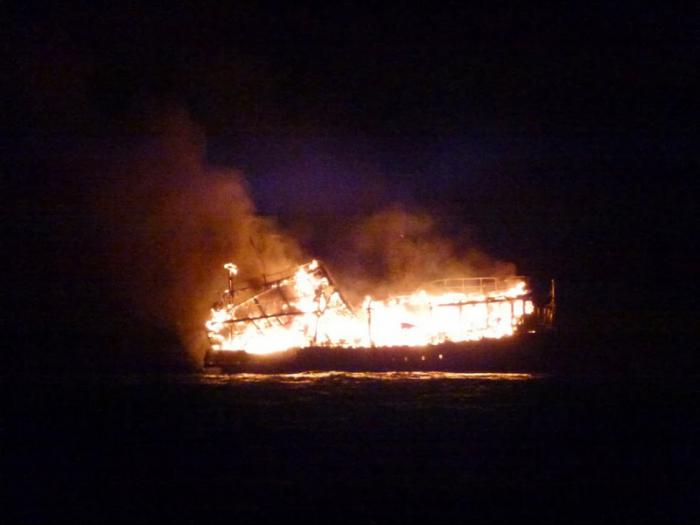 Special Report
After being questioned for four days in Myanmar, the trip leader for MV Blue Star which went up in flames on February 9 about 100 nautical miles from civilization returned to Phuket to set the record straight.
The Gazette's Isaac Stone Simonelli reports.
PHUKET: The Finnish-owned liveaboard Blue Star departed Thap Lamu Pier on February 6 with 33 people on board: 21 guests, six Thai crew, five foreign staff and one Burmese guide. They were headed for one of the farthest flung gems of the Andaman, Black Rock.
"Black Rock was going to be the highlight of the trip. Just two weeks ago, we had a whale shark, two eagle rays, manta rays and silver tip sharks all at the same dive site. In my head, it was a 90 per cent chance of seeing a whale shark or a manta," said Chalong Sea Sports tour leader Darren King.
After finishing a four-dive day at Shark Cave on February 8, the captain started for Black Rock at about 8pm. The boat was scheduled to arrive at 3am.
"At about 1:15am, I heard a big bang below me. I'm guessing it was an electrical short circuit or something. We don't actually know. People ask me if it was a cooking fire – no it wasn't. Except for the captain, at that time, everyone was asleep," Mr King said.
"After the bang, I heard someone screaming in Finnish."
The person was screaming "smoke in the hallway," but Mr King didn't know that at the time.
"I obviously only heard someone screaming and shouting," he said.
"I put the batteries in the torch, and went out to the door. The corridor was full of smoke."
Responsible for the safety of everyone on board, Mr King's first task was to clear the decks.
"I went down to the lower deck to make sure everyone was up, awake and getting out. I then cleared my deck. After that, no one was allowed back in the cabins," he said.
Everyone gathered on the saloon deck as Mr King and his staff headed to the engine room in an attempt to put out the fire. Thai crew members battled the flames with water and fire extinguishers as Mr King's deputy tour leader, Arto Koivunen, attempted to enter the engine room.
"We literally had to drag Arto out of there because of the smoke. Nobody tried [to go in] after that," Mr King said.
The heat from the fire began to dry the wooden boat and flames spread, Mr King said.
"It became quite clear, quite quickly, that there was no way to stop it."
Though the Blue Star had two safety rafts serviced during the low season, the captain made radio contact with a Burmese fishing boat on the horizon and started making his way toward it.
Smoke began filling the rooms of the boat.
"There was smoke everywhere in the captain's cabin. Obviously, he had to drive the boat, but he could hardly breath. We had the captain on a regulator, but then we had a better idea: using the tank, we knocked out all the windows," Mr King said.
"Flames were starting to lick, but still nobody was panicking."
The boat, cruising at about eight or nine knots, reached the fishing boat at about 2am.
"The only time we had a slight panic with the customers was when we got to the fishing boat. I think it was just the relief of knowing that they were going to be saved. A few people started shouting and screaming – I was like, 'People calm down, please. They know we're here.'"
"If one starts panicking, then it gets out of hand. We could have had people starting to jump from the higher deck and we might have lost somebody."
There was no way to stop the engines without going into the engine room, Mr King explained.
"The Thai crew were brilliant. The captain put the boat on a full-starboard lock with a piece of string. So we were just going around and around the fishing boat."
Mr King and his staff began organizing teams to jump from the dive deck of the vessel as the Blue Star's dinghy assisted those in the water. Most were wearing life jackets, though six or seven took the time to gear up with their scuba diving equipment.
"I was trying to get people to time it so that they were quite close to the fishing boat."
"There was nothing crazy or erratic like people jumping off the saloon deck or sun deck."
There were about four or five people still on board at about 2:30 Mr King said.
"The captain said it was time for us to really go, and the Thai crew in the dinghy were screaming at us, 'go, go, go'."
The captain and Mr King were in the last group to jump at about 2:45.
About an hour and a half after the fire started , everyone from the Blue Star was safely on the fishing boat. The only injury reported was a woman who had scratched herself climbing onto the fishing boat.
The boat lingered for about 45 minutes as the Blue Star burned.
"It went up as a bit of a bonfire, because we had a Nitrox system installed [during the low season]. The system blends pure oxygen with air. Because of the length of the trip, we had seven or eight of those massive oxygen bottles [on board] and oxygen is an accelerant," Mr King explained.
"I don't want to say we were lucky because I hope it was 'pre-planned' luck by having an experienced crew and dive guides on the boat. But when you see the pictures, it's a miracle that 33 people got off with no injuries."
"We finally left the burning boat at 3:30. It was obvious there was going to be nothing left. There was no point watching it any more."
It was a 12-hour journey to Kawthaung, Myanmar.
"The fishermen were great. We even got served some breakfast in the morning – fish, funnily enough, being a fishing boat. Very good cooked fish with rice. We had coffee; they took care of us."
Among the few items saved was Mr King's drybag, which contained customer passports and original boat papers – almost everything else was lost.
Mr King had been the tour leader for five years at Chalong Sea Sports, which had been operating in Phuket for 23 years.
Though the boat was insured, outside of Thai waters, it was not. The company has since folded.
"There is no such things as [boat] insurance in Burma [Myanmar], and of course no Thai company would insure outside of Thai waters," Mr King said.
"Obviously, my bosses knew that, and we would even tell our customers that their lives were insured, but their belongings needed to be covered by their own travel insurance."
"It's just one of those things. You are taking a calculated gamble by taking a boat up there."
The rescued dive group was greeted by an entourage of Myanmar officials in Kawthaung. They were provided water and food and were quickly processed through immigration so they could return to Thailand.
Mr King and two other members of his team were allowed to escort the group back to Thailand, but asked to return by nine the next morning.
"Of course, as a man of my word, I went back at nine in the morning," Mr King said.
Mr King was asked to remain as a guest for four days and met with several ministers as the owners of Chalong Sea Sports disputed an environmental fee being levied by the Myanmar government for alleged damage done by the boat sinking, Mr King explained.
"They were really nice. I was allowed to walk around, I could stay at a hotel," Mr King said.
The Blue Star was the first dive boat to sink in Myanmar waters since the borders were opened and dive sites started to be established in 1997.
— Isaac Stone Simonelli
Phuket News

Join the conversation and have your say on Thailand news published on The Thaiger.
Thaiger Talk is our new Thaiger Community where you can join the discussion on everything happening in Thailand right now.
Please note that articles are not posted to the forum instantly and can take up to 20 min before being visible. Click for more information and the Thaiger Talk Guidelines.