Phuket
Pre-Songkran road-safety blitz nets bus driver on drugs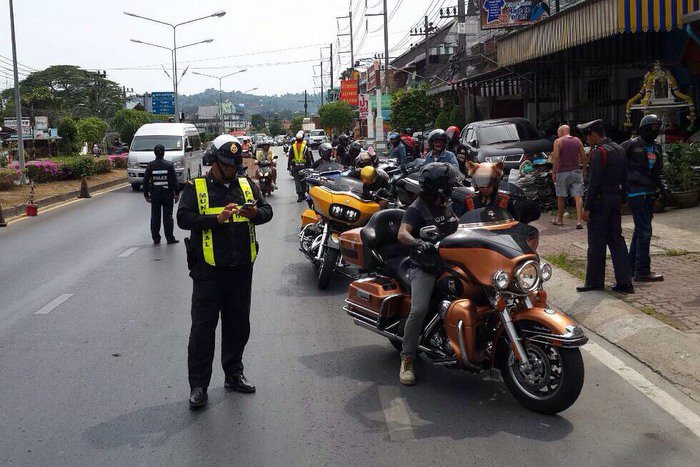 PHUKET: A bus driver was fined for driving under the influence today during a Songkran road-safety blitz at the bottom of Patong Hill in Kathu.
Thung Thong Police and the Phuket Land Transport Office (PLTO) set up a checkpoint from 9am-11am to randomly check vehicles passing through, said Jaturong Kaewkasi, the chief policy adviser at PLTO.
One bus driver, who PLTO officers declined to name, tested positive for drugs.
"After he failed his drug test, the driver was charged with driving under the influence, fined 5,000 baht and taken to Thung Thong Police Station for processing," he said.
Police also found that the bus owner had failed to pay the proper taxes for the vehicle.
"We called the owner to the scene and charged him with failure to pay taxes, which has a fine of up to 5,000 baht. The owner was also fined an additional 5,000 baht for allowing a driver under the influence to operate the vehicle," said Mr Jaturong.
The blitz today follows an order from the Governor's Office to ramp up road-safety measures during the Songkran holiday and the 'Seven Days of Danger', from April 9-15.
"We will cooperate with local authorities to boost and strengthen our road-safety measures during the Seven Days of Danger," said Mr Jaturong. "There will be random checkpoints at different locations on the island every day until the end of Songkran.
"I suggest that everyone drives carefully at all times, not only during the Seven Days of Danger. Always make sure that you are legally able to drive and that your vehicle is in good condition before getting on the road.
"Please avoid illegal activities and do not drive while drunk."
— Kongleaphy Keam