Phuket
Phuket people help spread global message of peace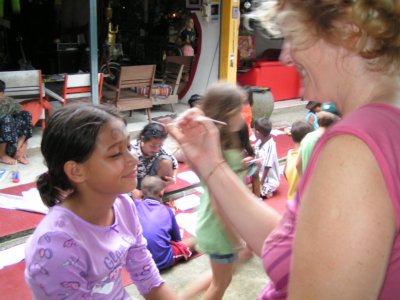 PHUKET: Tonight, people in Phuket will be dancing to a global beat of peace for Earthdance 2009, an annual, synchronized event held every September in hundreds of locations around the world in recognition of the United Nations International Day of Peace.

At 4pm Pacific Standard Time on Saturday, September 26 (6am Sunday in Thailand), thousands of people in more than 200 locations in 50 countries around the globe will be saying a synchronized prayer for peace before dancing the night away in the name of global unity.

This year's Earthdance theme 'Bless the Children' was celebrated this afternoon at Yoonique's in Nai Harn with a free lunch and arts and craft activities for children.

About 30 youngsters from the Rawai sea gypsy community and kids from Rawai Progressive International School participated in face painting, T-shirt painting and had lessons in creating traditional handicrafts.

School director Kim Kilgore took students and parents along to the event, where a multi-national mix of youngsters worked side by side to prepare posters and flags to help spread the global message of peace.

This evening, global peace advocates and lovers of live music will be gathering at the venue near Nai Harn lake to play their part in the global celebrations.

Participants will say the prayer of peace together before getting down to live music from Bangkok-based band Superglass Ska & Samba at about 9.30pm.

In accordance with directives issued for public Earthdance events, 50 percent of profits made at this evening's event will be donated to charity and a donation box will also be made available.

"In keeping with the Earthdance theme of recognizing indigenous peoples and cultures, money raised tonight will go towards supporting the Rawai sea gypsy community," said the venue's owner Yoon Bunna.

Entry is free of charge.
— Nick Davies