Battle lines drawn over new Phuket bus service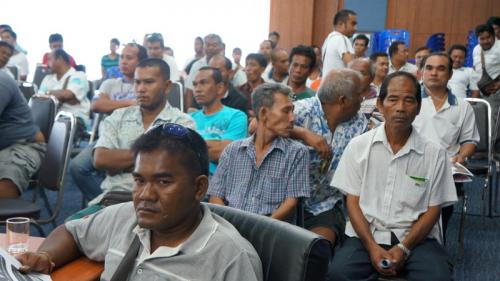 PHUKET: Tuk-tuk and taxi drivers in the southern beach resort areas of Kata and Karon yesterday vowed to stage protests if the new Phuket bus service from the airport is launched.
Local police, however, said plainly that road blockades would not be tolerated.
The news came at a two-hour meeting held to resolve the conflict between the local drivers and the new bus service, which the drivers claim will greatly affect their income.
The meeting failed.
The tuk-tuk and taxi drivers refused to negotiate, and their threat of action was not veiled.
"You launch the bus, we will definitely block the road," Sommart Homwan, president of the Kata-Karon Taxi and Tuk-tuk Driver's 'Co-operative', said.
About 100 tuk-tuk and taxi drivers showed up at the meeting held at the Karon Municipality office in order to strongly oppose the proposed bus service from Phuket Airport to Kata-Karon (story here).
Despite rumors that other residents and business owners from the Kata-Karon area would join the protest meeting, the tuk-tuk and taxi drivers were the only voice to be heard.
The drivers' flat refusal to approve any form of airport bus operating on their patch only strengthened the resolve of Phuket Land Transportation Office (PLTO) chief Teerayut Prasertpol to launch the bus service.
"I will report the drivers' rejection today to Phuket Governor Maitri Inthusut and Phuket Vice Governor Chamroen Tipayapongtada," he said.
"I even proposed to the drivers that the last bus stop to be at Karon Circle. They refused to accept even that," he added.
Mr Teerayut was adamant that he would see the bus service begin. "There are only a few hundred people who are against the new bus service. What about the thousands of others who need it?" he asked.
"My job is to get public transportation for the people. I must get it done. There are a lot of things to do to get this service running, and although I cannot yet confirm when it will begin, I will now push for it even harder," Mr Teerayut said.
FEAR OF VIOLENCE
The meeting yesterday was called by Vice Governor Chamroen Tipayapongtada after he publicly expressed his fear of violent attacks against the bus operator (story here).
Long known for using fear and intimidation as negotiation tactics, the tuk-tuk and taxi drivers in Kata and Karon on January 3 staged a blockade of the Karon beach road to protest Russian tour operators not using local drivers to transport tourists. Among the complaints was that the Russian tour operators were undercutting local tuk-tuk and taxi fares.
Their reputation this week remained intact after a promotional journey for the new bus service – from Provincial Hall in Phuket Town to the site of the proposed bus stop at Karon – was called off at the last minute on Wednesday after the organizers realized that Phuket Governor Maitri Inthusut would not be on board for the trip.
Governor Maitri was busy attending a meeting to outline the alcohol-free water-play zones for Songkran, and to announce the dates of the annual Seven Days of Danger road-safety campaign for the upcoming holiday period (story here).
Calling off the promotional journey may have been prudent, as only days earlier Kata-Karon Taxi and Tuk-tuk Driver's Co-operative president Sommart told the Gazette bluntly: "You run, we protest."
Mr Sommart said the bus services would directly affect local drivers' livelihoods. "If they are going to run the airport bus service, we will surely stage a protest. The airport bus service will definitely affect us. They are going to steal our jobs," he said.
"The bus will serve a long route from Thalang to Kata, Karon and Patong. Think about how many customers they are going to steal from us," he added.
LONE STAND

Mr Sommart was confident his drivers would receive support from fellow tuk-tuk and taxi drivers in Patong.
"Believe me, not just our drivers disagree with the service, drivers in other areas do as well because it will affect all of them," he said.
"If you were a taxi driver who used to pick up passengers in Patong, at Phuket Airport, Kata and Karon, how would you feel if one day this bus comes and you suddenly lose your customers?" he asked.
However, the top representatives of the two largest tuk-tuk and taxi co-operatives in Patong this week told the Gazette they will stand aside if the provincial authorities support and approve the new bus service.
Preechavude "Prab" Keesin, son of Patong Mayor Pian Keesin and head of the Patong Taxi Federation, said, "I do not think our drivers will protest the airport bus service. I believe our 500 members will surely understand if the Phuket Transportation Office explains to them clearly why the bus was approved and how it will be beneficial to the tourism of the island.
"We, Patong people, we are understanding. We live in a tourism destination. What we want is to develop our area to make it attractive to tourists and support the tourism economics of Phuket. We do not want to do anything that will tarnish Phuket's reputation," Mr Prab said.
Setthasak Buason, president of the Patong Taxi and Tuk-tuk Driver's Co-operative, admitted the bus service would greatly affect his members, but also said his drivers were willing to make the sacrifice for a greater good.
"I am sure our 300 members will not protest. If the provincial government approves it, that means it would be beneficial to Phuket as a whole. If the bus service is approved, that means our superiors believe it will bring more advantages than disadvantages to our community, so it will be a good thing," he explained.
However, Mr Setthasak said there were about 100 independent tuk-tuk and taxi drivers operating in Patong not accounted for by the main two co-operatives.
"I do not know how they will react," he said.
Karon Mayor Tawee Tongcham on Wednesday was strong in his words of support for the local drivers, insisting to the Gazette he would "stand by my people" and that he was "ready to support them if they want to fight."
"They are my people. They chose me to be their leader. When they are in trouble, I have to be with them," Mayor Tawee said.
"It is the job of the Phuket Land Transport Office to explain to Kata-Karon tuk-tuk and taxi drivers and to hear their problems, because they will be one big group who will feel the effects of the new bus service, so their opinion should be listened to as well," he added.
At the meeting yesterday, however, Mayor Tawee sat silently observing the discussions.
LIMITED SYMPATHY
The Karon Police also said they understood the local drivers' plight, but warned that the police's patience extended only so far.
"We do not want violence. We will try to find a way to compromise," Karon Police Deputy Superintendent Pachai Mattayan said.
"Blocking the road is not the answer. They have a right to protest, but not to block the road. I will not allow them to do it. They cannot make any trouble for other motorists," he said.
"They could send their representative to talk to us, but if negotiations fail and they continue to protest, we will have no choice but to arrest them," the police colonel warned.
Lt Col Pachai said he sympathized with the local drivers, but added the drivers should consider the bigger picture.
"I totally
— Chutharat Plerin
Keep in contact with The Thaiger by following our
Facebook page
.
The rise of the e-bicycle in Thailand, a bit of motorised assistance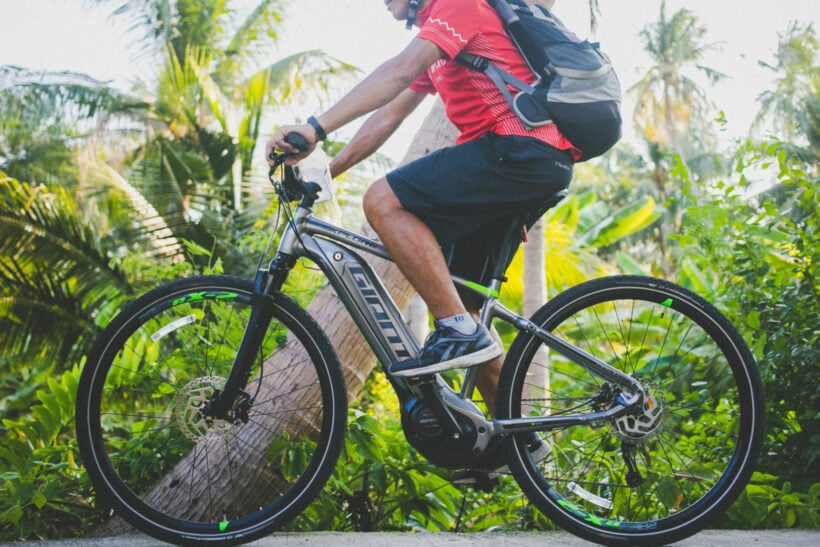 by Nicole Kash
Cycling tours offer a unique way to explore Thailand. Faster than walking but slower than driving, cycling tours cover plenty of ground while allowing cyclists to immerse themselves in the sights, smells, and culture of Thailand without the boundary of a car window.
Cycling tours can cover up to a heart-pumping 150 kilometre a day. Though exciting for many, some find longer distances daunting, especially newer cyclists or those out of practice. This is where the e-bike has begun filling a unique gap in Thailand's adventure tourism industry. Thanks to e-bikes, longer distance day tours and challenging multi-day cycling tours are no longer reserved for fitness fanatics. 
Popular in the US and Europe, the e-bike has made its way to Thailand is now thriving within the Kingdom's tourism industry. These motorised bicycles offer the option to assist cyclists with pedaling, which is especially useful for long distances and tough uphill climbs. Even with the help of the motor, cyclists still get plenty of exercise, as the pedal-assist system requires the rider to put some work in.
Unlike a scooter or motorbike, an e-bike does not run without the pedaling effort of the rider. They feature rechargeable batteries and an and off switch, allowing cyclists to challenge themselves as much as they'd like and get a little extra help when needed. 
The option of swapping our traditional bikes for e-bikes on cycling tours offer more tourists the opportunity to join in on cycling tours than ever before, growing the number of potential clients for Thai adventure tourism companies while fostering a climate of inclusivity.
Looking to join in on the fun? Here's a look into a few of the single-day and multi-day bicycle tours with e-bike options offered by Bangkok based SpiceRoads Cycling! 
Road Cycling Bangkok to Phuket (10 days)
Starting in bustling Bangkok and ending in along Phuket's sparkling coastline, this 10-day bicycle tour with e-bike options is the perfect mix of must-see sites and tucked away local spots all on smooth roads. Pedalling toward the scenic south, ride beyond the city lights and explore rural Thailand's rich culture and welcoming villages while making stops at the east and west coast's local beach spots along the way.
Rolling hills, golden sunsets, a real taste of local life, and of course serene sea views await you! This trip is fully supported with an air-conditioned van and riders can take a break and cool off while still enjoying the same views as the rest of the group. 
Phuket Highlights (½ day) 
Take a break from beach life to explore Phuket's unique and often overlooked old town on this ½ day bicycle tour with e-bike options. We start on the town's peripheral, exploring Koh Sirey's community of sea gypsies and on to see and smell the fresh catch of the day as locals bid for the best deals at the fishing port.
Then we head downtown to admire Phuket Old Town's Sino-Portuguese architecture, Jui Tui Shrine museum, and unique shops by bike. This leisurely 27 kilometre tour ends with a drive to stunning Khao Khad viewpoint for a scenic sea view and bird's eye view over where we have ridden. 
Kanchanaburi Explorer (3 days) 
Immerse yourself in Kanchanaburi's natural beauty and historic sites on this 3 day bicycle tour with e-bike options. Cycle along country roads and through local villages, enjoying mountain views and the thrill off jungle clad and dirt trails along the way.
Then explore off the bike, boarding a local train for a stunning train ride on Death Railway, visiting the historic and dark Hellfire Pass, and taking an optional boat trip to visit a Mon village. A diverse itinerary combining Kanchanburi's stunning natural sites with stops at historical must-sees on a mix of tarmac and dirt trails assures you will never get bored on this 102 kilometre bicycle tour!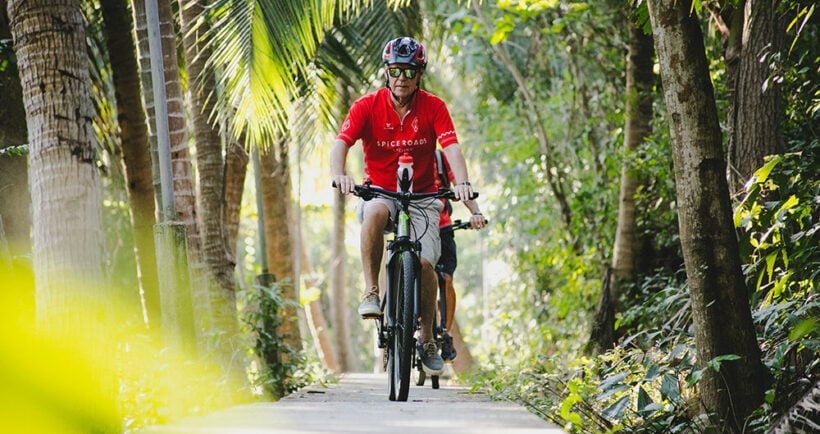 To find out more, and see more tours from the Spice Roads team, click HERE.
Keep in contact with The Thaiger by following our
Facebook page
.
82 year old Frenchman killed in motorbike crash with ATV in Phuket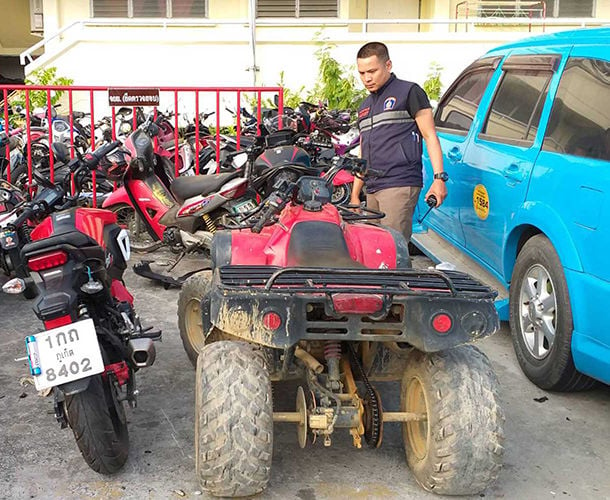 An elderly French man has died after an American woman lost control of her all-terrain vehicle (ATV) and crashed into his motorcycle in Chalong, southern Phuket. The woman was seriously injured. Police say the incident occurred on Soi Klum Yang in Chalong around 4pm on Thursday.
The crash involved a red ATV, and a black motorcycle ridden by the 82 year old Frenchman Robert Geoffray.
The woman, identified as 39 year old American Onome Alero Adeosun, suffered a broken right arm, leg and collarbone. Emergency workers found the elderly Frenchman lying unconscious on the road with serious head injuries. Medics performed CPR before sending both to Chalong Hospital, where the man was later pronounced dead.
His body was taken to Vachira Phuket Hospital for autopsy. The woman was transferred to Siriroj Hospital and is currently helping police with their investigation.
SOURCE: Bangkok Post
Keep in contact with The Thaiger by following our
Facebook page
.
Salty tap water and dirty air – Bangkok's environmental woes continue today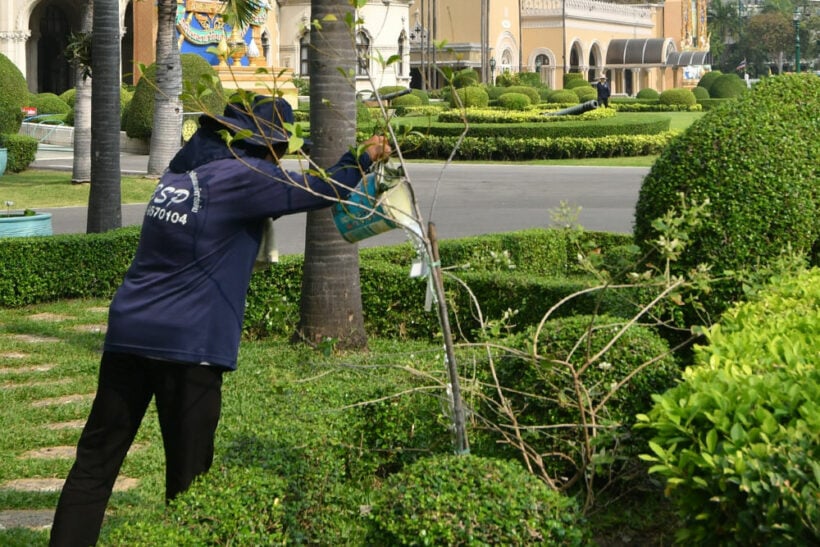 Brackish tap water, with increased salinity caused by seawater back-flowing into the Chao Phraya River, is threatening the gardens in and around the Government House compound. Government House officials are seeking assistance from the Agriculture Department.
Several small tree species – Lamduan, Chor Sumalee, Rachavadi, Nom Maew and Hom Muenlee – are more vulnerable to brackish tap water. The gardens are watered from a supply pumped in from the Chao Phraya.
It's been noted tha the saline level was around 400 milligrams per litre, still within the 1,000 mg/litre standard, but some of the species were already intolerant to the rising salinity.
Officials are seeking advice from the Agriculture Department about long-term measures to replant with species which would be more tolerant to the rising salinity of the water – situation they acknowledge will need to be managed in the short to medium term.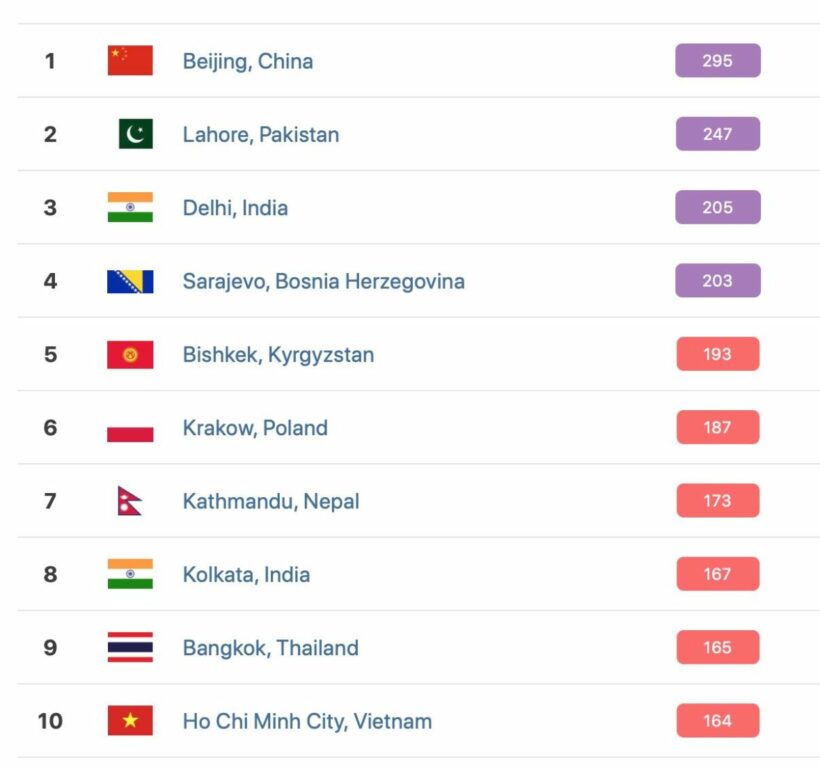 SCREENGRAB: Air Visual
Meanwhile, air around the capital today continues to be universally poor to very poor with readings as high as 187 near Suvarnabhumi Airport. Light airs, dust problems from northern-easter provinces and hot continental air flowing across the capital, continue to haunt Bangkok. Even with many factories closed today, and traffic lighter than weekdays, Bangkok's air has been recorded as the ninth worst city in the world for air pollution.
Right across the city the air quality readings are into the 'unhealthy' zone.
Chiang Mai, Lampang and Central Thailand are fairing no better – all with readings at least 3 times the Thai upper safe limit of 50 microns of 2.5micron particulate per cubic metre. The World Health Organisation sets its limit even lower at 25.
Pattaya has air quality readings today of 162, whilst even Phuket, in the south, is registering readings between 100 and 145 with reduced visibility today.
SOURCE: Thai PBS World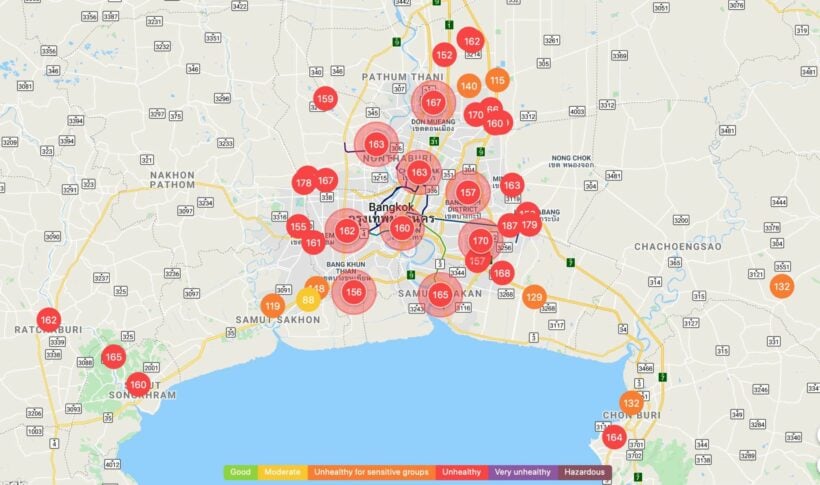 Keep in contact with The Thaiger by following our
Facebook page
.