Son lights himself on fire after asking mom for lottery money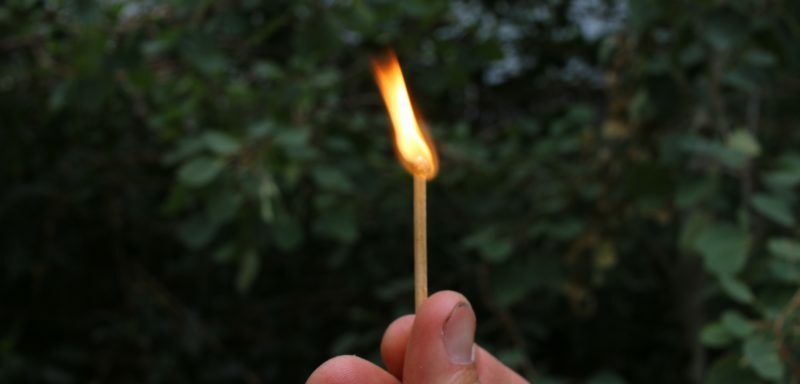 A woman's 32 year old son, in northern Thailand's Phrae Province, is in critical condition from lighting himself on fire after falsely believing that his mother had won the lottery and would not share her winnings with him.
Police at Denchai Police Station were alerted of a man who burned himself in Ban Mai Jua, Denchai District and notified a rescue team at Somdej Phra Yupparat Hospital. 60 year old Pen, the auntie of the man, who is only identified as Tossapon, says she was having breakfast when she heard an argument.
When she looked out the window, she saw Tossapon on fire and wrapped in a blanket. She says he ran to a water hose and put the fire out, but not before almost catching his house on fire. Officials arrived and found that several items in Tossapon's bedroom had been on fire, along with pieces of the blanket scattered throughout the house. They also found burnt pants and a pillow.
At the hospital, officials met 64 year old Sila, the mother of Tossapon, waiting for her son in front of the Emergency Room. Sila told police her son is a "psychiatric patient" because he used to use meth, or "yabba" in Thai. She says his addiction left him with long-term damages and says her son often falsely believes his mother won the lottery, to which she tells him she lost the lottery ticket.
Sila says she tells him it is not true, but this time Tossapon asked for proof and continued questioning her the next day. The mother says she described her love for her son, which upset him, leading him to wrap himself in a blanket and set himself on fire.
"Son, 99% of the love that I have for you has been changed to hate, the remaining 1% is technically loved because of the word 'son'."
SOURCE: Thai Residents
Keep in contact with The Thaiger by following our Facebook page.
Never miss out on future posts by following The Thaiger.
Thai navy receives PETA award after rescuing cats from sinking ship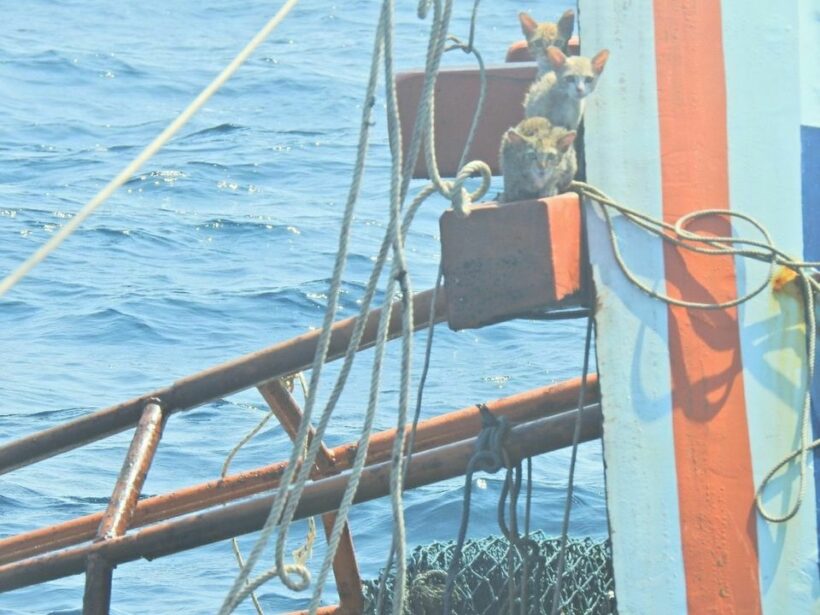 The Thai navy is celebrating receiving a PETA award after rescuing a group of cats from a sinking ship that had caught fire in the Andaman sea. The Hero to Animals Award was given to the naval officials by the People for Ethical Treatment of Animals group after Facebook user "Nookool.b" posted photos of the feline rescue mission.
The ship's 8 member crew had jumped off the sinking Phamonsin Nava 10 and were rescued by a passing fishing ship, but noticed 4 cats were left onboard. Navy sailors rescued the cats by carrying them piggy‐back style across the water to the navy vessel unit. The felines were safely rescued and were in good condition, just a bit dehydrated.
"They carried each cat on their backs and swam back to the Navy vessel until every cat was rescued."
PETA Senior Vice President Jason Baker said their efforts had resonated with kind people around the world.
"Peta hopes their example will inspire everyone to keep an eye out for animals in danger and do whatever it takes to ensure their safety."
PETA says they are sending the navy a framed certificate and letter of appreciation. The animal rights group has also offered to pay for the spaying or neutering of the cats.
In 1 rescue photo, a cat was shown to be riding piggy-back on a sailor as his crew mates pulled them both to safety. Other photos show the cats after they were rescued, enjoying food and cuddling in the naval command post in Koh Lipe.
Their rescuers, members from the Air and Coastal Defence Command Operation Unit 491, found the cats the day after they were deployed to assist the crew of the ship that had caught fire. The ship was located about 13 kilometres off Adang Island in the southern province of Satun
Keep in contact with The Thaiger by following our Facebook page.
Never miss out on future posts by following The Thaiger.
Houseowner discovers 3,000 year old skeletons on land in Ang Thong province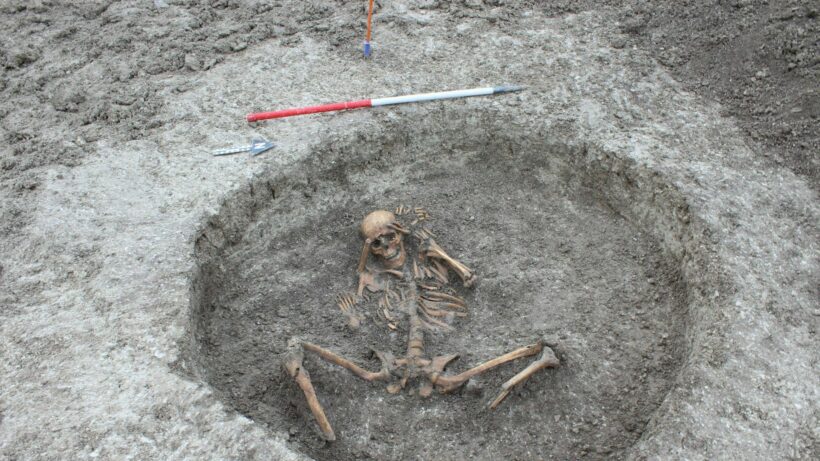 A houseowner in the central province of Ang Thong, has discovered 3 skeletons on his land that are thought to be over 3,000 years old. 54 year old Somkiat Briboon says this most recent discovery isn't the first, as the first lot of bones was found last year after preparing his 17 rai worth of land, in Sawang Ha District, to be rented out for sugarcane farming.
It was then that he found 9 skeletons, only later to find 6 more. The skeletons were found with bowls and other kitchen utensils found laying on top of them. He transferred the skeletons to his home, wrapping them in blue sheets, describing some of the bones as smaller in size, resembling that of women or children.
He says he also found ancient artifacts with the bones and arranged to have them shipped to Bangkok's Fine Arts Department for research purposes. But he says he wants to eventually build his own museum housing the display of bones and artifacts for educational purposes.
Although the discovery is exciting, its creepiness factor has repelled Somkiat's friends from visiting him as many are afraid of ghosts or spirits. To add to his friends' concerns, he says ever since the skeletons and artifacts were moved into his home, strange things have been happening.
One of those unsettling things is the feeling that there are many people walking around inside his home at all hours of the day. He says when he tries to search for the source of the eery sounds, he finds nothing. Somkiat says he isn't afraid of the spirits and even talks to them often. He even says his sleep isn't disturbed as he sleeps well at night while the skeletons are in his home.
The Fine Arts Department has been notified of the most recent finding, but it is unclear on whether they will move the new skeletons to Bangkok to join the others.
SOURCE: Thai Residents
Keep in contact with The Thaiger by following our Facebook page.
Never miss out on future posts by following The Thaiger.
Social distancing for Songkran, Thailand's New Year water festival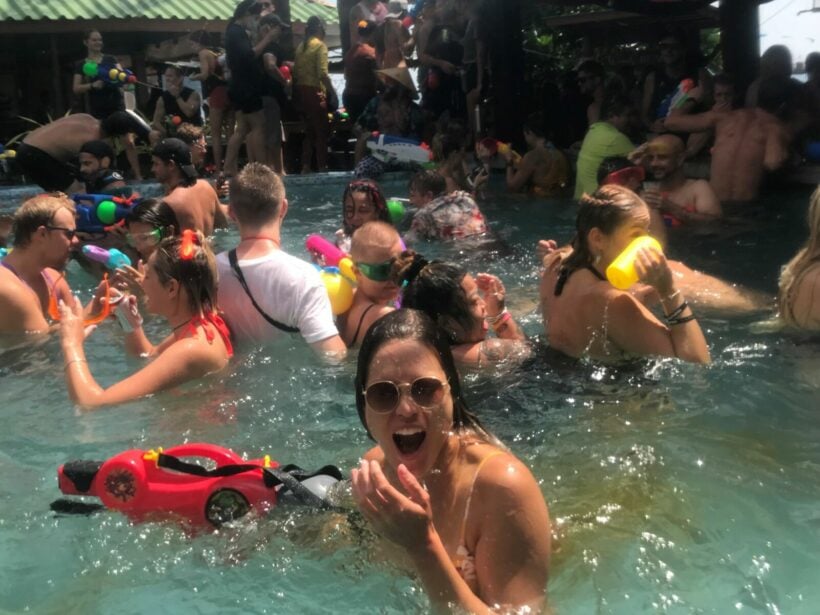 Thailand's massive water festival Songkran, celebrating the Thai New Year, got the "okay" as long as the festivities are in line with Covid-19 prevention measures. PM Prayut Chan-o-cha says people need to abide by social distancing rules during the Songkran holiday from April 13 to 15… So make sure your water gun shoots at a long range.
For long distance water fights, the Super Soaker CPS 2000 is recommended by Wirecutter for the New York Times. They say it's the most powerful mass-produced water gun in history, shooting at a 15-metre range at nearly a litre per second. The CPS 2000 is around $150 USD, so a more affordable option would be the plunger-style water gun from Steam Machine, which cost around $20 USD. While the Steam Machine water launchers can shoot at a range of up to 21 metres, it needs to be refilled often and is best used near a pool or a barrel of water.
Allowing Songkran to take place this year is intended to help stimulate the economy which was battered over the past year due to the pandemic. Along with the prime minister, Culture Minister Itthiphol Kunplome also insisted that disease prevention measures must be strictly maintained, adding that social distancing and capacity limits are "chief" among the measures.
Popular spots for Songkran celebrations, like Bangkok's Khao San Road, are given the "okay" to hold events, as long as they abide by the rules to prevent the spread of Covid-19. For Khao San Road, famous among foreign backpackers, the festival can give a boost to local businesses and vendors who have been struggling to earn an income due to the lack of tourists, according to president of the Khao San Business Association Sanga Ruangwattanakul.
"We know that it won't help much as there are still no international tourists, but at least it is a good starting point to reignite business activities on Khao San Road… At the moment, we can only count on the support of local tourists to survive."
He says 80% of the business activities on the street rely on foreign tourists. Many businesses that rely heavily on tourists, like massage shops and souvenir shops, there are "no customers at all."
"For pubs and bars, there are just a few customers per night. Out of 500 entrepreneurs on the road, only 50 are still operating."
Travel restrictions are likely to be eased in time for Songkran, Prayut says, adding that the government is still reviewing the rules for the holiday.
"The government is in the process of considering what can be allowed, whether to permit some activities or all of them. But if the virus spreads, the government might be blamed for it…So I call for your understanding. Easing restrictions is not an easy call to make since the government has to take responsibility for the whole country."
Director of the Health Science Centre of Emerging Diseases at Chulalongkorn University, Thiravat Hemachudha, said he was concerned with the government's plan to relax restrictions during the water festival. While the Centre for Covid-19 Situation Administration reported a decline in the number of daily coronavirus infections, he says the CCSA did not report on 100 infections at a plant in Samut Sakhon.
SOURCES: Bangkok Post | Wirecutter
Keep in contact with The Thaiger by following our Facebook page.
Never miss out on future posts by following The Thaiger.