When the family goes for a walk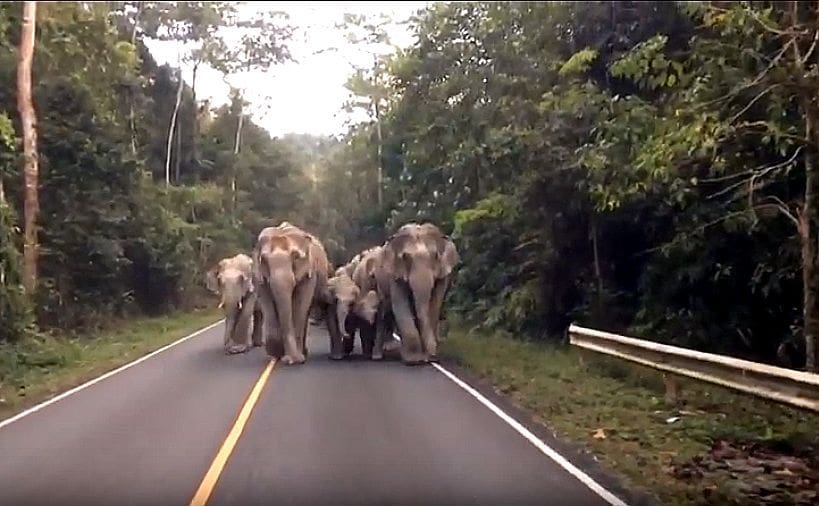 The Khao Yai National Park is always a great place for elephant-spotting but spotting this thundering herd coming towards you, we'd recommend an early retreat. This herd went for a stroll this morning. The Khao Yai National Park is in the inner north-east, about three hours drive from Bangkok.
Officials say the local elephants have become used to using the main road as a thoroughfare rather than trudging through the jungle and that spectators should be cautious if confronted by some road-strolling pachyderms.
The Khao Yai National Park chief, Kanchit Srinoppawan, says it's unusual to see such a big herd on the road, and it's still unclear why they have taken to the asphalt.
Park officials have put together a special task force in several locations across the park to monitor wild animals and keep tourists safe as the park's peak season approaches.
Elephant and human interaction has not ended well all the time resulting in injuries and smashed vehicles.
Visitors have been advised stop the car at least 30 metres from any elephant they encounter on the roads while driving. If an elephant approaches the car, they should slowly drive backward or park until the elephants departs. The advice is not to yell or toot the horn at them.
VIDEO: Kanchit Srinoppawan / Department of National Parks, Wildlife and Plant Conservation


Read more headlines, reports & breaking news in North East Thailand. Or catch up on your Thailand news.
Elderly mother of murdered Thai woman is seeking help to bring her daughter's body home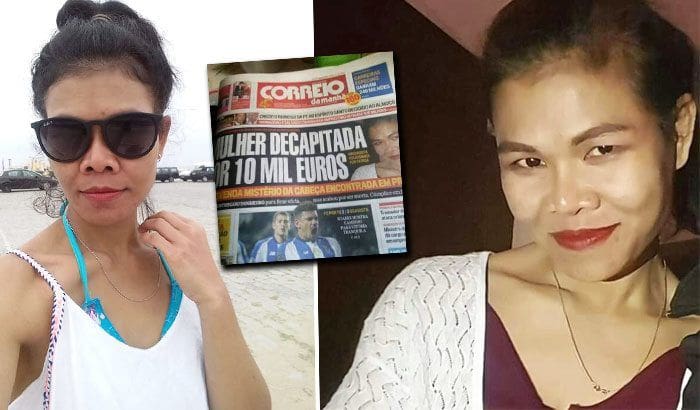 PHOTO: Matichononline
The family of a Thai woman murdered in northern Portugal in March is now calling for assistance with the cost of repatriating the body back to Thailand.
According to Portuguese media the woman, Natchaya Saranyaphat, was murdered on March 7 by another Thai woman. Natchaya's head was found on the Leca da Palmeira beach, 300 kilometres north of Lisbon on the Atlantic coast.
The dead woman's 76 year old mother from the north-eastern Surin province says that Natchaya was the youngest of her five children. She says her daughter had been working in Portugal and been sending back up to 6,000 per month. Another Thai woman, Sangam Sawaiprkhon, has since been arrested in Portugal as a suspect in the murder of Natchaya, allegedly over a disagreement about 358,000 baht. They had jointly invested in a massage shop in Portugal.
The woman's elderly mother says she needs help from the provincial or Thai government as her family is very poor and unable to pay for the retune of her daughter's body for burial.
A Ministry of Foreign Affairs spokesperson says they had received a report from the Royal Thai embassy in Lisbon and local police about the murder and the arrest of the Thai suspect in Portugal.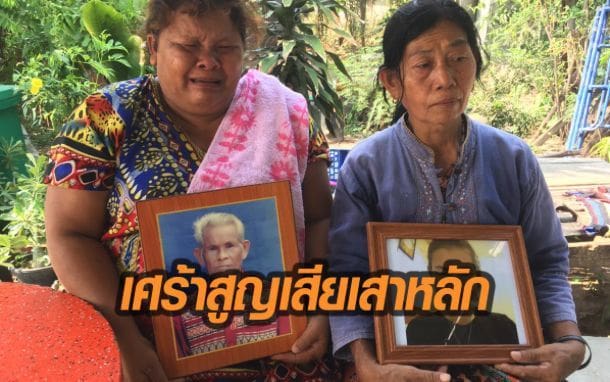 Forecast drought will weaken the Thai economy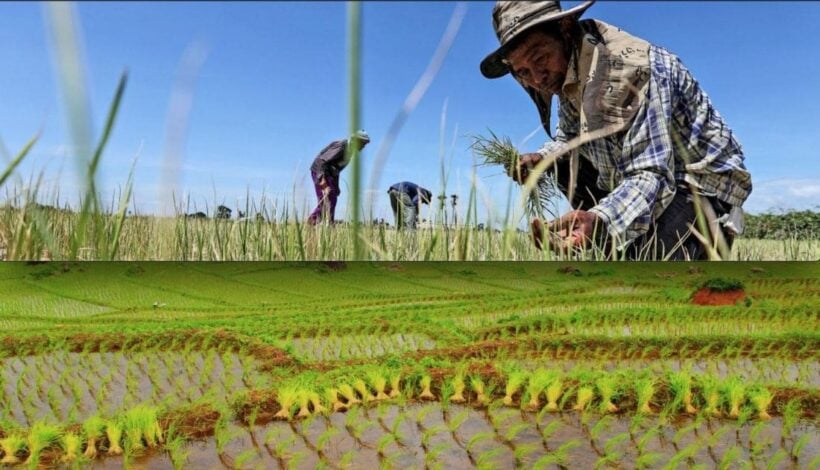 Thailand suffers calamities at both ends of the annual weather spectrum – both drought and flood. But as the demands on agriculture grow, with a growing population and the rise of tourists and development, the effects of these two extremes are becoming more apparent.
Which leads us to this year's outlook of lower rains which is exposing the poor management of the Kingdom's water resources. Greater development and growing population bases hasn't been met with more or larger water catchments.
So Thai farmers are expected to face a tough 2019 as forecasters say the drought will be more acute than usual, lowering the water levels in reservoirs in the central and northeastern provinces especially.
Int eh south, Phuket, Thailand's largest island and surrounded by water, has an acute water shortage as of Songkran and, without adequate monsoonal rain between now and November, will be facing a water crisis if it has to rely on its own island resources.
The Director General of Department of Agricultural Extension Samran Saraban says the drought this year is exacerbated by El-Nino weather cycle which causes temperature to rise 1-2 degrees higher than normal and cause the water levels in major reservoirs to drop to worrisome level. Higher temperatures mean more evaporation and more usage of reserves.
The Thai PM Prayut Chan-o-cha has called for farmers not to grow off-season rice as drought is predicted to spread into northeastern and eastern regions. That there will likely be a new administration coping with political instability will not help leaders focus on the country's looming water shortage.
The long dry season will lower certain farm outputs, pushing up their prices. However, an overall farm income is set to decline because the drought will leave other negative affects to farmers who are also the consumers as well. This will affect the purchasing power of farm households, which account for one-third of Thais.
Etc, etc, etc.
Economists estimated the damage from the drought on the economy this year could be high. Kasikorn Research Center estimate the drought could cost at least 15.3 billion baht. Whilst Anusorn Tamajai, Dean of Economics Faculty, Rangsit University, estimates the drought to cost even more – 20-30 billion baht -because it would affect the outputs of off-season rice, sugarcane and tapioca.
"It will dampen the purchasing power of farmers in the second quarter."
Siam Commercial Bank's Economic Intelligence chief Yanyong Thaicharoen said that the lackluster farm income can slash the growth rate of domestic consumption this year to 3.5% versus 4.6% growth last year, in addition to other factors, namely, high household debt and slower demand for durable goods.
Spending power from farmers, according to SCB, is crucial to sustain the growth of the economy. However, the grassroots economy is bracing for negative outlook this year.
There will be intense pressure on this season's management of Thailand's valuable water resources, through the remaining hot season and as the catchments gather water during the monsoon.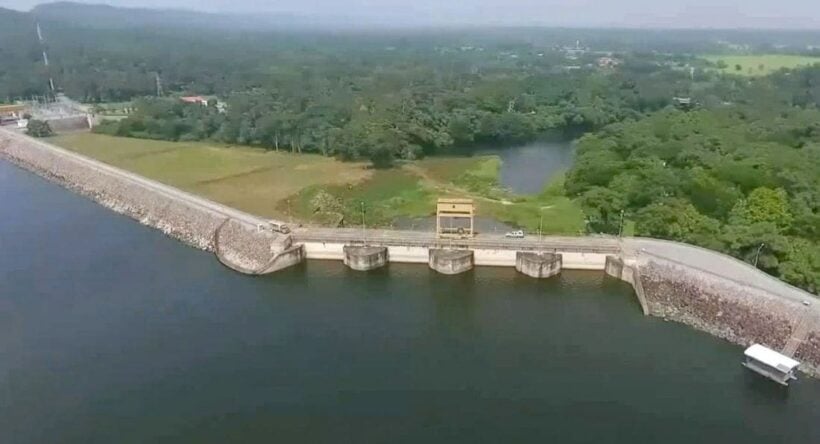 SOURCES: Thai PBS | The Thaiger | Wikipedia
Bus crashes off the road in Khon Kaen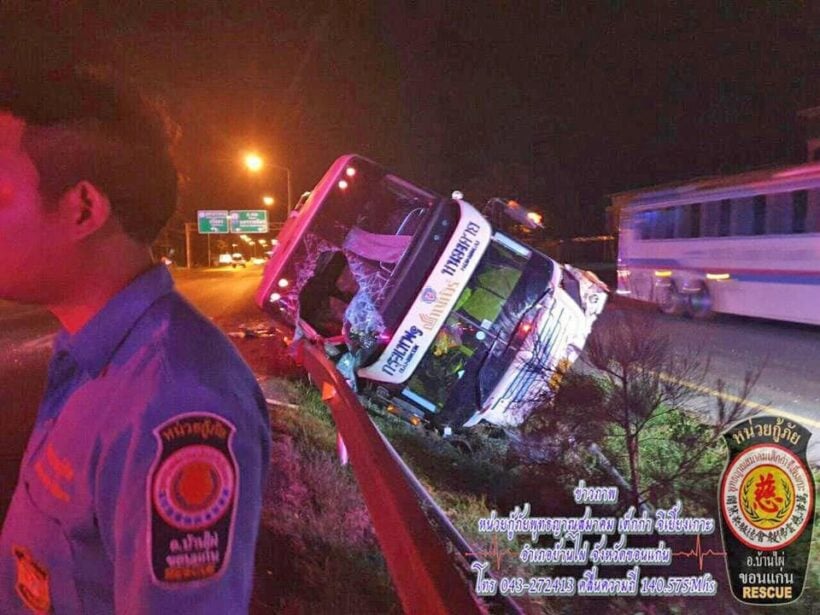 PHOTOS: Pudtayan Banphai Rescue Foundation
Many passengers have been injured following a bus crash in Khon Kaen, north-east Thailand this morning.
The Pudtayan Banphai Rescue Foundation reports that the bus was traveling from Bangkok to Nongkhai in northeast Thailand. The bus, which was full of passengers, hit a tree and a light pole on the road before ending up on its side in the ditch in the middle of the road on Mittraphap Road.
Passengers have only sustained minor injuries. They were taken to Baan Phai Hospital whilst police continue their investigation and question the bus driver.