When the family goes for a walk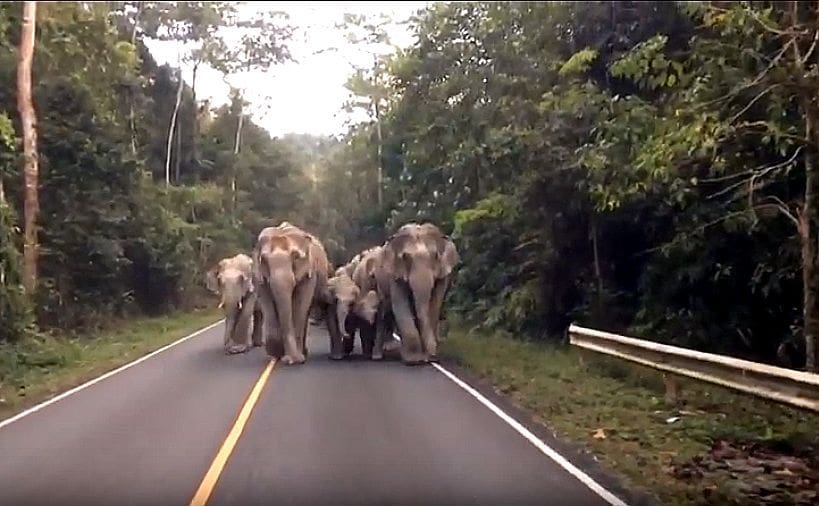 The Khao Yai National Park is always a great place for elephant-spotting but spotting this thundering herd coming towards you, we'd recommend an early retreat. This herd went for a stroll this morning. The Khao Yai National Park is in the inner north-east, about three hours drive from Bangkok.
Officials say the local elephants have become used to using the main road as a thoroughfare rather than trudging through the jungle and that spectators should be cautious if confronted by some road-strolling pachyderms.
The Khao Yai National Park chief, Kanchit Srinoppawan, says it's unusual to see such a big herd on the road, and it's still unclear why they have taken to the asphalt.
Park officials have put together a special task force in several locations across the park to monitor wild animals and keep tourists safe as the park's peak season approaches.
Elephant and human interaction has not ended well all the time resulting in injuries and smashed vehicles.
Visitors have been advised stop the car at least 30 metres from any elephant they encounter on the roads while driving. If an elephant approaches the car, they should slowly drive backward or park until the elephants departs. The advice is not to yell or toot the horn at them.
VIDEO: Kanchit Srinoppawan / Department of National Parks, Wildlife and Plant Conservation


Read more headlines, reports & breaking news in North East Thailand. Or catch up on your Thailand news.
Thailand will swelter through searing temperatures this summer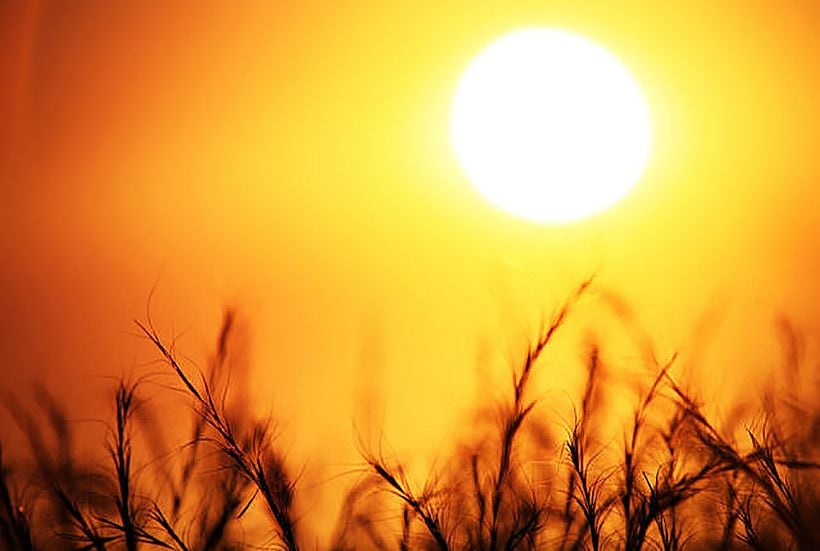 Temperatures in Thailand this summer is forecast to be 1-2 degrees Celsius warmer than last year. The announcement comes from the Thai Meteorological Department director-general Phuwiang Prakammin.
And it's predicted to hit 42-43C in seven provinces in northern Thailand.
In Thailand summer, as a regional season, is listed as running between February 21 to mid-May.
Phuwiang says daytime temperatures in March and April will hit 40C in much of the North, Northeast, Central and Eastern regions. But he doesn't foresee the record set on April 28, 2016, when Mae Hong Son, on the north-western border sweltered at 44.6C, being broken.
"But Mae Hong Son is one of the seven provinces forecast to reach 42-43C this year, the others being Lampang, Uttaradit, Sukhothai, Tak, Nakhon Sawan and Kanchanaburi."
"In southern regions, the maximum temperature will be 38-39C in Prachuap Khiri Khan, Surat Thani, Nakhon Si Thammarat, Yala, Krabi, Trang and Satun, accompanied by occasional rain and waves at sea up to a metre high."
"Rain will increase towards the end of April (the traditional start to the country's wet season is Songkran which is on April 13 each year), and waves will be up to three metres high."
"The weather in Pattaya in Chon Buri will match that of the South, with a maximum temperature of 35-37C in April."
Usable water level in Khon Kaen's main dam dangerously low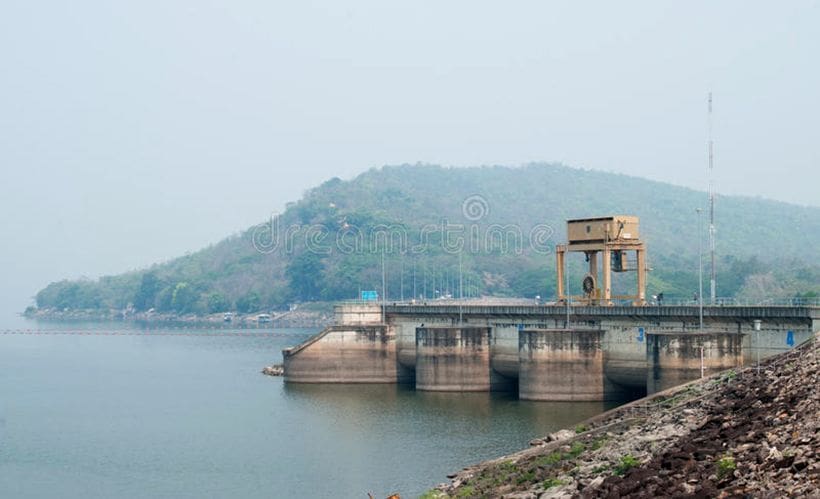 One of the north-east's largest dams is running dry. And the dry season has just begun.
About a year ago, Khon Kaen irrigation officials were discharging excess water through Ubol Ratana Dam (pronounced Ubonrat) to increase reservoir capacity to ease flood problems in Thailand's northeastern province of Khon Kaen.
Now, the same officials are urging people in the province to use water sparingly and farmers to suspend second-crop cultivation and to turn to crops which require less water.
The director of irrigation and maintenance, Songvuth Kitvoravuth, at the Nong Wai project says the rate of water entering Ubol Ratana reservoir has dropped by 25% since August 2018. There are now an estimated 700 million cubic metres left, with only 125 million cubic metres actually available for use because the balance of 575 million cubic meters must be retained for emergency and other purposes.
Officials have also been told to stop providing mobile water pumps to help irrigate farmland in order to conserve water.
The Meteorological Department says that the average temperatures in northern Thailand, including the north-eastern region, will reach about 40C this summer.
Meanwhile, the Khon Kaen provincial administration is seeking cooperation from people in the province to switch off their air conditioners every Friday from 7 pm-8 pm to save energy.
SOURCE: Thai PBS
Snakes! 2,000+ snakes seized in Thai-Laos border sting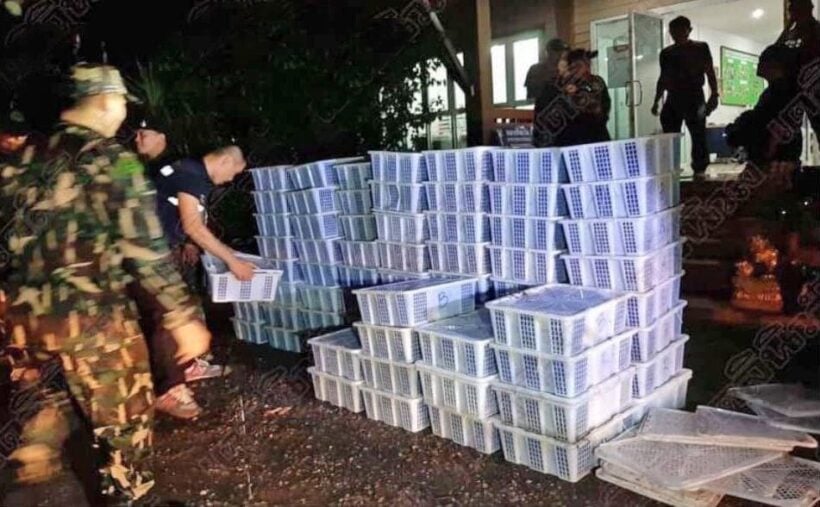 182 baskets containing 2,730 rat snakes and cobras – worth 1 million baht in total – have been intercepted as they were about to be smuggled out of Thailand and into Laos.
Mukdahan Wild Animals Checkpoint officials were joined by personnel from other agencies in confiscating the reptilian cache. Mukdahan is located on the far north-eastern Thai-Laos border
Following a tip-off that a large number of snakes were to be delivered into Laos on a pick-up truck through Ban Bang Sai Noi pier in Mukdahan's Wan Yai district, a task force siezed the snakes at 8.30pm last night (Sunday).
The officials discovered 3-4 people moving plastic baskets with closed lids from a pick-up truck onto the pier for transport by long-tail boat. The suspects fled when they saw the authorities approaching.
Officials found 15 live snakes inside a net sack in each basket and collected these and the vehicle as evidences to pass onto the Wan Yai Police Station to investigate and arrest the culprits. They will be charged with having wildlife in their possession without permission and importing wildlife without permission under the Wild Animal Reservation and Protection Act 1992.
Authorities are speculating that, once in Laos, the snakes would be sold to Chinese investors to make an alcoholic beverage produced by infusing whole snakes in grain alcohol, which is erroneously thought to have health benefits and serve as an aphrodisiac.
SOURCE: The Nation