26 year old Thai gored to death by wild elephants in Buri Ram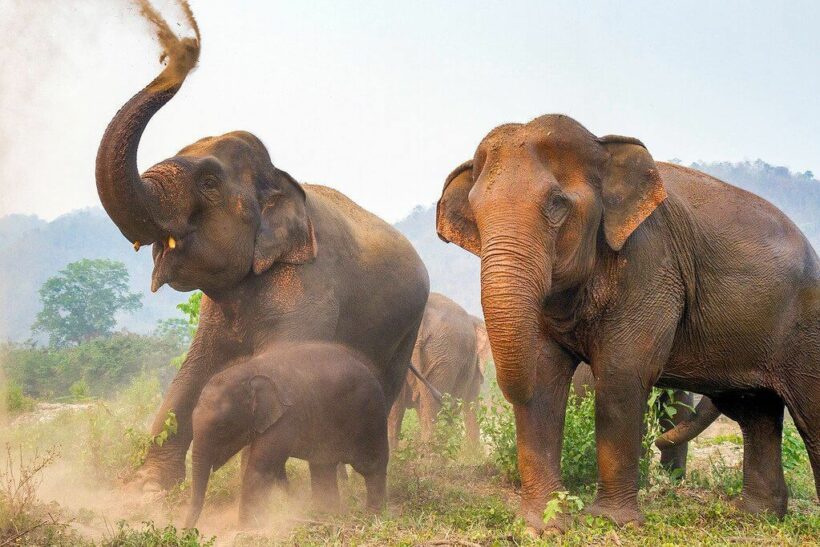 FILE PHOTO: Expert Vagabond
A Buri Ram man has been gored to death by a wild elephant in his tapioca plantation. The incident happened late yesterday (Wednesday). His wife told police she "played dead" to escape harm from the marauding elephants.
None Din Daeng police were informed that 26 year old Surasak Phijaranakhonburi had been fatally gored on his left side of his chest by an elephant's tusk while he and his wife camped out in their plantation in Tambon Nong Bua.
The Nation reports that Surasak's wife, 27 year old Sureerat Tabuangsri, told police that after their workers finished harvesting tapioca they decided to sleep in a mosquito net near their 10 wheel truck in the plantation so that her husband could spray pesticide the next morning. But they were woken up late on Wednesday night by three wild elephants that toppled their mosquito net, Sureerat said.
She said Surasak became frightened and got up and tried to run away but he stumbled and fell down and was killed by one of the elephants.
Sureerat said she wrapped herself in the mosquito net and laid still as if she was dead. She managed to hide by crawling under the truck and wait until the elephants moved on.
She checked and found that her husband had died and then called relatives and police.
SOURCE: The Nation
Wild animals and wild flowers – tulip season at the Khon Kaen Zoo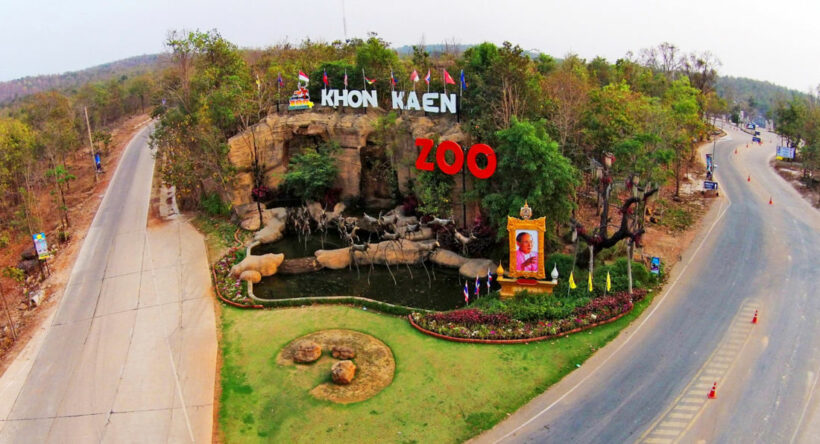 PHOTO: Khon Kaen Zoo
Blooming fields of colourful Siam tulips are now competing fort attention with white lions, tigers, orangutan, camels, white rhinoceros and exotic animals at the Khon Kaen Zoo. Th zoo, in Khao Suan Kwang district, has a new seasonal attraction to its collection of wild animals.
The combination of wildlife and wild flowers makes for an unbeatable tourist destination, according to the zoo deputy director Wanchai Sawasu.
This week also takes on a spiritual atmosphere at the zoo-cum-wildlife park, which is marking the start of so-called Buddhist Lent tomorrow (Wednesday). Visitors are flocking to the zoo's Sila Mani Buddha image to offer prayers ahead of the beginning of the annual rains in the north east regions.
The religious festival lasts for seven days, with worshippers marking the Thai tradition of paying homage on the day of the week on which they were born.
Find out the day of the week you were born HERE (but come back to The Thaiger 🙂
The entry fee for foreign visitors is 150 baht, children 70 baht and includes admission to the Water Park. Entry is free for children under 120 centimetres, adults 60 or older, the disabled and monks, while students and government employees pay 50 baht.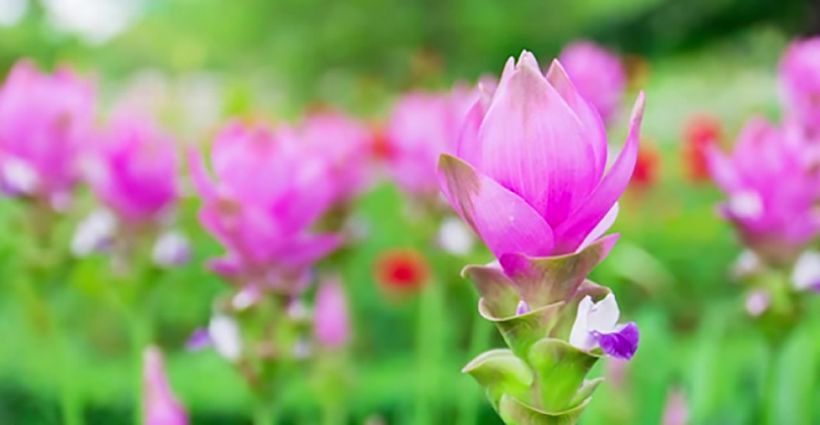 'Irishman' nabbed after 11 year overstay in north-east Thailand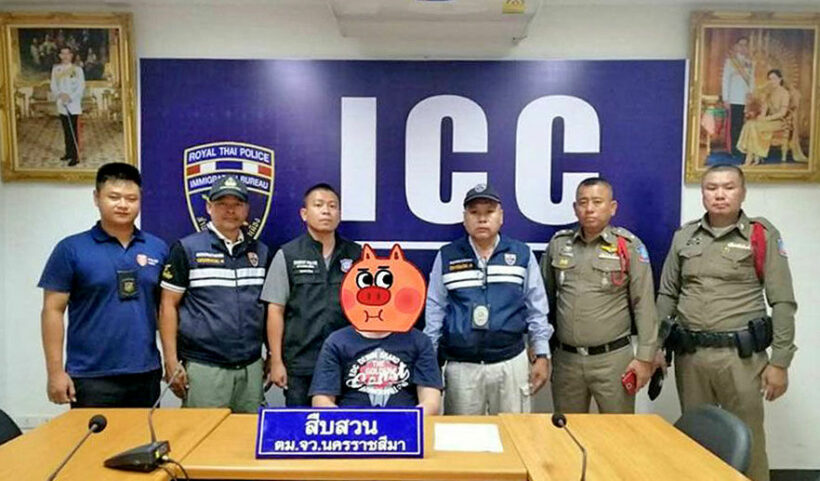 PHOTO: Naew Na
Nakhon Ratchasima Immigration, along with local tourist police, have arrested an Irishman,Samuel Caleb Birch, who has been on an overstay of 4,192 days. That's nearly 11 years and six months!
According to Naew Na, the man was arrested at a restaurant in Soi Moo Ban Yamo 5, Ban Mai, Nakhon Ratchasima, north-east Thailand.
According to his visa, he arrived in Thailand through the Malaysia border at on January 17, 2008 on a 90 day tourist visa valid up to April 15, 2008. Despite the report from Naew Na saying he was Irish, ThaiVisa reported that he was actually from Taunton in Somerset, England and was married with a Thai wife and two young children.
A GoFundMe account had been started for Samuel to raise funds to help him in his predicament but a search by The Thaiger this morning couldn't turn up an account under the name "Samuel Caleb Birch" (or other variations of the name).
The pig head in the photo has been pasted on by Naew Na
An 80 million year old carnivorous dinosaur from Thailand identified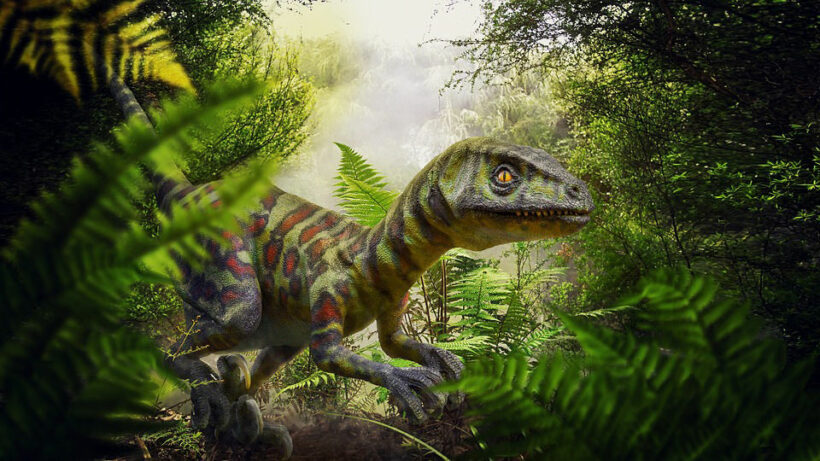 PHOTO: Thai PBS
A Thai PhD student, studying overseas, has identified some bones of a dinosaur wandering around the mountains of Khon Kaen 80 million years ago.
Fossilised bones, unearthed on a mountain in Khon Kaen nearly 30 years ago, have been identified as belonging to a previously unknown carnivorous dinosaur.
Thai PBS says the the bones were unearthed on Phuwiang Mountain in Phuwiang district in the northeastern province.
Sommai Taechaval, director-general of the Mineral Resources Department, says the dinosaur, from the Cretaceous period about 80 million years ago, was named Phuwiang Venator Yaemniyomi in honour of Mr. Sutham Yaemniyom, a retired official of the department who originally unearthed the fossilised bones.
The fossil was studied by Adul Samathi, a PhD student at Bonn University, Germany, who says he became interested after having seen the fossilised bones and was convinced that they belonged to a special dinosaur species. He suggested that the meat-eating dinosaur would have been about six metres long and its fossilised remains were found in the red sandstone layer.
A dinosaur expert at Maha Sarakham University, Dr. Suravech Sutheethorn, says the fossilised bones were found in 1993 at the 9B pit in Phuwiang national park, adding that fossils of several dinosaur species have been found in the Phuwiang district.
Sixteen dinosaur species are believed to have lived in what is Thailand today. Of these, nine were newly discovered species. They are Phuwiangosaurus Sirindhornae, Kinnareemimus Khonkaennsis, Siamotyrannus Isanensis, Siamosaurus Suteethorni, Isanosaurus Attavipachi and Psittacosaurus Sattayaraki.
If you're up around Khon Kaen in the next few weeks, don't worry, the dinosaurs all died out around 66 million years ago.
ORIGINAL STORY: Thai PBS