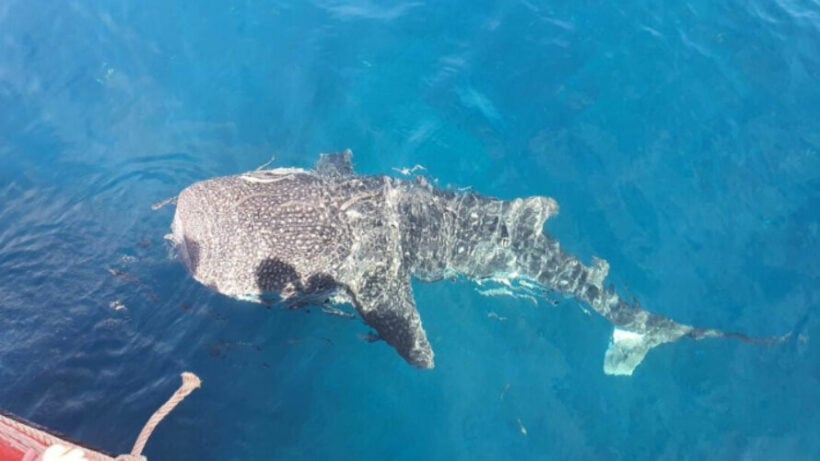 A stunning four-metre-long whale shark visited a group of tourists on a snorkelling trip in the waters of Koh Chang in the Gulf of Thailand yesterday in an extremely rare sighting.
Danai Unglo, the owner of Mister Khai Tour Company, said he was leading a group of 15 tourists to go snorkelling at Koh Klum island in Trat province's Koh Chang district when something unexpected happened.
As Danai moored his boat and prepared snorkelling equipment for the tourists, a whale shark came to the surface of the water right next to the boat.
The tour operator said he quickly snapped a photo of the friendly sea creature as he knows how rare it is for one to approach a boat.
While whale shark sightings are more common out at sea, cold-blooded whale sharks rarely venture into shallow waters.
Danai said the elegant shark swam around the boat for a good 10 minutes before sauntering away into the depths.
Whale sharks are the world's largest living fish and can reach a full length of 12.5 metres and a weight of 21.5 tonnes.
The global population of the species has decreased by more than 50% over the past 75 years, resulting in its listing as "endangered" on the IUCN Red List of Threatened Species. The Indo-Pacific populations have decreased even more dramatically at 63%.
Currently, the whale shark is the only shark species listed as a protected species in Thailand.
In September, a pair of whale sharks were spotted at a dive spot in deeper waters off the coast of Koh Pha Ngan. One was four metres long and one was six metres long, according to the members of the Phangan Sea Guardian Association who spotted the gentle giants.
In August, a dead whale shark washed up on Long Beach on Koh Lanta island in Krabi province. Officials said it had never happened before in the province.