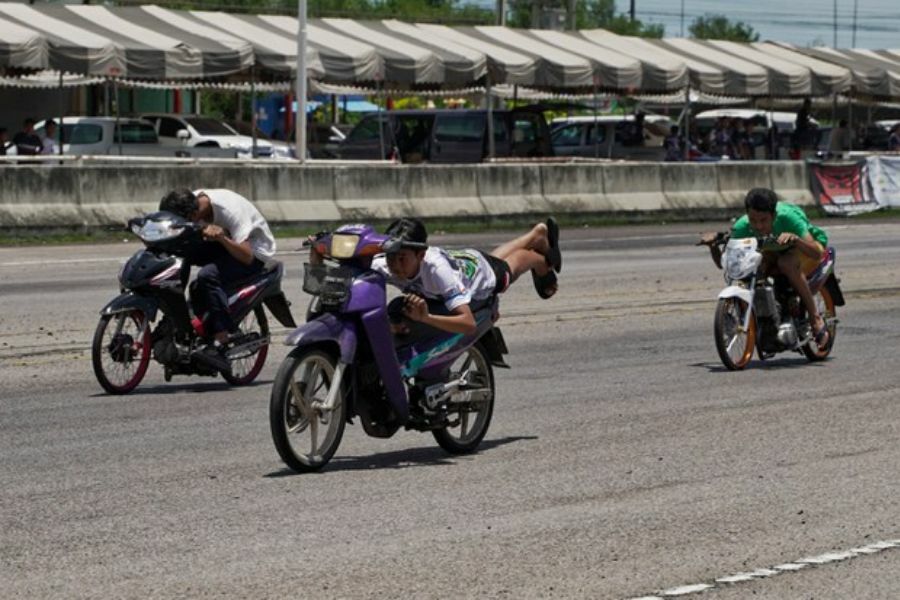 Thai netizens hailed UK YouTuber JimmyTheGiant for his documentary-style video "Thailand's Most Hated Subculture," which sheds light on the persistent issue of boy racers in the kingdom. Many have called on Thai authorities to take the issue seriously and sort it out.
The term "Dek Waen" is used to describe teenage boy racers who ride motorcycles or drive cars, very fast. However, it is not just limited to teenagers. It can be used to describe any motorist who drives at dangerously high speeds and causes problems for other motorists and residents on the road.
The British YouTuber, Kieren Owen, who runs the YouTube channel called JimmyTheGiant, is known for creating documentary-style videos on various subcultures from around the world. He recently picked up one Thai subculture, Thai boy racers or Dek Waen and launched the episode on February 24 under the title "Thailand's Most Hated Subculture."
Owen explained in the video that Dek Waen is considered the most hated subculture in Thailand because most of the speedsters are troublemakers. They ride a motorcycle in an aggressive way and modify their motorbikes to make noise pollution, etc.
His video explores the character of the boy racers, the popular motorcycle models they use, and the origins of the subculture. He also discusses issues related to drugs, violence, and weapons that are associated with Dek Waen. Owen even interviewed Thai people who face these problems and talked about the authorities and what measures they could take to tackle this problem.
The YouTuber concluded that the number of Dek Waen decreased due to a severe crackdown from the relevant government departments in Thailand.
Many international audiences found the content of the video interesting and informative, and some even shared their own experiences with Thai boy racers. Netizens said…
"I remember seeing them up in northern Thailand near the Burmese border. They had mohawks and were in military fatigues. They looked badass."
"A few days ago, a girl at my school, her mother died in a motorcycle accident in Thailand. It is so dangerous. One time, my mum was parking, and a boy was driving super-fast and hit my mom…"
"Reminds me of the Bosozoku culture of Japan in the 80s/90s… super interesting!"
"In the Philippines, we call the kind of bike modification a "Thai Concept." The Philippines also has this kind of biker subculture, I guess copying from the Dek Waens of Thailand."
Thai audiences also expressed their appreciation for the documentary, saying that the team did some good research. They saw that the video has brought attention to the persistent issue of teenage motorcycle speeders in Thailand which Thai YouTubers have never done.
Many Thai people declared that they did not think the number of Dek Waen increased but the government should do more to solve the issue.
Thai netizens commented…
"I am Thai and face this problem every day because most children are poor and do not have a good education and lack family training. As a result, they cause problems for society and most of the consequences come from poor governance."
"Yo I'm Thai. And this research was like 90% accurate you guys did a great job."
"Another name for 'Dek Waen' is Garbage. I live in Samutsakhon here are a lot of them"
"Should I be proud of this video? haha"
Last month, the Royal Thai Police (RTP) recently invited residents to take part in the crackdown on speeding motorcycle riders in Thailand by reporting incidents to the police. The RTP also rewards anyone who reports useful information leading to an arrest with 3,000 baht. The RTP added that they already rewarded 23 reporters and paid out 69,000 baht.


Join the conversation and have your say on Thailand news published on The Thaiger.
Thaiger Talk is our new Thaiger Community where you can join the discussion on everything happening in Thailand right now.
Please note that articles are not posted to the forum instantly and can take up to 20 min before being visible. Click for more information and the Thaiger Talk Guidelines.