Tragic end to building collapse in Pathum Thani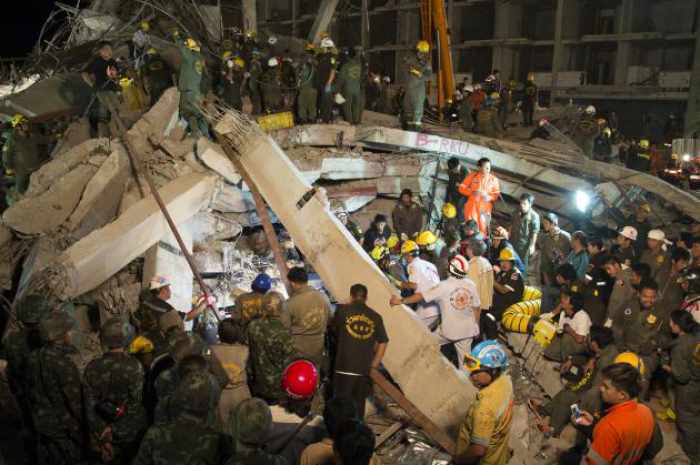 PHUKET MEDIA WATCH
– Thailand news selected by Gazette editors for Phuket's international community
Tragic end to building collapse in Pathum Thani
The Nation / Phuket Gazette
PHUKET: A Buri Ram woman who made a desperate dash from the northeast to Pathum Thani in search of her husband – trapped in a building that collapsed late on Monday – was able to say just a few words to him, before he died early yesterday.
After learning on Monday from a television report that a six-storey condominium being built in Klong Luang had collapsed, Sutha Arunsri travelled all the way from her home in Northeast Thailand to the site in hope of learning the fate of her husband Chettha Kamphuchat, who was trapped in the debris.
It was a journey of 400 kilometres tinged with hope, but one that ended, ultimately, in tragedy.
Standing anxiously outside the sealed area since 5am yesterday, she said her husband was a farmer who had only started working at the construction site two days ago.
"I'm worried about my husband and I can't get hold of his four or five worker friends to learn about him. I'm not sure if they were all trapped in the debris," she said.
Chettha was one of seven workers stuck in the wreckage yesterday morning. He was able to talk to rescue workers throughout the night and was given a large amount of saline and oxygen. By 6am, he could still talk, but his pulse weakened until he lost conscious.
Rescue workers took Sutha to talk to him briefly. But that was all they could do. At 9.30am he passed away while his wife waited in vain outside.
All but one of seven workers who were trapped ended up dying, bringing the death toll to at least eight, while about 30 others were injured, five seriously.
The search and rescue mission by soldiers, officials and workers equipped with machinery ended late yesterday. They face difficulty because removing the rubble required caution amid fears the structure might collapse further.
Late yesterday – 24 hours after the building collapsed – the drama ended. Of the last six who were trapped all but one died and the army begun lifting the heavy material away from the site.

One trapped man rescued
The one trapped worker who survived was Chon Buri native Klanarong Prappai, 24, who communicated with rescue workers that his legs were stuck under the debris. His mother Pratheep Arunsri, who arrived at the site from Pattaya yesterday afternoon, said Klanarong had come with relatives to work at the site.
As the search for her son continued, Pratheep told reporters Klanarong had planned to bring his wife and son to celebrate National Mother's Day with her.
Engineering Institute of Thailand (EIT) president Suchatvee Suwansawat said the rescue mission made safety a priority. The searchers had to drill through to the victims rather than digging and lifting rubble out.
There would also have to be a plan for removing debris from the site after all the victims were out, he said.
Suchatvee said that after the rescue mission was over, an EIT team would inspect the building, which was reportedly 50 per cent constructed, to see if the work had been carried out properly and according to the plan. It would take some time for engineers and forensic police to determine what caused the collapse.
An informed source reported that the area was a wetland that had suffered from the 2011 flood, before being purchased for building construction.
Survivor Ronnachai Thirat, 25, recalled that he was resting inside the structure when he heard a loud sound like a lightning strike above, followed by clouds of dust. He immediately sprang out for safety just before the building collapsed.
"I don't know how I escaped. I'm very lucky to survive," he said.
Ronnachai sustained a head wound and injuries to both legs.
Pathum Thani Governor Pongsathorn Sajjachonlaphun said police would summon the condominium-project owner and project engineer for questioning. Local authorities, as a precaution, would inspect a nearby condo building in the same project.
Dr Narong Sahamethapat, permanent secretary of the Public Health Ministry, said the incident affected 33 workers – 24 Thais and nine migrants. Most of the injured had been treated and released, but five remained in hospital. Their medical costs would be covered.
— Phuket Gazette Editors
📱 Download our app on Android or iOS for instant updates on your mobile
📧 Subscribe to our daily email newsletter
👍 Like/Follow us on Facebook
🔔 Subscribe to or Join our YouTube channel for daily video updates
Killer pit bull attends victim's funeral to apologise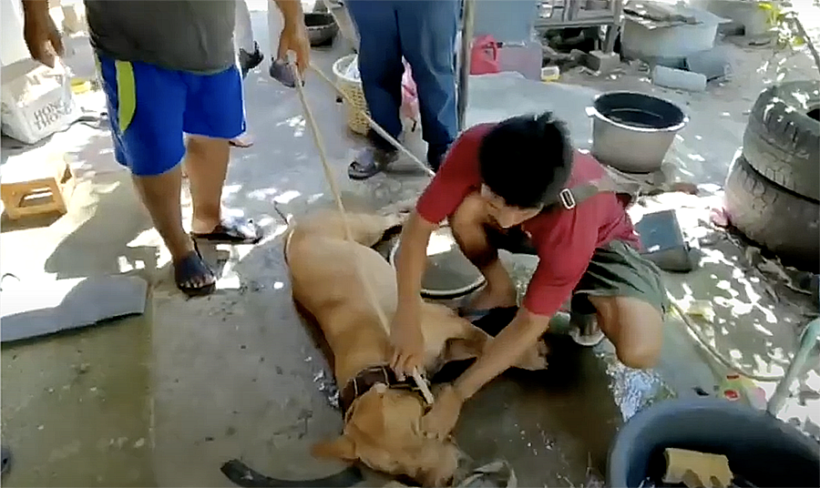 An unexpected guest was seen yesterday at the Bang Lamung, Pattaya funeral of the victim of a pit bull attack. Giant, the guilty dog, was brought to apologise by his new owner. The Thaiger has been following the tragic story of the 55 year old man who was sleeping next to his pet pit bull when his son witnessed the dog wake suddenly and attack its owner, taking a half hour to pull the poor man free.
The victim, Wisit Sanguan, suffered violent bites on his neck and body and died of blood loss and severe wounds the next day in the hospital. His cremation is scheduled at 4pm today in Bang Lamung.
Yesterday Suksa Ketnak, Giant's new owner, brought the pit bull to Wisit's funeral to pay respects and apologise. Giant was restrained with a protective muzzle to keep everyone safe. Following with Buddhist tradition, Suksa and Giant came to pray and 'apologise' to Wisit's spirit for the pit bull's attack and ask for forgiveness.
The Pattaya News reports that the grieving widow accepted the apology with the family saying they forgive Giant and still care for their former pet. Giant expressed love and recognition for the family, excited wagging his tail and letting relatives play and pet him.
After the attack that tragic day, the pit bull was still aggressive hours later and the Chon Buri Pit Bull Club took Giant into custody by sedating him. They announced later that a new owner with experience in troubled dogs had taken the pit bull in. The Pit Bull Club announced that they did not find any evidence of abuse or mistreatment.
Then the story escalated further as the grieving widow lashed out at overzealous internet commenters who posted accusations on social media defending pit bulls and blaming the family assuming they were abusive. She threatened legal action under Thailand's strict computer crime and defamation laws.
Hopefully, this funeral with a pit bull apology marks a peaceful ending to a tragic saga.
SOURCE: The Pattaya News
📱 Download our app on Android or iOS for instant updates on your mobile
📧 Subscribe to our daily email newsletter
👍 Like/Follow us on Facebook
🔔 Subscribe to or Join our YouTube channel for daily video updates
Police inspect Pattaya restaurants for compliance with alcohol sales ban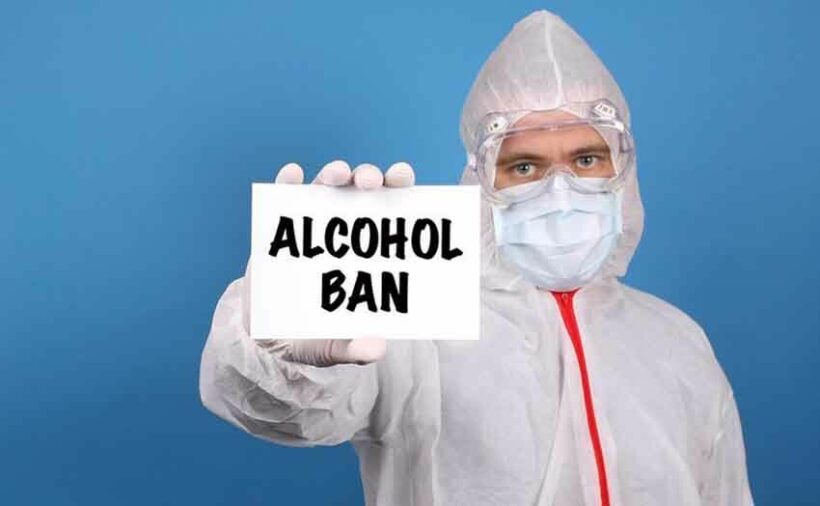 Police in Pattaya have carried out inspections at local restaurants to ensure a ban on alcohol sales is being adhered to. The prohibition is part of the latest Covid-19 restrictions aimed at controlling the spread of the virus. Officers from Banglamung police station, led by district chief, Wutthisak Singhadaechor, and police chief, Sakchai Suwannukun, have dropped in on multiple eateries to check they're complying with the law.
The Pattaya News reports that, while there is a ban on consuming alcohol while dining in restaurants, there are no restrictions on purchasing alcohol for takeaway purposes. The police also checked that other disease prevention measures were being adhered to, including the provision of hand sanitiser and temperature checks for all customers.
There is currently no end date to the latest order issued by the governor of Chon Buri, which is in force until further notice. Pattaya officials say further inspections of restaurants will continue, adding that any local residents troubled by violations of Covid-19 restrictions can report offenders by calling 1137.
The current restrictions have been implemented under the nationwide emergency decree, which gives the government sweeping powers and carries harsh penalties. Restaurant owners caught breaking the alcohol sales ban face fines of over 100,000 baht and/or several years' imprisonment.
SOURCE: The Pattaya News
📱 Download our app on Android or iOS for instant updates on your mobile
📧 Subscribe to our daily email newsletter
👍 Like/Follow us on Facebook
🔔 Subscribe to or Join our YouTube channel for daily video updates
Pattaya prepares for around 2,000 US soldiers to visit for Cobra Gold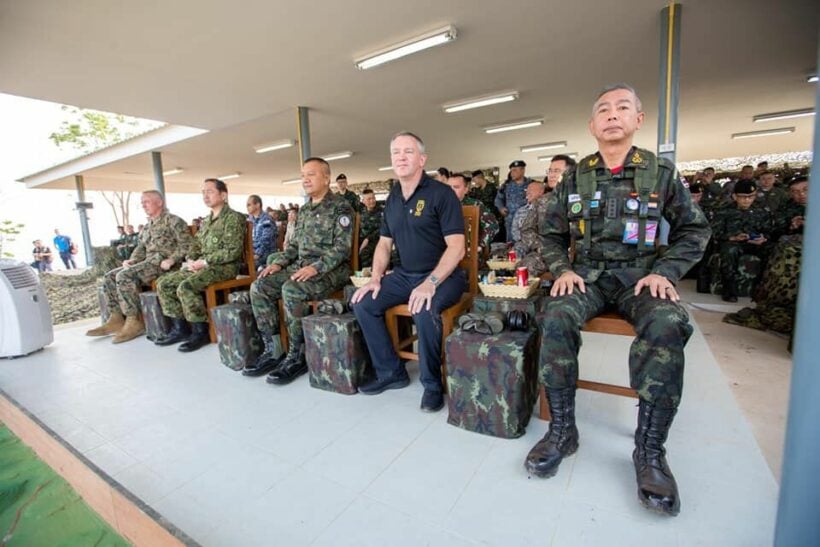 Despite Thailand's record high Covid-19 count, around 1,000 to 2,000 United States soldiers are still expected to travel to Thailand in August for the annual Cobra Gold multinational military exercise, which is co-sponsored by the US. Thai soldiers teach American and other foreign soldiers jungle survival skills, from identifying edible plants to decapitating snakes, drinking the blood, and then cooking up the bodies to eat.
During the Cobra Gold exercise, US troops will be visiting Pattaya for rest and recreation. US forces representatives based in Thailand met with Pattaya officials to discuss the preparations for the event as well as Covid-19 prevention measures and security, particularly at the Bali Hai boat landing in south Pattaya.
Local health officials will work to vaccinate 70% of the population in Bang Lamung district and Pattaya City by June. Foreign soldiers will need to have both doses of the Covid-19 vaccine before arriving in Thailand.
SOURCE: Bangkok Post
📱 Download our app on Android or iOS for instant updates on your mobile
📧 Subscribe to our daily email newsletter
👍 Like/Follow us on Facebook
🔔 Subscribe to or Join our YouTube channel for daily video updates