The government gets a 'rap' on the knuckles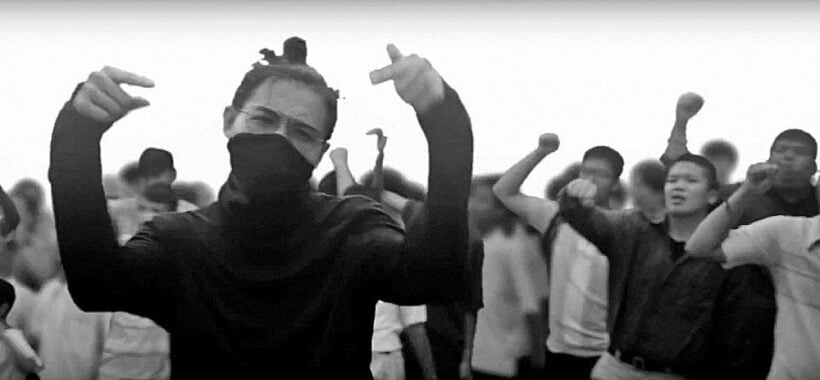 13 million views and still going strong. That's 20% of the population of Thailand.
Any pop group would be astonished, amazed and pleasantly surprised by such popularity of their video clip in such a short time.
But in this case the clip is a subversive rap from 'Rap Against Dictatorship', a five minute rant against military rule in the Kingdom. The YouTube clip includes English subtitles.
"My country preaches morals, but has a crime rate higher than the Eiffel
My country's Parliament is a soldiers' playground
My country points a gun at your throat
Claims to have freedom but gives no right to choose
My country's government is untouchable
The police use laws to threaten people
My country asks you to stay quiet or in jail."
A military spokesperson, Col. Siriwat Deepor said on Friday said, "Investigators are trying to identify those in the clip, because the content is quite defamatory to the country and causing a lot of damage."
He said that the group faces five years in jail and a 100,000 baht fine if convicted under the Computer Crime Act. Worryingly, he also threatened those sharing the clip would face the same punishment (several Thai media have already done so – we're not quite so brave).
But it was only the start of this month when NCPO leader and current PM General Prayut Chan-o-cha fully embraced the social media world.
"Prime Minister Prayut Chan-o-cha, who previously said his real happiness was staying away from social media, is now fully equipped with the famous platforms Facebook, Twitter, Instagram as well as his personal website…" – The Nation
Reactions at the time thought the Thai PM had proven a bit thin-skinned in the past when responding to criticism. The NCPO has responded to criticism over the past four and a half years with threats, 'attitude adjustments', the enforcement of the controversial Computer Crimes Act and charging perceived dissenters.
Plunging head first into the rabbit hole of social media, for any politician, will not be good for their ego. A few decades of social media show that it can be a toxic space for the faint-hearted.
You've either got to be a Donald Trump-type and use social media for all its good and bad, post any sort of rubbish and hope some of it sticks. Then go on the attack against your detractors. That takes time, ego and energy.
Or you just use it to spread the good word, block commentary and not engage your audience.
There's not really much space in the middle with social media.
The Junta's reaction, perhaps even over-reaction, to the rap song on YouTube, which attacks everything they don't like about Thailand's military government, has just added to the click's fame.
The YouTube views have sky-rocketed since the government spokesperson spoke about it on Friday. Rounding up the musicians and charging them under the Computer Crimes Act will surely further add to their fame, the clip's clicks and unwanted outcry from outside Thailand about a 'heavy-handed unelected government', etc, etc.
All this at a time when Prayut and his team are vying for voter love and support in their, yet unannounced, standing for election in next year's poll. This test of their resolve has come at a bad time. If PM Prayut and his ministers are to stand for election they will need support from the widest constituency possible. That will include reaching out to their detractors as well and taking a few punches on the chin as part of the rough-and-tumble of democratic politics.
I pose two possibilities.
Option One
The Government rounds up and charges the team behind the offending rap. After questioning there would likely be some charges laid and a period of months waiting for their day in Court, likely to be a date post February 24, 2019, effectively silencing them in the time leading up to the election.
Option Two
The Prime Minister invites the group to government house, or sends one the country's deputy PMs to Thammasat University, for a closed discussion. In this way, no one is losing face. Following any meeting there would be a 'very Thai' photo opportunity with a polite wai from the performers and a statement from both sides saying that they "appreciated the chance to meet and share their differences." Everyone's a winner.
The public relations outcomes for the Government would be very different.
The government's newly appointed official spokesman, Puttipong Punnakanta, stated on Friday that the government feels sorry that Thailand's young generation wants to harm the country.
"They should've used their musical talent in a way that is more beneficial to their motherland and become good role models to others," he said. "I don't want people to think that doing this is cool or fun. I'm not sure if they did it on their own will or if there's someone else behind this."
Youth sharing their voices and ranting against sitting governments and institutions is nothing new. In this case it's just been words shared, not blood or civil disturbance.
Of course in 2018 their opportunities for doing so are vastly increased, compared to the old media paradigms. They must have either been acutely aware of the timing of their release or perhaps just uploaded the file as a dare.
Either way, the government's reponse to the matter may play an important role in the next few month's electioneering.


Read more headlines, reports & breaking news in Thailand. Or catch up on your Thailand news.
"Racial profiling and xenophobic" – a rant against Dual Pricing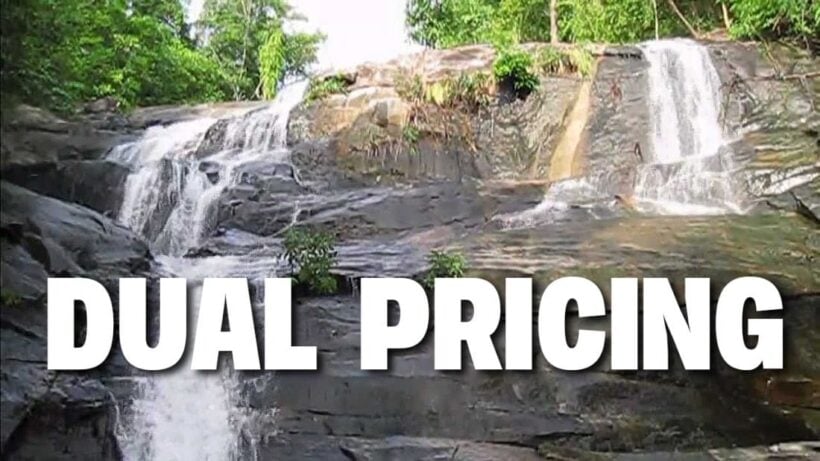 The rules are applied in a lumpy fashion at various tourist hot spots around the country as well as some national parks. Sometimes it's applied, sometimes, not, sometimes there are signs, sometime they make it up as they go, sometimes they will allow local expats in for the Thai price.
There are dual-pricing apologists who say 'Hey, it's cheap anyway, so pay up and shut up'. Whilst dual-pricing whiners say it's unfair, racist and shows a lack of grace towards tourists and foreigners.
Here's the story from 'Despondant Foreigner'. You can have your say on the post at our Facebook page…
"I would like to share my story with you that happened to me this morning. I visited Promlok waterfall in Nakhon Si Thammaratt with my Thai wife, child and wife's family. Upon arrival two soldiers approached our car and my wife began talking to them. They explained to her that as today is Songkran all Thai's get to go to the waterfalls free of charge but I had to pay. Then a woman dressed in yellow approached the car who confirmed what the soldiers said and told my wife that this is a new law. Well we were all disgusted and proceeded to drive back down to the bottom of the waterfall where we could all swim for free.
I am absolutely disgusted by this. Yet another example of Thailand's racial profiling and xenophobia towards foreigners. The fact that I am married and have children here doesn't make a difference. Because I have white skin I must pay the fee whilst all Thais go in free."
SOURCE: ThaiVisa
Fox News fake news, Phuket gets a bullet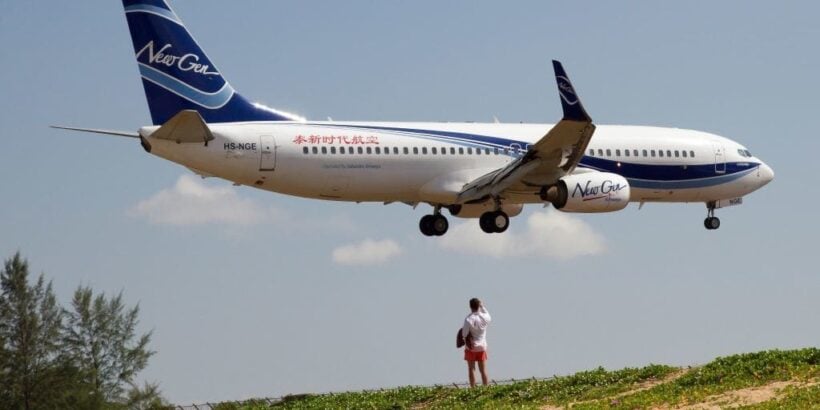 by Bill Barnett, C9Hotelworks.com
As Phuket moves slowly into low season, a story published in the international media by the US-based Fox News about how tourists could face the death penalty over taking photos at the island's airport is a highly flaw piece of sensationalist fake news.
Clearly there is no likelihood that the Thai authorities will apply a legal maximum penalty under the Air Navigation Act for tourists posing for selfies as airplanes land. More likely would be a  charge of trespassing and a fine.
Clicking into Google this morning the story is now running with the New York Post, MSN and other news outlets abroad.
What is distressing is to see how news providers sensationalize Thailand and Phuket with little regard as to the consequences of the economic impact of such a story.
For most readers, what they will remember when reading such a piece is only the headline about Phuket, Mai Khao Beach and the death penalty.
What a sorry state of affairs mainstream news has become.
To read the Fox News article clock HERE.
Is Thanathorn the new Thaksin? Will the 'establishment' tolerate his new political vision?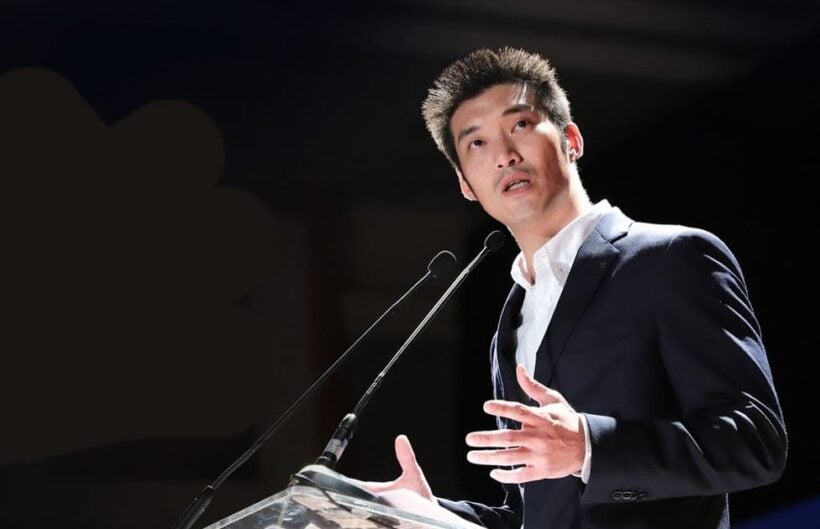 Is Future Forward Party leader Thanathorn Juangroongruangkit a popular fad or does he, and his party, have the staying power to make him a sustainable threat to the entrenched Thai political elite?
Many analysts are comparing Thanathorn to Thaksin in his early days. They say there are clear similarities. First off, Thanathorn is facing the kind of legal trouble that Thaksin faced when Thailand's political crisis started to brew.
After becoming Thailand's PM, Thaksin faced a share transfer scandal in which he moved his company shares to poor servants, allegedly to avoid stock market restrictions imposed on people owning big lots of stocks. Now, 40 year old Thanathorn is facing a legal controversy over his previous ownership of media shares, which could still doom his election candidacy.
The allegations are yet to be considered by the Election Commission.
Thaksin, in spite of repeated denials, was always alleged to have controversial political ambitions. Thanathorn, meanwhile, is seen in an increasingly similar situation. The list of complaints is growing, many to do with his perceived unorthodox ideology that contrasts with the conservative political 'Thainess' that includes non-negotiable support for the Army and Monarchy.
Thanathorn has been criticised for something he said about the Khana Ratsadon Party, which played an instrumental role in changing Thailand's system from absolute monarchy to constitutional monarchy in 1932. The secretary-general of Thanathorn's party has also been forced to deny making highly-controversial comments about Thailand's political culture.
Future Forward did very well on March 24, surpassing pundits' predictions for the new party. Analysts say the success is due to three main factors — Thanathorn's youthful image that attracted the majority of first-time voters, the dissolution of the Thai Raksa Chart Party that shifted a lot of votes to Future Forward, and the new party's fresh ideology and perspectives.
He, and the party, attracted a lot of newer voters along with a core of disaffected voters who are looking for change.
But Thanathorn's looming legal trouble is described as a potential banana skin. It concerns a large number of shares he had in a media company, which were transferred to his mother so that he could qualify as an election candidate.
One apparently-private document, which he is relying on, showed he transferred the V-Luck Media Company shares on January 8, before he applied for election candidacy. Another document, which his accusers are relying on, apparently showed the transfer was brought to the authorities' attention after he became an election candidate.
Controversy continues to build around the young billionaire and chances are it will grow.
SOURCES: Thai PBS | The Thaiger