Thailand News Today – Tuesday, May 26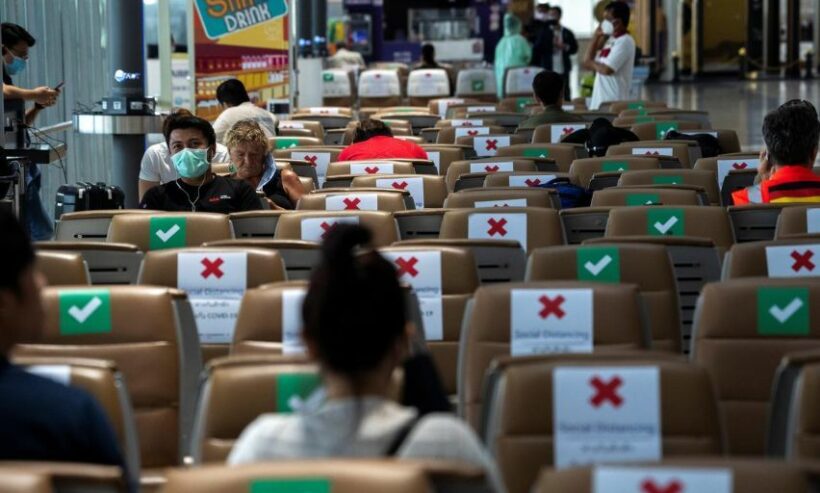 Bangkok woman dies of salmonella poisoning after eating 'death dumplings'
Following the death of a Bangkok woman who fell ill after eating dumplings, lab tests have now come back proving there were detected traces of salmonella bacteria.
The Samut Prakan provincial health office confirms that several members of the woman's family also fell ill after eating the dumplings, which were purchased from a local vendor. Around 2 dozen people ended up sick with 1 person dying sometime after they ate dumplings sold by a street vendor in Samut Prakan, a province south of Bangkok.
It's understood police are now questioning the dumpling seller, but no charges have been filed as the investigation continues.
Dozens of plastic containers per person in state quarantine
Thailand started the year eco-friendly by banning single-use plastic bags. All good, but with "stay at home" orders and mandated quarantines, plastic waste has been increasing at an alarming rate.
One Thai artist, Henry Tan, who stayed in a state quarantine facility, added up all the plastic containers and bottles he used during his isolation. He ended up with more than 100.
He "says… I thought of this trash being multiplied by the thousands of people that had to go in state quarantine."
"On Just my flight alone there were 200 people in quarantine, making 20,000 pieces of plastic waste.," just from the one flight.
Evidence mounts against "bleach mum"
Officers of the Crime Suppression Division say text messages on the popular Line application show that a woman accused of forcing her two year old "son" to swallow bleach wasn't the boy's biological mother. Thai media is reporting that DNA tests prove that a young 2 year old boy is the biological son of a mother who allegedly made him drink bleach.
The boy was rescued and placed in a shelter for children in Pathum Thani, just north of Bangkok, after he was treated at Thammasat University Hospital, where doctors alerted police to the suspected child abuse. The woman's 4 year old daughter died last December from unknown causes at the time but it's now believed she too died as a result of drinking bleach.
Nittha stands accused of deliberately making the boy ill to swindle donations from sympathetic viewers of her online videos. A check of her financial history found more than 20 million baht in several bank accounts, contradicting her claim of financial difficulties.
In 2018 the woman was sentenced to 3 years in prison in a fraud case involving online product sales.
Deputy PM says politics not involved in Emergency Decree extension
With the second month of Thailand's national state of emergency coming to a close, Deputy PM Prawit Wongsuwan says fear of second wave of Covid-19 infections, and not politics, is behind the government's need to extend the Emergency Decree.
Business closures and travel restrictions under the decree have produced huge economic hardship nationwide. His comments come as the cabinet is expected today to extend the emergency decree for a third month. But opposition and critics disagree with prolonging the decree, saying the Communicable Disease Act alone should be enough to control the spread of the virus.
They claim that PM Prayut Chan-o-cha's administration has a hidden agenda, alleging they want to hold onto emergency decree powers for political reasons.
Two brothers shot dead after fight over pickup truck
Three brothers got into a fight over a pickup truck their deceased father left for one of the sons. It ended with two of them shot dead.
A witness says that the pickup truck was left behind for the 39 year old brother, but his older brother, Seri, took the truck. Witnesses say the two younger brother went to their older brother's house on Sunday evening in Bangkok and started to fight. Gunshots were heard and witnesses say they saw Seri flee on his motorcycle.
The two younger brothers were found dead. The older brother remains at large.
Singapore warns of worst economic contraction since independence
Singapore's embattled economy could shrink by as much as 7% this year, which would be the worst situation since independence in 1965.
The government says the coronavirus pandemic had throttled the country's key export sector. The warning came hours before Singapore's deputy PM is expected to unveil another stimulus package for the troubled city, which has been crippled by months of lockdowns.
Bloomberg announced last week that Thailand's economy is forecast to tank by up to 6% for 2020.
Keep in contact with The Thaiger by following our Facebook page.
Never miss out on future posts by following The Thaiger.
Thailand News Today | Stray car on runway, Indonesian quake, 300 baht tourist fee | January 15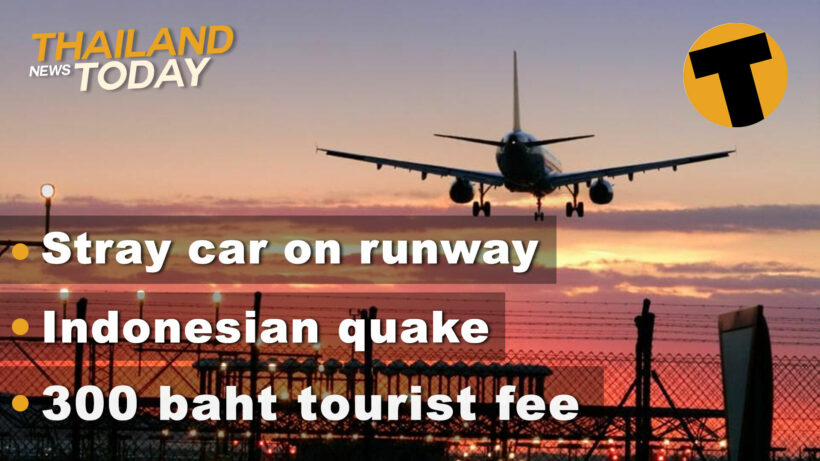 A man has driven his car onto the runway at Bangkok's Suvarnabhumi Airport while allegedly under the influence of illicit substances. AOT officials are now trying to figure out how the man was able to breach airport security and drive onto the airport runway.
Airport security vehicles were seen escorting the car off the runway, passing by waiting planes. The Airports of Thailand released a statement saying the man was "quickly" apprehended.
Reports say methamphetamine was found in the man's vehicle. He was arrested on charges of entering a restricted area of an airport, illegal possession of drugs and driving under the influence.
A senior police officer in Koh Samui faces charges for allegedly raping a 21 year old Burmese woman at the Bo Phut Police Station on the island. The officer, who was an investigation squad leader at the station, has been suspended and is now in detention at the Koh Samui Court.
The senior sergeant major allegedly took the woman, who had been arrested on drug charges, out of her cell at around 2am Wednesday and to another room at the Bo Phut Police station where he allegedly sexually abused her. She was then taken back to her cell.
The woman reported the incident to the Myanmar Embassy which then filed a complaint directly with the Bo Phut police chief. The senior officer was immediately suspended. He now faces rape charges and is now in detention.
In another case of police and officials behaving badly…. At least 33 police officers and other government officials are being investigated for their role in the illegal smuggling of migrant workers into Thailand. The people smuggling business is thought to be at the root of Thailand's second wave of Covid-19, with countless migrants helped across the border without undergoing mandatory quarantine or any form of health checks.
According to the deputy national police chief, at least 33 people are thought to have been involved in smuggling migrant workers over the Thai-Burmese border, in the Sangkhla Buri district of Kanchanaburi. This includes over 20 police officers, with the remainder being state officials. The level of involvement varies, with some turning a blind eye to the people smuggling and others more actively involved.
The government has declared an amnesty for all illegal migrant workers, in the hope it will encourage them to come forward for Covid-19 tests. They will then will be allowed to work in the Kingdom for 2 years. Registration opens today and run until February 13.
The Indonesian island of Sulawesi was shook by a 6.2 magnitude earthquake shortly after midnight today, toppling over buildings and injuring hundreds. Reports are continuously being updated as rescuers search through rubble. As of early this afternoon, at least 34 people have been killed… the toll is expected to rise.
Thousands evacuated their homes in West Sulawesi. Several buildings, including hotels, were severely damaged and many homes were flattened in coastal areas. A hospital was partially damaged and reports say more than a dozen patients and staff were trapped under the rubble.
The area was first hit by a 5.9 magnitude undersea quake yesterday. It damaged several buildings, but no deaths were reported.
A suicide prevention team is being created to help Thai people in despair at this time. The Health Minister, Anutin Charnvirakul, will chair the new committee. The ministries of Social Development and Human Security, Education, and Justice, as well as several other government bodies, will all play a role in the committee's work.
Anutin says the committee will work to ensure people are aware of their rights and welfare entitlements, as well as trying to help them manage their problems. The team will also screen people considered "at risk", such as those battling substance addition, people who have previously tried to commit suicide, and those who are suffering with mental illness.
Since 2017, the suicide rate has been on the increase and is particularly prevalent among males, who make up the majority of victims. 2020 figures show that the financial implication of Covid-19 is playing a significant role in deaths by suicide.
Thailand's Tourism Minister has confirmed a proposal to charge foreign tourists a fee of 300 baht per visit. The fee will be used to develop tourist destinations as well as providing visitors with insurance benefits while in the Kingdom. The proposal has been approved by the National Tourism Policy Committee.
The fee is designed to ensure anyone who gets sick or is injured can receive medical treatment. 34 baht of the 300 baht fee will go towards insurance coverage.
Despite the introduction of the Special Tourist Visa, Thailand has struggled to regain much of its lost international tourism. The mandatory 14-day quarantine is thought to play a large part in people's reluctance to visit, particularly if paired with quarantine or self-isolation restrictions in their home countries.
Keep in contact with The Thaiger by following our Facebook page.
Never miss out on future posts by following The Thaiger.
A wild elephant kills 80 year old camper in Khao Yai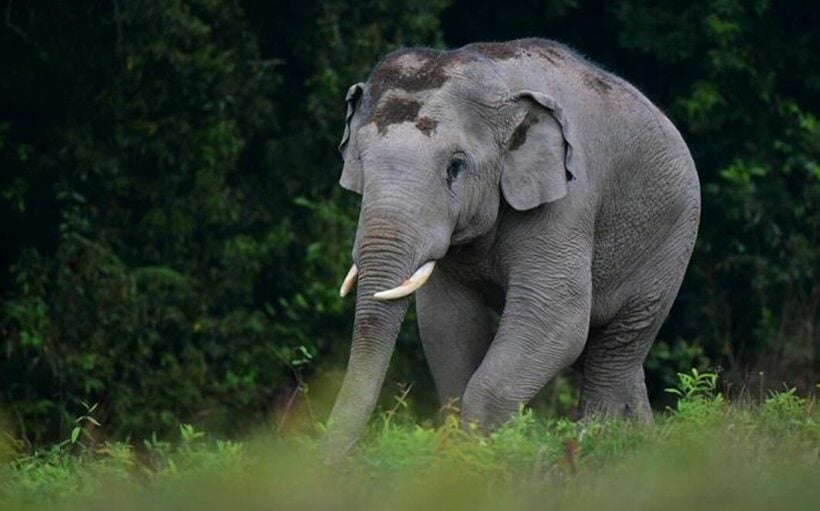 A wild elephant killed an 80 year old man camping in Khao Yai National Park early this morning. Park officials believe the bull elephant was in musth, which is when the elephant has rise in reproductive hormones and becomes aggressive.
80 year old Prayot Jitbun was sleeping in his tent when the elephant attacked. Other nearby campers alerted park officials saying the elephant had walked around the Prayot's car before becoming angry and stomping on his tent, then throwing the man into a tree.
Fresh fruit was inside the man's car and park officials believe the smell of the fruit attracted the elephant. Park officials suspect the animal became angry and attacked when it couldn't reach the fruit.
The wild elephant, known as "Phlai Due" had been fitted with a tracking collar earlier this month. The officials say this is the first person attacked by an elephant in the park this year and ensure it won't happen again.
SOURCE: Bangkok Post
Keep in contact with The Thaiger by following our Facebook page.
Never miss out on future posts by following The Thaiger.
40 arrested in a suspected gambling house in Nonthaburi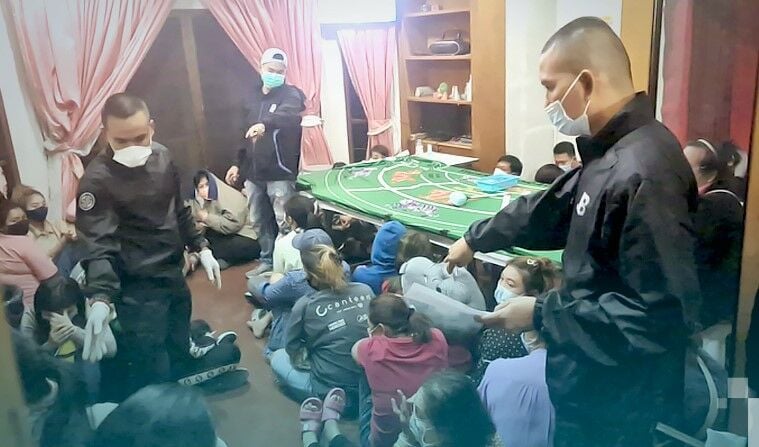 Last night, police raided a house in Nonthaburi and arrested 40 people for allegedly gambling.
According to the deputy chief of the Central Investigation Bureau, 33 are Thais and 7 are migrant workers of the casino. The officials also confiscated decks of cards of the Dragon-Tiger game, plastic chips and some cash as evidence.
During the raid, the migrant workers allegedly revealed that the gambling operations at the home had only been going on for 2 days and that the owner planned to move it to other locations.
Police have been cracking down on gambling after the Covid-19 outbreak at a Rayong gambling den in line with the PM's order made last week to shut down the illegal venues and tracking down "influential figures."
SOURCE: National Thailand
Keep in contact with The Thaiger by following our Facebook page.
Never miss out on future posts by following The Thaiger.