Thailand News Today | Pattaya restrictions, 2021's extra holidays, Covid update | December 30
From everyone at The Thaiger, thank you SO much for all your support over 2020. It's been a difficult year! And we will be back in 2021 with a lot more Thailand News Today as well as other videos about Thailand and the region.
Pattaya and neighbouring Banglamung in Chon Buri province are now classified as "highly controlled" areas with an emergency order shutting down bars, parks, schools and non-essential businesses.
The emergency order was announced this morning and the order is in place until further notice.
There are no set curfews, checkpoints or travel restrictions, but the governor is urging people to stay at home. The order does not ban alcohol sales, but large parties and gatherings, even at private homes, are banned.
Here's a list of things that are closed…
• Bars, nightclubs, karaoke bars, massage parlours, cinemas, internet cafes, entertainment and leisure venues
• Shopping malls and stores selling non-essential items
• Schools and other education related places like nurseries, child care centres and learning centres
• Gyms, public pools, public parks and other fitness-related places
• 24-hour convenience stores must close from 10pm to 5am
There's further details about the Pattaya restrictions at the thaiger.com
Now that the Covid-19 vaccines are being rolled out in some countries, the next question relevant to Thailand is… if I've had a vaccine for Covid-19, can I come back without doing the mandatory quarantine?
The Public Health Ministry has issued a statement stating that, in the short to medium term, "everyone entering Thailand has to do at least a 14 day quarantine".
"The quarantine will apply, even those people who have been vaccinated."
The Public Health Ministry says the reason is because "the vaccination process has only just begun and there is no agreement or study on how effective the vaccine is in a real life environment."
For now, if you come to Thailand, under any visa, vaccinated or not, you will still need to do the mandatory 14 day quarantine period, at your expense, at an ASQ facility.
Get ready for more long weekends. The Thai Cabinet has added 8 holidays to the 2021 calendar, including an extra day for Songkran in April.
The extra holidays is an effort to promote domestic tourism and stimulate the economy which has been battered by the Thailand's reaction to the pandemic. There are 4 new national holidays and 4 regional holidays…
National Holidays
• Friday, February 12 for the Chinese New Year
• Monday, April 12, Songkran holiday extended from April 12-15
• Tuesday, July 27 for substitution day for Buddhist Lent
• Friday, September 24 to celebrate Mahidol Day which is in remembrance of Prince of Songkhla
Regional Holidays
Friday, March 26 for Wai Phra That (Northern Thailand)
Monday, May 10 for บุญบั่งไฟ, known as the Rocket Festival (Northeastern Thailand)
Wednesday, October 6 for Sart Thai, a festival held on the 10th lunar month (Southern Thailand)
Thursday, October 21 for the End of Buddhist Lent (Central Thailand)
Undocumented migrant workers from 3 countries will be able to register for legal employment allowing a 2 year stay. The Cabinet has approved the measure in an effort to control the spread of Covid-19 after an outbreak at a Samut Sakhon seafood market affecting a large, mostly Burmese migrant community, who worked around the fishing hub.
Migrant workers from Cambodia, Laos and Myanmar will be able to register with the Labour Ministry's Department of Employment starting on January 15 until February 13. The workers must go through a health screening before submitting a work permit application. The workers and their children will receive health insurance for 2 years.
Undocumented migrants who do not have an employer must find a job within 90 days.
The Public Health Ministry has named 3 Bangkok eateries thought to be linked to 22 new cases of Covid-19 in the capital. People who have tested positive for the virus can be traced to 3 restaurants…
Saeb E-san Karaoke in the Thewet area, and E-san Krong Kaew and Nongmai Plaza, both in the Pinklao area.
The Ministry says that people who visited any of these 3 restaurants from December 15-20 should go into self-quarantine for 14 days and monitor their symptoms closely.
There's also a cluster of cases in areas bordering the Covid hotspot of Samut Sakhon, and another cluster traced to a shoe factory in the Rama II area.
Again, there are more details at The Thaiger.com
Keep in contact with The Thaiger by following our Facebook page.
Never miss out on future posts by following The Thaiger.
PM instructs Samut Sakhon officials to check employers are not hiring illegal workers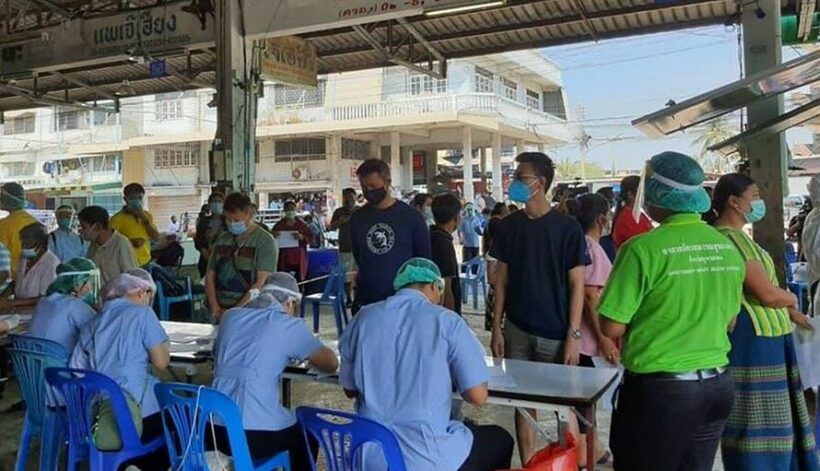 With the number of Covid-19 infections among migrant workers in Samut Sakhon failing to go down, the PM has instructed officials to make sure companies are not still hiring illegal workers. Prayut Chan-o-cha spoke to deputy governor Surasak Pholyangsong by video conference from Government House yesterday.
The central province of Samut Sakhon is considered the epicentre of Thailand's second wave of Covid-19, following an outbreak at a fish market last month. The resurgence is linked to migrant workers who were smuggled into the Kingdom illegally, bypassing health checks and the mandatory quarantine requirement. Samut Sakhon's own governor, Veerasak Vijitsaengsri, has tested positive for the virus and remains under hospital care.
According to a Bangkok Post report, the PM has acknowledged the work carried out by provincial officials since then, which includes active tracing and testing, health screening, closing "high-risk" venues and preparing field hospitals for quarantine and treatment. In yesterday's call, he instructed Surasak to ramp up travel restrictions within the province and implement measures to prevent more illegal migrants from entering.
Although Surasak has announced the re-opening of the seafood market on January 27, Public Health Minister Anutin Charnvirakul has sounded a note of caution, saying officials must guarantee that the facility is completely Covid-free. He adds that once the situation improves in the 28 "strictly controlled" areas, restrictions can be eased.
The government's Covid-19 task force continues to monitor the situation in neighbouring countries, noting with concern the escalating cases in places like Malaysia. The Centre for Covid-19 Situation Administration is calling on all Thai citizens living near border areas to be vigilant and check for illegal border crossings. All migrant workers are required to undergo Covid-19 tests and provide details of their travel history.
In other news, the president of the Association of Entertainment Professionals is pleading for government assistance on behalf of entertainment venues and business operators affected by Covid-19 restrictions and closure orders. Khathawut Thongthai has called on Natthaphol Nakpanich, secretary-general of the National Security Council, to provide debt relief and soft loans. He is also requesting permission for venues in provinces that have gone 28 days without a local case to be allowed to re-open and for concerts to be given the go-ahead in these provinces.
SOURCE: Bangkok Post
Keep in contact with The Thaiger by following our Facebook page.
Never miss out on future posts by following The Thaiger.
Covid-19 tests are not required for visa extensions – Phuket Immigration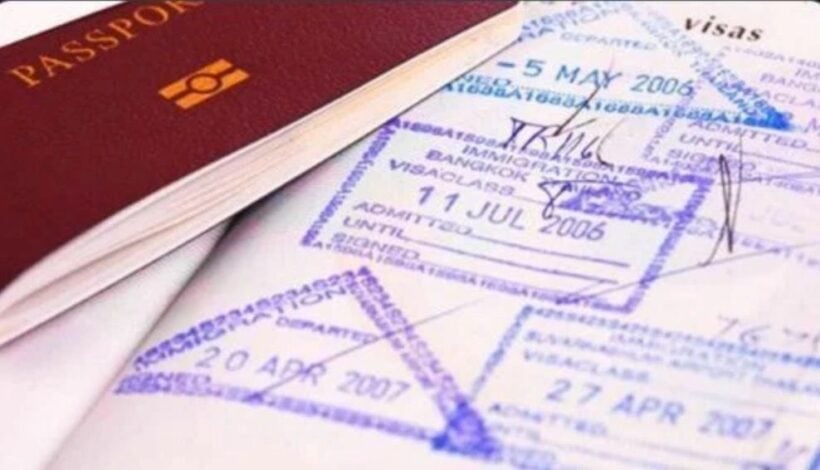 No… you don't need a Covid-19 test to extend your visa or apply for a work permit, according to Phuket Immigration. While multiple Covid-19 tests are required for people arriving in Thailand and undergoing quarantine, foreigners who have been in the country do not need to be tested.
The local immigration deputy chief Nareuwat Putthawiro spoke with Phuket News, debunking some rumours that were shared on social media saying Covid-19 tests could soon be required when extending visas or applying for work permits.
"We do not require any medical documents for an application to renew a visa, because there are few foreigners' movements outside Phuket. Most of them live and work in Phuket, and have done so before the new wave of Covid-19… So they do not have to worry about it. Everything is still the same."
Medical exams are required for most work permit applicants. The exams include a brief screening and a blood test for syphilis. At the moment, a Covid-19 test is not required for work permit applicants, although it certainly could be in the future.
"We have not received any notices about Covid-19 requirements for processing applications to renew visas. If we do receive any such orders, we will let the public know."
SOURCE: Phuket News
Catch up with the latest daily "Thailand News Today" here on The Thaiger.
Keep in contact with The Thaiger by following our Facebook page.
Never miss out on future posts by following The Thaiger.
Record number of tourism firms quitting Covid-ravaged sector for good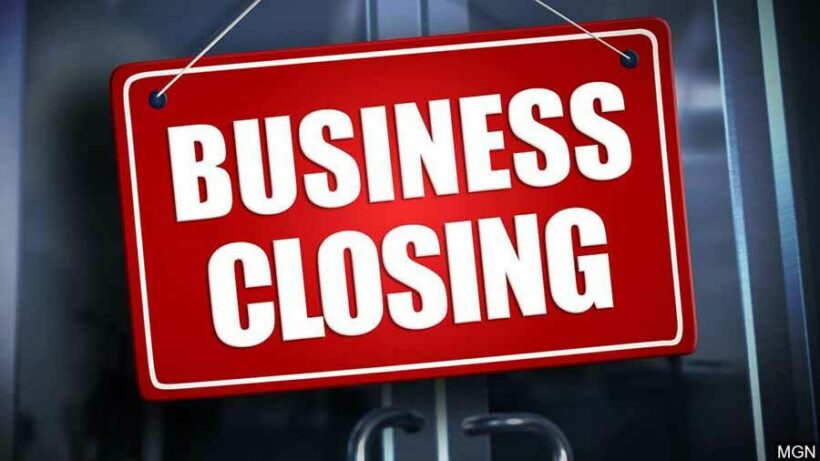 As the devastating economic effects of Covid-19 restrictions persist, a record number of Thai tourism operators are quitting the sector for good. The number of tourism firms surrendering their licences peaked last month, and around 70% of outbound agents have shut up shop indefinitely. The final nail in their collective coffin has been the Covid-19 resurgence, which originated in a seafood market in the central province of Samut Sakhon and has now spread to over 60 provinces.
The president of the Thai Travel Agents Association says around 10% of outbound tour operators have returned their licences to the Tourism Department. Suthiphong Pheunphiphop says 2,598 tourism operators have left the sector for good, unable to survive having no international tourists for nearly a year now. He says the last quarter of 2020 saw the highest number of companies de-registering, at 765. Of those, 293 quit last month.
Suthiphong says domestic tourism may pick up again by April, but this depends on how effective the government is at bringing the second wave of the virus under control. He adds that with the arrival of spring in many parts of the world in the coming months, global infections may fall, but it's still a waiting game.
"Operators have to wait and see how things turn out in June The outlook for the outbound market is the most difficult to predict as the industry faces highly uncertain factors such as vaccine efficacy and policies in each destination to allow the flow of tourists."
The TTAA says that in 2019, 11 million Thai tourists spent 430 billion baht on overseas trips. Last year, that plummeted to 1 million spending 50 billion baht. The association has postponed the Thai International Travel Fair, which was due to take place in February. It is now scheduled for August 26 – 29.
According to a Bangkok Post report, the Tourism Minister Phiphat Ratchakitprakarn will meet Labour Minister Suchart Chomklin this week, in order to discuss a co-payment scheme to protect those employed in the tourism industry. It's understood the proposal is to subsidise 50% of monthly salaries, up to a maximum of 7,500 baht per employee.
SOURCE: Bangkok Post
Keep in contact with The Thaiger by following our Facebook page.
Never miss out on future posts by following The Thaiger.