Thailand MotoGP starts today in Buri Ram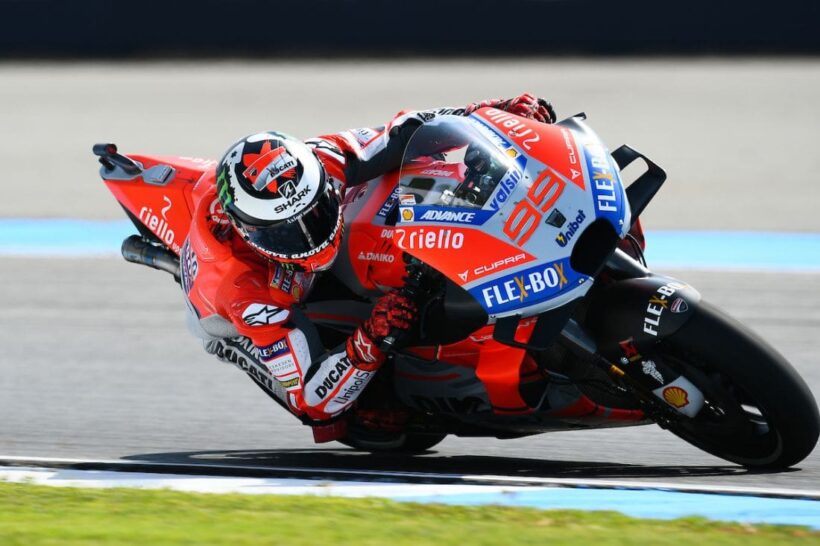 PHOTO: Jorge Lorenzo (99) of Spain and Ducati Team in Turn 7 during FP2 at the MotoGP PTT Thailand Grand Prix 2018, Chang International Circuit, Thailand on October 05, 2018.
Naratip Golf, Srisupab/SEALs Sports Images
The 'PTT Thailand Grand Prix 2018' MotoGP is being held from today until Sunday, October 7, at the Chang International Circuit in Buri Ram, north-east Thailand.
Thailand, through the Sports Authority of Thailand (SAT), has secured a three-year deal with Dorna Sport, which is the rights holder of the FIM Road Racing World Championship Grand Prix (MotoGP), to host the Grand Prix from 2018 to 2020, with Buriram United International Circuit as the rights manager of Thailand's first edition of MotoGP, which is the 15th out of 19 races throughout the season.
In addition to hosting the event in October, the winter test already took place in Buri Ram on February 16-18 of this year.
MotoGP is the world's number one motorcycle road racing championship, watched by more than 800 million people and broadcast live to more than 200 countries around the world. There are more than one million MotoGP fans in Thailand.
World-famous riders, Marc Marquez, Jorge Lorenzo and Valentino Rossi, will lead more than 90 talented drivers, including the one and only Thai to participate in the Moto3 World Championship throughout the season, Honda Team Asia's Nakarin Atiratphuvapat, alongside wild card Thai riders to excite motorsport fans in Thailand.
For more information click HERE.

PHOTO: Andrea Dovizioso (4) of Italy and Ducati Team during FP1 at the MotoGP PTT Thailand Grand Prix 2018, Chang International Circuit, Thailand on October 05, 2018.
Naratip Golf Srisupab/SEALs Sports Images
Keep in contact with The Thaiger by following our
Facebook page
.
Another illegal concrete structure has to be removed from Thai national park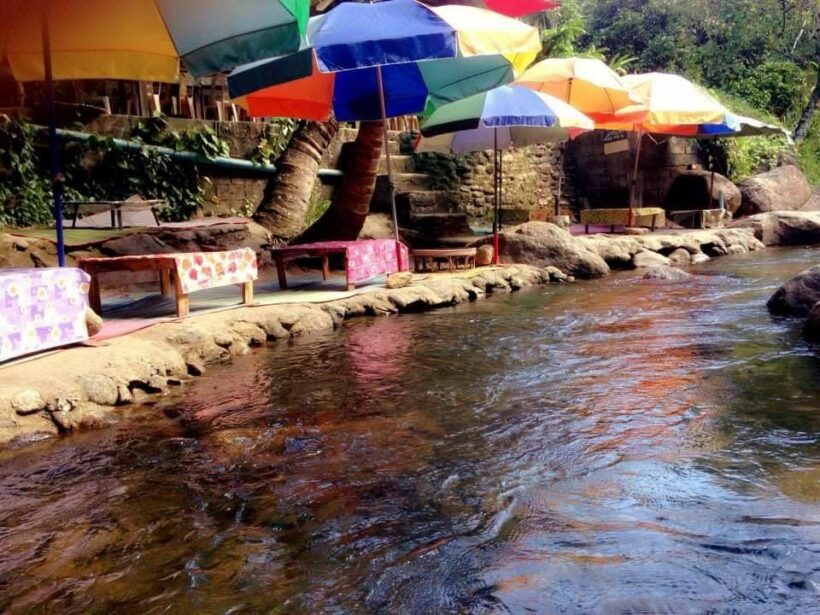 PHOTO: ชมรมstrong-จิตพอเพียงต้านทุจริต จังหวัดนครศรีธรรมราช
A website run by anti-corruption activists has posted a picture of a concrete platform built into a Nakhon Si Thammarat waterfall by food vendors, accusing authorities of failing in their duty to prevent such encroachment. This is the second pouring of concrete encroaching into the creek pointed out by police for immediate removal over the past week.
In both cases the concrete pours had been developed along the banks, providing space for riverside restaurants, encroaching into the stream.
The action by the Chom Rom Strong-Jit Porpiang Tan Thudjarit website prompted national park officials to order that the structure be removed immediately.
It was erected at the Tha Phae waterfall in Khao Luang National Park by vendors supplying food and drinks in the area.
The Bangkok Post reports that this is the second such structure to be erected at a scenic landmark, after similar encroachment on the Klong Tha Dee river in Khiriwong village, Nakhon Si Thammarat.
The structure erected there was widely criticised by netizens, with officials ordering vendors to remove it by Sunday. Read the story HERE.
SOURCE: Bangkok Post
Keep in contact with The Thaiger by following our
Facebook page
.
Police arrest con man who left bride to pay for 3.5 million baht wedding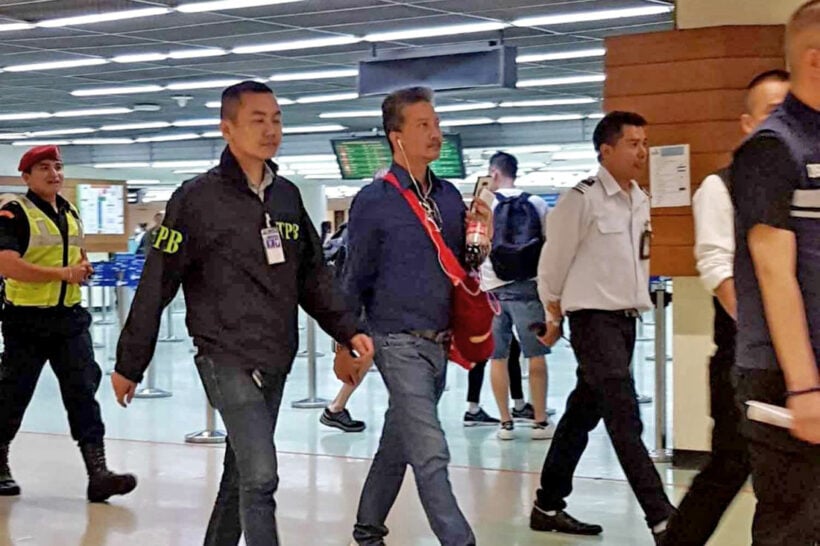 PHOTO: Immigration Police
A man who conned his bride into believing he was a billionaire, then absconded after their wedding leaving her to pick up the tab, has been arrested at Don Mueang airport in Bangkok. He remains in custody and is currently being questioned by police.
49 year old Thananat Siripiyaporn was detained after getting off an Air Asia flight from Hong Kong on Thursday night.
The Bangkok North Municipal Court had issued a warrant for his arrest on a fraudulent cheque charge and the authorities were alerted of his arrival by the biometrics system being used by Thai Immigration police.
The Bangkok Post reports that Thananat married a 30 year old product presenter in a lavish ceremony in Buriram, north-east Thailand, last May.
A woman has divorced her husband after 8 months of marriage after she discovered he'd lied about being a multi-millionaire. Incredibly, this was the only reason she'd married him in the first place.
The party is understood to have cost 3.5 million baht, which the groom left the bride's family to pay after he absconded shortly after the event, taking the dowry cheque with him.
His wife claims he told her he was a wealthy businessman, worth billions of baht.
A con man and a cad!
See original story HERE.
SOURCE: Bangkok Post
Keep in contact with The Thaiger by following our
Facebook page
.
Soi Dog assisting displaced animals in flood-ravaged north east Thailand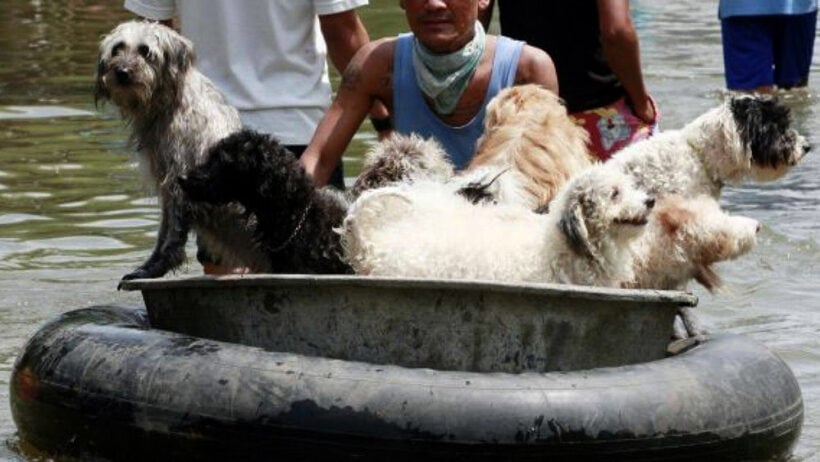 PHOTO: Fox News
The record flooding in September in the province of Ubon Ratchathani, north east Thailand, lead to the destruction of many homes, the fleeing of hundreds of people to safe areas and the subsequent leaving behind of many owned pets, as well as the displacement of a large number of stray animals who live in the area.
The Soi Dog Foundation has cooperated with the Department of Livestock Development in Ubon Ratchatani to help both the domestic and stray animals affected by the floods.
Focusing on their well-being, especially dogs, the foundation joined the campaign to raise help using the #SaveUbon hashtag with Facebook fan page posts, and supported with the donation of 10.8 tonnes of dog and cat food, and 5 bamboo pavilions for stray dogs stranded in an open space without protection from the sun at the area of ​​Tha Kok Hae temple, Muang District. There are still many dogs that need to be taken care of.
Soi Dog has also provided a mobile sterilisation clinic to neuter and vaccinate these dogs from both Muang and Warin Chamrap districts throughout October.
Together with Chomromkhonraksard Ubon (Ubon Animal Lovers Club), Soi Dog is also helping to find owners of the dogs that became lost during the flooding. The foundation had moved 60 dogs to house of Ms.Orathai Saisena, an Ubon Ratchatani woman who has a history of helping stray dogs around the town by providing temporary shelter at her home, including many dogs in the area which were scattered after the floodwater receded.
Right now, Soi Dog and the Ubon Animal Lovers Club are coordinating to help reunite owners and pets.
For further information about Soi Dog, and their work, click HERE.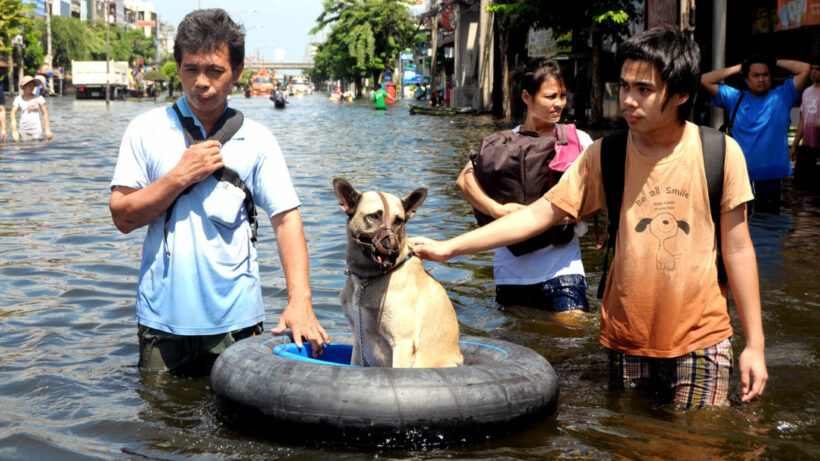 PHOTO: grist.org
Keep in contact with The Thaiger by following our
Facebook page
.