Thailand MotoGP starts today in Buri Ram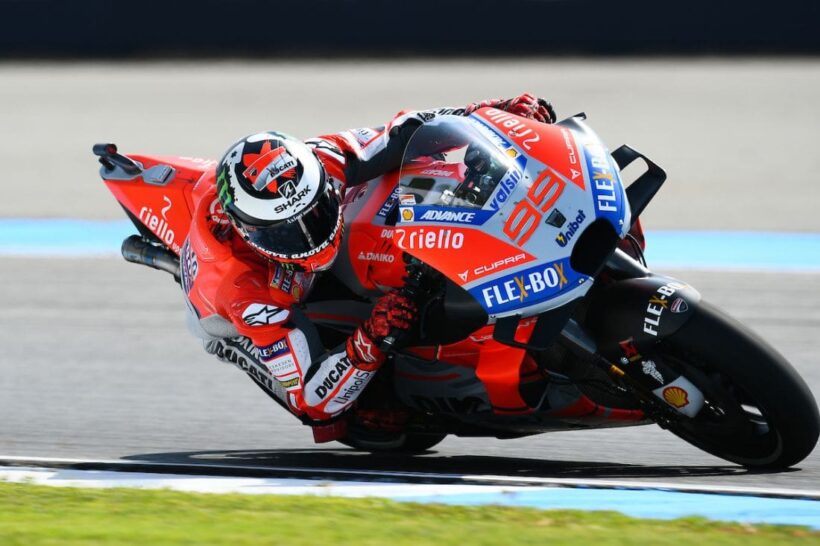 PHOTO: Jorge Lorenzo (99) of Spain and Ducati Team in Turn 7 during FP2 at the MotoGP PTT Thailand Grand Prix 2018, Chang International Circuit, Thailand on October 05, 2018.
Naratip Golf, Srisupab/SEALs Sports Images
The 'PTT Thailand Grand Prix 2018' MotoGP is being held from today until Sunday, October 7, at the Chang International Circuit in Buri Ram, north-east Thailand.
Thailand, through the Sports Authority of Thailand (SAT), has secured a three-year deal with Dorna Sport, which is the rights holder of the FIM Road Racing World Championship Grand Prix (MotoGP), to host the Grand Prix from 2018 to 2020, with Buriram United International Circuit as the rights manager of Thailand's first edition of MotoGP, which is the 15th out of 19 races throughout the season.
In addition to hosting the event in October, the winter test already took place in Buri Ram on February 16-18 of this year.
MotoGP is the world's number one motorcycle road racing championship, watched by more than 800 million people and broadcast live to more than 200 countries around the world. There are more than one million MotoGP fans in Thailand.
World-famous riders, Marc Marquez, Jorge Lorenzo and Valentino Rossi, will lead more than 90 talented drivers, including the one and only Thai to participate in the Moto3 World Championship throughout the season, Honda Team Asia's Nakarin Atiratphuvapat, alongside wild card Thai riders to excite motorsport fans in Thailand.
For more information click HERE.

PHOTO: Andrea Dovizioso (4) of Italy and Ducati Team during FP1 at the MotoGP PTT Thailand Grand Prix 2018, Chang International Circuit, Thailand on October 05, 2018.
Naratip Golf Srisupab/SEALs Sports Images


Read more headlines, reports & breaking news in North East Thailand.

Ex-soldier on the run after shooting girlfriend in Prachin Buri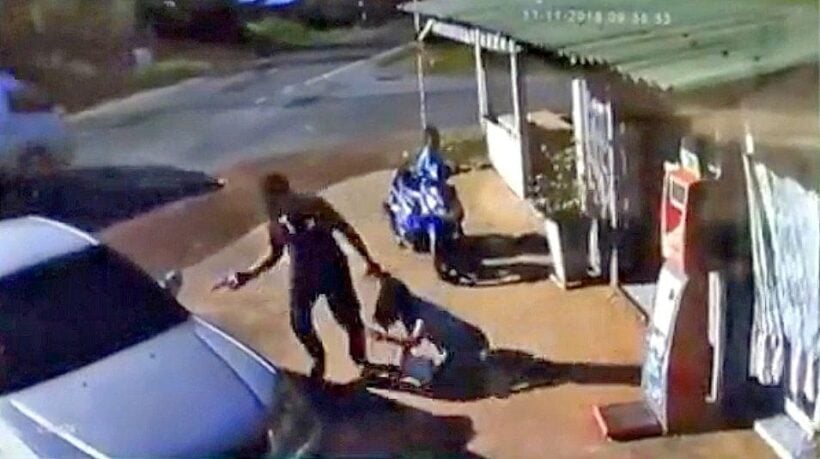 A former Saraburi-based cavalry soldier, Corporal Panuwat Pancheun, who was reportedly fired from service three months ago for assaulting his superior, has allegedly shot and injured his 28 year old girlfriend at her family's home/grocery shop in Prachin Buri province this morning as he tried to drag her out to his car. Prachin Buri is two hour's drive north-east of Bangkok.
Following the 9.30am shooting report at Tambon Pho Ngam in Prachantakham district, police inspected the scene and were told that the victim, factory worker Pornpan Putklang who sustained a gunshot wound in her upper right arm, had already been admitted to the district hospital, the case investigator, Pol Lt-Colonel Weerapol Sitthipan, said.
CCTV footage accessed by the police showed the male suspect arrive at the shop front in a Honda Civic sedan, get out of the vehicle with a pistol in his hand and grab Pornpan by the hair and force her to get into the backseat of the car.
When the woman resisted, the suspect allegedly shot her in the arm in front of witnesses, pushed her down and fled the scene.
Police suspect the couple had had a fight, resulting in the girlfriend declining to return to the house where she stayed with him and instead staying back in her family's home. The former soldier then came after her, resulting in an argument and the shooting.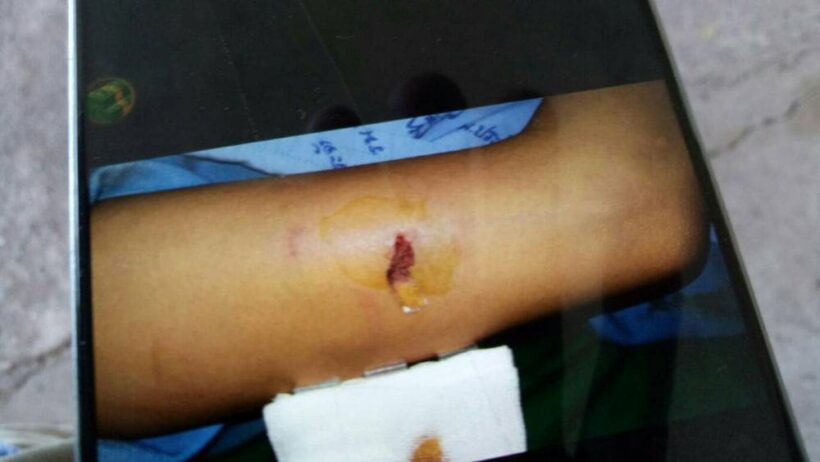 STORY: The Nation
Buri Ram teacher probed after boy's beating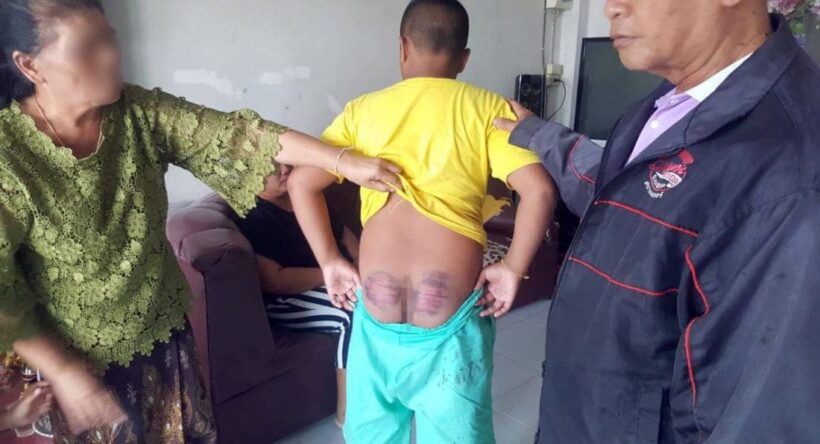 A Buri Ram school has set up a committee to investigate a parent's allegation that one of its teachers made a Prathom 6 pupil do 50 jumping jacks in the hot sun and then whipped him 10 times with a wooden stick wrapped in duct tape.
The 12 year old's mother revealed Friday's incident and says her son had merely failed to recite a multiplication table.
Piya Phutthapoh, the director of Anuban Phutthaisong School in Phutthaisong district, says a fact-finding committee had been established and would report its findings to the Buri Ram Primary Educational Area 4 Office within seven days.
Piya said the unnamed teacher, who had made no public comment about the incident as of 6pm Sunday, admitted to punishing the boy, but the committee would decide whether the punishment was too severe.
"If it was, the teacher would face a disciplinary hearing."
Piya is vowing to ensure fairness for both sides in the incident. He admitted to being concerned about the boy's mental state and had assigned other teachers to help his parents take care of him.
The boy's grandmother, enraged by the sight of the boy's injury, urged his teacher to take responsibility and said she might transfer him to another school if the teacher goes unpunished.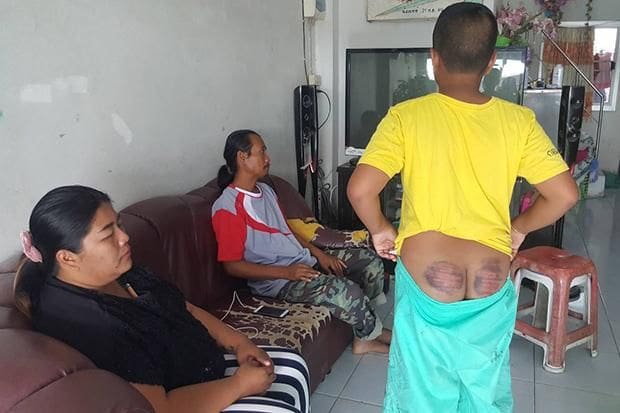 SOURCE: The Nation
Thai soldier accused of raping 75 boys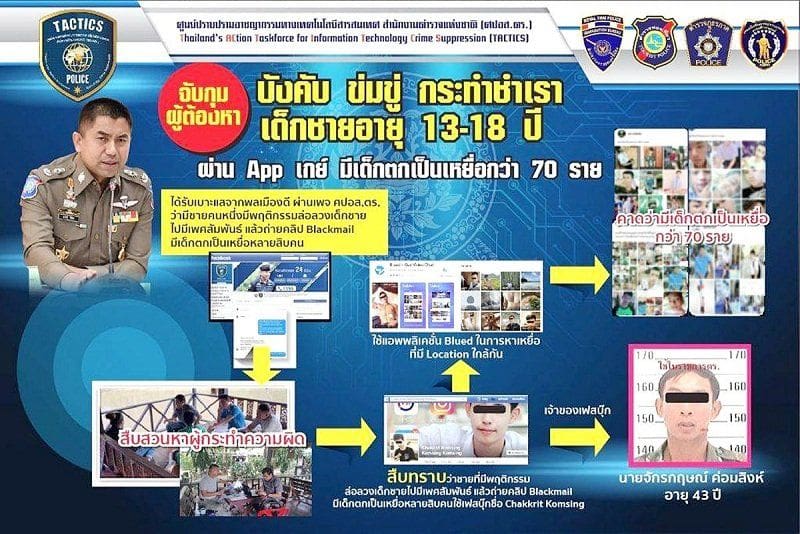 A 43 year old former Thai soldier has been arrested for raping 75 boys, many of whom were aged under 15 at the time of the alleged crimes.
It is claimed he lured his victims by using the photo of a handsome younger man as his own profile picture in a gay chat application and then Facebook. Authorities are now trying to provide remedial measures for the victims and are urging anyone else who might have been a victim of the man to file complaints with police.
Former Master Sergeant Chakkrit Komsing, living with HIV, allegedly used obscene pictures sent to him by the boys to coerce them into meeting him. He is accused of then also recording the attacks on video for the purposes of blackmail, according to acting Immigration Bureau chief Pol Maj-General Surachate Hakpal in his capacity as deputy director of the National Technology and IT Crime Suppression Centre.
Using the man's own notes about the attacks, police counted a total of 75 victims, 28 of whom were aged 13-18 and were clearly identified with names and home addresses in Khon Kaen, Udon Thani, Kalasin and Maha Sarakham.
Police are now working with various authorities to locate and help the victims, he said, urging more victims and parents to step forward and offer information that might be relevant to the inquiry.
Chakkrit was immediately sacked from the 3rd Cavalry Division at Premtinnasulanon Military Camp in Khon Kaen following his arrest in Nam Pong district yesterday.
The 14 year old boy who filed the first complaint claimed that he had met a military man after first chatting with him online.
The boy said he tried to leave because the man was clearly not the youth he had seen in the man's Facebook profile photo, whereupon Chakkrit allegedly threatened to release the boy's obscene pictures online and raped him in the car.
Surachate said police had established that Chakkri had been diagnosed as HIV-positive in 2009, began treatment in 2015 and started working at the Khon Kaen military camp just eight months ago.
Chakkrit has been charged with six criminal charges, including raping a minor under 15, molesting a minor under 15 with threat of assault and taking away a minor under 15 from his parents for lewd acts.
Deputy army spokeswoman Colonel Sirichan Ngathong said the army had handed the suspect over to police to let justice run its course as this was a case of individual wrongdoing.
She said Chakkrit was now in the custody of Khon Kaen's Nam Pong Police and that Chakkrit's former supervising agency – which has also set up a fact-finding committee into this allegation to run in parallel with the police probe – would co-operate with the police investigation and would ensure justice to both the accused soldier and his alleged victims.
She said if the soldier were found guilty as accused, he would face both disciplinary and criminal code punishments.
STORY: The Nation