Developer promises and the 'rental guarantee'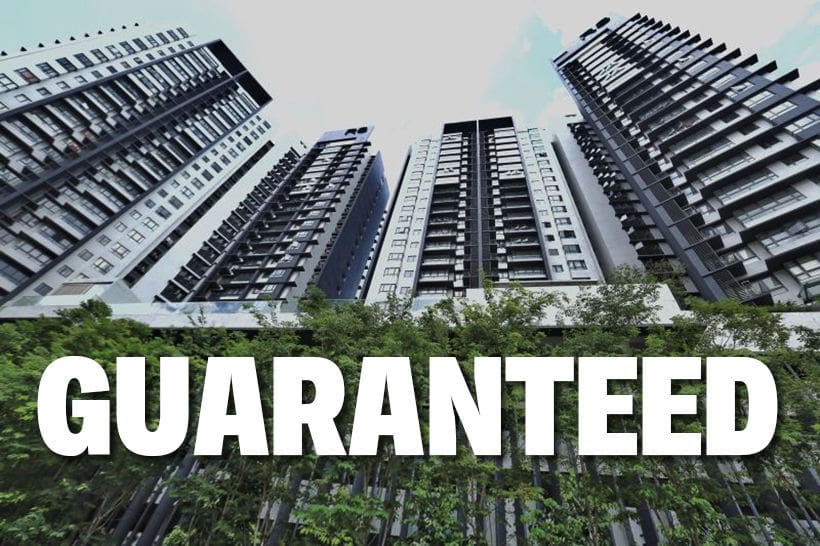 According to a recent report from CBRE, more than 80% of Phuket condo sales offered rental guarantees in reported sales in the first six months of 2018. The report says that most of these condo sales were for properties less than 5.5 million baht.
The CBRE report also noted that there were 458 condos and 56 villas sold in the same period.
The Thaiger, who keeps in contact with many of the island's property developers, spoke to three developers of unconnected current projects which reported 180+ sales – that's just three developments. Speaking to a leading, reputable real estate seller in the region, they reported just over 70 signed deals during the same period. They also said that sales in the luxury villa market were, by their estimates, well in excess of the figures quoted in the CBRE report.
Seeking information from CBRE, clarifying the numbers quoted in their report, we received replies about the trends they've identified in the local Phuket market. James Pitchon is the Executive Director – Head of Research, Consulting, Global Workplace Solutions, Thailand for CBRE.
"The resort condominium market is now driven by buyers of affordable, investment-oriented products that offer rental management programs and/or guaranteed returns rather than buyers looking for a just a holiday home. Sales of entry-level products accounted for over 80% of the total sales, with limited sales in the high-end segment. However, there were a few exceptions such as the Residences at Sheraton Phuket Grand Bay where the developer  was able to sell higher priced product "
James also backed up the recent CBRE report, and the trends, indicating a slowdown in the top end of the market.
"The luxury villa market continued to move at a slow pace with most sales at the lower end of the market  but one unit was sold in Andara Signature Villa, a hotel managed property, for more than 200 million baht."
The reality is that there is no centralised reporting system in place to prepare accurate property sales information in Phuket. James didn't divulge how CBRE gathered their statistics.
The 'elephant in the room' mentioned in the report has been highlighted by an article on thailandproperty.com where the issue of rental guarantees is raising eyebrows in the island's real estate community.

The rental return guarantee schemes are where developers 'guarantee' a return of, say, 10% of the purchase price for 5 or ten years, or even more. The guarantees are often made as monthly payments.
Some of the more 'optimistic', published, rental guarantees currently on offer include a 10% return for 10 years.
"Turnkey investment – Receive your rent every month".
Another one…"Rental guarantee 10% for 10 years on Freehold, or 15 years on Leasehold"
This offer is very opaque… "Our up to 20-year selective rental agreement generates a fixed annual income of up to 10%, with the option of 5-year buy back program for the investor."
How can these developers make such offers?
Robert Teulings, the Sales Manager at New Nordic Phuket, says there are several factors that play a role in making New Nordic enable to meet their promises.
"One of the factors being the very active holiday village at Pratamnak Hill in Pattaya which we are still fully operating almost 10 years after development started. We always keep 30% of the area in every building for ourselves for retail and F&B purposes. The team also takes care of condominiums on behalf of owners, some of whom live thousands of kilometers away from the given New Nordic destination. In addition, the F&B department not only caters for New Nordic Group's own residents and visitors but also for outside clients. 
"With these core business ideas and values in mind, we have successfully never missed a payment to any of our clients and are certain we will continue keeping our promises and developing beautiful holiday villages across the globe."
We have made contact with two other companies making these offers to find out how such generous guarantees can be made and what 'fine print' there is in the contracts. At this stage only New Nordic Phuket responded to our request for information. (Here's their Phuket website HERE.)

Desmond Richard Lewis Hughes, from Hughes Krupica Lawyers in Patong, says that 'guarantees' should be properly contracted and be open to scrutiny in the due diligence process.
"Anything called a guarantee should be capable of being presented to a bank in and used as security. If a so-called guarantee isn't capable of that, then really it is at best a promise supported by intention and that intention may be good, bad or indifferent."
Desmond advises all people being offered a rental guarantee to check the background of the company making the offer.
"If a company with small paid up capital, directors who are not overly concerned about commercial risk and a short history of operations offers a 'guarantee', then the guarantee will have little substance compared to say – the guarantee of a public company."
But despite The Thaiger's skepticism, the companies selling condos on these conditions are, mostly, keeping up with their 'guarantee' with few reports of defaults at this stage.
One agent, who has asked not to be named, but who had sold quite a few properties with these guarantees, said that he's been pleasantly surprised by the follow-through with key developers honouring contracts and paying out the monthly fee – usually minus costs.
"Each company has their own way of guaranteeing the monthly payments. In some cases a portion of the rental guarantee is built into the sales price. In other cases the developer works hard to rent out the properties and receives a rental return to fund the guarantees. There are many variations as to how it can work. But, so far, most of the schemes are working as promised."
Phuket's market, along with its tourism, has evolved and matured quickly over the past decade.
"The Phuket residential resort property market has changed significantly since the global financial crisis of 2008/9. Sales volumes are lower, the type of buyer has changed as has the type of product." said James Pitchon from CBRE.
"There is still demand for luxury hotels in Phuket, despite becoming  a mass market destination, as we have seen from the opening of the Rosewood Phuket last year and the recently announced Mandarin Oriental at Laem Singh Beach due to be to be completed in 2022. However the increase in tourist arrivals has not led to a big increase in demand for residential resort properties."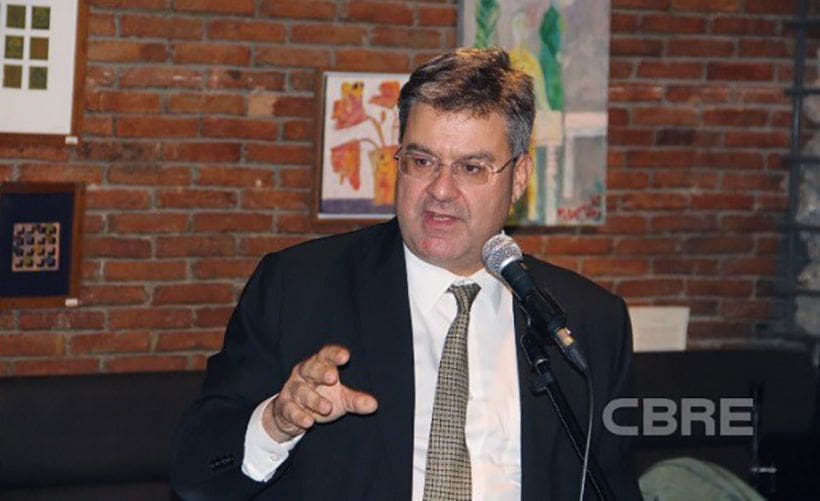 James Pitchon, Executive Director – Head of Research, Consulting,Global Workplace Solutions, Thailand for CBRE
As always with property purchases, buyers are highly recommended to consult a properly qualified property lawyer and DO YOUR HOMEWORK.


Find more property for sale and rent across Thailand at Thaiger Property, powered by FazWaz. You can even list your property for free.
Reservations now open for 'Twinpalms MontAzure' with enticing promotions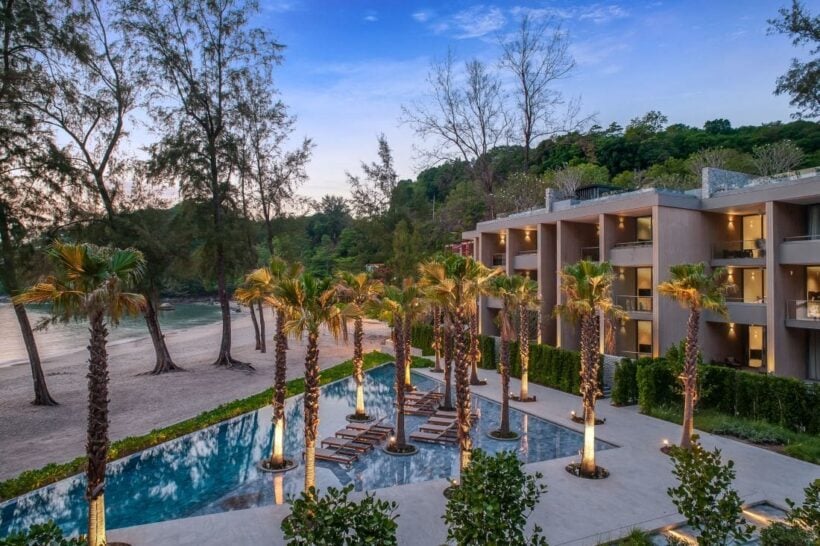 Celebrate the grand opening of Phuket's newest beachside hotel by booking now to snap up fantastic deals. Twinpalms MontAzure in Kamala is offering irresistible packages ideal for both short and long-haul getaways for those who book directly from their website.
Guests may choose to enjoy three nights and pay for just two and for those who are looking to book a longer holiday, stay for six nights and pay only three on all Penthouses and Suite types. Guests may book from now until November 30, 2019, for stays from July 1 to 19 December 2019.
The latest addition to the Twinpalms Hotels & Resorts portfolio is set directly on Kamala Beach, on Phuket's popular west coast and will welcome its first guests in July 2019. A member of Small Luxury Hotels of the World, the boutique beach hotel offers beautifully appointed Penthouses and Private Pool Suites and a collection of stunning Suites.
Suites range in size from 70m2 to splendid Penthouses with private pools and sea views boasting large living spaces of up to 300m2. Guests will also enjoy using a lap pool or an infinity pool offering views of the Andaman sea.
Adding to the collection of fantastic places to be on Phuket, Twinpalms MontAzure will launch its beachside restaurant and lounge, 'Shimmer', with uninterrupted sea views. Shimmer restaurant will serve vibrant and tasty food with an Asian focus, delicious and creative cocktails, and a great wine list, all served with the customary gusto and flair expected from the Twinpalms brand.
Designed by Martin Palleros, following the original Twinpalms concept and style, of utilising Phuket's beautiful landscape, Martin has allowed the design to maximise the sea views from most of the Suites and areas within the buildings, whilst also ensuring the preservation of the views of the mountainside from other perspectives.
Guests of Twinpalms MontAzure also have access by complimentary transport to the brand's other dining and entertainment destinations, taking full advantage of the three beautiful beaches Twinpalms has a presence on.
HQ Beach Lounge, a few steps away on Kamala Beach, Catch Beach Club, Catch Junior and Palm Seaside, located on Bang Tao Beach and of course, the flagship resort, Twinpalms Phuket is just a few steps from Surin Beach.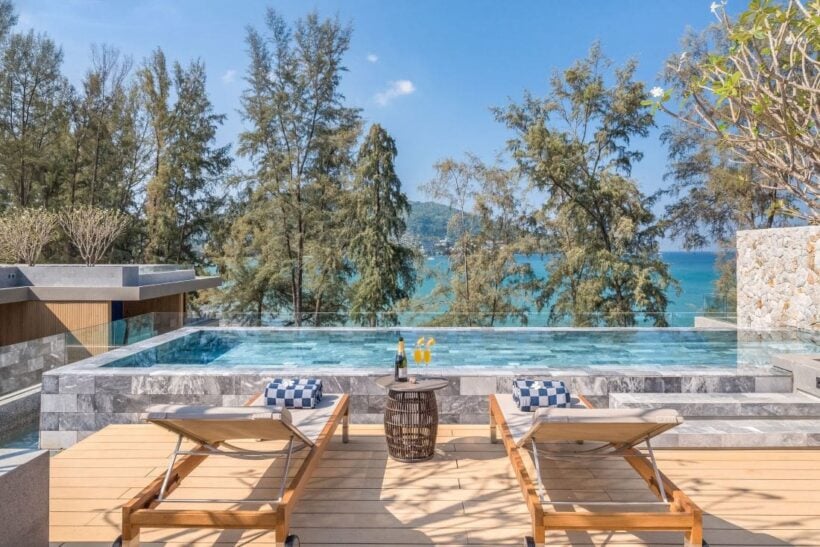 Phuket hotel watch – 3 months down, 9 to go in 2019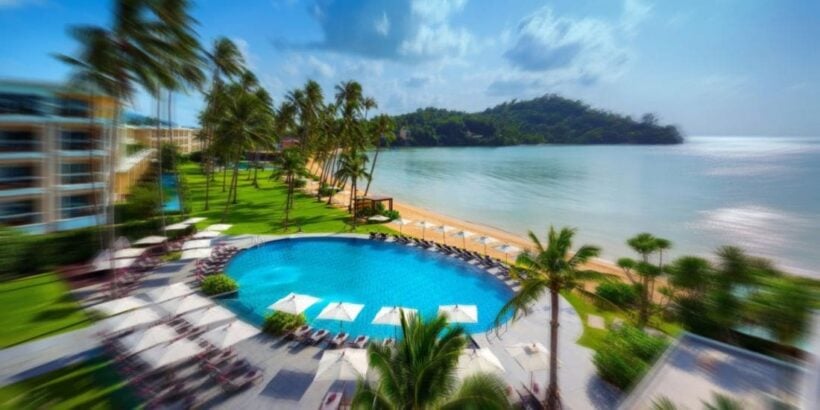 by Bill Barnett of C9Hotelworks.com
At the beginning of the year Phuket's tourism and hotel sector was cautiously optimistic after a strong first half of 2018 and humbling second half. Key terms that kept popping up were Mainland Chinese, Thai Baht Appreciation, Elections and Supply Concerns.
So today, with three months of performance under the belt in 2019 what are the key trends in hotel trading? These can best be compressed in the following points –
According to data from hotel benchmarking group STR, Thailand remains Southeast Asia's leading destination for Mainland Chinese, but the gloss is being diminished by Vietnam's meteoric rise, and strong numbers by the Philippines and Cambodia.
Market-wide RevPar shunk by 0.04% in 2018 and flat demand at the onset of the year is now shifting into negative territory moving into February and beyond. Turning back to last year, group demand is falling which is as key concern in a wholesale driven marketplace.
One stark positive is that RevPar is being propped up by rates and not occupancy. A key takeaway is that in peak and high season, Phuket hotels are able to drive rates up in key periods and continue to do so. This of course is a broad trend.  Good hotels tend to perform at higher levels, while poorly managed ones remain subpar.
Getting beyond the numbers, as I speak to hoteliers the expectation is that wholesalers remain a critical component of the island's hotel industry and despite the expected shift with technology to more direct bookings, the reality is that wholesale models are sensitive to demand volatility and the result of this feeding frenzy most often will be either flat rates for the year or in some cases a retraction.
We expect the remainder of 2019 to be challenging. Some hotels will look at this as an opportunity to reposition, renovate or cut costs. While others will look at new segments, niche offerings or emerging markets like India to regain momentum.
As for the top critical issues facing Phuket hotels, in my opinion these can be distilled in the following Top 3 Things Keep Me Awake at Night…
• Mainland Chinese – If tourism players or hotels believe the damage to Brand Phuket is over, think again. Talking to key tour operators there remains a hangover from last year's boat sinking incident and travellers remain keenly concerned over safety. Only time and more concentrated promotion will see a return of the numbers.
• Growing Supply and Demand Imbalance – The current pipeline is just over 8,000 keys in development on the island. What's more concerning is that projects in planning are not represented in this metric, and by our estimate there are approximately 5,000 more keys in planning. While both the pipeline and planning numbers will see some wash, the sum total exceeds current and forecasted demand.
Moreso, the rise of unlicensed condominiums, apartments, houses and villas is continuing unabated and is further exacerbating supply issues. Every time you see a group of tourists renting a 3 or 4 bedroom villa, that's three or four hotel rooms that lay empty. Government control of unlicensed properties is a key issue facing Phuket's tourism industry.
• Diminished Natural Resources and Strained Infrastructure – Water tops the list and there is little doubt we are reaching the tipping point with mounting shortages and soaring demand. Electricity is another concern. Lastly is a rising number of vehicles on the road, a urbanising trajectory and slow development of roads and public transport.
To these point's lets revisit the hotel development pipeline and reflect that a island long term master plan, zoning for new tourism expansion and requirements for developers to invest in public infrastructure to obtain operating licenses is sorely lacking. Something has to give on this front.
In conclusion am I pessimistic about Phuket's tourism and hotel future in 2019 and beyond? Absolutely not, direct airlinks are growing and the island has a well-structured capacity for handling tourism, but I firmly believe looking into our problems, discussing and finding ways to resolve these are critical to a sustainable growth pattern.
Buyback Option at VIP KATA Condominium by Phuket9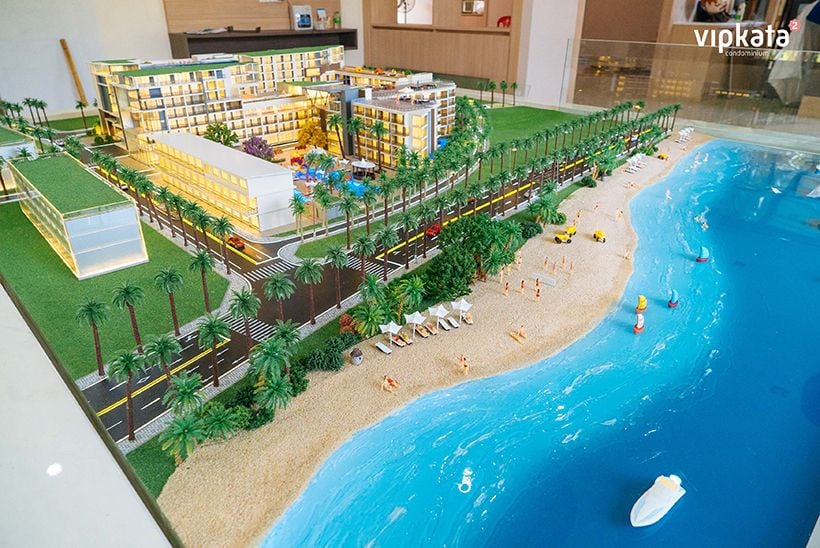 Phuket9 Company announces a buy-back option for VIP KATA Condominium Project with a rental return of 56% over 8 years.
The first two buildings of VIP KATA Condominium were launched in July 2018. After one month in August 2018, Phuket9 commenced construction of the second phase – 2 more buildings including 209 apartments, 2 common swimming pools, rooftop gardens, restaurants and a kids club.
By March 2019 foundation construction of 2 new buildings is completed and more than 50% of apartments are already sold out.
From March 2019 Phuket9 offers an option of re-purchasing apartments registered under leasehold. This offer is available only for a limited number of apartments.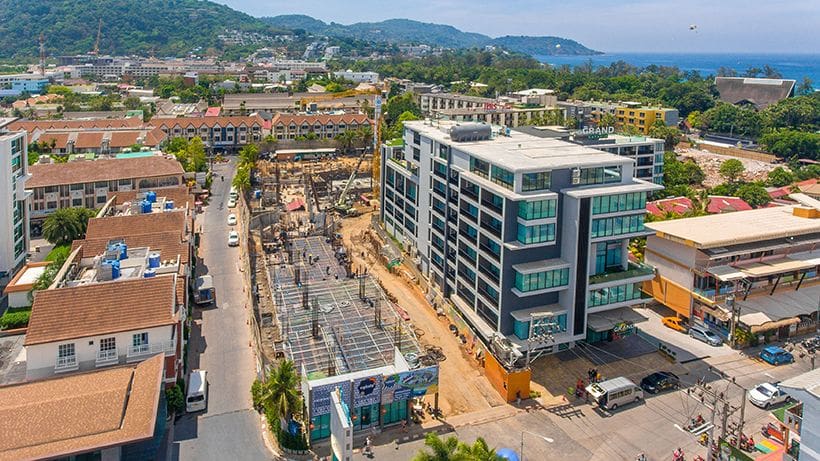 56% Rental Income
Rental program and apartment management in VIP KATA Condominium has been operating for 8 years and brings 7% income per annum to the customer. Value-added tax (VAT) is deducted from rental income.
At the end of a rental program agreement, further cooperation or agreement extension is discussed on a case-by-case basis.
Instant Rental Income
If a customer purchases an apartment in new buildings of VIP KATA Condominium, he/she has an opportunity to receive income starting the next day after full advanced payment is complete, even before construction is completed. In other words, if a customer decides to make a full advanced payment, his/her investment will bring income instantly after the payment is transferred to a company account.
Condominium Buyback Agreement
Agreement of buy-back by a developer is signed together with a unit purchase agreement from the VIP KATA Condominium. This agreement is an option for our customers.
The unit may be bought out by a developer at the end of the rental program (after 8 years). A customer has an opportunity to get 56% (7% per annum) rental return and plan an investment exit with 100% unit price return.
Condominium unit buyback agreement implies obligatory unit sale to a developer in case customer signed this agreement. If at the end of a rental program customer planning to sell an apartment by himself/herself at the market or extend rental program agreement with a developer, buy-back agreement should be not signed.
Condo Purchase in VIP KATA
If you want to purchase an apartment in the completed buildings of VIP KATA Condominium, or in one of the buildings under construction, you can contact Phuket9 sales department for more information. You will receive a current price list, apartment floor-plans for each level, reservation and payment details, examples of agreements translated into your language.
Purchase Process
You can purchase an apartment remotely. However if a customer has the opportunity it's better to visit the developer's office and construction site to see the location, check out the completed buildings of the first phase and construction works of the second phase.
Apartment Reservation
After choosing an apartment the customer makes the first payment 100,000 THB to Phuket9 and gets a receipt of their apartment reservation.
In most cases, apartment reservation is made only after visiting show-room and construction site. After 100,000 THB payment the customer leaves Thailand and further agreement signing is made remotely.
The signing of an Agreement
Preparation of purchase/sale agreement takes from a few days to 2 weeks, depending on how many amendments customer will make.
After all the preparations are done developer sends 2 signed copies to a customer by express mail.
The customer signs 2 copies and sends 1 of them to Phuket9 office address.
Payment by Agreement
After the agreement is signed the customer makes payment in accordance with the payment schedule specified by the agreement. After payment is received, the developer sends a receipt and the agreement comes into force.
Rental Income
Depending on the terms and conditions of the rental program, the developer transfers a percentage to the customer's Thai bank account twice a year.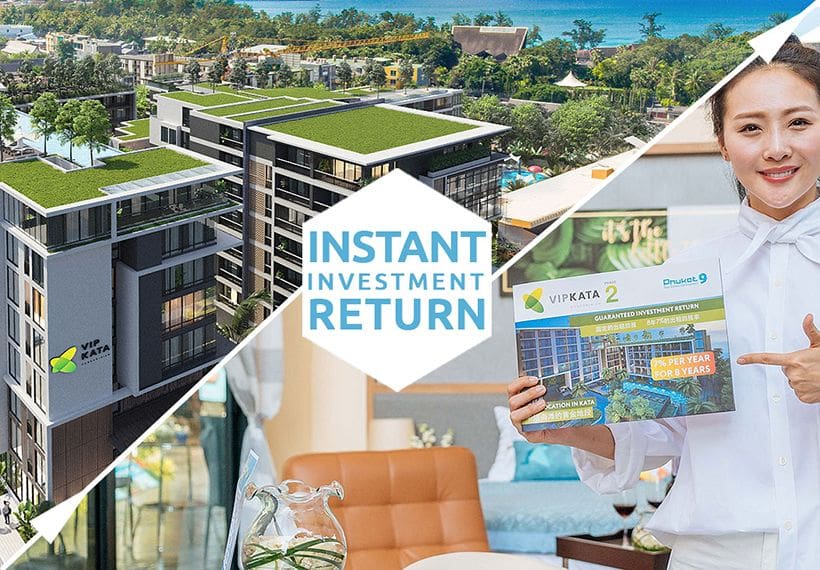 Investment With Guaranteed Income
If you're interested to invest in VIP KATA Condominium by Phuket9, please check out some of the following advantages of this project:
Location – 500 metres away from the beach, developed area facilities
Unique concept – more than 380 apartments, kids park, rooftop gardens
Completed buildings and 2 more buildings under construction
Rental program with 56% ROI – instant income already during construction works
Unit buy-back option for fixed investment exit
Furniture and decoration packages are included in the price
Bonuses for customers like discounted accommodation in company hotels
Phuket9 company is one of the fastest growing development companies in Phuket known for active construction of commercial properties in Phuket – hotels, kids parks, spa, medical clinics.
Welcome to Phuket! Contact us for more information, transfer order to company office or construction site.
Phuket9 sales department contacts: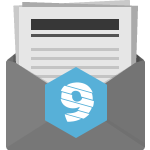 Receive Project Information and get in touch with our team to receive our latest sales kit to your mailbox. 
Сontact us directly:
[email protected]
+66 62 369 8978