Developer promises and the 'rental guarantee'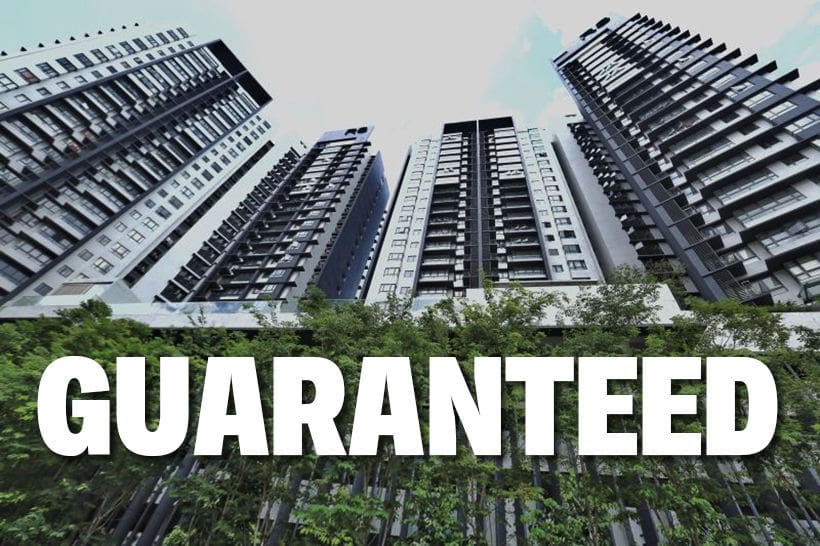 According to a recent report from CBRE, more than 80% of Phuket condo sales offered rental guarantees in reported sales in the first six months of 2018. The report says that most of these condo sales were for properties less than 5.5 million baht.
The CBRE report also noted that there were 458 condos and 56 villas sold in the same period.
The Thaiger, who keeps in contact with many of the island's property developers, spoke to three developers of unconnected current projects which reported 180+ sales – that's just three developments. Speaking to a leading, reputable real estate seller in the region, they reported just over 70 signed deals during the same period. They also said that sales in the luxury villa market were, by their estimates, well in excess of the figures quoted in the CBRE report.
Seeking information from CBRE, clarifying the numbers quoted in their report, we received replies about the trends they've identified in the local Phuket market. James Pitchon is the Executive Director – Head of Research, Consulting, Global Workplace Solutions, Thailand for CBRE.
"The resort condominium market is now driven by buyers of affordable, investment-oriented products that offer rental management programs and/or guaranteed returns rather than buyers looking for a just a holiday home. Sales of entry-level products accounted for over 80% of the total sales, with limited sales in the high-end segment. However, there were a few exceptions such as the Residences at Sheraton Phuket Grand Bay where the developer  was able to sell higher priced product "
James also backed up the recent CBRE report, and the trends, indicating a slowdown in the top end of the market.
"The luxury villa market continued to move at a slow pace with most sales at the lower end of the market  but one unit was sold in Andara Signature Villa, a hotel managed property, for more than 200 million baht."
The reality is that there is no centralised reporting system in place to prepare accurate property sales information in Phuket. James didn't divulge how CBRE gathered their statistics.
The 'elephant in the room' mentioned in the report has been highlighted by an article on thailandproperty.com where the issue of rental guarantees is raising eyebrows in the island's real estate community.

The rental return guarantee schemes are where developers 'guarantee' a return of, say, 10% of the purchase price for 5 or ten years, or even more. The guarantees are often made as monthly payments.
Some of the more 'optimistic', published, rental guarantees currently on offer include a 10% return for 10 years.
"Turnkey investment – Receive your rent every month".
Another one…"Rental guarantee 10% for 10 years on Freehold, or 15 years on Leasehold"
This offer is very opaque… "Our up to 20-year selective rental agreement generates a fixed annual income of up to 10%, with the option of 5-year buy back program for the investor."
How can these developers make such offers?
Robert Teulings, the Sales Manager at New Nordic Phuket, says there are several factors that play a role in making New Nordic enable to meet their promises.
"One of the factors being the very active holiday village at Pratamnak Hill in Pattaya which we are still fully operating almost 10 years after development started. We always keep 30% of the area in every building for ourselves for retail and F&B purposes. The team also takes care of condominiums on behalf of owners, some of whom live thousands of kilometers away from the given New Nordic destination. In addition, the F&B department not only caters for New Nordic Group's own residents and visitors but also for outside clients. 
"With these core business ideas and values in mind, we have successfully never missed a payment to any of our clients and are certain we will continue keeping our promises and developing beautiful holiday villages across the globe."
We have made contact with two other companies making these offers to find out how such generous guarantees can be made and what 'fine print' there is in the contracts. At this stage only New Nordic Phuket responded to our request for information. (Here's their Phuket website HERE.)

Desmond Richard Lewis Hughes, from Hughes Krupica Lawyers in Patong, says that 'guarantees' should be properly contracted and be open to scrutiny in the due diligence process.
"Anything called a guarantee should be capable of being presented to a bank in and used as security. If a so-called guarantee isn't capable of that, then really it is at best a promise supported by intention and that intention may be good, bad or indifferent."
Desmond advises all people being offered a rental guarantee to check the background of the company making the offer.
"If a company with small paid up capital, directors who are not overly concerned about commercial risk and a short history of operations offers a 'guarantee', then the guarantee will have little substance compared to say – the guarantee of a public company."
But despite The Thaiger's skepticism, the companies selling condos on these conditions are, mostly, keeping up with their 'guarantee' with few reports of defaults at this stage.
One agent, who has asked not to be named, but who had sold quite a few properties with these guarantees, said that he's been pleasantly surprised by the follow-through with key developers honouring contracts and paying out the monthly fee – usually minus costs.
"Each company has their own way of guaranteeing the monthly payments. In some cases a portion of the rental guarantee is built into the sales price. In other cases the developer works hard to rent out the properties and receives a rental return to fund the guarantees. There are many variations as to how it can work. But, so far, most of the schemes are working as promised."
Phuket's market, along with its tourism, has evolved and matured quickly over the past decade.
"The Phuket residential resort property market has changed significantly since the global financial crisis of 2008/9. Sales volumes are lower, the type of buyer has changed as has the type of product." said James Pitchon from CBRE.
"There is still demand for luxury hotels in Phuket, despite becoming  a mass market destination, as we have seen from the opening of the Rosewood Phuket last year and the recently announced Mandarin Oriental at Laem Singh Beach due to be to be completed in 2022. However the increase in tourist arrivals has not led to a big increase in demand for residential resort properties."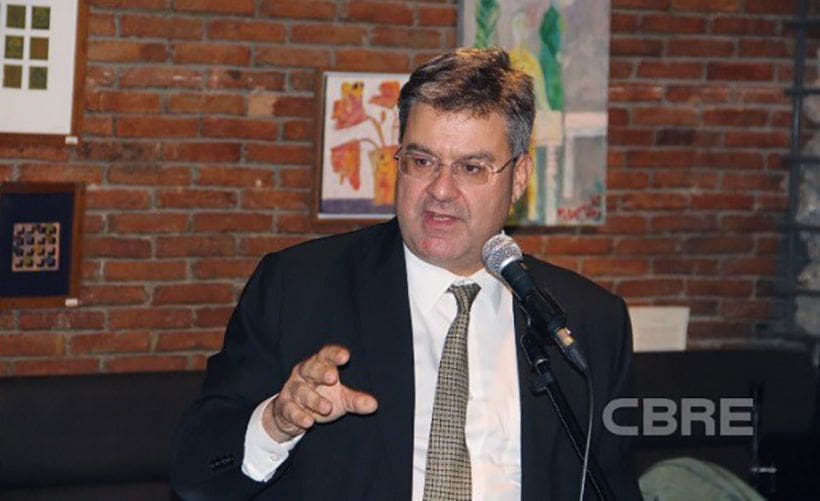 James Pitchon, Executive Director – Head of Research, Consulting,Global Workplace Solutions, Thailand for CBRE
As always with property purchases, buyers are highly recommended to consult a properly qualified property lawyer and DO YOUR HOMEWORK.


Find more property for sale and rent across Thailand at Thaiger Property, powered by FazWaz. You can even list your property for free.

Phuket's hotel and property players look north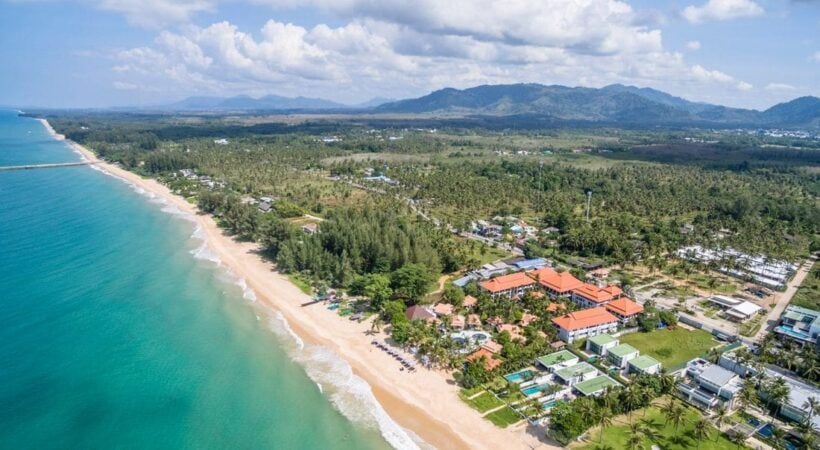 by Bill Barnett of c9hotelworks.com
One of Greater Phuket's real estate and hotel market's that has a decided buzz of late is the area up over the Sarasin bridge in Phang Nga.
In Natai, the entry of the Baba Beach Club and nearby Akyra is creating renewed visibility for the broad West Coast stretch of white sand beach.
Two upscale hotels are in the development phase in the vicinity, with one being flagged to an international hotel operator.
Up at the 1,000 plus rai Thai Muang mega-project, movement is once again underway, as is a nearby massive Japanese-led mixed-use project including a golf course.
Land values are currently running amuck in the Koh Kloi area where the AOT (Airports of Thailand) has reportedly acquired land for an upcoming Phang Nga airport which will provide Phuket with a second gateway alternative.
Premium land transactions are taking place, with the most notable being the recent trade of the former oceanfront site in Bodan that was to be at various stages first a Raffles and later a Ritz-Carlton Reserve.
Looking at Phuket's light-rail initiative, one knock-on effect will be the eventual linkage between the island and larger connection to a broader rail terminus in Koh Kloi. This will likely spur real estate speculators to acquire peripheral locations.
As Phang Nga's West Coast four land highway expansion moves forward to Khao Lak and beyond, Phuket's Northern neighbor is seeing a renewed push in its tourism, property and infrastructure.
Cleaning the concrete and paving in Thailand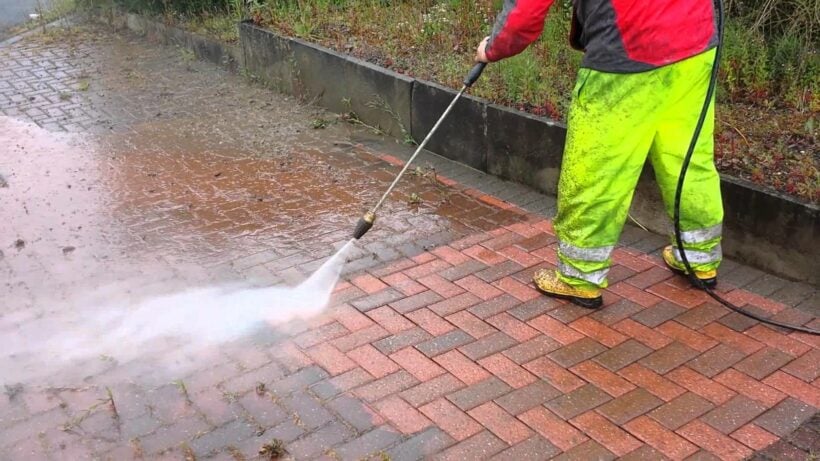 With the wet season comes the rain. And with the rain, plus the ongoing hot weather, mould and algae growing on all our outdoor walls and paving.
Rain + algae + mould looks awful and can be very slippery. Stains can also make your investment look old and unwanted. Black mould can cause allergies for some people
You have two choices. Maintain them yourself or get someone in to do it for you. If you would like to save a few baht and do it yourself here are a few proven methods.
Before you even start a few warnings. Don't use any of these cleaning methods on a large area before you're completely sure it's going to work. Try out your chosen method on a small area first to check that it won't harm the surface and that it actually does the cleaning you expect.
Also, ask around. Many houses in Thailand have concrete, aggregate, paving and tiling outside so we all have the same problems. See what's worked with others around your area. Also be aware some of the chemicals can be dangerous for you and for the environment. There's plenty of alternatives these days that are safe and effective.
Whilst there is no magic solution, keeping up regular maintenance is your best answer. Doing a quick, regular clean is going to be a lot easier than, say, an annual clean where it just becomes a lot of hard work, or expense. And messy.
Before you do anything else move all the furniture away, clear the area and make sure any weeds are removed before starting.
Bleach
Beach will remove stains from practically anything. Since pavers and aggregate surfaces are mostly made of concrete, bleach can be a good way to remove stains, black mould and algae from them, if used correctly.
Diluting the bleach is extremely important if you want to protect the color of your patio or driveway. Mix half a cup of bleach with around 5 cups of water, and add a spoonful of dish-washing liquid to it. Bleach is quite dangerous and shouldn't get in contact with your skin. Wear gloves. It's also generally toxic for plants so don't use it around lawns or garden beds.
Spray this using a spray bottle on the surface and let it soak in for 15-20 minutes depending upon how dirty the surface is. A little bit longer for stubborn stains and really long-term build ups of mould.
Scrub the pavers with a brush that has nylon or natural bristles. Rinse off the solution with water – high-pressure water cleaner will add some muscle to the chemical reaction. Let your pavers dry in the heat.
Chlorine
Yeah, the stuff they put into your swimming pool to keep it free of nasty bacteria and the water clean. Chlorine can also be used to clean your patio or driveway, especially the black mould, moss and algae.
Mix chlorine and water (10% chlorine, 90% water) in a spray bottle. Spray the mixture on the paving thoroughly and evenly, and let it soak in for 10-30 minutes minutes. Follow up with scrubbing the pavers to remove any excess dirt or particularly stubborn stained areas. like with the bleach, use gloves and protect your skin from coming into contact with the chlorine. Also make sure that you've got good ventilation around the area (your very probably outside anyway).
Chlorine is toxic for you and your plants. If it splashes on your clothes you'll most likely get bleached splotches so don't wear your latest Armani purchase whilst using chlorine (same with the full-strength bleach).
Vinegar (acetic acid)
It stinks but vinegar is one of the best choices you could make to clean your concrete pavers and paving. It's non-toxic and a better alternative around pets and kids.
Spray full-strength vinegar using a spray bottle on the affected parts of the patio or driveway. Let the vinegar soak in completely – say a good 60 minutes or so. Then spray the paving with a mixture of soap and water and scrub with a brush to remove any dirt that may have been overlooked by the vinegar.
Better to use white vinegar as it doesn't stain.
Soap and Water
This simple combination of soap and water is a safe, reliable combination but needs a little 'elbow grease' or mechanical assistance to get the same results.
Start off with a high-pressure washer. Use this first to remove the worst of the stains, mould and algae. Then apply the detergent and water and scrub the rest by hand. Doing this removes the rest of the grunge and goo. These magic machines will blast off just about any mould, mildew or moss. WARNING: Don't put your hands or anybody else close to the high-pressure stream of water and air!
With high pressure cleaners, at this stage, we haven't found any places where you can rent these units for an afternoon. But, if you're going to be doing regular cleaning yourself the investment is quite reasonable – you can pick up a fairly good one for 5,000 baht. They're always on display near the front of most Home Pro or Thai Watsadu stores. Better still, ask the neighbour if you can borrow theres and buy them a nice bottle of wine as a thank you 🙂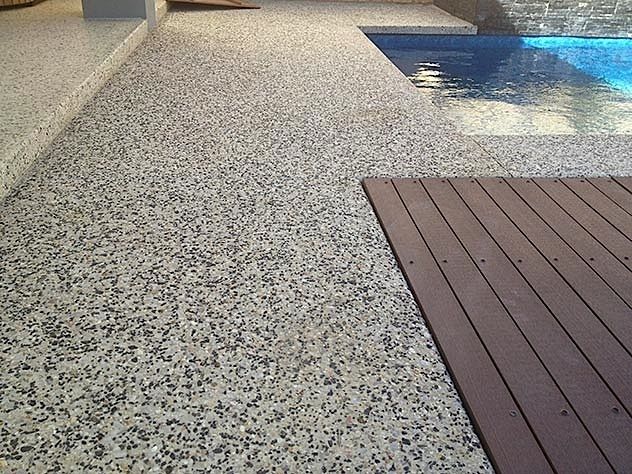 A few other things
For fresh oil or grease stains use baking soda and apply it to the stains. Leave it for a good hour. Remove the baking soda then apply again of the oil or grease stains are bad.
There's nothing better than regular cleaning. Even if you just regularly sweep the pavers, or spray them with water, it will help prevent the spores settling and starting to grow.
Once all bright and shiny consider using a paving sealer. They are readily available, easy to apply and make the cleaning a lot easier as the spores, grunge and dirt won't sink into the porous paving surface.
Try one, try all methods. Tell us which works best or any other methods you've tried with success or the ones that have been a complete failure.
Centara strikes deal for three new hotels in Laos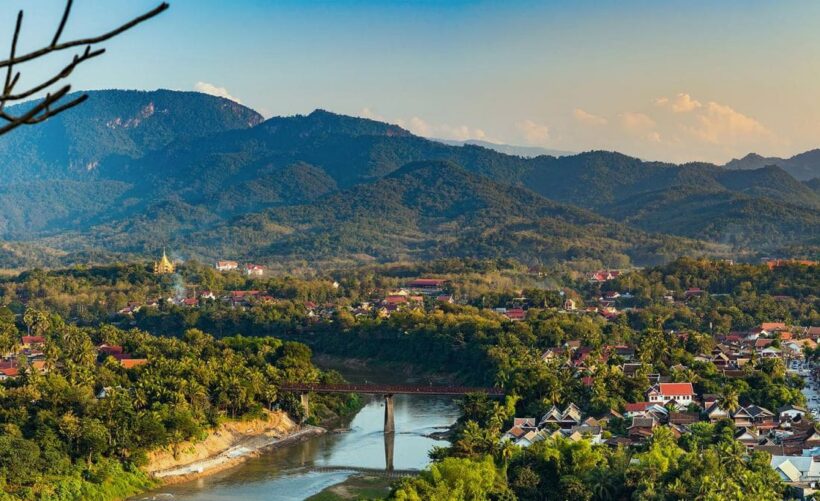 Thailand's leading hotel operator Centara Hotels, announced it has signed management agreements for three new properties with a combined total of 216 keys, with Asia Investment, Development & Construction Sole Co., Ltd (AIDC), a well-established enterprise in Laos.  In the UNESCO World Heritage site of Luang Prabang, Centara plans to open an upper upscale Centara Grand Luang Prabang and a midscale Centra by Centara property, both near the town centre. The third property will be under Centara's new lifestyle brand, COSI, catering to the growing segment of connected, freedom-loving travellers. It will represent a unique offering in Vientiane, the Laotian capital.
The management agreement comes as Laos launches ambitious new plans to promote tourism. In recent years, the government of the Lao PDR has come to regard tourism as a priority sector for driving socio-economic development. It hopes to attract 5 million visitors in 2018 and increasing numbers in the years ahead with a Visit Laos campaign under the slogan "Simply Beautiful."
According to a new report from the Swiss-based World Economic Forum, Laos ranks 14th among 136 countries in price competitiveness.
"This partnership with AIDC is a great opportunity to expand our footprint into a distinctive country," said Centara CEO Thirayuth Chirathivat.
"Laos is on the list of more and more travellers to this region, and we want to serve them with the distinct and varied accommodation options to match the travel experience they are seeking."
Luang Prabang is the well-preserved, old spiritual city at the confluence of the Khan and Mekong rivers. Although well-served by direct flights to its airport and modern amenities, it lives up to its World Heritage status with beautiful temples and traditional riverside life. Bicycles outnumber cars. Delicious baguettes, croissants, cafés and French restaurants hint at the French colonial history in both Luang Prabang and Vientiane.
Pheutsapha Phoummasak, President of AIDC Laos said "We are excited to partner with Centara to bring their trusted brands to these great cities and further promote the tourism potential of Laos. Luang Prabang and Vientiane are very popular destinations for both Thai and international travellers thanks to their perfect blend of history, beautiful scenery and charming character"
The three new hotels are the latest evidence of Centara's expansion strategy, which calls for doubling the number of properties under its management during the next five years. This latest development will see Centara's hotel count in Laos reach four with Centara Plumeria Resort Pakse already well under development and scheduled to open in 2020.