Thai traditional trades staying alive in 'new normal'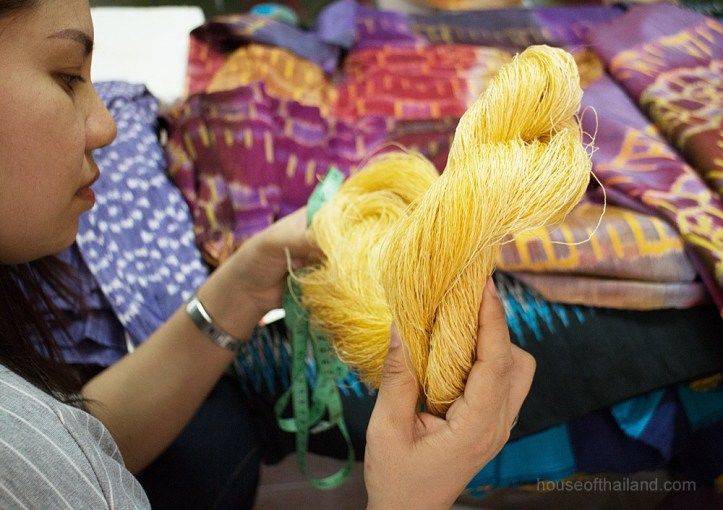 Thai silk and craft-related trade is staying alive in the 'new normal' era thanks to the Support Foundation created and backed by Her Majesty Queen Sirikit. The Foundation for the Promotion of Supplementary Occupations and Related Techniques under the Royal Patronage of Her Majesty the Queen, was initiated in 1976 with the hopes of introducing original handicrafts to the younger generations. Today, it boasts an international, billion baht industry that helps support the Thai economy through setting stylish trends both locally and abroad.
In the 1970s, Queen Sirikit and His Majesty, the late King Bhumibol Adulyadej The Great worked to improve the quality of life of the Thai people. They set up projects that aimed to generate sustainable income for those in rural areas helping to aid the living conditions of those with low socioeconomic status. Upon visiting such areas as Isaan, Her Majesty lauded the unique identities of these people and lifestyles, which were reflected in their handmade crafts and textiles.
Her Majesty vowed to preserve the unique handicrafts and encouraged rural weavers to continue to make these distinctive textiles while introducing different colours to help them appeal to modern tastes. From there, she incorporated these products into the Support Foundation to help promote such traditional ways of earning an income. The queen even had her own wardrobe redesigned to showcase the Thai villagers' fabrics, wearing their creations in the style of Thai silks. The move proved prosperous as such trends caught on both on the home front and worldwide.
Now, world renowned designers and embroiderers such as Pierre Balmain and Francois Lesage have used the designs in their own creations, paving the way for the original designers to step up their standards of living. The delicate designs are showcased at the Queen Sirikit Museum of Textiles and include such handicrafts as Northeastern silk ikat, or Matmii in Thai, as well as Chok and Phrae Waa silk brocade shoulder cloths. Pha Yok from southern Thailand is also on display as their golden brocades are delightful to the eyes.
Such sustainable ways of living that have been supported by the foundation include seeing the weavers growing their own mulberry trees to raise silkworms from start to finish in order to weave the fabric made for the unique clothing.
Nadhawan Tanyongmas, deputy director of the museum, says that the museum is considered as part of the Support Foundation. Its objective is to raise awareness, preserve and become a specialized learning centre about the Queen Mother's dedication, the history and values of Thai textiles and handicrafts.
"We apply advanced technology of an international standard in the conservation lab to restore and preserve all type of fabrics, not just Thai silk, but also cotton and hilltribe textiles. Our main challenge is drawing the public to visit the museum as our culture is unlike that in Western countries. We organize activities every month to offer knowledge in more interactive ways."
"Moreover, we have created a visual museum on the Google Art and Culture platform so that we can reach young generation viewers through various channels."
The Support Foundation is also taking the lead and working closely with suppliers and leading designers, to promote and commercialize the products globally. As the Thai economy has suffered due to the Covid-19 pandemic, it is no doubt one more way of helping those in rural areas create a sustainable living.
SOURCE: Thai PBS World
Catch upwith the latest daily "Thailand News Today" here on The Thaiger.
Keep in contact with The Thaiger by following our
Facebook page
.
Never miss out on future posts by
following The Thaiger
.
Quarantine could be reduced to 7 days from November, if border re-opening succeeds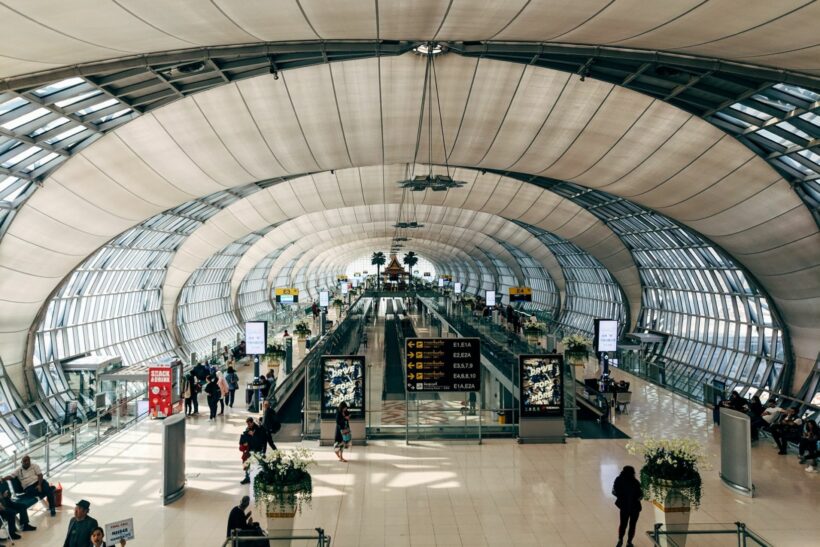 Thailand's Tourism and Sports Minister says the mandatory quarantine period for those arriving from overseas could be reduced to 7 days if there is no spike in Covid-19 infections after the border re-opens to limited arrivals from October.
Phiphat Ratchakitprakarn says more details on the planned Special Tourist Visa will be made available following a Cabinet meeting on Tuesday. The STV is expected to grant entry to long-stay arrivals from October 1. Visitors can then extend their stay by 90 days twice, meaning a stay of nearly 9 months in total.
The government is currently being extremely cautious with its plans to re-open the borders to international arrivals. However, in a Bangkok Post report today, Phiphat says that if the first 2 groups of arrivals, 300 foreign tourists in total, fulfil the 14-day quarantine period without testing positive for the virus, it may be possible to increase the number of visitors granted entry to the Kingdom.
"Only 300 tourists per week will not be enough to fill up the whole supply chain and help operators. However, the figure has to comply with the capacity of the healthcare workforce from the Public Health Ministry to prepare swab tests."
It's understood the Tourism Ministry has been in talks with private hospitals about supplying additional manpower to facilitate the testing being carried out at airports. Another option is to test arrivals at quarantine facilities, in order to avoid holdups at airport arrival terminals. Currently, the Phuket Provincial Health Office has the ability to conduct 1,000 tests a day.
Should the gradual re-opening in October pass without a significant spike in Covid-19 cases, Phiphat says the government may consider halving the 14-day quarantine period from mid-November. Visitors will still be required to be tested prior to arrival, several times while in quarantine, and again before being released.
"In the event there are 5 positive cases from 300 tourists, the plan to welcome foreigners has to move forward anyway. But we will set up new alternative plans to cope with the situation."
A reduction in the quarantine period may succeed in attracting more visitors, particularly given the high cost of staying at certain alternative state quarantine facilities, which tourists must foot the bill for themselves. An increase in foreign arrivals is seen as essential to the recovery of the tourism sector in areas currently struggling to survive since the border shutdown 6 months ago.
The Tourism Council of Thailand has visited places such as Phuket, Chiang Mai, Prachuap Khiri Khan, Udon Thani, and Rayong, to talk to local business owners. In presenting its findings to the Tourism and Sports Ministry, TCT president, Chairat Trirattanajarasporn, says the government must find a solution to help the tourism sector. It predicts that once the global Covid situation is brought under control, foreign arrivals to Thailand should reach the 60 million mark and contribute 25% of the country's GDP by 2023.
SOURCE: Bangkok Post
Catch up with the latest daily "Thailand News Today" here on The Thaiger.
Keep in contact with The Thaiger by following our
Facebook page
.
Never miss out on future posts by
following The Thaiger
.
Some immigration offices set to open on Saturday, September 26, as visa amnesty looms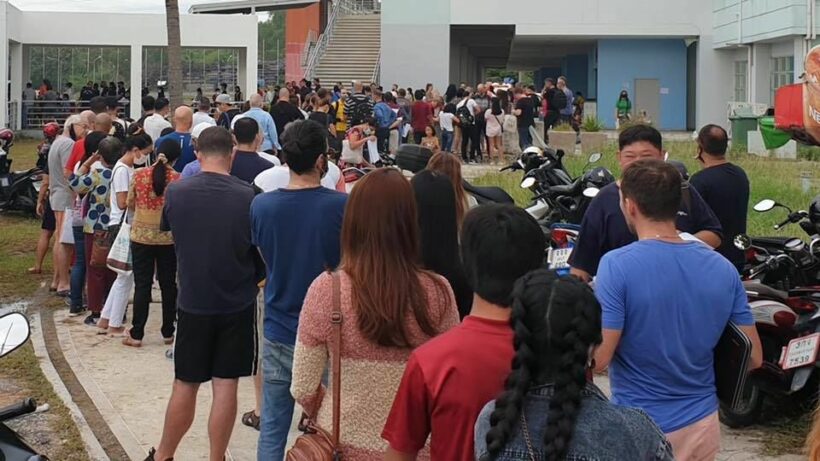 With September 26 just a day away, Thailand's Immigration offices have never been busier. Many expats and visitors, who have been either stranded in Thailand, or decided to wait out Thailand's outbreak of Covid-19, need to get their visas sorted out, officially, by September 26. Whilst many foreigners have left things to the last minute, here's the latest in the situation.
Many Immigration offices will be open on Saturday as well, due to the enormous demand, mostly people wanting to get a 30 day extension to their visa. Some offices say they will open until 3pm, others 10pm… it is not a uniform time for the additional opening hours on Saturday. So check you local immigration. The Thai immigration office in Samut Prachan, for example, says they will open on Saturday between 9am – 3pm.
Many of the immigration offices stayed open late every day this week to work through the appointments that had been made. We should at least applaud the work ethic of the officials as they are doing their best to apply the Government's immigration rules and are open extra hours to help foreigners. Be assured the officials are probably as stressed as you. Smile and say 'thanks' when you get you stamp!
Also, because the amnesty finishes on a Saturday, you will legally be able to go in on Monday as well to sort out your lapsed visa, or roll over onto a 30 day extension, if you are eligible.
In most cases, it needs to be stressed, you will need to make an appointment before going to immigration. Don't just arrive there with a handful of documents and your passport and hope for the best. The link to the Thai Immigration website is HERE. It is not particularly easy to navigate so be patient.
If you don't have a visa extension or a new visa by the end of Monday, or a visa pending, by the close of business on September 28, you will living in Thailand illegally and will face hefty fines, arrest and possible deportation.
The social media on the matter has been just as busy, with people sharing their views on the amnesty and the Thai government's reluctance to further assist the foreigners that have remained in the country since the borders were closed in April. Different Immigration offices, different stories. (We've fixed up some of the grammar and spelling)
"This is absurd and insulting. People that are here, healthy and contributing to the economy, and they have no easy way to remain. All the while the government is trying to attract people to come here. Let those who are here stay and continue spending money."
"Thai immigration did not create this problem. It was created by everyone who waited till the last week. Self fulfilling karma."
"In Bangkok it takes the travellers who are stuck here about 2 hours to get there and people who do get there without appointment send home to make one and there are no new appointment up to the 26 any more so no choice for people to be illegal soon."
"Not to state the obvious, but anything can change last minute here in Thailand. You never know…"
"Here in Chonburi immigration they only allocating 100 que numbers per day. About 500 waiting with no que number. Official look to close off processing before lunch time leaving the office closed for business. Amazing Thailand indeed."
"It really doesn't help that UK (embassy) in Thailand decided, with total disregard for the Thai immigration system and the British citizens it serves, to wait until the very last minute of the amnesty to grant TV extension letters. Flooding the system at a time when it is already significantly overstretched."
"Many here in Phuket went before and were told to come back this week!"
"Not necessarily waiting till the last minute, but I think many have been trying to make arrangements via any number of visa schemes while at the same time, even before Covid, the various offices would need months to process. It could be muddled further when they announced the new tourist visa (STV) which many thought the logical move would be to allow the rollover to happen, and still could."
What are your thoughts and experiences with the amnesty and your extension, or failure to secure an extension? Respond in the COMMENTS section below.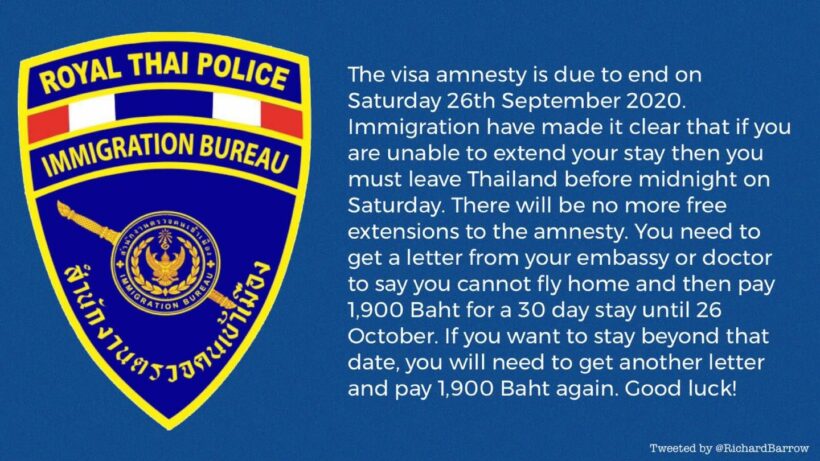 Keep in contact with The Thaiger by following our
Facebook page
.
Never miss out on future posts by
following The Thaiger
.
Pattaya men allegedly posed as police officers, extorted 50,000 baht from a woman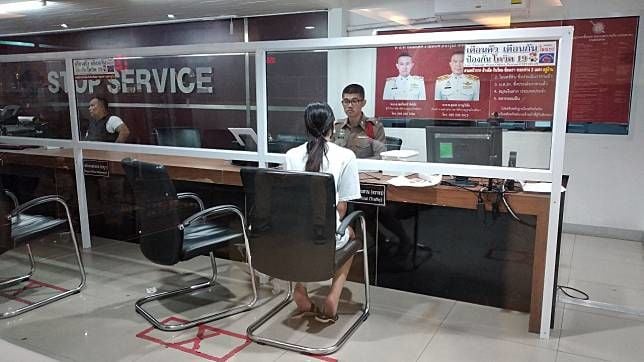 A group of 4 men in Pattaya allegedly posed as police officers and extorted 50,000 baht from a woman. The 20 year old woman says the men claiming to be police officers raided her condominium and a friend visiting had drugs in his possession.
In the report filed with Pattaya City Police, the woman says the men asked both her and her friend for a bribe of 25,000 baht each. If they didn't pay up, the men said they would arrest them on drug charges, according to the complaint. The woman says she gave the men 50,000 baht.
The men who allegedly posed as police officers were not in uniform and did not show any identification or badges, the woman says. After giving it some thought, the woman became suspicious and decided to file a complaint with police. Police are still investigating.
SOURCE: Pattaya News
Catch up with the latest daily "Thailand News Today" here on The Thaiger.
Keep in contact with The Thaiger by following our
Facebook page
.
Never miss out on future posts by
following The Thaiger
.