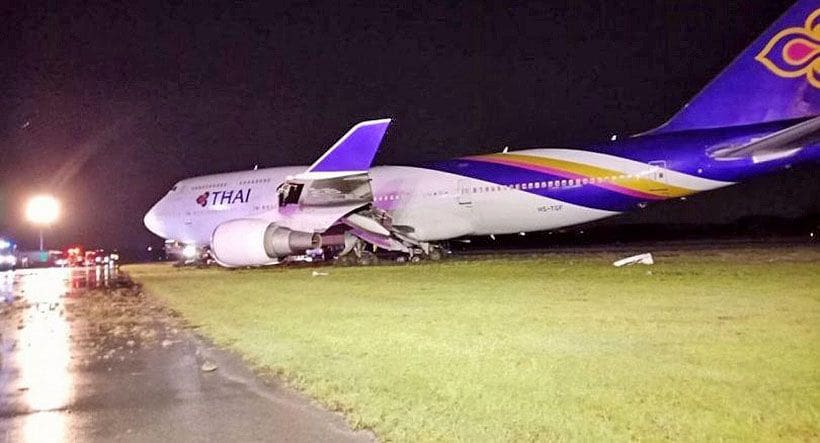 On October 8, a Thai Airways 747-400, with only 115 onboard including the crew, skidded off the runway at Suvarnabhumi International Airport. The story and photos reached around the world placing the embattled airline in a position to explain the incident. There were no fatalities and all passengers were safely evacuated and went about their holidays.
Since then the silence over the incident has been deafening.
The Thaiger, October 9 – "A Thai Airways International plane, inbound from Guangzhou, China skidded off a runway while landing at Suvarnabhumi Airport in heavy rain last night.
Flight Lieutenant Pratthana Pattanasirim, THAI's director of security and flight standard division, said no one was injured when THAI Flight TG 679 skidded off the runway.
The Boeing 747-400 was carrying 97 passengers and 18 crew.
The Guangzhou-Bangkok flight left Guangzhou airport at 8.58pm (local time) and arrived at Suvarnabhumi at 10.48pm.
The passengers were safely transferred from the plane to the passenger terminal to wait for their luggage. THAI provided them snacks and drinks while they were waiting. Pratthana said the airline would urgently cooperate with other agencies to investigate the cause of the accident."
The incident follows another 'skidding' incident in September 2013. In that case there was a poor attempt to 'cover up' the problem by spray painting the 'Thai Airways' name on the side of the A330 plane whilst the tail and livery colours, in all their purple splendour, were still in clear view.
"You could call it a coverup. Just hours after a Thai Airways jet skidded off a Bangkok runway last night, leading to the frantic evacuation of 288 passengers, workers painted over the plane's distinctive purple and gold logo with black paint." – The Guardian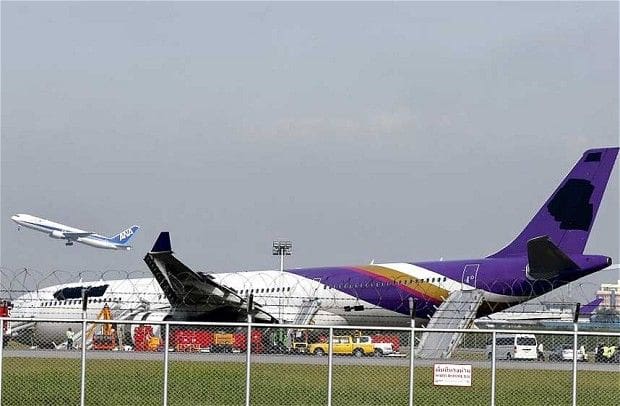 Since the skid-off-runway incident earlier this month, Thai Airways has been in a social media storm directed at two pilots who bumped paid passengers out of their first class seats on a Zurich to Bangkok flight. In this incident the pilots, the two on-duty pilots as well as the two off-duty pilots, have been instructed to say nothing. Meanwhile the Thai Airway union has criticised the two off-duty pilots for not considering the airline's customers first.
In this incident, apart from a promise to look into the situation by the airline's president, there has been no official statement from Thai over this matter either.
As Thai Airways keeps promising internal management changes, and reworking of its fleet-size and equipment, it may be time to bolster the PR department and work to re-assure the main customers, locals and expats who would love to support the national airline but find increasingly difficult to justify 'going purple' in the future.