Rayong man sells cut-price meth pills to local young teenagers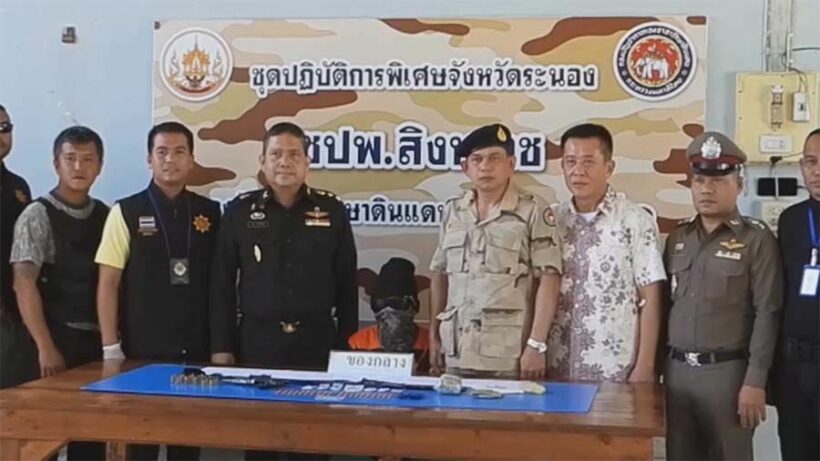 PHOTOS: Workpoint News
A 54 year old drug dealer has been arrested for selling cut-price methamphetamine pills to young teenagers around the main city area of Rayong.
The suspect was arrested on July 9 and already told police that he buys the methamphetamine (yaba) pills for 23 baht each and then sells them for 60 baht, about half the 'market' price. Don Ramon Chuay Chart admitted that most of his customers are teenagers and workers in the area and that he sells the pills at a cheaper price because most of his customers have no money.
Ranong Police arrested him and seized 2,402 methamphetamine pills and a small quantity of crystal methamphetamine (ice). They also seized a 9mm hand gun and 17 bullets. He told police the gun was purchased from a fisherman in Sin Hai Island which Don uses for his 'personal protection'. The police were informed by villagers in the City of Rayong that he'd been selling drugs to young teenagers and the workers.
The police followed up the lead and discovered Don in his house along with the evidence. Don admitted to the charges and took the police to where the drugs were hidden inside a tree behind the house. Don told police that there have been new drugs sent to him that were cheap but 'effective'. He buys the new pills for 23 baht each, sells them wholesale in quantities for 50 baht, and retail for 60 baht. He said his supplier also lives in the City of Rayong.
He calls the seller Mr A. Don would order the drugs on his phone and Mr A will deliver the pills directly to his home. Don said he'd been operating like this for over 3 years.
SOURCE: ThaiResident.com
Thailand's tourism copes with surging baht headache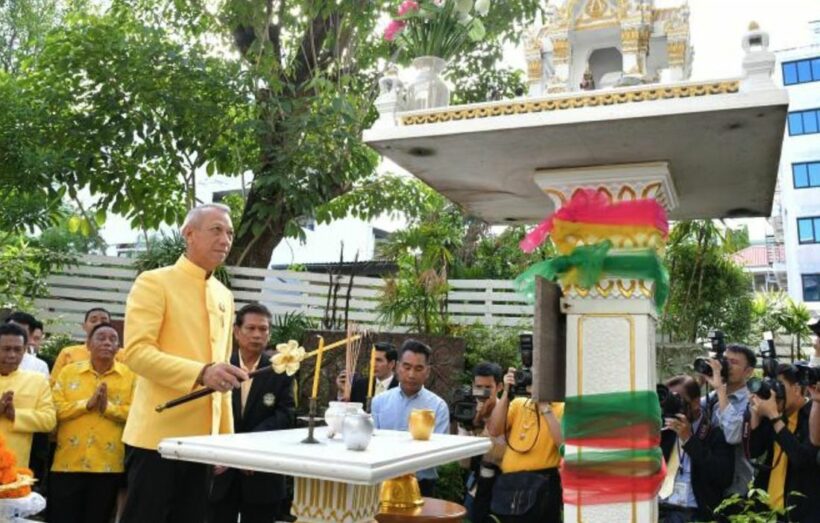 PHOTO: Thailand's new tourism & sports minister, Piphat Ratchakitprakarn, hoping the finance ministry will listen to his pleas about the high baht
Thailand's new tourism & sports minister, Piphat Ratchakitprakarn, is blaming the surge of the baht for sucking the life out of tourist arrivals into Southeast Asia's second-largest economy.
Piphat yesterday said he'll discuss with the Bank of Thailand and the finance minister what can be done to help support the industry.
Bloomberg report that Thailand's currency is among the strongest in emerging markets over the past 12 months. The central bank says it's "concerned about the advance" and the Bank's Governor Veerathai Santiprabhob says they are actively tracking the currency's movements closely and are prepared to act.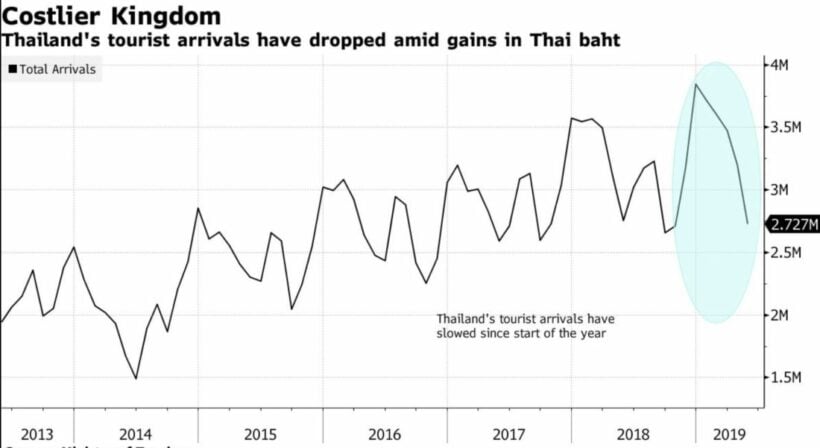 SOURCE: Tourism and sports ministry
The tourism minister says that most tourists are surprised when they arrive in Thailand because their currencies don't buy as much baht as it used to.
"Tourism is considered to be one of our country's main revenue drivers. I will do everything I can to make sure that arrivals increase and more revenue is generated than before."
Tourism is a vital slice of the economic pie and accounts for nearly a fifth of gross domestic product when all downstream advantages of tourism are measured. Arrivals in June fell to 2.9 million from 3.03 million a year earlier.
Piphat also mentioned in his first meeting with the media that he intended to tackle tourist concerns about safety, and to promote the industry across the entire nation, not just the traditional tourist hot spots.
"We must encourage tourism in all 77 provinces."
SOURCE: Bloomberg – Natnicha Chuwiruch
New Thai Tourism & Sports Minister has a wish-list to improve tourism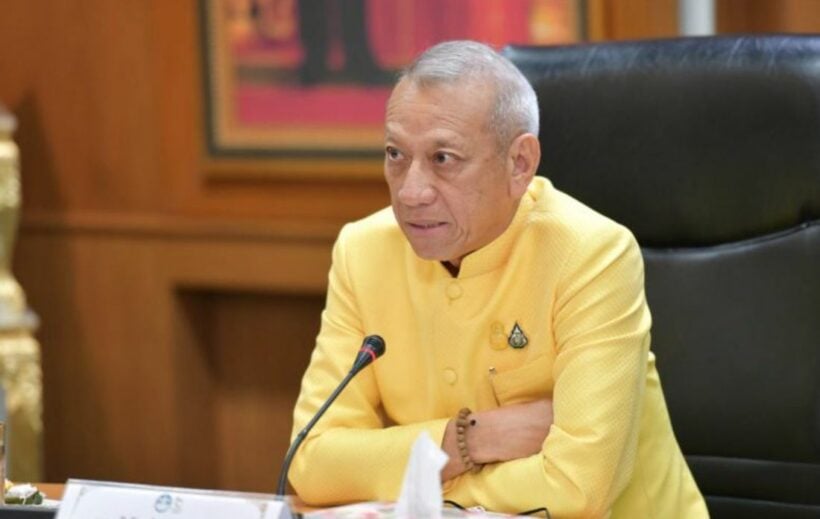 PHOTO: Tourism and Sports Minister, Pipat Ratchakitprakan – mots.go.th
The new Thai Tourism and Sports Minister, Pipat Ratchakitprakan, has set out a shortlist of priorities in his new role. He says setting and maintaining better safety standards are vital to regain the confidence of foreign tourists.
The minister says he would also discuss the high baht with the Finance Ministry and Bank of Thailand saying that this issue has made Thailand more expensive for foreigners than in the past and was a deterrent.
He proposed that his Ministry would engage volunteer police in tourism communities around Thailand to supervise visitors. The initiative will start later this year in time for the peak season.
He said that extending the waiver of visa fees for tourists will also be discussed when the new parliament sits from July 25. Pipat also told the Bangkok Post that he will talk to the private sector about enhancing tourism attractions in all provinces, "pushing local tourism to the forefront".
Pipat Ratchakitprakan took on the Tourism and Sports portfolio after his wife, Natee Ratchakitprakan, a Bhumjaithai party-list candidate, was disqualified and banned from politics for five years after a court ruled that she failed to disclose some assets and debts six years ago.
TMD issues a new weather warning for tropical storm Danas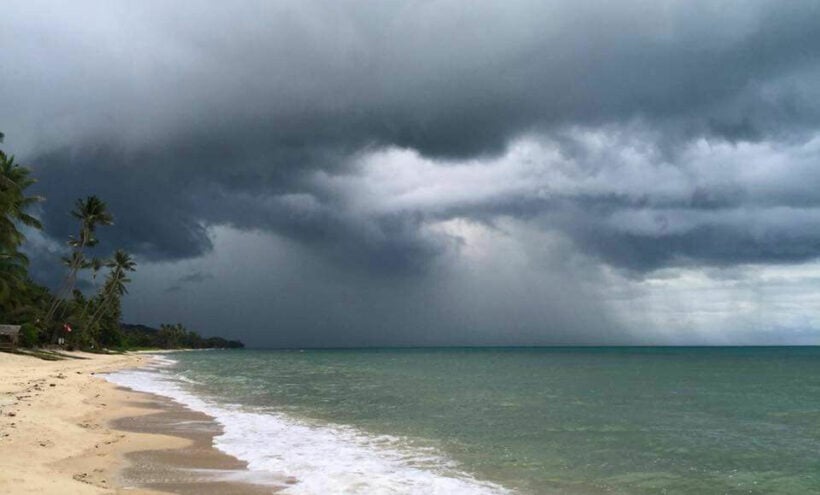 The Thai Meteorological Department has issued another warning about tropical storm Danas since saying it's on the move, from the Philippines' Luzon, north and north-eastward into the East China Sea. The storm appears headed for Taiwan and likely to dump plenty of heavy rain on the way.
The storm is 'sucking' in moisture from the Indian Ocean across southern Thailand, causing additional rain in the southern and central provinces.
The influence of DANAS will intensify the monsoon across the Andaman Sea and the Gulf of Thailand on July 18 and 19 brining outbreaks of heavy rain to the South, the East and the lower Central regions of Thailand.
"People should beware of flash floods and water runoff, according to the warning."
TMD advises that all ships proceed with caution, and small boats remain ashore.
Possible isolated heavy rains are forecast for…
July 18
Kanchanaburi, Ratchaburi, Lop Buri and Saraburi, Sa Kaeo, Chon Buri, Rayong, Chanthaburi and Trat, Chumphon, Surat Thani, Nakhon Si Thammarat, Phatthalung, Songkhla, Pattani, Yala and Narathiwat, Ranong, Phang Nga, Phuket, Krabi, Trang and Satun.
July 19
Kanchanaburi, Ratchaburi, Lop Buri and Saraburi, Rayong, Chanthaburi and Trat, Phetchaburi, Prachuap Khiri Khan, Chumphon, Surat Thani, Nakhon Si Thammarat, Phatthalung and Songkhla, Ranong, Phang Nga, Phuket, Krabi, Trang and Satun.