Phuket Gazette Thailand News: Police crack down in Nakhon Si Thammarat; Ghost trains due to repairs; Bangkok Gov wants fire engine deal extinguished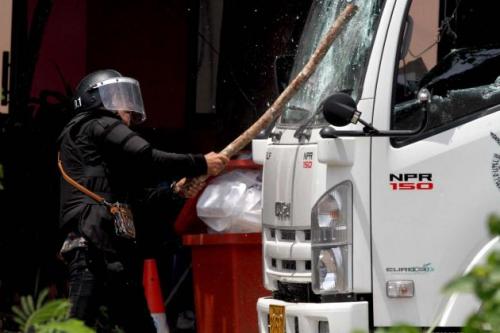 PHUKET MEDIA WATCH
– Thailand news compiled by Gazette editors for Phuket's international community
Police crack down on rubber protest
The Nation / Phuket Gazette
PHUKET: More than 10 vehicles were smashed and set ablaze and people injured when clashes broke out between hundreds of rubber growers and security officials at the Kuan Nong Hong Intersection in Nakhon Si Thammarat's Cha-uat district yesterday.
The officials used tear gas to disperse the crowd, while the protesters used what they could find – stones or sticks – to hit back.
Deputy PM Kittiratt Na-Ranong said the government had put measures in place to help rubber growers and was not planning to offer anything else. Calling on the protesters to not do anything that affects other people's rights, he said the government would explain the measures.
Initially, most rubber growers found the Cabinet-approved Bt2,520 subsidy per rai per household deal acceptable, but some demanded the price for rubber be set at Bt120 per kilogram and the subsidy be paid to individual farmers with/without title deeds. Hence, they organized a road block at Kuan Nong Hong again.
Early yesterday, police managed to take charge of the site and re-open Highway 41, but protesters began gathering again at around noon and youngsters started throwing rocks and firing slingshots at officials. That was when police opted for tear gas.
Jaroon Yoschu, a mentally ill man, wandered into the site and sustained a head injury.
As the clash continued and security officials were pushed back, protesters damaged and set fire to a detention truck and several other vehicles. It was reported that a Thai PBS van was also smashed and a reporter's camera seized by the protesters.
A hair salon near the site was also damaged and riddled with bullets, while protester Somnam Rachrong was shot in the leg.
Chayanin Khongsong, one of 11 protest leaders wanted by the authorities, was also reportedly arrested during the crackdown.
Provincial governor Viroj Jivarangsan said that in the morning security officials went to investigate damage done to a police booth at Kuan Nong Hong Intersection and police then moved to re-open the road.
Meanwhile, 10 Democrat MPs for Nakhon Si Thammarat issued a statement objecting to the crackdown and expressed concern that the situation may get out of control. They urged the government to tell the police to avoid confrontation and employ peaceful means to control the situation.
Trains empty as travellers cancel bookings
The Nation / Phuket Gazette
PHUKET: Many train passengers cancelled their reservations yesterday as the State Railway of Thailand announced that it was suspending all north-bound trains until October 31 beyond Sila At train junction in Uttaradit to make way for repairs.
The SRT is organizing vans to transport travellers if their destination is beyond Sila At, SRT governor Prapat Chongsanguan said.
Meanwhile, a South-bound train derailed yesterday at Bangkok's Hua Lamphong station. No casualties were reported.
In recent months, there have been as many as 10 derailments involving North-bound trains, plus a few other mishaps, including last week's accident at a Bangkok terminal and yesterday's derailment at Hua Lamphong.
Prapat said the suspension of North-bound trains should be lifted by the end of October, once the tunnels in Uttaradit, Phrae, Lampang and Lamphun as well as railway tracks at curves where derailments have taken place are repaired.
Meanwhile, up to 5,100 train tickets worth about Bt4.3 million were returned yesterday, senior SRT official Jarasphan Watcharothai said.
Prapat said that yesterday there were only five passengers travelling to Chiang Mai, while nobody had bought a ticket to the northern city for today.
Usually some 15,000 passengers travel to Chiang Mai in seven train services, Jarasphan said, adding that at least a third of this number would be lost following the suspension.
Two express train services from Bangkok to Chiang Mai had been cancelled earlier, while another three trains will be terminating in Uttaradit to make way for repairs.
The SRT said only three services were now operating on the northern line, and two express train services have been temporarily cancelled. Train travellers are being bussed in both directions between Chiang Mai and Sila At.
The SRT has set up the 1690 hotline for passengers to find out more.
Opposition leader Abhisit Vejjajiva said there were 89 derailments in 2012 and the total reached 113 by September 10 this year.
BMA seeks to 'kill' fire engines deal after ruling
The Nation / Phuket Gazette
PHUKET: The Bangkok governor is cranking up efforts to kill a contract signed with an Austrian firm to supply fire vehicles following a landmark corruption ruling last week on the highly controversial deal.
In the hope of adding more weight to their plea, the Bangkok Metropolitan Administration (BMA) has said that it will ask a Switzerland-based arbitrator to regard the Supreme Court's ruling, under which a former deputy interior ministry was sentenced to 12 years in jail, as evidence.
The BMA also wants the Attorney General to file a lawsuit with the Intellectual Property and International Trade Court in order to get Austria's Steyr Daimler Puch Spezialfahrzeug to cancel the contract under which it sold fire vehicles for Bt6.6 billion.
The city administration has asked the Court of Conciliation and Arbitration in Geneva to help get the contract cancelled and to seek a refund for unused fire vehicles, which it says stemmed from the corrupt deal.
The BMA also wants related officials to pay damages at the Central Administrative Court, while the relevant agency will take disciplinary action against these officials.
Bangkok Governor Sukhumb-hand Paribatra said the Supreme Court ruling was clear proof the fire vehicles were bought under a questionable deal, and that it supports the BMA's push for the arbitrator to cancel the contract and get a full refund.
He said the BMA would be sending the arbitrator a translation of the ruling to further its case.
The Supreme Court's Criminal Division for Holders of Political Positions found both Pracha Maleenont and former senior BMA official Athilak Tanchookiat guilty of rigging bids in the fire vehicles case. Athilak was sentenced to 10 years in prison.
The pair allegedly pushed for the purchase of 315 fire trucks and 30 fire-fighting boats without comparing prices, which allowed the Austrian company to sell the vehicles at a price that was nearly 49 per cent higher than it would have been if bought locally.
Pracha was absent when the verdict was read. He is thought to have fled abroad.
— Phuket Gazette Editors
Want more from the Thaiger family?
📱 Download our app on Android or iOS for instant updates on your mobile
📧 Subscribe to our daily email newsletter
👍 Like/Follow us on Facebook
🔔 Subscribe to or Join our YouTube channel for daily video updates
Closure order in Bangkok set until May 31, restaurants can now offer dine-in services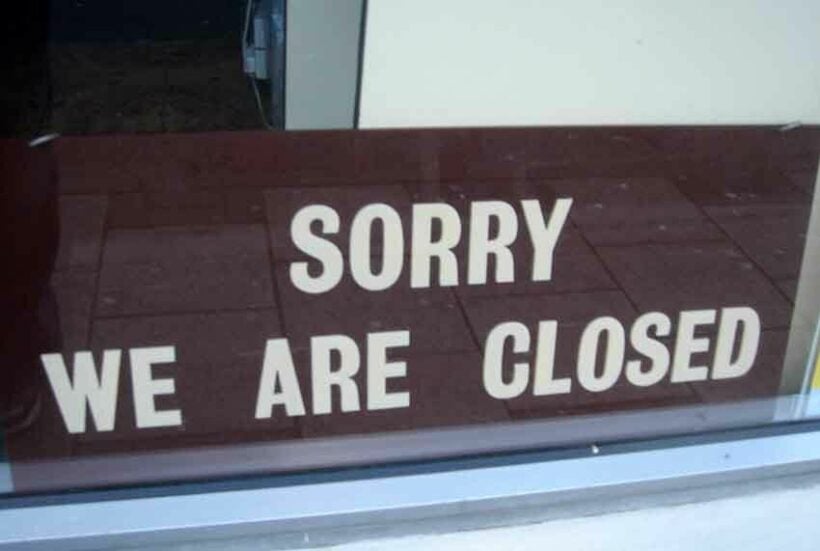 To control the spread of Covid-19 in Bangkok, where more than 28,000 people have tested positive for the virus in the latest wave of infections, the closure order in the capital has been extended a second time, now set to be in place until May 31.
While many entertainment and recreation businesses and venues are ordered to remain closed, some restrictions have been relaxed. Restaurants can now offer dine-in services, but only until 9pm. Restaurants can still offer takeaway services until 11pm.
Businesses and venues that must remain closed include…
Educational places including schools and tutoring centres

Entertainment venues including pubs, bars, karaoke venues and nightclubs

Massage parlours and spas

Recreation and amusement businesses and places including cinemas, theatres, water parks, amusement parks, playgrounds, zoos, skating rinks, billiard halls, bowling alleys, arcades, internet cafes, public parks, gardens

Fitness and sport venues and businesses including public swimming pools, gyms, boxing stadiums, dance studios, golf courses

Care centres such as nurseries, childhood development centres and elderly care centres (with the exception of overnight stays.)

Museums and public libraries
Other restrictions include…
Shopping centres can remain open until 9pm.

Convenience stores and other 24-hour shops must be closed from 11pm to 4am.

Events over 20 people must have permission from the government with a disease control plan.

Face masks are mandatory in public places. Violators face a 20,000 baht fine.
SOURCE: TAT
Want more from the Thaiger family?
📱 Download our app on Android or iOS for instant updates on your mobile
📧 Subscribe to our daily email newsletter
👍 Like/Follow us on Facebook
🔔 Subscribe to or Join our YouTube channel for daily video updates
Thai tourism minister re-iterates Phuket's re-opening on July 1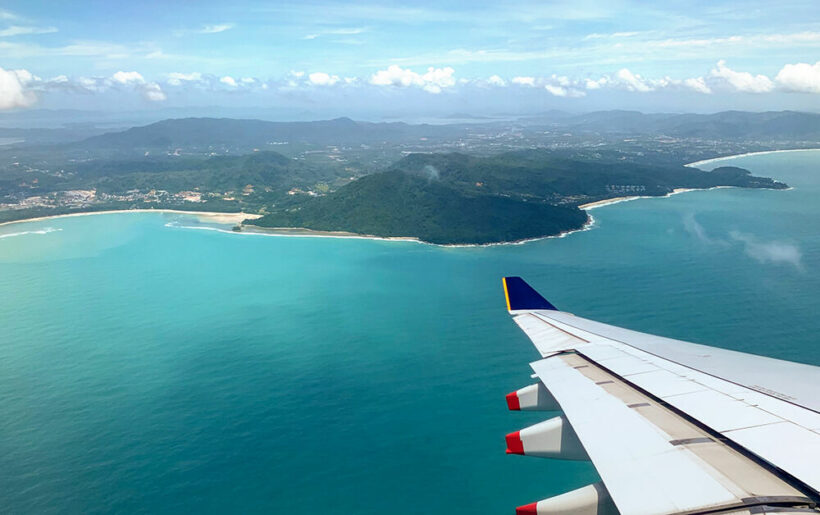 The Thai government has again reiterated its plan to reopen Thailand, specifically Phuket, to foreign tourists and travellers. The southern island province, under the so-called "sandbox" plan, is Thailand's pilot program for re-opening the country to general travel by July 1… just 6 weeks away.
The government has consistently said that the island's residents will have to be 70% vaccinated by the start of July before the re-opening can happen. With a current vaccination success of 22%, the island is certainly a long way ahead of the rest of the country but still a long way from its 70% target.
The National News Bureau, the voice of the Thai government, reports that the Tourism and Sports Minister, Phiphat Ratchakitprakarn, is "urging" Phuket officials to achieve the vaccination target next month.
The media release says… "The provincial administration and the private sector have developed plans to prepare for the reopening in all respects, while creating more awareness and understanding with the local people. Thus, the reopening will be safe and help drive the economy forward."
Far from providing "awareness and understanding with the local people", Phuket officials have been opaque about vaccination roll out programs. The island's foreign population, estimated to be around 40,000 people, or about 10% of the total population, are none-the-wiser today about their prospects to secure a place in the island's vaccination queues.
Last week Phuket residents, with a local and current work permit, were told they would be able to register for vaccination. So far that process has not proceeded.
There is also a hard rump of Thais who have stated in numerous polls, that they remain unwilling to accept a vaccination. This includes thousands of candid posts on social media where fear or mistrust over the Sinovac vaccine from China is plain to see. The island also has a large Muslim population where some community leaders have already expressed some doubt over recommending vaccination to their adherents.
But, even today, the second roll out has begun on the island for Thais who registered on the Mor Prom app since the start of May, so things are progressing. An area has been put aside at the island's Central Floresta shopping centre for registrants.
The 'reopening to tourists' on July 1 isn't without restrictions. People arriving by air will not be open to "countries where COVID-19 is widespread, or tourists without a vaccination certificate". That list hasn't been fully detailed although Thailand has a ban on people arriving from at least 4 countries – India, Pakistan, Bangladesh and Nepal.
"…visitors who travel by air must provide documents to prove that they have received both Covid-19 vaccine doses. They are required to undergo rapid antigen tests, or reverse transcription polymerase chain reaction (RT- PCR) tests, at their place of origin, and to register on www.gophuget.com and the MorChana application."
The MorChana app tracks the location of an individual whilst their phone is turned on with the data turned on as well.
Without specifically mentioning quarantine in the media release, it is understood that quarantine will be waived for international travellers who have have been fully vaccinated. Other specific paperwork requirements have not been announced at this stage… with 6 weeks to go to the international re-opening.
For domestic traffic, arriving in Phuket by road (as of May 17), "…people who do not have a certificate of vaccination and have not taken a swab test will have to undergo a 14 day quarantine. If they plan to spend only 3 days in Phuket, they are required to stay in home quarantine for the 3 days."
Phuket is still experiencing new daily infections
SOURCE: National News Bureau of Thailand
Want more from the Thaiger family?
📱 Download our app on Android or iOS for instant updates on your mobile
📧 Subscribe to our daily email newsletter
👍 Like/Follow us on Facebook
🔔 Subscribe to or Join our YouTube channel for daily video updates
Thai government expects to open vaccine registration to foreigners by August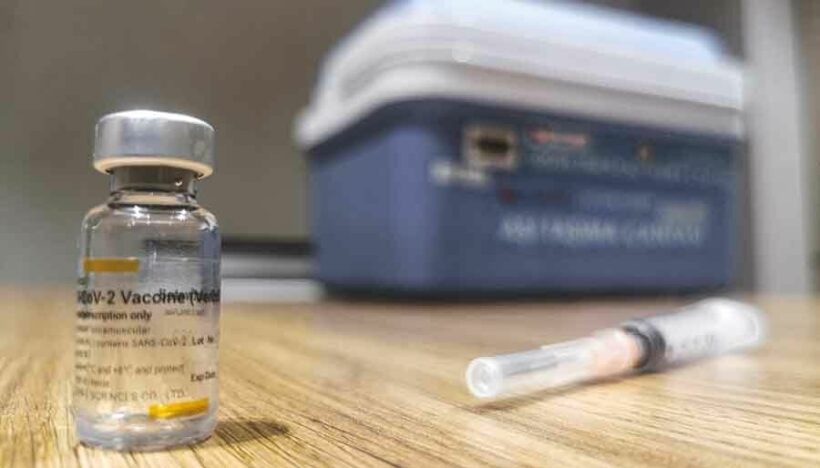 A Health Ministry spokesperson has confirmed that foreigners living in Thailand should be able to register for Covid-19 vaccination by August. Ratchada Thanadirek says the government is working on a dedicated registration platform for foreign nationals living in the Kingdom, which it's hoped will be ready in 3 months' time.
Meanwhile, Thai Visa News reports that vaccine registration for Thais has been extended to those aged between 18 and 59 years old, who can now sign up from May 31. Registration had initially been limited to Thai nationals over the age of 60, as well as those with underlying health conditions. However, the third wave of the virus means registration for younger Thais has been brought forward from July.
Thai nationals can register for vaccination through the Mor Prom platform or the Mor Prom Line account. They can also register at government hospitals. According to Ratchada, the vaccines that will be used in the government rollout will primarily be AstraZeneca, manufactured in-country by Siam Bioscience.
However, she points out that there are 3 other vaccines that have been approved by the Thai Food and Drug Administration. They are the Chinese-made Sinovac, the single-dose Johnson & Johnson vaccine, and the vaccine from US manufacturer, Moderna. The latter is expected to be available for purchase at private hospitals, although there has been no confirmation of when supplies might arrive.
SOURCE: Thai Visa News
Want more from the Thaiger family?
📱 Download our app on Android or iOS for instant updates on your mobile
📧 Subscribe to our daily email newsletter
👍 Like/Follow us on Facebook
🔔 Subscribe to or Join our YouTube channel for daily video updates