Phuket Gazette Thailand News: 5 dead in bridge collapse; NSC rebuts BRN demands; Scrap flood plan – academics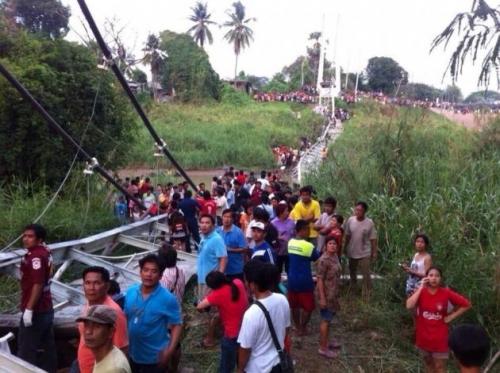 PHUKET MEDIA WATCH
– Thailand news compiled by Gazette editors for Phuket's international community
5 dead in Ayutthaya bridge collapse
The Nation / Phuket Gazette
PHUKET: A suspension bridge over Pa Sak River in Ayutthaya collapsed yesterday evening, crushing five people to death underneath a pillar on one side, while wounding 15 others.
The collapse also sent a large number of pedestrians and motorcyclists into the water, but there were no casualties. The Bicentenary Bridge, 20 meters above the water, has been regularly used. The bridge is believed to have collapsed after the slings broke.
NSC rebuts BRN demands
The Nation / Phuket Gazette
PHUKET: National Security Council secretary general, Lt Gen Paradorn Pattanatabut, went into a damage-control mode yesterday after Hasan Taib, the self-proclaimed "liaison" officer of the Barisan Revolusi Nasional-Coordinate (BRN-C) made public a list of demands that could derail the recently started talks on peace in the far South.
Paradon said he would raise the issues at today's dialogue with the so-called BRN-C representatives.
However, the NSC chief went on the record to dismiss the demand that the Malaysian government be given the role of "mediator", as opposed to "facilitator" for the peace process.
He was just as dismissive of Hasan's demand for the role of outsiders – Organization of Islamic Cooperation (OIC), ASEAN members, or foreign non-government organizations (NGOs) – being part of the dialogue process on the grounds that the conflict in the Muslim-majority southernmost provinces is an internal matter.
Hasan and his associates had the right to go public with these demands, he said. They include the release of all prisoners held on charges related to the ongoing insurgency, dropping all charges against suspected separatist militants, and recognizing that BRN is not a "separatist" but a "liberation" movement.
Paradon tried hard to calm concern that the demands may jeopardize the talks because, according to Human Rights Watch's Sunai Phasuk, Hasan's demands effectively "derail the terms of reference that Thailand put in place when they signed the agreement to talk on February 28, 2013."
"Don't worry about these five demands. Everything has to be under the Constitution," said Paradon. "It's a good thing that they went online to make their demands because now we know what they want. And we are prepared to listen," he said.
Paradon left last night for Kuala Lumpur for today's meeting, the second round since the historic February 28 peace agreement. He said he would raise these issues with Hasan's camp at the meeting.
Speaking to reporters yesterday, Paradon dodged a question about the demand to drop charges against suspected militants, saying a number of arrest warrants were made out for suspects who did not show up to meet officials to clear their name.
"Officials have no choice but to make out the warrants because they did not show up to meet the authorities when asked to do so. These are the things we have to look into and reconsider," Paradon said.
In the statement posted on YouTube yesterday, Hasan vowed to fight on against the Thai government who he referred to as "Siamese colonialists" until the area is liberated and added that all residents of Patani, the Malays' historical homeland that is now part of Thailand's southernmost provinces, will be treated justly and equally regardless of whether they are "Malay, Chinese or Siamese".
Sources in the longstanding separatist movements, including BRN Coordinate members not affiliated with Hasan's camp, told The Nation that the video was Hasan's "exit strategy" from the peace process because he knew he would be unable to influence the current generation of separatist militants on the ground.
It was a way for him to "save his face" and "redeem" himself, they said.
Members of these long-standing separatist movements accused Bangkok and Kuala Lumpur of luring Hasan into a peace process to serve their political aims. For Malaysia, being seen as a mediator would attract votes at the upcoming general election. And for Bangkok, it was a way to "whitewash" the de facto leader of the ruling Pheu Thai Party, Thaksin Shinawatra, who was ousted in a 2006 coup on allegations that, among other things, he mishandled the conflict in the South.
They pointed out that Bangkok had never asked Hasan to verify that he has "command-and-control" of militants on the ground.
Since the meeting on February 28, Thai delegates and Hasan's team have met once. The next meeting is scheduled to take place today, also in Kuala Lumpur.
Hasan's video was released on the eve of April 28, anniversary of the Krue Se Mosque stand-off between security forces and nearly 40 lightly armed insurgents who barricaded themselves inside the historic mosque as they engaged in a lengthy gunfight until they were overpowered and killed.
On April 28, 2004, well over 100 young Malay Muslim militants simultaneously attacked 10 police outposts and one station in the far South with little more than machetes.
Survivors said they were members of a militant cell led by Ismail Yaralong, also known as Ustaz Soh, who inspired them to take up a suicidal mission. Ustaz Soh led them to believe that they were invincible through his mystical-leaning teaching. All the dead insurgents on that day were buried as martyrs in line with Islamic tradition.
Tawee Sodsong, director of the Southern Border Provinces Administrative Center, said he thought Taib's clip on YouTube was intended as a direct message to communicate with insurgents to slow down the violence.
The message also showed that he was willing taking part in the peace dialogue, not reluctantly, as speculated by skeptics.
Scrap flood plan, academics tell government
The Nation / Phuket Gazette
PHUKET: A group of academics and NGOs yesterday called for the government to scrap its national strategy for water and flood management, saying it would drain the state budget, wash out local people's lives and open the valves to massive corruption.
"The plan to borrow Bt350 billion for water management would cause severe damage to the country," the group said in a statement.
The master plan of the Office of the National Water and Flood Management Policy should be replaced by the Chao Phraya basin management plan proposed by the Japan International Cooperation Agency, which would save some 70 per cent of the cost.
The terms of reference for the projects under the master plan were riddled with loopholes that could lead to a flood of graft, said the statement presented by Sasin Chalermlarp, secretary-general of the Sueb Nakhasathien Foundation.
The foundation, together with a network of academics, the Foundation for Integrated Water Management, ThaiFlood.com and Rangsit University held a seminar on "exposing corruption in the plan to expropriate land under the Bt350 billion + Bt200 billion worth of water management projects".
The statement raised six suspicious points:
The master plan lacked public participation, an environment impact assessment and a health impact assessment;
The nine operating modules lacked details on timeframes and how they would be integrated;
The responsibilities of government agencies, such as the Irrigation Department and

— Phuket Gazette Editors

Keep in contact with The Thaiger by following our Facebook page.

Never miss out on future posts by following The Thaiger.
When can we travel again? World Covid Travel Update | VIDEO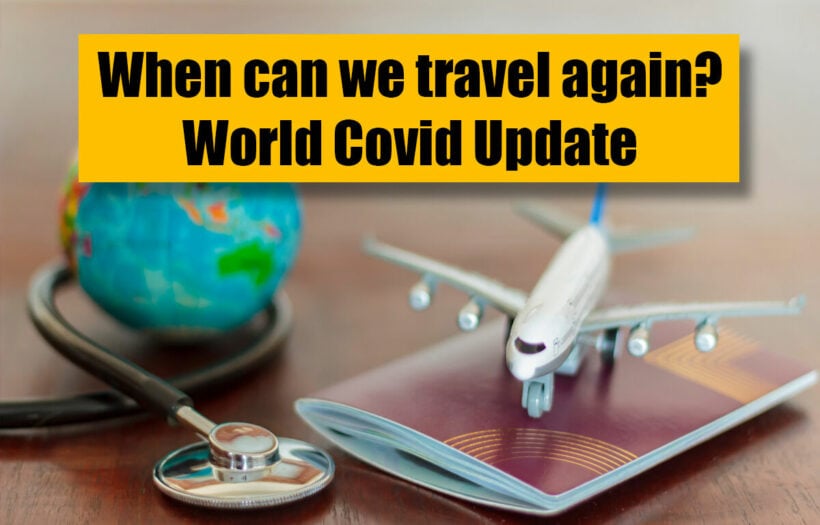 Today we'll look at the larger world travel picture in this Covid era, and then we'll check the latest opportunities if you want to come back to Thailand for travel.
So when can we pack the bags and travel again? Well, in theory, right now. But in practice, depending where you're coming from and where you want to go, that may still be very complicated… and remain so for at least the rest of this year. But some of the world's travel so-called experts are now speaking in terms of months and not years. Whilst some of that might be optimistic travel industry spin, there may be some greater certainty on re-openings of some sectors of the world travel industry in the next few months.
But first, consider all the variables that need to fall into place for things to go smoothly..
Despite the roll out of various vaccines, and more on the way, some countries are more advanced in that process than others. The appearance of virus mutations could send all the best guesses for an improvement in travel opportunities into disarray. Whilst it seems the vaccines will be a great benefit for victims to avoid the worst ravages of Covid-19, there is still a long way to go to measure the longer term effects on the changes in transmission and community immunity.
Keep in contact with The Thaiger by following our Facebook page.
Never miss out on future posts by following The Thaiger.
Thailand tourism sector seeks to reopen the country by July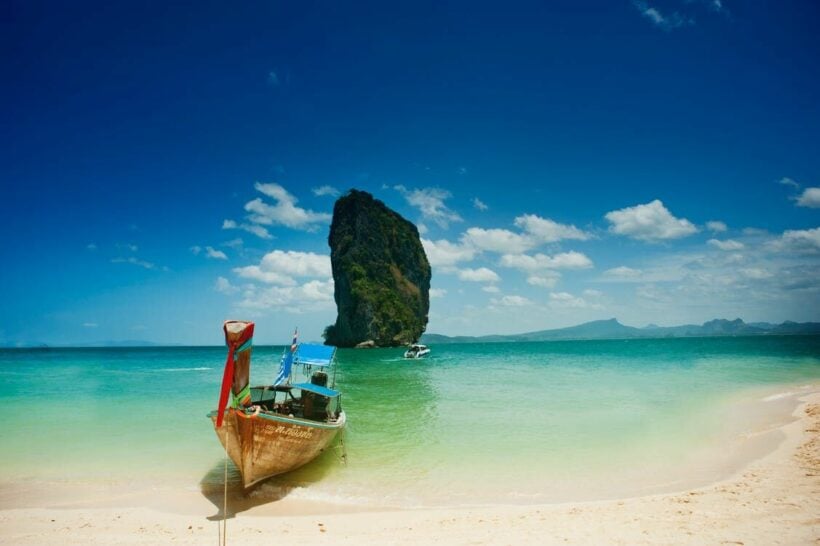 The following was submitted by Open Thailand Safely, a campaign pushing the Thai government to reopen Thailand to international tourism by July 2021.
Leading international tourism companies in Thailand have launched a campaign to reopen the country's borders from 1 July 2021.
The #OpenThailandSafely campaign was launched 2 March with the support of over 15 major companies including YAANA Ventures, Minor Group, Asian Trails, Capella Hotels and Resorts, EXO and many others. (The full launch list is here)
The Open Thailand Safely campaign has laid out its arguments in a petition which will underpin a formal request to the Royal Thai Government to respond favourably to the rollout of Covid-19 vaccination programmes underway in Europe, USA and other Thailand tourism source markets.
The petition is open to anyone in Thailand or around the world who would like to see the country reopen.
The campaign argues that 1 July is an appropriate date for five reasons: the majority of citizens in many source markets will have been vaccinated by then; it gives time to Thai medical authorities to vaccinate both front line staff in hospitality settings in Thailand and/or vulnerable citizens around the country; it gives international travellers time to make travel plans and bookings; the date gives time to airlines, hotels, tour operators and others to start marketing and sales and get ready for tourism operations to commence; and it will take Thailand at least a year, and maybe longer, to return to the large numbers of international visitors that it had before the Covid-19 crisis.
To ensure the safe reopening of Thailand, the petition argues that "international tourists can be asked to satisfy any safeguards the Thai Government may require. This may, for example, include showing officially recognised proof of a Covid-19 vaccination from their home country, purchasing health insurance, showing proof of a negative Covid test within 72 hours of departure, and so on."
#OpenThailandSafely was the initiative of leading Bangkok-based private sector travel companies YAANA Ventures, Minor Group and Asian Trails.
The CEO of YAANA Ventures, Willem Niemeijer [pictured right], said: "The 1 July reopening would be a strategic opportunity for Thailand to show a leadership role among Asian countries and prepare the way for a solid recovery of the Thai economy in 2022."
In the coming days, the Open Thailand Safely campaign will also send the 1st July request to Thailand Prime Minister General Prayut Chan-o-cha, the Minister of Tourism and Sports, Mr Phiphat Ratchakitprakarn, and the Governor of the Tourism Authority of Thailand, Mr Yuthasak Supasorn.
According to the Bank of Thailand and official sources in Thailand, tourism, pre-Covid, was worth about 2.9 trillion baht (US$96.5 billion). Some 39.7 million international visitors in 2019 helped sustain up to 8.3 million jobs. However, arrivals fell to 6.7 million in 2020 making between two and four million people unemployed.
Meanwhile, destinations such as Seychelles, Maldives, Greece and Sri Lanka have either opened borders already or are in discussions to do so in light of successful Covid vaccine rollouts in their key source markets.
People can sign the petition for Thailand to reopen on 1 July at www.OpenThailandSafely.org.
Keep in contact with The Thaiger by following our Facebook page.
Never miss out on future posts by following The Thaiger.
Thailand News Today | Dodgy vaccine doctor nabbed,Pattaya club raided for 'explicit' shows | March 3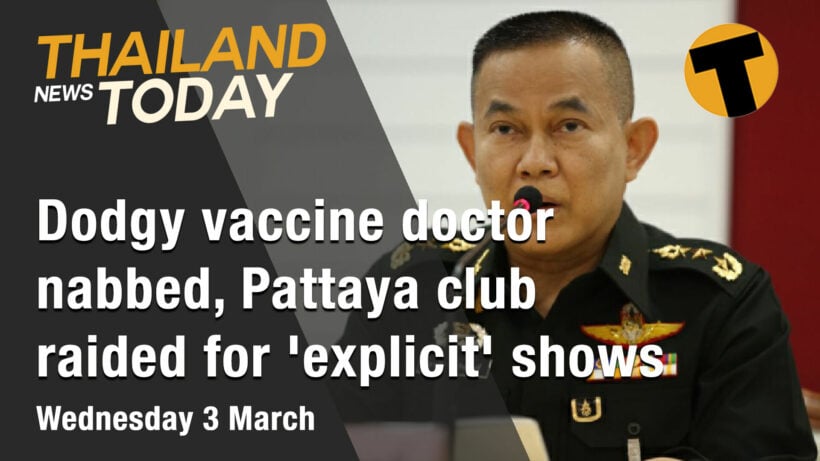 The Bangkok Military Court has issued an arrest warrant for a Royal Thai Army medic who is accused of injecting troops with a fake Covid-19 vaccine. He reportedly made more than 100,000 baht by charging troops, who were on a UN mission, 500 baht each for a tetanus vaccine and a fake Covid-19 vaccine, which an internal army investigation determined was simple saline solution…. Harmless but not very effective.
The Thai Army held a press conference after the medic's fake vaccine scam made headlines, saying the incident had tarnished the army's image. The field medic, who was also a lieutenant, injected more than 250 Thai troops stationed in South Sudan on a UN peacekeeping mission with the fake vaccine, claiming it was the head doctor's order. An Army spokesperson says the medic was in the Thai-South Sudan Horizontal Military Engineering Company and "is a serious disciplinary offence and also violates ethical standards as the wrongdoer is a doctor."
The governor of the central province of Samut Sakhon is slowly recovering after more than 2 months battling Covid-19. Weerasak Wichitsangsri tested positive for the virus in late December and subsequently ended up on a ventilator for over 40 days. It's understood Weerasak's time on the ventilator was a record for the hospital and, at times, medics were unsure if he would recover.
Pattaya City Police inspected a nightclub after reports that the venue was hosting pornographic shows over the weekends. Although the nightclub, named as Dragon Man Club in Thai media, wasn't presenting a sexually explicit show when officers dropped in, the owner was arrested for operating an entertainment business and selling alcohol without the proper permit.
The Thai government has approved a budget of over 6 billion baht to procure an additional 35 million doses of Covid-19 vaccines. The budget was approved at a Cabinet meeting yesterday.
The Covid-free gulf islands of Koh Samui, Koh Phangan, and Koh Tao are offering special discounts and privileges to tourists until the end of April. Over 80 tourism operators are taking part in the program.
In an act of good will, navy officials have rescued 4 cats from a ship that had caught fire and began to sink about 13 kilometres off Koh Adang in the southern province of Satun. The ship's 8 member crew had jumped off the sinking vessel and were rescued by a passing fishing ship, but the cats were left onboard.
Keep in contact with The Thaiger by following our Facebook page.
Never miss out on future posts by following The Thaiger.