Hired gunman confesses to slaying revered monk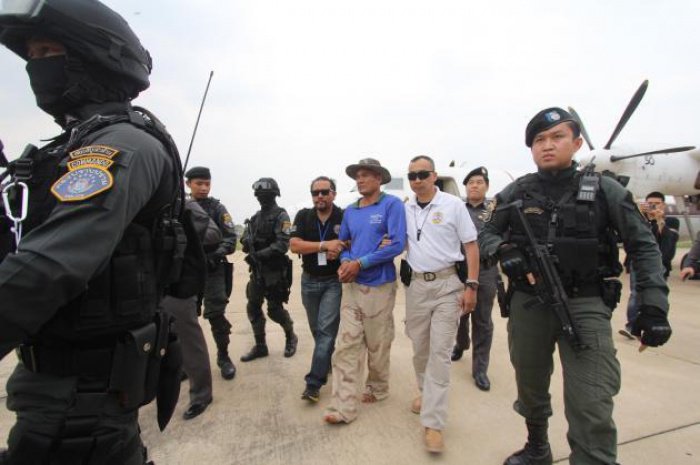 PHUKET MEDIA WATCH
– Thailand news selected by Gazette editors for Phuket's international community
Hired gunman confesses to slaying revered monk
The Nation / Phuket Gazette
PHUKET: Police have arrested a janitor who allegedly was hired to kill the revered monk from Udon Thani who was found shot dead this month. They also named a junior policeman as an accomplice on the run.
Police told a press conference yesterday that a man wanted Phra Bundit Supanditto murdered because one of his wives had left him to practice dharma at Pa Tor Seesiad Temple, where the victim was the abbot.
Panja Chareesaen, 49, was arrested on Tuesday evening in Kalasin and flown to Bangkok for the press conference.
He admitted to the media to shooting the monk for Bt50,000 and named Pol Snr Sgt Maj Charnchai Soisangwan as the driver who took him to gun down the victim.
Mr Panja also implicated a person as the mastermind, who has been identified by police as Bor.
Royal Thai Police chief Pol Gen Somyot Poompanmuang said later that Mr Panja was told by Mr Charnchai that the victim was a rogue monk who was having an illicit affair with the unnamed woman.
Gen Somyot said the evidence was now sufficient to secure an arrest warrant for the mastermind in a few days, but police were now unable to say whether there were other accomplices.
He said Mr Charnchai was a driver for Pol Maj Gen Bunlue Kongbangyang, an area police special operations commander who has been transferred away, but said both Gen Bunlue and Pol Maj Gen Chanyat Saithin, Udon Thani police chief, should not be viewed as co-suspects.
Police made the arrest of Mr Panja after Gen Bunlue and Gen Chanyat were transferred in the morning.
Mr Charnchai has been dismissed from the force and is possibly hiding in Laos, Gen Somyot said, before vowing to pursue him to find more possible accomplices.
Assistant national police chief Pol Lt Gen Panya Mamen said Bor had misunderstood Phra Bundit's relationship with the woman.
He acknowledged interviewing Bor as a witness but said he would not be treated as a suspect until further evidence against him was available to police.
Police are working on two hypotheses – Bor directly contacted and hired Mr Charnchai or through other people as mediators, Gen Panya said.
Mr Charnchai was close to Mr Panja, who also works as a mechanic with knowledge about metal work, he said.
Police said at the press conference that the murder weapon was modified by Mr Panja – a shotgun capable of firing M16 rounds.
In a police-supervised re-enactment of his crimes at the scene near the temple in Muang district, Mr Panja put his shotgun on the roof of the passenger cab of a pickup truck driven by Mr Charnchai, aimed and opened fire at Phra Bundit – one shot while he was walking and one at his body after he fell down.
Before the re-enactment, Mr Panja apologized to the father of the victim, Luang Pu Suk, also a monk. "I was wrong," reporters heard.
The father accepted Mr Panja's apology.
— Phuket Gazette Editors
Keep in contact with The Thaiger by following our
Facebook page
.
Never miss out on future posts by
following The Thaiger
.
Protected hornbill dies from gunshot wound, 2 suspects in police custody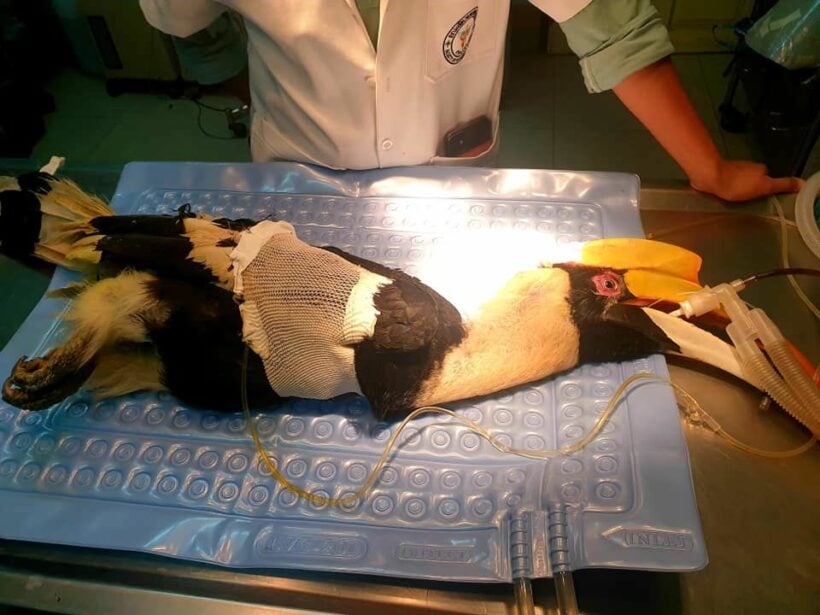 A protected great hornbill died after 5 days of medical treatment for a severe gunshot wound. 2 suspects are now in police custody and officers have seized a .22 calibre rifle, according to Thai PBS.
A tourist found the injured bird near the Khiriphet waterfall on Koh Chang. The hornbill, known in Thai as a nok nguek, was treated at the Nuern Plub Wan animal hospital in Chon Buri. The great hornbill's condition rapidly deteriorated and veterinarian Phadet Siriadmrong says the hornbill suffered brain stem death.
The great hornbill, Buceros Bicornis, is listed as a vulnerable species on the International Union for Conservation of Nature's Red List of Threatened Species. According to IUCN, hunting his substantial threat to the great hornbill.
Hunting poses a substantial threat to the species. Because of its predictable behaviour when regularly visiting the same feeding sites, it is easily targeted by local hunters.
Thailand's Wild Animal Reservation and Protection Act prohibits hunting preserved or protected wild animals. Those found guilty of violating the act could face up to 4 years in prison and a fine up 40,000 baht.
SOURCES: Thai PBS | Bangkok Post | IUCN
Keep in contact with The Thaiger by following our
Facebook page
.
Never miss out on future posts by
following The Thaiger
.
Phuket workshop helps residents cope with high stress brought on by the economic crisis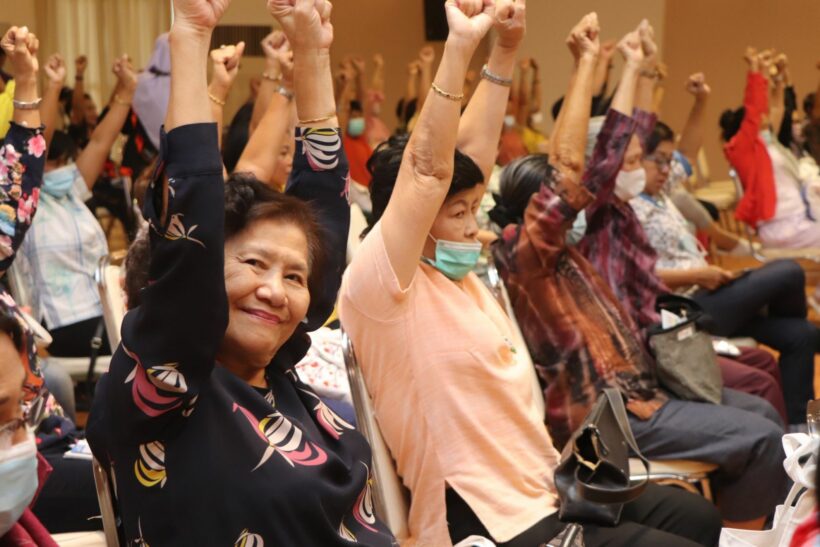 Hundreds of residents in Phuket's Wichit subdistrict attended a workshop focused on reducing stress from to the pandemic-induced economic crisis. A psychologist was even on site to help those who had extreme mental stress and a Buddhist monk taught meditation techniques to reduce physiological effects of stress.
The event was planned in response to an online survey conducted by the municipality asking residents about how much stress they were experiencing from the economic climate. They found that some residents had serious stress issues brought on by the pandemic and financial problems, according to Wichit Mayor Kreetha Chotiwichphiphat.
"The loss of income due to the economic crisis brought on by the Covid-19 situation has resulted in some people in the area suffering serious stress, which can lead to serious mental health issues."
Around 350 people attended the event. The mayor says it was the first step in caring for the residents' mental health. Local officials plan to hold similar workshops in the future.
"It was a good opportunity for people to realise the importance of mental health and to learn techniques of how to deal with stress, which will help people to maintain their physical health and avoid developing mental health problems."
SOURCE: Phuket News
Keep in contact with The Thaiger by following our
Facebook page
.
Never miss out on future posts by
following The Thaiger
.
Rare sighting of an endangered clouded leopard at Isaan mountain range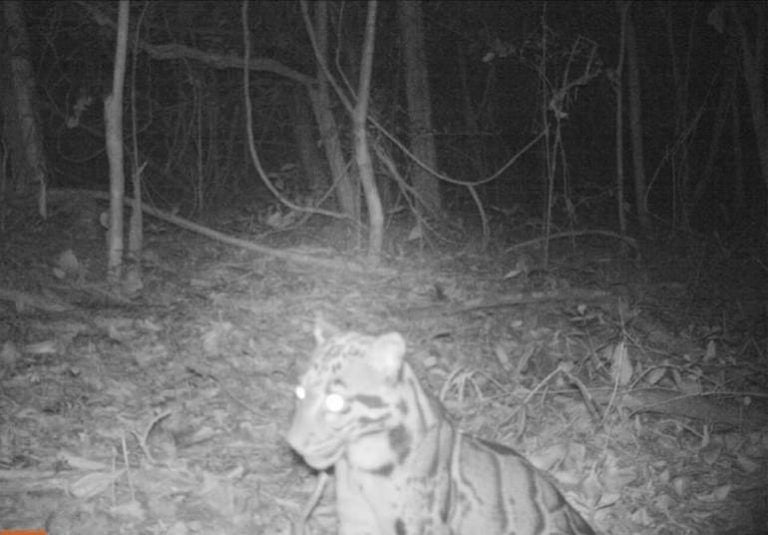 An endangered clouded leopard was spotted at a mountain range in the Isaan province Si Sa Ket. The rare sighting, captured using a camera trap, was the first time in about 20 years the wildcat has been seen in the Phnom Dongrak mountain range which borders Cambodia.
Since the park rangers stepped up patrol against poaching and made efforts to increase food and water sources, more small predators like foxes, dholes and leopard cats have been returning to the area, according to director of a local conservation office Chaiwat Limlikhit-aksorn.
"Today in the Phanom Dong Rak Wildlife Sanctuary there is a clouded leopard, which is a medium sized predator."
Camera traps were set up by local conservation officials from November 1 to 24, capturing footage of the rare clouded leopard. The cameras also filmed hog deer, Asiatic wild dogs, a Malaysian night heron and a leopard.
The clouded leopard is classified as a vulnerable species by the International Union for Conservation of Nature. The organisation says the leopard is hunted for the illegal wildlife, adding that the leopard skins have been seen in market surveys along with bones used for medicines and meat for exotic dishes.
Clouded Leopard exploitation for pelts are well documented in several countries, including the infamous Tachilek market along the Thai–Myanmar border. The frequency of Clouded Leopard parts available at market indicates increased pressure from hunting…However, the trade of cat parts from Myanmar into Thailand has diminished and reaffirms the role of China in the trade of cats out of Myanmar.
Sightings of the clouded leopard have also been reported at the Kaeng Krachan National Park, Huai Kha Khaeng Wildlife Sanctuary, Khao Sok National Park and Khao Yai National Park.
SOURCES: Bangkok Post | IUCN| Thai PBS
Keep in contact with The Thaiger by following our
Facebook page
.
Never miss out on future posts by
following The Thaiger
.