Malaysia PM imposes nationwide travel ban, lockdown measures due to Covid-19 spike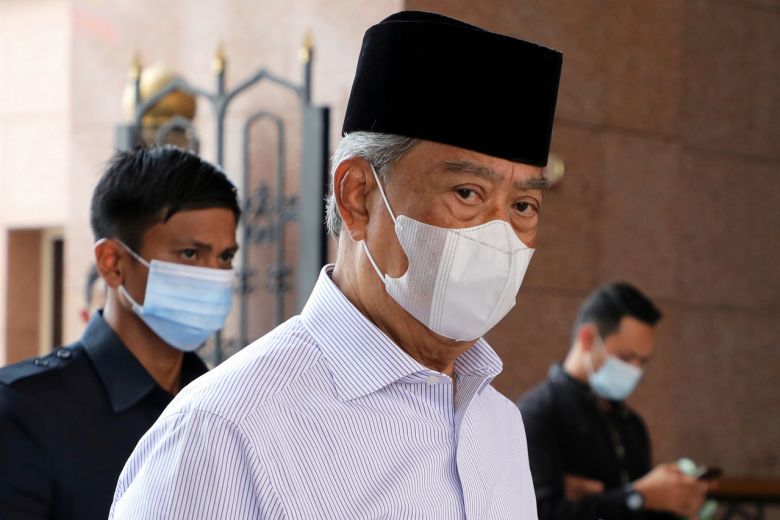 As the number of Covid-19 cases continues to climb in Malaysia, PM Muhyiddin Yassin imposed a nationwide travel ban and ordered lockdown measures for Kuala Lumpur and 5 other states for the next 14 days. The country's prime minister says "our healthcare system is at a breaking point."
Malaysia was able to keep the coronavirus at bay during the early stages of the pandemic with strict disease control measures. Covid-19 cases were consistently around 100 to 200 cases per day and dropped down to zero daily cases for several weeks in July and August.
While lockdown measures were effective at slowing the spread of the virus, it led the country's first economic contraction in a decade during the second quarter.
The new wave of infections started in September. Yesterday, the country reported 28,554 active Covid-19 cases with 2,232 daily new infections. Since February of last year, Malaysia has reported a total of 138,224 Covid-19 cases and 555 deaths.
Lockdown measures in Kuala Lumpur and 5 states start at midnight Wednesday. Only essential businesses can remain open including those in economic sectors, as long as they reduce capacity. Interstate travel is banned nationwide.
Malaysia secured 12.8 million doses of the Pfizer-BioNTech vaccine and recently announced that they purchased 12.2 million more doses. The first batch is expected to arrive by the end of February.
SOURCE: Reuters
Keep in contact with The Thaiger by following our Facebook page.
Never miss out on future posts by following The Thaiger.
Malaysia coast guard busts record methamphetamine shipment, possibly smuggled from Golden Triangle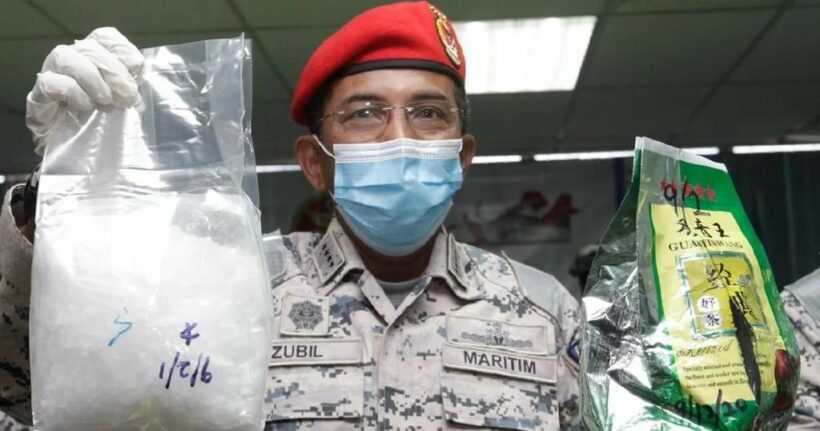 Malaysia's coast guard made its largest bust, seizing more than 2 tonnes of crystal methamphetamine that was hidden in packets of Chinese tea. The shipment of illegal drugs, worth 105.9 million ringgit, or 789 million baht, is part of a large-scale drug trade across Southeast Asia, China and Australia.
The Malaysian Maritime Enforcement Agency director general, Mohamad Zubil Mat Som, says the coast guard noticed a recreational boat moving "suspiciously" off Penang island. The coast guard followed the boat, which turned into a chase when the 26 year old Malaysian driver, the only occupant on the boat, refused to stop.
The driver jumped off the boat. The coast guard later found the man and arrested him. There is a mandatory death penalty for convicted drug traffickers in Malaysia.
The coast guard say they found 2.12 tonnes of crystal methamphetamine hidden in packets of Chinese tea, the largest bust in the maritime agency's 15 year history. Drug shipments busted by the maritime agency in the past were disguised in similar tea packaging. Officials are still investigating to determine where the drugs were shipped from, but Mohamad suspects it came from Myanmar because of the writing on the packaging.
"It is highly possible that the crystal methamphetamine was smuggled from Myanmar's Golden Triangle."
Southeast Asian regional representative for the United Nations Office on Drugs and Crime, Jeremy Douglas, says the region needs to step up and think ahead to prevent future drug shipments.
"As big as two-plus tonnes is – and it's massive – the syndicates that run the drug trade in Asia can easily replace shipments like this… The region needs a forward looking strategy that addresses root causes if they ever hope to get ahead of the situation."
Keep in contact with The Thaiger by following our Facebook page.
Never miss out on future posts by following The Thaiger.
Air Asia to focus on ASEAN expansion, as CEO expresses cautious optimism for 2021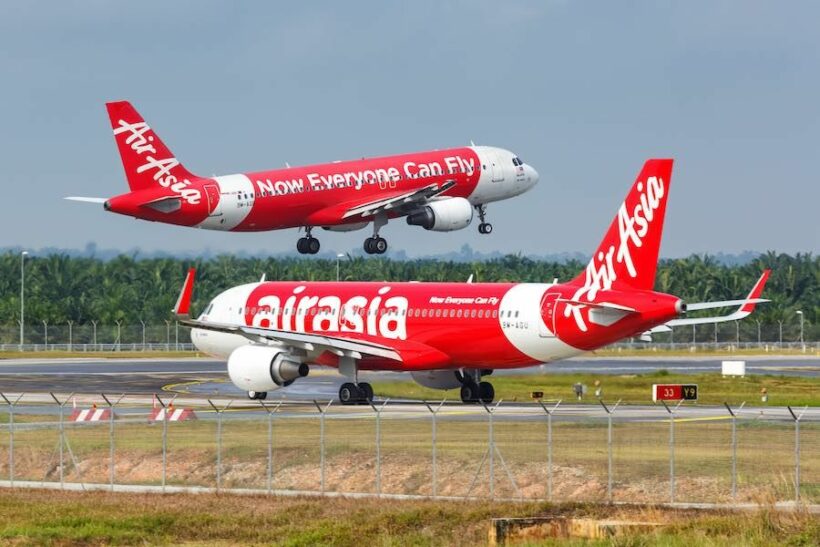 Air Asia's chief executive, Tony Fernandes, says the low-cost carrier is planning to expand its presence in Southeast Asia and is in talks to form 3 new airlines. He points out that people still want to travel, and that demand makes him hopeful air travel could be back to its pre-Covid numbers within 6 – 12 months.
"At the right time we will make the announcements, but definitely our strength is Southeast Asia and that's where most of our expansion is going to be over the next 2 to 3 years."
Just 3 weeks ago, AirAsia Japan Co has filed for bankruptcy with the Tokyo District Court after rumours the month before the Japanese franchise would cease operations due to the weak demand caused by regional border closures and the weakness in aviation business.
But flights between Japan and destinations such as Bangkok are being operated by other AirAsia subsidiaries.
The Japanese arm of Malaysia's AirAsia Group Bhd received a provisional administration order from the court 3 weeks ago.
"Given AirAsia Japan's current financial position, we regret to inform that AirAsia Japan is currently unable to settle the outstanding refunds. We sincerely apologise for any inconvenience caused to customers who have used or booked AirAsia Japan flights."
Tony Fernandes says domestic air travel in Thailand is already back to where it was prior to the pandemic* and is likely to surpass previous levels by the end of the year. He adds that Air Asia's business as more of a medium-haul carrier than a long-haul operation, will stand it in good stead.
Meanwhile, Fernandes says Air Asia is turning a lot of its aircraft into cargo planes, while assessing its AirAsia India operation, a joint venture with the Tata Group. The carrier is also moving further into the digital sphere. Air Asia recently launched a "super app", offering digital payment services, delivery services, and an e-commerce platform… and flights.
Fernandes says Air Asia's digital business is already further ahead than expected, with the carrier applying for digital banking licences in a number of countries in Southeast Asia. It's understood the company plans to roll out financial lending in Malaysia from January, and also has plans for the insurance and wealth management sectors.
*Fact check – Domestic flight demand in Thailand is currently back to around 60-70% of pre-Covid levels, not back to the same level.
SOURCE: Bangkok Post
Keep in contact with The Thaiger by following our Facebook page.
Never miss out on future posts by following The Thaiger.
Technical issues force Singapore aircraft to land on Malaysian highway – VIDEO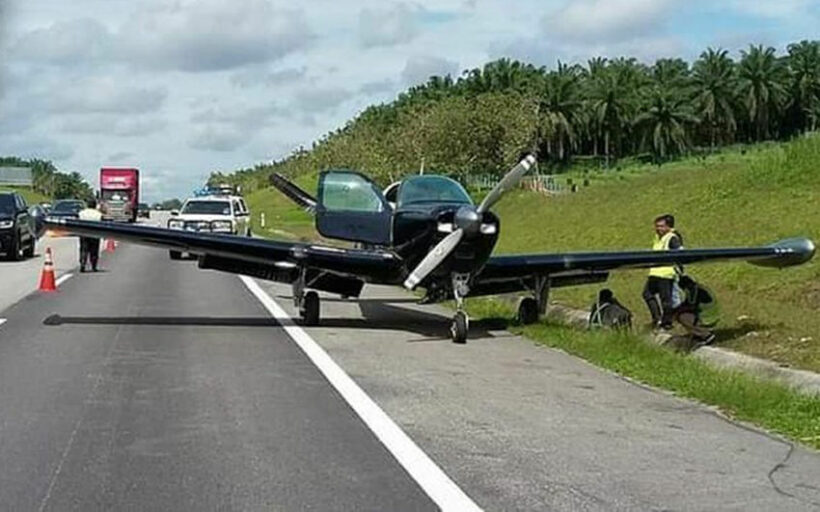 A single-engine prop plane from Singapore has been forced to make an emergency landing on a Malaysian highway due to technical difficulties. A report in Coconuts says the aircraft touched down on the hard shoulder of a highway in Johor, as cars sped past. The 2 pilots on board are believed to be in stable condition.
Chester Voo, CEO of Malaysia's aviation authority, says an investigation has been launched to determine what went wrong with the plane, which has now been removed.
"Search and rescue teams have completed all required tasks. The investigation will be conducted by the Air Accident Investigation Bureau under the Ministry of Transport, Malaysia."
It's understood the plane left Seletar Airport in Singapore and was flying to Melaka when the pilots contacted Air Traffic Control at Johor, requesting permission to land at Senai International Airport, due to technical problems. However, Voo says the aircraft did not make it to the airport before it had to land on the highway.
Meanwhile, Thomas Ong from Premier Aero Singapore, who provide services at Seletar Airport, says his company provided immigration assistance to one of the pilots prior to departure, but doesn't know what happened to cause the emergency landing.
"We only assisted Dr Yang in immigration formalities with the Seletar Airport Authority for his arrival and departure."
SOURCE: Coconuts
Keep in contact with The Thaiger by following our Facebook page.
Never miss out on future posts by following The Thaiger.