39 year old being sought by police over gruesome Chiang Mai millionaire murder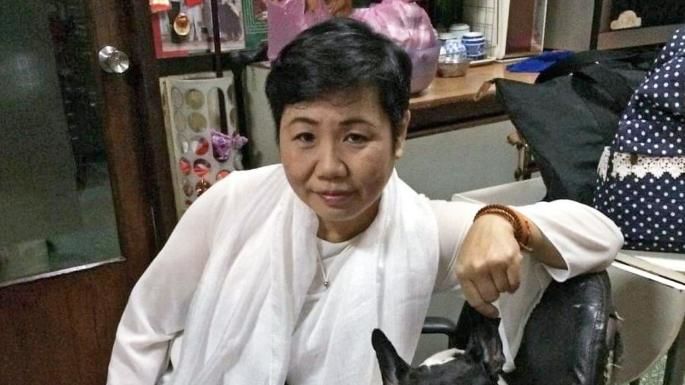 PHOTO: Missing millionaire 58 year old Wannee Jiracharoenying found in a refrigerator – The Times
The Provincial Court in southern Chiang Mai province has issued an arrest warrant for a key suspect in the murder of 58 year old Wannee Jiracharoenying. Thai police have broken the case of the murder of the estate developer Wannee, whose body was found stuffed into the fridge at her substantial home in Chiang Mai las Sunday evening. It appears that the reportedly generous and kind-hearted woman was set-upon upon by her driver who police fear tortured her to gain access to her bank accounts with a reported 40 million baht in funds that have already gone missing.
The suspect, 39 year old Withun Sitabut, is now being sought by police for the death of Wannee, a millionaire from Samut Prakan. The victim was reported missing by her brother on Sunday after he and others were unable to contact her for two weeks.
Police attention focused on the driver following CCTV footage showing a man driving the BMW car and withdrawing large amounts of cash from her bank account using an ATM card in the days during which her family had been unable to contact Ms Wannee. It is now thought that Mr Withun, driven by greed, turned on his employer sometime around October 10 or 11.
He was also captured on a security camera in Rayong using the victim's ATM card to withdraw money before abandoning her BMW, which he had stolen, and then fleeing on a motorcycle taxi. He was also caught on cameras earlier, withdrawing cash in Chiang Mai, Lamphun and Lampang before heading to Rayong, south of Pattaya.
The suspect, Withun, who lives with his wife and two children, met Wannee when he picked up a group of Buddhist nuns, including the victim, and drove them to Wat Phrathat Si Chom Thong for religious practice. The two allegedly became close friends and he was sometimes seen holding shopping bags for her at a local mall.
According to police, after the murder, Withun used the victim's car to pick up his wife and children for a trip to neighbouring Chiang Rai, later taking them back to their home. He reportedly was spending lots of money, some of which he transferred to his wife to buy gold jewellery.
More information HERE.
SOURCE: Bangkok Post
Keep in contact with The Thaiger by following our
Facebook page
.
More than 100 Chiang Mai students hospitalised with food poisoning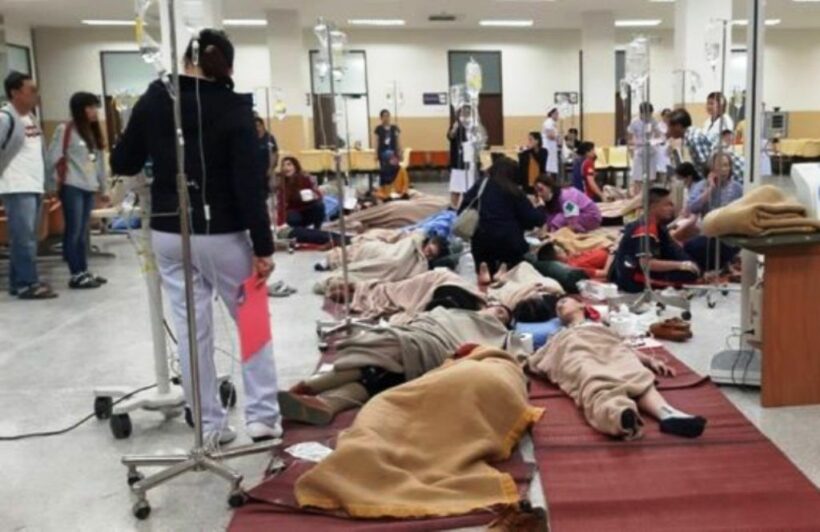 There was chaos at Chiang Mai hospitals yesterday when around 130 students were hospitalised with food poisoning. The grade 8 students from Montfort College in Chiang Mai had eaten lunch at the San Sai scout camp when they began showing symptoms of food poisoning, including diarrhea, vomiting and stomach cramps.
There were an estimated 400 students at the camp: about 89 were taken to the local San Sai Hospital and another 50 taken to other Chiang Mai area hospitals. 30 doctors and nurses were dispatched to the camp in Mae Faek subdistrict of Chiang Mai's San Sai to treat other students who did not require hospitalisation.
The senior permanent secretary for the San Sai district was called in to monitor the situation and was meeting with Chiang Mai's governor Charoenrit Sanguansat. All but four of the children had been released from hospital after receiving treatment by late last night.
Details of the food poisoning remain unclear other than a boiled chicken dish with dipping sauce was served for the children's lunch.
SOURCES: The Chiang Rai Times | Chiang Mai One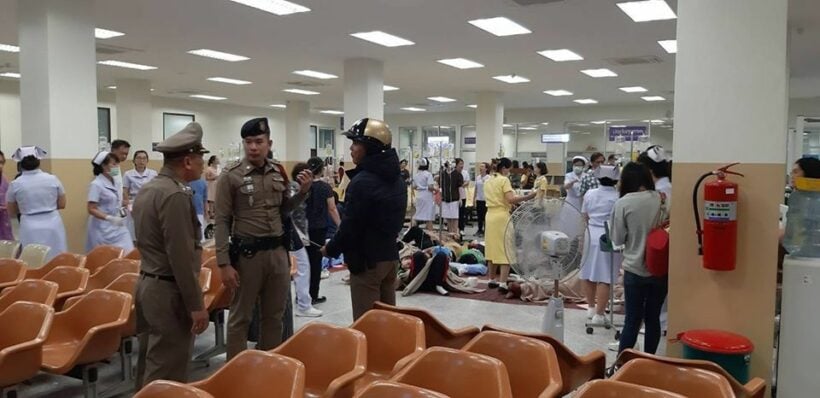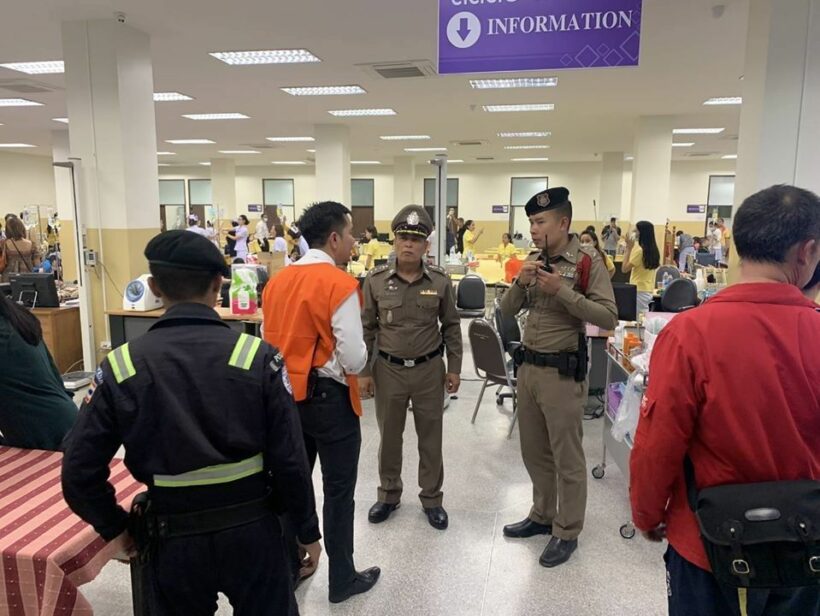 Keep in contact with The Thaiger by following our
Facebook page
.
Poor air quality in Bangkok and northern Thailand today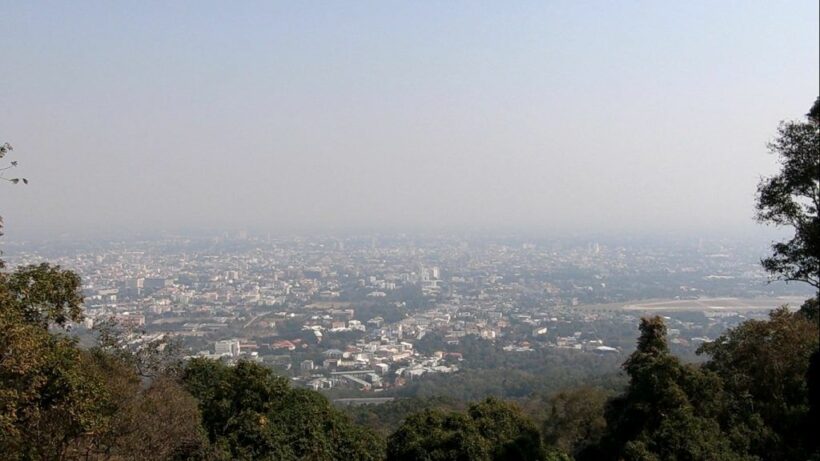 Poor air quality and persistent haze is plaguing much of Thailand's north today, with the worst pollution in Lampang province, just south of Chiang Mai in northern Thailand. Meanwhile, a bit further south, Bangkok residents had more of the fine-dust particles, aka. 2.5 microns, in eight of the city's districts yesterday.
The Pollution Control Department in the north has reported unsafe levels of pollution in 11 of the 15 air quality measurement stations – including Mae Sai district in Chiang Rai; City area of Chiang Mai; City and Mae Mo districts of Lampang; City area of Lamphun; City area of Phrae; and City area of Phayao.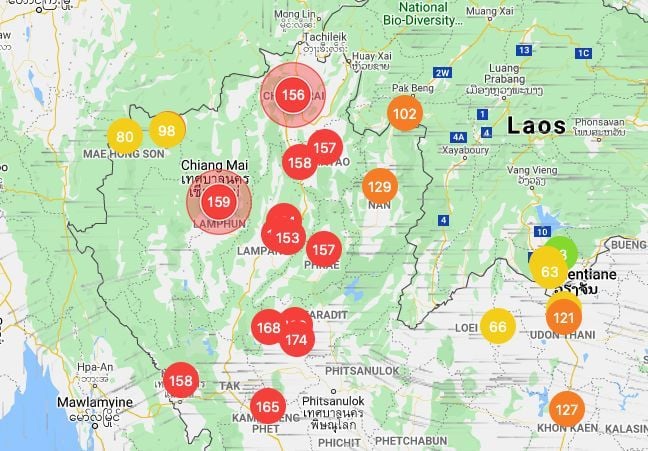 A business owner in Chiang Mai told The Thaiger today that the haze and smoke is at its worst for months. 'Neo' runs a flower and giftware shop in central Chiang Mai.
"We are seeing a lot of customers come in today with face-masks and everyone is talking about the problem. Most of us think it is coming from sugar cane plantation burn-offs."
The readings, in excess of 150mg in many locations around the north, are up to three times the Thai government's nominal upper-limit of 50 mg of 2.5 micron particulate per cubic metre, and over six times the upper safe limit from the World Health Organisation.
In the capital, the Bangkok Metropolitan Administration reported high PM2.5 levels in eight suburbs – Klong San, Bang Khlaem, Wang Thonglang, Phra Nakhon, Klong Toey, Laksi, Bang Khen and Bung Kum. The capital's most polluted air was in Bang Khen, according to the Bangkok Post.
SOURCE: Bangkok Post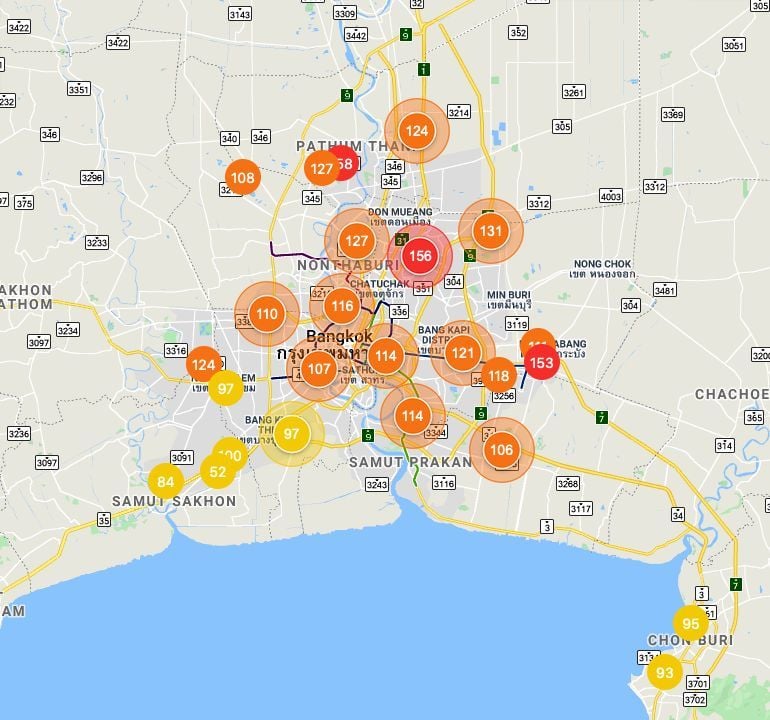 SCREENSHOTS: AirQuality.com
Keep in contact with The Thaiger by following our
Facebook page
.
"Chinese pneumonia" detected at Chiang Mai airport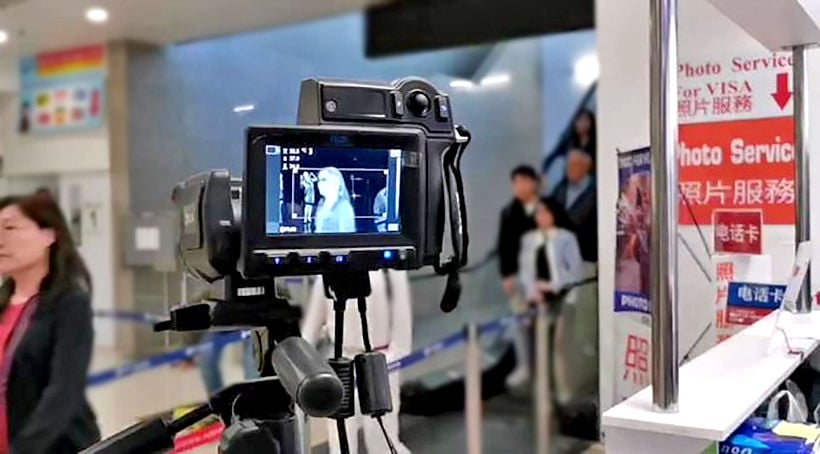 Three Thai passengers are in hospital after being routinely screened at Chiang Mai International Airport with suspected cases of the suspected "viral pneumonia" that is affected the Chinese city of Wuhan. A fourth person, this time a Chinese national, has been found to be infected with influenza A (H3N2), and repatriated to China for treatment.
The virus, which many initially feared was a return of the vicious SARS virus that killed hundreds across Asia in 2003, was first detected in Wuhan in December. As of January 5 there were 59 confirmed cases in Wuhan and another 21 suspected in Hong Kong as of January 6.
2019-2020 China pneumonia outbreak, also known as China pneumonia or Wuhan pneumonia, is an outbreak of pneumonia, which is occurring in Huanan Seafood Market in Wuhan, China. The first case presented in Wuhan on 12 December 2019. On 31 December 2019, state media in China disclosed a series of cases with unexplained pneumonia. On that day, 27 cases were confirmed with seven in critical condition and two expected to be discharged. The rest of the cases were stable. – Wikipedia
Airports of Thailand, which manages five of Thailand's major airports, is using thermal scanners to screen passenger arrivals from Wuhan. All three of the Thai passengers have "improved overall symptoms" according to doctors, but are being monitored in a quarantined area of a Chiang Mai hospital. Test results were not complete at this stage.
The Department of Disease Control is asking all travellers who have visited Wuhan, and subsequently become ill, to see a doctor or report to a local hospital.
UPDATE: A Chinese traveller arriving in Bangkok has been quarantined, bringing the number of suspected carriers of the H3N2 Flu to five, according to the Bangkok Post. The woman, who arrived at Suvarnabhumi airport around noon on Wednesday, is being treated at the Bamrasnaradura Infectious Diseases Institute in Nonthaburi where three other travellers have already been quarantined.
SOURCES: Chiang Mai One | Bangkok Post
Keep in contact with The Thaiger by following our
Facebook page
.