Pattaya's hotel performance rebounds as EEC drives positive market sentiment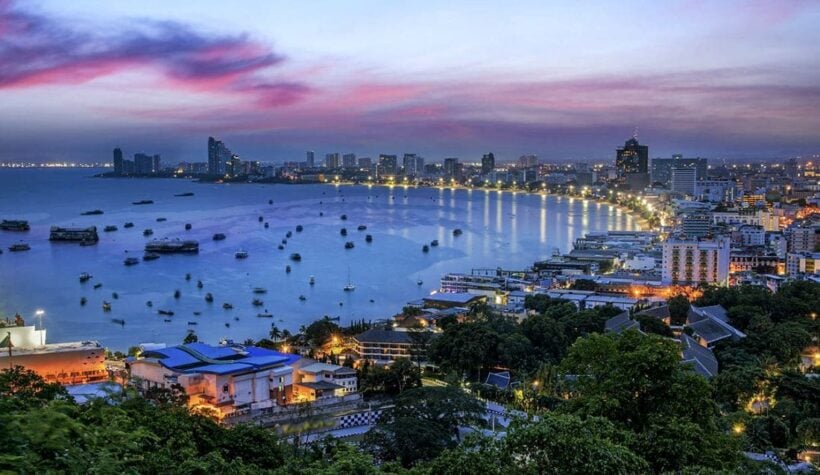 Domestic tourism growth outshines Mainland China and Russia source business
Thailand's second largest tourism market, Pattaya has pushed through the glass ceiling from the volatility hangover of the 2014 era, with its hotel sector now showing strong signs of rising stability. According to the latest available data, strong demand from the Thai domestic sector accounted for 38% of hotel guests at Chonburi province accommodation establishments.
Greater Pattaya's expanding gateway aviation hub U-Tapao International Airport has been a critical stimulator of demand, where passenger arrivals over a three-year period rose at a compound annual growth rate (CAGR) of 79% according to a new report from consulting group C9 Hotelworks.
One key infrastructure investments in the area has the Thai government finalising plans for high-speed rail links between U-Tapao and Bangkok's two airports, Suvarnabhumi and Don Mueang, which is undoubtedly a game changer for the Eastern Seaboard area. New international routes into U-Tapao grew dramatically through the past three years as airlift arrivals increased significantly with a CAGR of 59%.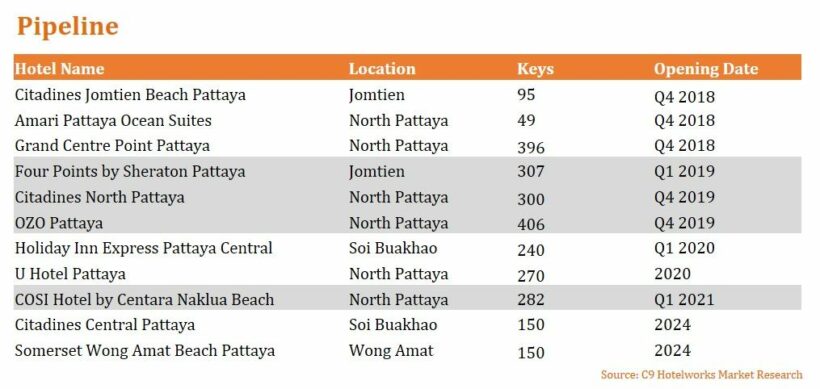 Translating airlift into hotel metrics, global data provider STR recorded an 8.7% year-on-year spike in key indicator RevPAR at the end of 2017.  By mid-2018, market-wide occupancy hit 77.9%. While the current number of accommodation establishments in Chonburi province is 1,046 with 81,607 keys, most of the growth is centered in Greater Pattaya.  C9 Hotelworks report shows 11 new hotels in the development pipeline which accounts for 2,645 additional rooms.
Speaking about the incoming supply, C9's Managing Director Bill Barnett said "there is a substantial influx of branded select service and economy hotels including Holiday Inn Express, OZO, COSI and Citadines which are targeted at not only Mainland China and India but regional Southeast Asian markets.
The impact of this new supply in the short to medium period will take time to absorb and likely create rate issues in the economy and midscale tiers, until such time as the EEC (Eastern Economic Corridor) development becomes more pronounced. Though at the same time, Chonburi province last year racked up more than 16,000,000 hotel guests at accommodation establishments and there is little doubt that Greater Pattaya is moving into a broader tourism platform."
To download and read C9 Hotelwork's Pattaya Hotel Market Update 2018 click HERE.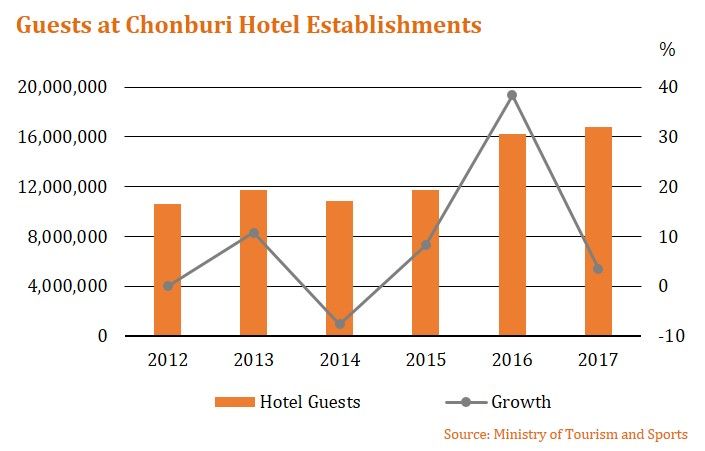 Find more property for sale and rent across Thailand at Thaiger Property, powered by FazWaz. You can even list your property for free.

Thai economy's growth in 2018 projected at 4.5% – World Bank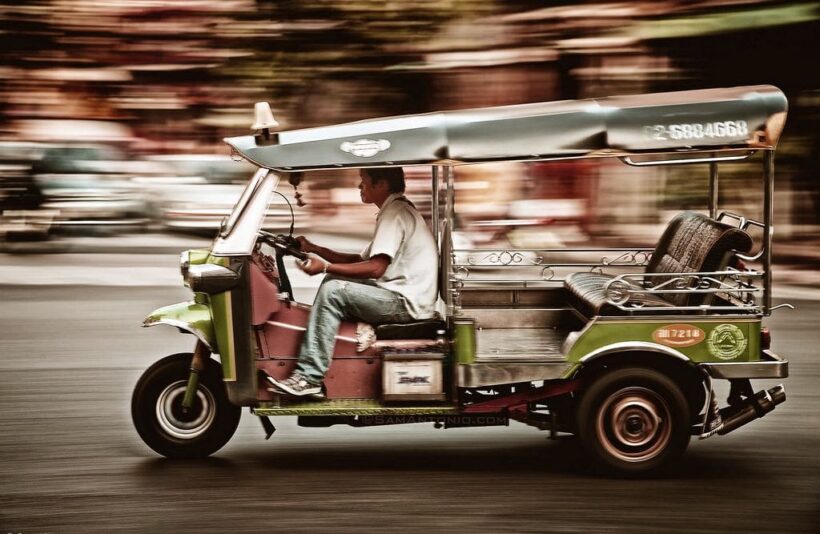 Things are looking up for more economic smiles in the Land of Smiles with more positive news coming out of the World Bank. Projections are being revised upward, again.
The World Bank says it's adjusted its projections for Thailand's economic growth upward, for the whole of 2018, to 4.5%, from the previous projection of 4.1%. The announcement comes from Kiattiphong Ariyapratchaya, a senior economist of the World Bank in Thailand.
He says the government's serious implementation of large-scale investment projects is part of the contribution to the rise in Thailand's gross domestic product (GDP) projection this year.
These mega projects as well as the Thai government's efforts to revamp the country's economy by overhauling the taxation system were seen as key factors contributing to Thailand's economic growth this year, he said.
The Thai economy was regarded by the World Bank as being very strong given the fact that it remains in good shape and with least volatility in its foreign currency exchange situation during the past Turkish economic crisis, he said.
Other countries in the same region such as Malaysia, Indonesia and the Philippines were far more seriously affected by the Turkish economic crisis, he said.
Thailand also has massive current account surplus while inflation remains at a low level, he said.
The financial sector is also viewed as having high security with public debts accounting for only 43% of the GDP and ample foreign reserves, he said.
The World Bank, however, projected that Thailand's economic growth will slow down in 2019 and 2020 when the GDP is expected to grow by only 3.9%, due to some signs of a slowdown in export, he said.
Breakfast in Rome. Dinner in Bangkok.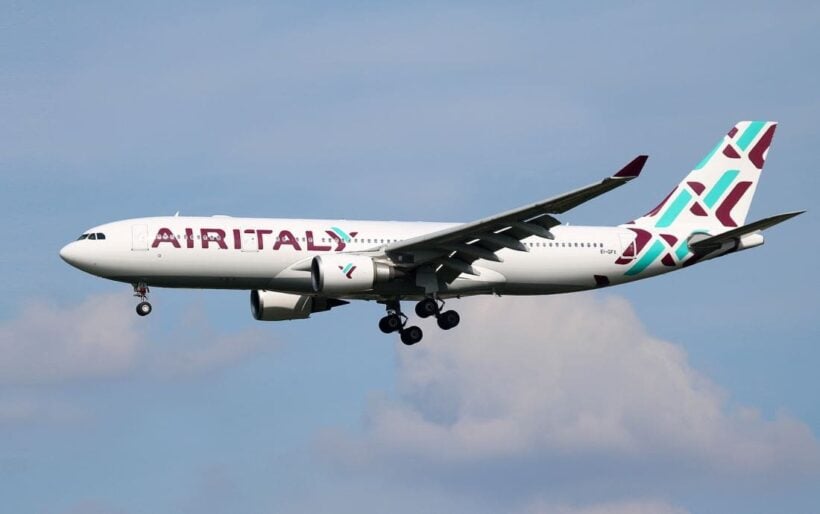 Air Italy has touched down in Bangkok for the first time as it launches four weekly services into the Big Mango. The company intends to increase services to five weekly by the end of October.
Bangkok is Air Italy's third new international route launched this summer following launches in New York and Miami. It's the airlines' first route in Asia.
The airline is based in Milan, Italy and is owned by AQA Holdings. The airline is launching its new international routes in concert with it's local destinations to connect passengers from Rome, Sicily, Naples, Calabria and Sardinia.
The airline is also hoping to add two new routes, from Milan to Delhi and Mumbai in India, with a Delhi launch set for 28 October and Mumbai 30 October.
Air Italy's Milan – Bangkok service uses an Airbus A330-200 with 24 seats in business class and 228 seats in economy.
The airline offers departures from Italy on Monday, Tuesday, Thursday, Saturday and Sunday and intends to add the fifth service on Sundays starting October 28.
India has highest number of Facebook users but Singapore is Asia's FB star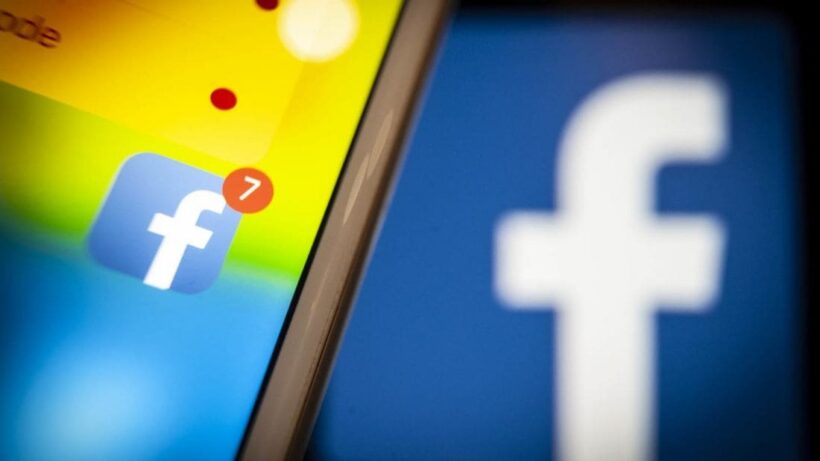 By DataLEADS – Asia News Network
Facebook is the most popular social network worldwide and Asia is Facebook's most active region in terms of active users.
India has the most number of Facebook registered users not only in Asia but in the world. Facebook users in India now number 251 million, becoming the largest audience country for the social media giant. But social media penetration remains relatively low in India as compared to other high Facebook user regions.
But Singapore has an astonishing 4.3 million users, not many you think. But when the total population is only 5.6 million users, that's a really high percentage.
At 131 million users, Indonesia has the second highest number of Facebook users in Asia. The number of users has increased by six percent in the last year. It is followed by Japan with 71 million users, not bad for a country of 127 million. But most Facebook users in Japan are adults while younger ones prefer Instagram and Twitter.
The Philippines has the fourth highest number of Facebook users in Asia with 62 million people registered out of a population of 106 million. It is the most popular networking site in the country and the number of Facebook users almost matches the number of internet users in the country.
Vietnam has fifth highest Facebook users followed by Thailand. Thailand has 46 million users out of a population of 68 million.
South Korea has seventh highest number of Facebook users and almost half of the internet users are registered on Facebook. Pakistan and Bangladesh have 32 million and 28 million users respectively. Bangladesh is followed by Malaysia and Myanmar.
One of the lesser developed South Asian countries, Nepal has 8.7 million Facebook users followed by Cambodia with 6.3 million users.  Sri Lanka has 5.5 million Facebook users. Laos and Mongolia have 2.2 million and 1.9 million  Facebook users respectively.
China, despite its huge population, has only 1.8 million Facebook users. However these figures do not include Facebook users in Hong Kong, Macao and Taiwan. Bhutan and Brunei Darusalam have the least number of Facebook users.