Bangkok driver threatens woman with machete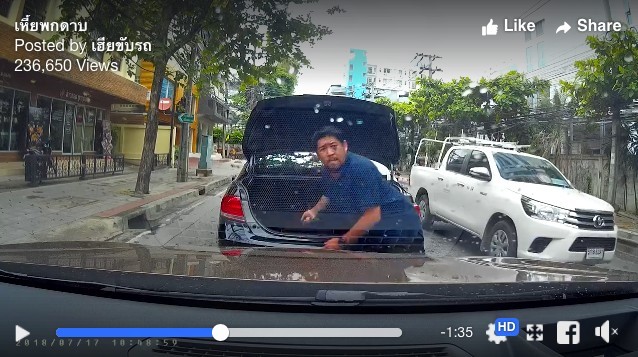 "The clip shows a man at the wheel of a black Toyota Camry, repeatedly trying to cut in front of a car whose dashboard cam is recording the incident, by driving against the traffic."
Netizens are condemning a male driver caught on video threatening a female driver with a machete after he drove against the traffic to cut in front of her car.
According to the date stamped on the clip by the woman's dashboard camera, the incident took place yesterday (Tuesday) at 10am on a Bangkok road with two lanes on each side.
The clip was first posted on YouTube by a woman, who has withheld her identity, explaining only that the woman driver was a friend of her mother's and that she had filed a complaint with police.
The clip went viral after it was later shared by popular Facebook page Hia Kub Rot. By 8am on Wednesday, 12 hours after the clip was shared on the page, it had been viewed more than 178,000 times and shared more than 37,000 times. It received over 4,600 reactions and 1,300 comments, most condemning the man.
The clip shows a man at the wheel of a black Toyota Camry, repeatedly trying to cut in front of a car whose dashboard cam is recording the incident, by driving against the traffic.
The man finally managed to complete the illegal overtaking manoeuvre after they drove through an intersection. He then stopped his car, exited, opened the trunk and pulled out the large knife. The dash board video shows him walking towards the woman's car before he disappears from shot. The person who posted the YouTube clip said he then tried to open the door before giving up, walking back to his car and driving off.
เอ้าาา คนเก่งกับผู้หญิงซะด้วย ถือว่ามีดาบมีมีด มึงไม่พอใจใคร มึงจะไปกระชากประตูรถคนอื่นจะฟันจะแทงเค้าดื้อๆ คือมึงย้อนศรเลนคนอื่นเค้า แล้วจะมาแทรกคนอื่นแบบหน้าด้านๆ พอเจอปิดทางไม่ให้เข้าเสือกหัวร้อน อยากเด่น อยากดัง พ่อคนเก่งกล้าห้าวหาญ กูจัดให้งามๆเลย ปักหมุดไว้ด้วยยาวๆเลย หน้าชัดๆ ทะเบียนชัดๆ กล้องชัดๆแบบนี้ กูหล่ะชอบมากกกกกกกกก อยากรู้จริงๆ ตอนโดนตำรวจลากคอ ออกหมายศาล โดนประกาศจับข้อหาใช้อาวุธข่มขู่ หรือพยายามฆ่า มึงจะเก่งสักแค่ไหน เดี๊ยวก็ออกมาหงายการ์ด "รู้เท่าไม่ถึงบึงกาญ" หงอเป็นตัวเหี้ยน้อย คลิปนี้กูหมั่นไส้แม่งเป็นการส่วนตัวเลย กราบพวกมึงหล่ะ แชร์ออกไปเยอะๆเลย——————————วันนี้คุณ​แม่เพื่อนขับรถไปส่งหลาน เจอผู้ชายคนนี้มาแทรกค่ะ ไม่ให้เข้า พอเค้าแซงได้จอดรถลงมาเอามีด แล้วเดินมากระชากประตูรถคุณแม่ นี่ลงบันทึกไว้แล้วฝากแชร์หน่อยนะคะ ขอบคุณ​มากค่ะCr : เจ้าของคลิปไม่ขอเอ่ยนาม

Posted by เฮียขับรถ on Tuesday, July 17, 2018
STORY: The Nation
Keep in contact with The Thaiger by following our
Facebook page
.
Bangkok's UK visa application centre to reopen

Below is the text of a press release from the British Embassy, lightly edited for brevity:
"On June 1, UK Visas and Immigration will begin a phased resumption of services and our main Visa Application Centre in Bangkok (The Trendy Office Building, 28th Floor
Sukhumvit Soi 13, Klongtoey-Nua, Wattana, Bangkok 10110) will be open. Customers who were unable to attend earlier appointments will be able to log into their account to book new appointments from May 26. Customers who have completed their application on GOV.UK, but didn't previously book an appointment at the Visa Application Centre, can do so from May 25.
Your safety is our priority, so customers visiting our Visa Application Centres will be asked to observe social distancing, undergo temperature checks or be required to wear facemasks/gloves, subject to local authority guidelines. Visitors exhibiting Covid-19 symptoms, including fever higher than 38℃, cough or difficulty breathing will be helped to reschedule their application submission for another day and will be advised to seek medical attention at the nearest healthcare facility of their choice.
Due to restrictions in place globally, we are not able to offer the following services: Super Priority Visa, Priority Visa Service (visit) or Priority Visa for settlement or migration Service.
We strongly advise all visitors to purchase Courier Return of their documents, so they do not need to visit the Visa Application Centre again after a decision is reached. If a decision has been made on your application and you need to collect your passport, we will contact you to arrange this.
We will continue to monitor the situation and post updates on this page.
From June 8, there will be new rules in place for entering the UK because of the Covid-19 coronavirus. Please check the latest information at gov.uk/uk-border-control."
SOURCE: vfsglobal
Keep in contact with The Thaiger by following our
Facebook page
.
Thai man arrested for distributing child porn on social media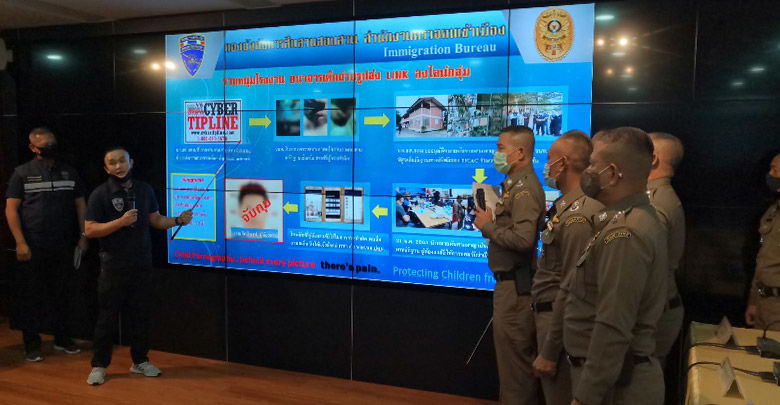 A man was arrested for processing and distributing child pornography after a report from a US agency, police announced yesterday. The US National Centre for Missing and Exploited Children traced the uploaded pornography back to Thailand and notified Thailand immigration police.
The man, Thai media reports as 'Kittiphong', uploaded and sold the child pornography on Twitter and the messaging app Line. He had a membership fee of 350 baht, or around $11 USD. Authorities gained information through the online reporting system CyberTip, the Chiang Rai Times reports.
Police from immigration, anti-trafficking division and the Thailand Internet Crimes Against Children Task Force raided Kittiphong's room in Bangkok and found 8 cell phones with photos of children. The background of the photos matched the man's room. He was arrested and charged with child pornography for financial exploitation. He is also facing charges of sexually abusing children 13 years old and younger.
SOURCE: Chiang Rai Times
Keep in contact with The Thaiger by following our
Facebook page
.
High speed railway linking Thailand and China takes another step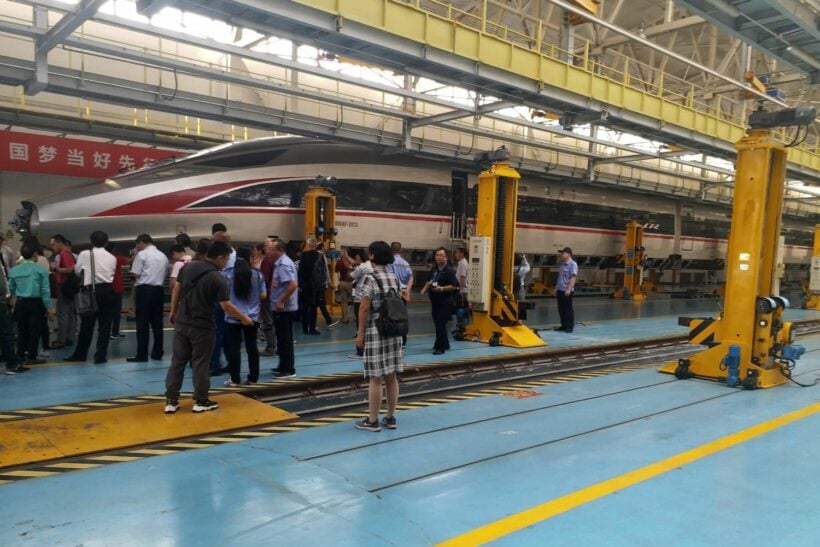 A high speed rail link between Thailand and China is closer to becoming a reality, according to Thai Transport Minister Saksayam Chidchob. The signing of "Contract 2.3″ for the Bangkok-Nakhon Ratchasima section is expected in October this year. China has become a major player in the railway industry and, as a result, many countries, including Thailand, are working with China to develop their own high speed rail networks.
Following the meeting of the 28th Thai-Chinese Joint Committee, Chidchob said the 2 sides agreed on the 50.6 billion baht draft contract including the content on signaling and operation systems. The 253 kilometre rail route from Bangkok to Nakhon Ratchasima in the northeast is part of a stage 2 project which will ultimately link Bangkok to NongKhai, bordering Laos.
The first phase covers a 125 billion baht link from Bangkok to Nakhon Ratchasima. The second, expected to cost 200 billion baht,will run 355 kilometres from Nakhon Ratchasima to Nong Khai. For the second project, Thailand is working with China's State Railway Group.
The projects form part of China's Belt and Road Initiative, launched by President Xi Jin-ping 6 years ago, according to the president of the All-China Journalists Association.
"This Belt & Road Initiative project will help China integrate with the rest of the world and link the Chinese dream with the global dream."
The Belt and Road Initiative was developed to bolster economic and social ties with 65 countries in Asia, Africa and Europe, covering an estimated population of 4.4 billion people.
"I think it is important. The project will help connect people in the two countries via Laos. It can help promote socio-economic development and prosperity in these two countries and also across the whole Asian region. China has made a lot of investments in Laos. Among them is the China-Laos Railway, running from Kunming to Vientiane."
Under Contract 2.3, 80% of the payment will be made in US dollars and the remaining 20% in baht.
The signing is scheduled for October or sooner before the 5 year project commences. PM Prayut Chan-o-cha will preside over the signing ceremony at Government House.
SOURCES: Bangkok Post | TNA
Keep in contact with The Thaiger by following our
Facebook page
.