40-love. Police track down porn producers at a Bangkok university tennis court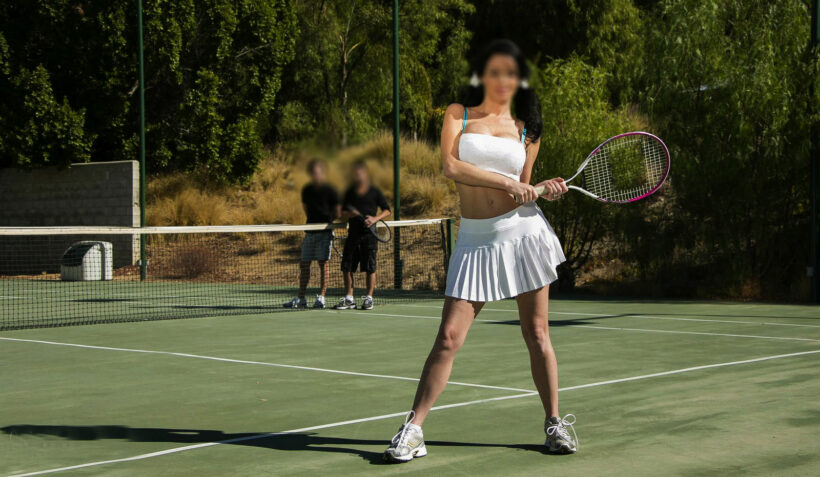 The police are searching for an amorous couple who were filmed engaging in sex outdoors in the Bang Khen area, northern Bangkok. Police suspect that film's producer and the 'actors' were making content for a porn site, or subscribers to a chat group.
Officers have been examining footage (over and over) from CCTV to try and find clues about the identity of the actors. Police believe the pair are part of a group of Thai and foreign actors making xxx videos around the capital. The video posted online that has drawn attention was 10 minutes long.
The investigation team speculates that the production team will be shooting more films in public as it is "ordered by customers". The locations include roadside areas, stairs, and lifts in apartments and schools, according to Bangkok Post.
The police launched a full investigation after a video of the up-close-and-personal-pair was shared online. The video was recorded near a tennis court inside the university.
The investigation says the filming location was being checked and guarded to ensure the film team, and actors, weren't disturbed or caught by University security guards who were patrolling the grounds. The Bangkok Post notes that, by law, people who act in "a lewd manner" in public could be fined up to 5,000 baht.
SOURCE: Bangkok Post
Keep in contact with The Thaiger by following our
Facebook page
.
Never miss out on future posts by
following The Thaiger
.
Pro-democracy protest leaders hear lèse majesté charges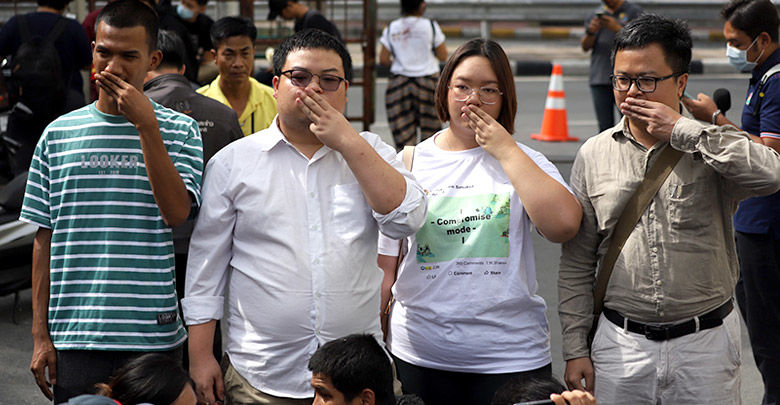 Pro-democracy protest leaders reported to police today to hear lèse majesté charges which carry a maximum penalty of 15 years in prison for insulting or defaming the Thai Monarchy.
The ongoing protests have opened discussion questioning the Thai Monarchy, a move considered taboo in Thai society and also risky as "insulting" or "defaming" statements could violate the lèse majesté law under Section 112 of Thailand's Criminal Code.
Whoever, defames, insults or threatens the King, the Queen, the Heir-apparent or the Regent, shall be punished with imprisonment of three to fifteen years.
The 5 leaders are facing charges over the September 19 to 20 rally where the protesters placed a plaque in an area near the Grand Palace, declaring Thailand "belongs to the people." The plaque has since been removed.
A lèse majesté complaint was filed by a leader of the pro-government "multi-coloured shirts movement" Tul Sittisomwong who said the protesters had "once again crossed the line," according to an earlier report from the Bangkok Post.
"I don't mind if they talked about politics, the prime minister or the constitution because they have the right to do so, but not about the monarchy."
The protest leaders responding to police summonses include Arnon Nampha, Parit "Penguin" Chiwarak, Panusya "Rung" Sithijirawattanakul, Panupong "Mike" Chadnok and Patiwat Saraiyaem, who is known as "Molam Bank."
Arnon, who is a human rights lawyer, says he's not worried about the charge and believes it will be cleared. The activists were accompanied by 2 counsel from Thai Lawyers for Human Rights.
"It is now time for us to speak straightforwardly about the royal institution. Even if what we say goes unheard and laws are used to shut our mouths, we will continue to fight."
SOURCE: Bangkok Post
Keep in contact with The Thaiger by following our
Facebook page
.
Never miss out on future posts by
following The Thaiger
.
The Thaiger needs an excellent English-speaking vlogger and TV presenter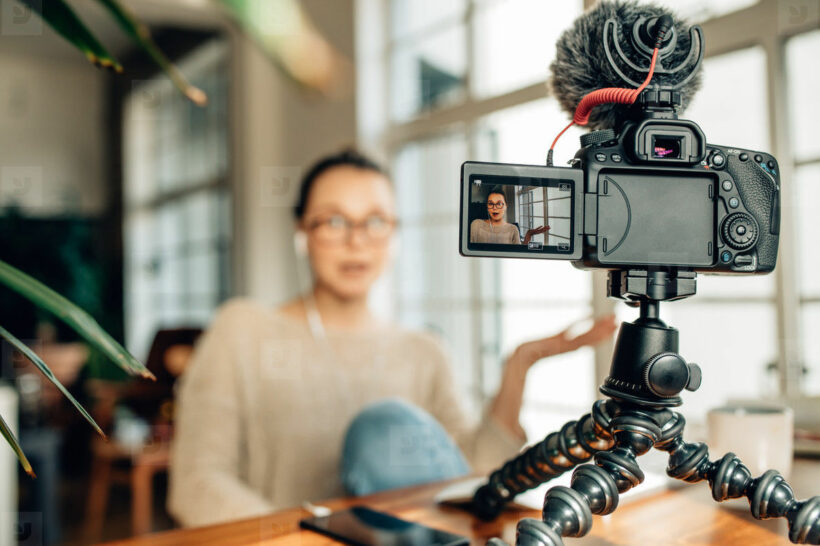 The Thaiger needs you!
The Thaiger needs an amazing Bangkok-based English-language "Video presenter (News Anchor/YouTuber)" for our website and social media platforms. You will have previous presenter, host or journalist experience but be ready to learn the tools of modern digital news and information delivery, in text and video.
If you haven't had experience doing vlogs, video posting or hosting in front of a camera, or are not in Thailand at this time, please don't bother applying.
You will work directly with the CEO at our Bangkok office in Asoke and have an intuitive understanding of social media, experience with online news and an understanding of the Thai media landscape. If you've worked in Thai media in the past, in front of the camera, it will be a distinct advantage.
You will understand the urgency of the news cycle and be able to adapt and roll with the changes in media delivery. You'll be motivated and keen to perform at a high level.
You can be Thai or foreigner, but you must be able to communicate as an English native-speaker. If a foreigner, you would have lived in Thailand for long enough to have an intuitive understanding and inside knowledge of the news cycle and culture. You will also be currently resident in Thailand.
As the Video Presenter you will…
Be the Thaiger's news headline presenter to help produce interesting and exciting original content
Sourcing, writing script and presenting stories for multiple platforms and work as part of The Thaiger video content and publishing team to produce excellent content and high SEO level
Participate in helping to formulate news stories by pitching ideas and providing feedback on content
Quality check each story to ensure grammatical correctness, accuracy and clarity
Assist the Thaiger team continue our pursuit as Thailand and the region's biggest media company
Become a modern day media 'Svengali'
Send your CV and links to some examples of your video media to info.thethaiger@gmail.com and headline the email THAIGER VLOGGER.
We're also looking for a full time video editor. They will work with our presenters and writers to edit the video material into high-quality finished product. If you are Thai, with good English-language proficiency, and interested in working with the Thaiger team, send a CV to tim@thethaiger.com and mark your application VIDEO EDITOR. We usually edit on the Davinci Resolve platform.
The Thaiger already produces a range of videos, including the daily 'Thailand News Today' and other general information videos.
You can apply through the Jobs DB website HERE.
Keep in contact with The Thaiger by following our
Facebook page
.
Never miss out on future posts by
following The Thaiger
.
Man arrested for allegedly robbing 500,000 baht from Bangkok bank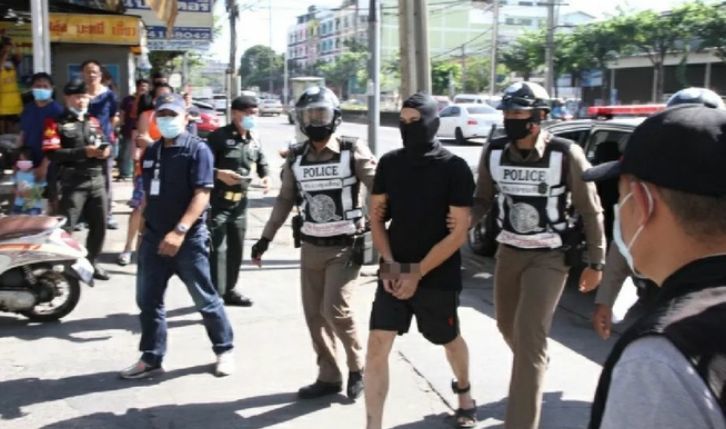 Police arrested a man for alleged armed robbery at a Government Housing Bank in Bangkok. 46 year old Phaiboon Sara allegedly used a gun to threaten bank tellers and take off with 500,000 baht in cash.
Police reviewed the bank's security camera footage and tracked down Phaiboon, arresting him at his home in Samut Prakan. Phaiboon allegedly told police that he hid the money at a hotel room in Sukhumvit. Police searched the hotel room and found 391,390 baht in cash as well as clothes that matched the robber's outfit seen in the video.
According to police, Phaiboon admitted to robbing the Bangbon district GH Bank branch, but claims he used a plastic gun to threaten the bank tellers. He allegedly told police that he threw the gun away and hopped on a public van to flee the area.
SOURCE: Nation Thailand
Keep in contact with The Thaiger by following our
Facebook page
.
Never miss out on future posts by
following The Thaiger
.