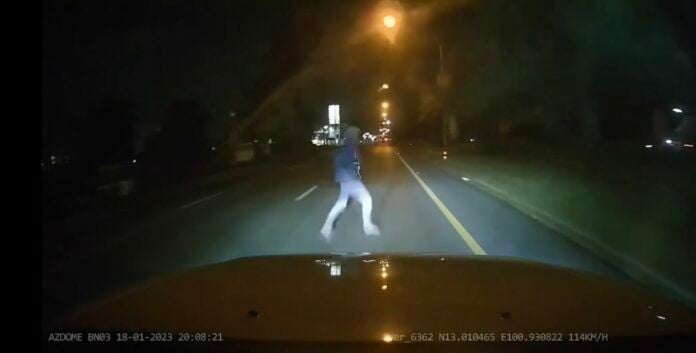 A driver hit and killed a pedestrian crossing a dimly lit Pattaya road on Wednesday night, in Thailand's latest road tragedy. Bang Lamung police arrived on the scene in front of Soi Bang Lamung 12 to find the victim, a 46 year old man named Paiboon Tongmo, dead on the road.
The driver, 27 year old Sila Narinnok, was in a state of shock, The Pattaya News reported. Sila was waiting to give his statement to police. The bumper of Sila's white Ford Everest was damaged.
Sila said he was driving home from work in the right lane. He said the road was very dark, and he only noticed Paiboon crossing the road when it was too late. Sila said he immediately called authorities after hitting Paiboon.
Police examined the car's dashcam and saw Paiboon trying to run in front of the car from the left lane.
Officers brought Sila to Bang Lamung Police Station for further questioning.
Paiboon's body was transported to Bang Lamung Hospital.
This news comes just a month after another tragic road death in Chon Buri. On December 22, a huge truck tragically crushed a young motorcyclist to death in Chon Buri's main city district. The incident happened on a road under a motorway in the Don Hua Lor subdistrict.
The victim, a 20 year old man, had been driving home from work. Rescuers arrived on the scene to find his body with several bone fractures.
Thailand's roads are notoriously deadly. Thailand was ranked the second most dangerous country to drive in according to a driver's educational platform. There were 21,052 accidents in 2020, and 11,138 accidents in 2021. About 20% of accidents involved motorcycles, while 8% involved six-wheel trucks, and 8% involved trucks with at least 10 wheels.
PM Prayut Chan-o-cha this year announced a major goal of cutting the number of road deaths by almost two-thirds by 2027.