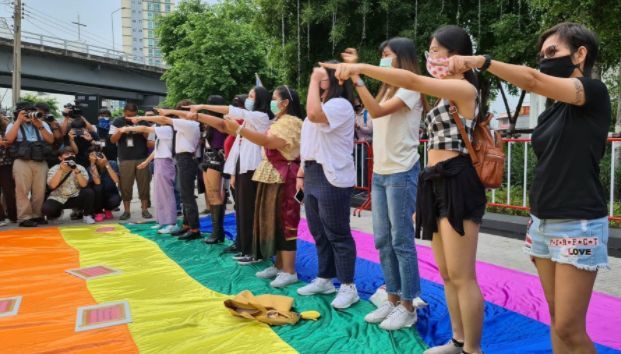 While hundreds and thousands gather at pro-democracy protests to call on government, constitutional and monarchy reform, Thai women's rights activists attending the Bangkok rallies are raising awareness about sexual harassment and rape. The activists say they want to end the "victim blaming" culture where women are said to bring harassment and even rape upon themselves by dressing a certain way.
There is a cross over with the Bad Student movement, which has also been demanding greater scrutiny on the sexual abuse of student by teachers and education officials, mostly "swept under the carpet".
At a recent protest, a group called "Women's Freedom" and chanted "Sida Lui Faai," a re-interpretation of the Chilean feminist group Las Tesis's chant "Un Vialodor en Tu Camino," meaning "A Rapist in Your Path." The name Sida Lui Faai is taken from a chapter in Thailand's national epic Ramakien where Sida walks through fire to prove her innocence to her husband.
The activists danced on a large, rainbow flag, a symbol for LGBTQ rights, and chanted in Thai: "We were judged since we were born. We were abused by the patriarchy. This system is exploiting us. It's violence you don't bother to see."
Activist Chumaporn Taengkleang says that women in Thai society have been taught by Thai literature, but the female characters in the stories are not treated equally. She refers back to the story about Sida, saying that Sida did not do anything wrong and there was no reason for her to walk in the fire. Compared with today's culture, she says "why must women take all the blame when they are victims of sexual harassment?"
"This concept has been used repetitively against women… Today we are dancing to Sida Lui Faai, not to prove anyone's innocence, but to say that all of us are living under this system, where rape still occurs in society."
SOURCE: Thai PBS