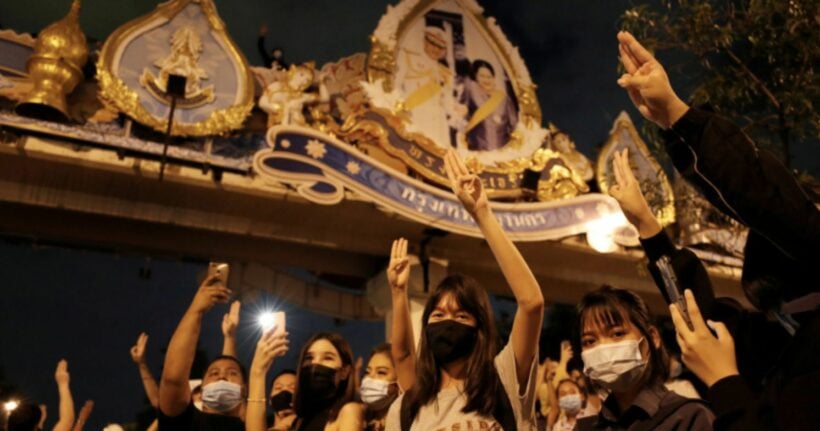 27C with a low chance of rain. That's what the protesters will be facing after their promise to resume anti-government protests at 10pm this evening if the Thai PM doesn't accede to their demands for him to resign.
Phatupat Boonpathararaksa, alias Pai Daodin, released on bail from the Bangkok Remand Centre yesterday, announced this morning that speeches will be delivered tonight by a range of protesters focussing on issues relating to the Thai Prime Minister, Prayut Chan-o-cha.
The protesters have been assembled in Thung Song Hong since last night, although there was a reprieve early this morning when traffic was allowed to pass. Police say the protesters' occupation of area in front of the Bangkok Remand Prison is illegal and that they must disperse. The protesters have also been demanding the release of 3 other protest leaders that remain detained after losing an appeal for their release earlier this afternoon. the Appeals Court denied their release on the grounds that they "may repeat similar offences if released".
Parit "Penguin" Chivarak, Panasaya "Rung" Sitthijirawattanakul and Panupong Jardnok, aka.Mike Rayong. were charged with inciting unrest, in accordance with Section 116 of the Criminal Code, and violations of the Archaeological Venues Act (when they embedded a replacement plaque in the Sanam Luang concourse on September 20).
It appears that, after the 10pm deadline passes, there will be fresh protests at many locations around the country.
Earlier this week, following an address to the nation by Prayut Chan-o-cha, the protesters said they would give the PM until Sunday night at 10pm to deliver his resignation. That deadline was shuffled back a day to this evening. No particular reason has been offered for the revised deadline.
Police are now on site out the front of the remand prison and await the announcement of any other protest sites, a system that the protest organisers have been able to keep secret until the last minute.
Meanwhile, Royalist rallies have been held today in Nakhon Sawan, Chiang Mai, Chainat, Loei and Kamphaeng Phet provinces as a deeper polarisation starts to emerge between the two factions. Wearing the trademark yellow shirts (the colour that reprints the Thai King), the demonstrators have pledged their loyalty to the monarch and support for the Thai PM and the current ruling coalition. The pro-Monarchy demonstrators say their providing a balance to the anti-government protests and point out the comments made by the pro-democracy demonstrators and criticisms of the current Thai King.
There now seems a concerted effort to win the 'numbers' game and see who can attract the largest numbers to rallies. With parliament being called back to an extraordinary session on Monday and Tuesday to debate the current impasse, there is little doubt that the rallies, from both sides, will continue to ramp up in number and rhetoric in coming weeks.