Piyabutr acknowledges that Future Forward will probably be disbanded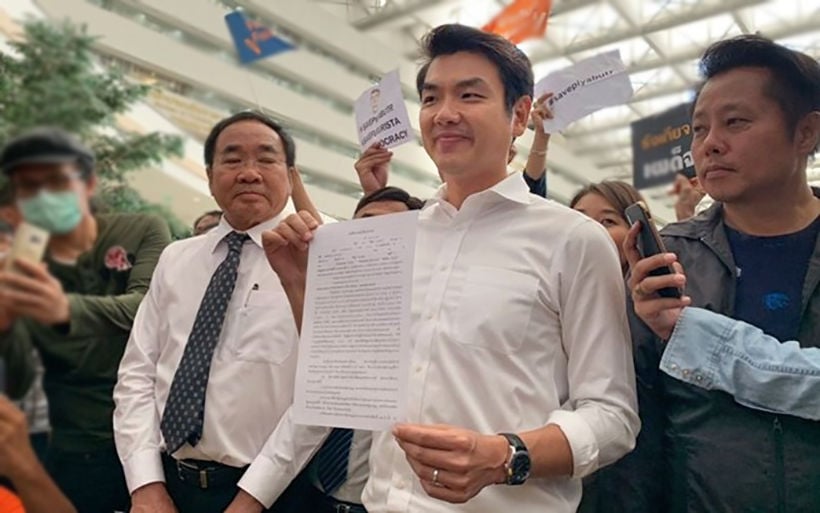 Future Forward Party's secretary-general Piyabutr Saengkanokkul is urging the party's 60,000 members and other supporters to switch their allegiances to a new party that would be formed if Future Forward ends up being dissolved by the Constitutional Court this week. The hearing by the Constitutional Court is set for Tuesday. Piyabutr acknowledges that the party will likely be disbanded.
Thailand's Constitutional Court has handed down a number of decisions since the 2019 March election, heavily weighted in favour of the MPs and parties who support the Palang Pracharat party and the ruling quasi-democratic government of PM Prayut Chan-o-cha.
Yesterday Piyabutr at the "Future is now" event at Thammasat University at the Rangsit campus. The high-profile law professor branded the accusations against the Future Forward party and its leadership as nonsense. Both the party and its leader Thanathorn Juangroongruangkit have come under fire from pro-government supporters and activist since they won unexpectedly high support at last year's election.
The petition to disband the party was brought by Dr. Natthaporn Toprayoon, a former advisor to the chief ombudsman. Natthaporn accuses the FFP, its leader Thanathorn Juangroongruangkit, party secretary-general Piyabutr Saengkanokkul and party executives of violating Section 49 of the charter. Section 49 prohibits actions that undermine the constitutional monarchy.
But Piyabutr describes the charges of being anti-monarchy as a patchwork of "spurious accusations against him and party leader Thanathorn Juangroongruangkit". The charges have been drawn from content of Thanathorn's interviews before entering politics, his involvement in the campaign for amendment of Thailand's lèse majesté laws and the FF party's reference to the 1932 revolution, which transformed Thailand from an absolute to a constitutional monarchy.
Piyabutr says none of these accusations prove either he or Thanathorn are seeking a republic or to overthrow the monarchy. He went on to claim that Natthaporn is afraid of the Future Forward party's success and "wants to nip the party in the bud".
Piyabutr openly dismissed accusations that he and Thanathorn are republicans and said that they are supportive of a constitutional monarchy.
"Those who accuse us are ultra-royalists who see us as radicals. In fact, they are the radicals. These people do not want change, want to hold back development and make us the enemy."
SOURCE: Thai PBS World
Keep in contact with The Thaiger by following our
Facebook page
.
PM says military to downsize, halve number of generals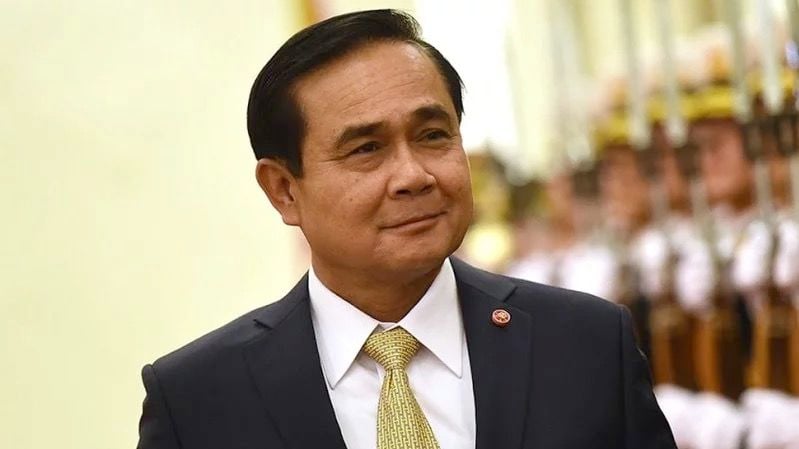 PM Prayut Chan-ocha, also the defence minister, announced yesterday that the Defence Ministry plans to downsize all three branches of the armed forces to become more modern and efficient, and will cut the number of generals in half within eight years.
Speaking on the final scheduled day of a censure debate, Prayut said it's necessary to strengthen the armed forces through procuring modern armaments, including submarines, to put them on a par with neighbouring countries, to enhance not only preparedness but also bargaining power.
He told members of Parliament that the procurement of weaponry is carefully planned in advance and in accordance with the annual budget.
He said that, for example, the number of tanks in each cavalry battalion has already been reduced from 51 to 44, and armoured cars from 96 to 81.
Noting that Thailand's marine resources are estimated to be worth 24 trillion baht annually (including the value of exports and imports carried on about 15,000 freighters), Prayut said it's necessary for Thailand to have submarines as well as ships, to protect assets in Thai waters.
Deputy Prime Minister Prawit Wongsuwan, meanwhile, denied that he is involved in the procurement of Chinese submarines, as alleged by opposition MPs, who claimed that he might have benefited from the deal.
SOURCE: Thai PBS World
Keep in contact with The Thaiger by following our
Facebook page
.
PM "concerned" about campus rallies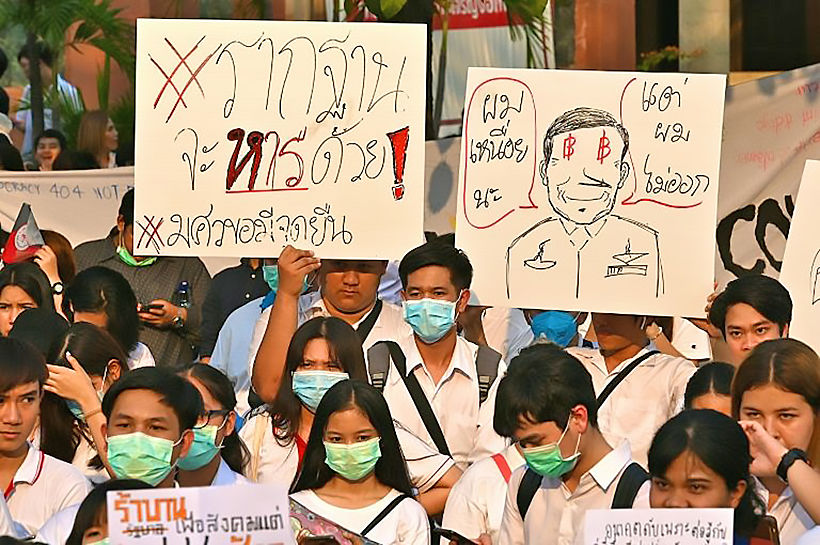 Thai PM Prayut Chan-o-cha has expressed "concern" over growing support for student rallies at universities and now high schools, throughout Bangkok and elsewhere, to protest the recent dissolution of the popular Future Forward party, and the possibility of confrontation and unrest.
The proliferation of political rallies and demonstrations comes in the aftermath of the Future Forward party's dissolution by the Constitutional Court, starting at universities and now spreading to some Bangkok high schools. It led to the PM telling reporters today that he "understands the good intent of the students," but that he is "concerned that they might be misled by one-sided information and might be used as a tool as part of political agenda."
Prayut pleaded with protesting students to keep an open mind to information from the government as well, saying that he didn't want a repeat of the "coloured political divide and eventual political unrest," an apparent reference to the violent, sometimes fatal street protests between rival "red-shirt" and "yellow-shirt" factions; violence which shook the years 2008-2010.
He said, perhaps ominously, that core leaders of several rival political groups, whatever their political colours, are now serving prison time or facing trial. The PM said that he holds no grudge against protesting students, but warned that the "instigators" of student protests might face legal action.
This morning, a police team was dispatched to Triam Udomsueksa (University Preparatory) school beside Chulalongkorn University, where about 100 students held a flash mob to protest military dictatorship. Similar events were reported at Satri Wittaya, Suan Kularb and Bodindecha schools.
Triam Udomsueksa school director Sophon Kamol sent a letter to the district educational office explaining that the school had nothing to do with the mob, and did not support the event. He explained that about 4,000 students in Mathayom 4, 5 and 6 were gathered at the school for their traditional union and they had nothing to do with any flash mob.
SOURCE: Thai PBS World
Keep in contact with The Thaiger by following our
Facebook page
.
High school students join wave of anti-government protests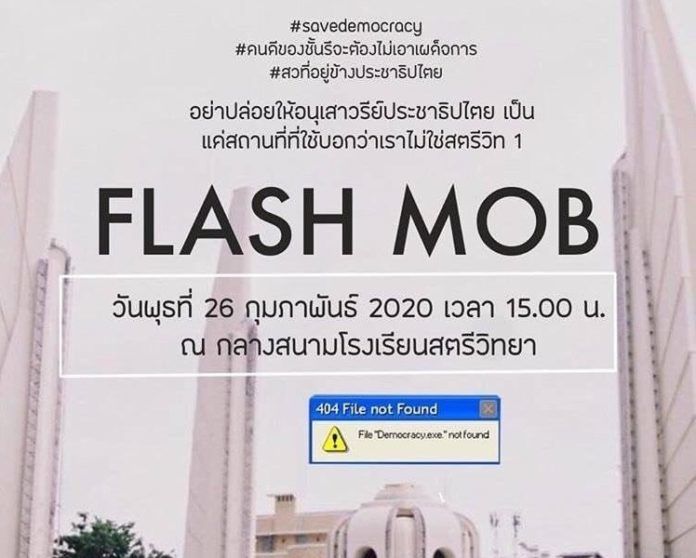 Students in some of Bangkok's most exclusive private high schools announced yesterday that would hold rallies in solidarity with anti-government protests being staged on college campuses across the nation.
Students at the all-girl Satriwithaya School, located next to Bangkok's iconic Democracy Monument, were urged on social media to gather at 3pm. Using the hashtag #SWStandsWithDemocracy, the organizers said there would be speeches and raising of the anti-military three finger salute at 4pm, before a marching to join a similar protest at Silpakorn University at 4:30.
Triamudom School also shed its studious, "nerd" image with an announcement by its student activists that a rally would be held at the school's football field this morning. A popular hashtag used by the students said they "will not bow to dictatorship."
The announcements mark the entry by high school students into the ongoing wave of protests, which have previously been limited to university students.
The campus rallies initially came in response to the dissolution of the popular Future Forward Party but have since evolved into a public display of dissent against PM Prayut Chan-o-cha's government.
In what many netizens see as an attempt to discourage students from joining this morning's protest, Triamudom School's management released a statement urging students to go home immediately after they receive their exam results today. Non-students will be prohibited from entering the school grounds.
The school cited concerns over coronavirus outbreak and PM2.5 pollution for its measure.
After school management forbid them to rally inside the school ground as planned, a group of Satriwithaya students move their anti-government protest to Democracy Monument. #สวที่อยู่ข้างประชาธิปไตย

Story: https://t.co/o6lxtWbzP5pic.twitter.com/HwNIYqC3W1

— Khaosod English (@KhaosodEnglish) February 26, 2020
SOURCE: Khaosod English
Keep in contact with The Thaiger by following our
Facebook page
.