The 15th Mai Khao Marine Turtle fun run attracts more than 4,000 runners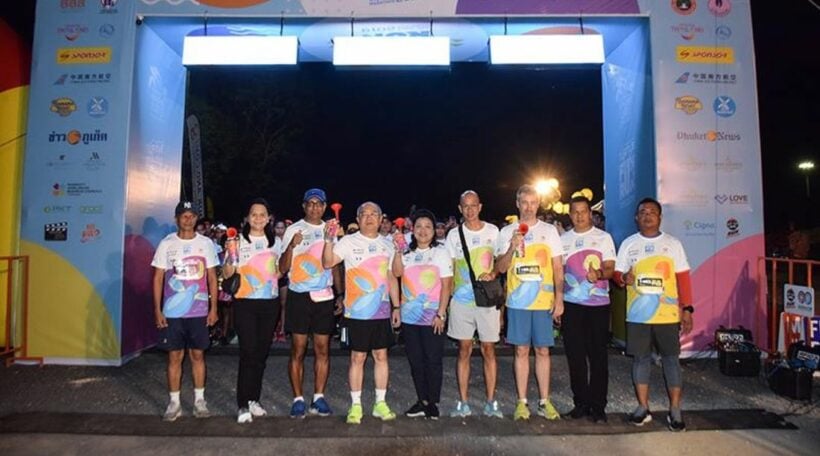 4,000 runners from Thailand and overseas took part in the 15th Mai Khao Marine Turtle Fun Run and Half Marathon 2019 yesterday, starting from the Phuket Gateway.
The event is expected to raise 700,000 baht for the charity, now in its 15th year. The money raised goes towards to The Mai Khao Marine Turtle Foundation, which is committed to protecting the marine and coastal environment, and ecosystems, for the wellbeing of sea turtles that nest in the Mai Khao beach and the surrounding areas.
The annual race also provides funds for thePhuket Marine Biological Centre's Injured Turtle Rehabilitation Program and The Third NavalArea Command's Turtle Hatchery Program.
The race was in its 15th year and runners of all ages and abilities took part in the race. The morning's racing was divided into five categories – the 21.1km half marathon, 10.5km mini- marathon, 5km fun run and 3k family run and VIP participants for all the races. The route of 21.1 kilometre race took runners northwest along the Haad Sai Kaew beach towards Thao Thepkasattri bridge, past the rural road No. 3006, run along the road – Pi Lai viewpoint area returned back along the T. Baan Tha Nun to the iconic Sarasin bridge before finished the half marathon in the Phuket Gateway.
For Mini Marathon 10.5 km – Over all category, Mr. Chinnawat Changlek clocked 39 minutes and 40 seconds to clinch victory in the male half marathon, winning prize money and a trophy with the signature of Phuket's Governor. The winner in the female mini marathon was Surakarn Wanna with a time of 47 minutes and 47 seconds.
Winners also received a prize gift voucher as well as a medal. Congratulations to all participants.
Keep in contact with The Thaiger by following our Facebook page.
Never miss out on future posts by following The Thaiger.
Why Thailand celebrates the New Year not once, not twice, but 3 times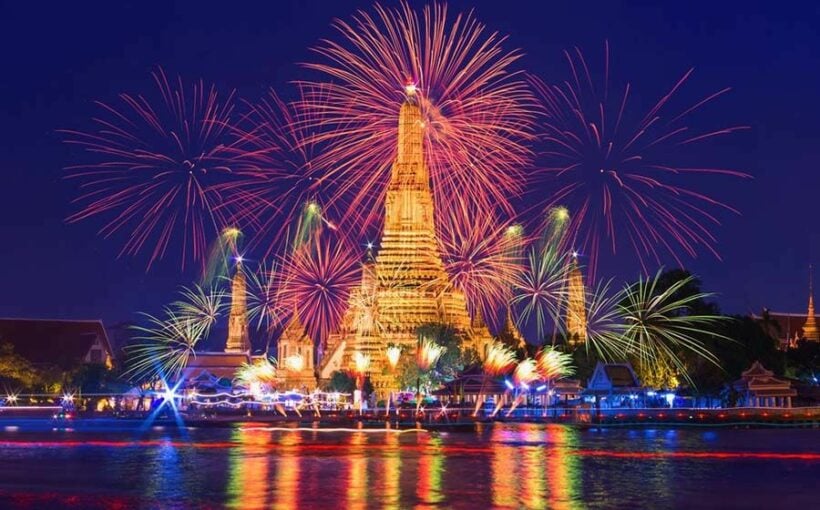 While the year just gone may be referred to as 2020 by most of us (with perhaps a few expletives thrown in, given the year it was), we are currently in the year 2563 in Thailand. As everyone who lives here knows, Thailand uses the Buddhist calendar, as well as the Western, or Gregorian, calendar, adding to our eternal confusion when wading through Thai documentation.
While the Gregorian calendar, also sometimes called the Christian calendar, is based around the birth of Jesus, the Buddhist one begins with the birth of Buddha, currently 2563 years ago. However, as can be seen below, the date in Thailand is usually written by combining the Gregorian date and month with the Buddhist year. The quickest way to work out what the year equates to in the Gregorian calendar, is to subtract 543 from the Thai year.

A lot of superstition governs the Buddhist calendar, with certain days having special meanings and considered more auspicious than others. Thais take these very seriously, particularly when choosing when to hold a wedding or funeral ceremony. Even when to buy a car or to propose marriage. The calendar is less frequently used by the younger generation, who tend to rely more on the Gregorian one.
Meanwhile, when it comes to celebrating the arrival of a new year, Thailand does so 3 times. The Buddhist New Year, the Chinese New Year, and the Western New Year, are all celebrated in some or all parts of the Kingdom.
The Buddhist New Year
This celebration is also known as Songkran, or Thai New Year, and is celebrated in April, when the weather is usually at its hottest. Traditionally, Buddhists celebrate Songkran by performing a ceremony in which they pour water over statues of Buddha, as well as on each other. This represents a period of cleansing, in which bad fortune and sins are washed away.
However, the original water ceremony has also evolved into large-scale water fights and street parties involving super-soakers and buckets of water (often, ice cold). It's a bit of a mega-party that, in pre-Covid times, was a huge tourist draw. Although the water throwing only lasts a day in most places, it can continue for several days in some, even up to a week in places like Chiang Mai.
The Western New Year
In Thailand, despite the Buddhist New Year being marked in April, the official start of the year, particularly for international businesses, is still January 1. This is a public holiday and the evening before is the scene of glittering New Year's Eve festivities, just like Western countries. While celebrations this year may have been somewhat muted due to the ever-present awareness of Covid-19, in more normal times, you can expect parties, live music, and fireworks a-plenty. By the way, Happy New Year!
The Chinese New Year
According to Wikipedia, up to 16% of Thailand's population is considered ethnic Chinese, with the Kingdom having the largest overseas Chinese community in the world outside mainland China. This group also has their own calendar, with a noisy, firecracker-dominated celebration to welcome the Chinese New Year in late January or early February. The festivities culminate in the "lion dance", involving 2 people in a large, colourful lion costume, performing dance moves.
There's no doubt about it, the Thais love an excuse to party. And celebrating a new year, not once, not twice, but on 3 separate occasions, is one way to guarantee some fun. Let's hope that the first of those celebrations, which took place last night, heralds the arrival of a more positive period for all!
SOURCE: Spirit of Thailand
Keep in contact with The Thaiger by following our Facebook page.
Never miss out on future posts by following The Thaiger.
WOW what a year! Thailand's top news stories for 2020 as voted by YOU.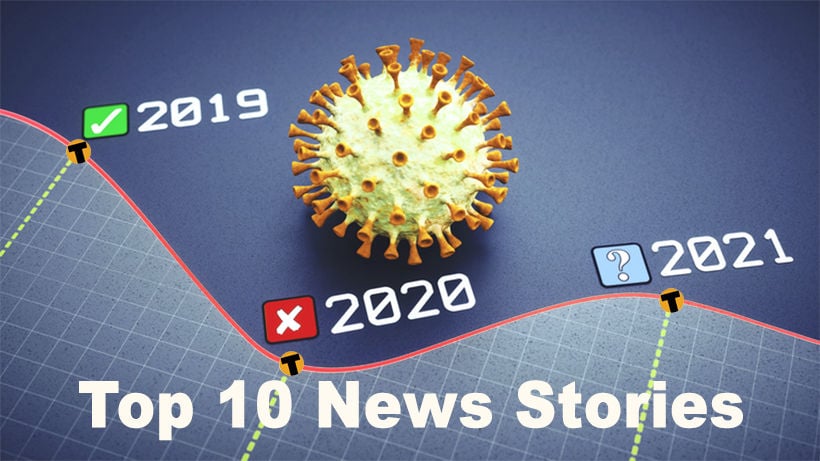 TOP 10 (non Covid) THAIGER STORIES FOR 2020
The Thaiger started 2020, as we all did, with high hopes and few clues that we were heading into a profound disruption for almost the entire year. Even as we were tapping away at the keyboards on January 1, 2020, there were stories emerging in Wuhan, China about a mysterious new respiratory disease that was starting to pop up at the provincial hospitals.
But, although Covid consumed much of our top stories in 2020, there were other stories of course as life continued to stumble along in Thailand. Here are the stories, from 1 – 10, and the number of people that read each story on thethaiger.com. We've also added the Top 10 Covid stories for the year as well, as voted by YOU, our readers.
February 8
"A police and army detachment is currently searching for an army sniper in Nakhon Ratchasima's Korat city centre. The solider has shot dead at least 12 people late this afternoon. The city is in virtual lockdown as security officials are trying to clear the areas around the crime scene. The gunman was live-streaming the entire incident and taking selfies in front of the crime scene.
A police spokesman is advising the public to move away from the area, "stay indoor, and obey instructions from security officers".
March 25
Although Covid-related, it was also the most impactful story here in Thailand which would lead to the lockdowns, economic impact, border closures and, possibly, contributed to the protests as well. It was big news.
"Thai PM Prayuth Chan-o-cha told a news conference today that Thailand will be under emergency decree from this Thursday (March 26) until the end of April, 2020 to deal with the Covid-19 coronavirus outbreak in the Kingdom.
The decree means the PM will have the executive power to declare further measures to contain the virus, including giving extra authority to officials and creating checkpoints to reduce people's movements."
April 26
"Thailand loses duty free access for 42.2 billion baht in exports to the US market from today, 6 months after Washington warned it would pull back on trade privileges unless the kingdom committed to labour rights reforms. Once trade preferences for Thai products are removed they are subject to tax of between 4% and 5%, making them more expensive in the lucrative US market."
March 27
"30 horses have mysteriously died in Thailand's Northeast yesterday. The Thailand Equestrian Federation is urging horse fanciers not to transport any animals until a cause can be identified. It's unlikely the situation has anything to do with the Covid-19 outbreak.
10 of the horses had sudden severe seizures before dying and the other 20 repeatedly bucked and jumped before collapsing, dead."
February 26
"Bangkok mums and dads will need to sort out what to do with the kids for the rest of the week after the Bangkok Metropolitan Administration closed public schools from today because of the excessive air pollution. Most of the smoke and haze is blowing in from Cambodia with light easterly winds.
All schools under the supervision of the BMA will close until Friday. Air quality in the capital has worsened over the past two days with Bangkok recurring the world's 5th worst air pollution yesterday (today it is 10th). The forecast today is for light winds and poor air circulation which will compound the accumulation of PM2.5 dust and smoke particles."
February 22
"A man in the southern province of Trang got a shock when he lay down for a nap and found he was being watched by a 5-metre king cobra staring at him from the ceiling. The man's home is on a rubber farm, where cobras and other venomous snakes are often found. The local rescue team, who reportedly specialise in capturing king cobras, received notification of an extremely long one at the man's home."
March 19
"A waitress from Ban Sabah Village in Lampang rovince won 12 million baht in yesterday's national lottery by pure luck, after she couldn't a ticket with her license plate number. The woman says she initially knew the exact number that she wanted to buy, but as there were no tickets with the number, the vendor gave her two random tickets. She was shocked when she realised the big win, but insists she'll continue living a normal lifestyle."
January 27
"A 60 year old Hungarian man has died in detention at Bangkok's Suvarnabhumi airport. Lazlo Balogh was awaiting deportation for overstaying his visa. Laszlo was handed over to the Suvarnabhumi airport police for repatriation on Saturday, January 25. He showed no unusual signs after being put in the detention cell and was sleeping normally on Saturday night, according to police."
December 13
"A Thai man in Nakhon Si Thammarat is striking it rich after finding whale vomit on the local beach. Narit Suwansang thought his discovery was just a large rock, but had an inkling that it could be something more. US$4.2 million more, that is!"
"It's hard to imagine a more vibrant city anywhere in the world, with warm weather and an entire population ready to party, to celebrate your New Year on December 31. Bangkok will host New Years Eve parties on almost every corner but we've listed the Top 5 locations for you to see in 2020."
---
TOP THAIGER VIDEOS FOR 2020
The most popular YouTube video produced by The Thaiger this year was a spontaneous "turn the camera on and film" look during a casual drive along Phuket's west coast in October.
The second popular YouTube video produced by The Thaiger was a similar look at the seaside party town Pattaya. Again, it had been devastated by the lockdowns and travel restrictions, a situation that hasn't improved leaving the city devoid of its usually high-season surge this year.
---
TOP 10 Covid THAIGER STORIES FOR 2020
In so many cases this year The Thaiger would publish a Covid story, and the Thai Government's reactions to the situation, only to have the situation changed in coming days. Foreigners, eager to know what was going on and how the situation would affect them, were having to keep an open mind as the government prevaricated from one day to another. So, many of the stories, reported accurately at the time, were subject to changes and modification in the coming days. It was frustrating for The Thaiger and our readers.
This was our landing page where we collated, and still do, all the Covid-related content throughout the year, providing a valuable and accurate resource about this year's major disruption. Hardly surprising that it was the most landed-0n page on thethaiger.com this year.
Number 1
Thailand's international borders not re-opening for tourists until 2021 – TAT – 271,000
Thailand's international borders not re-opening for tourists until 2021 – TAT
Number 2
Coronavirus – six new cases confirmed in Thailand – 159,000
Number 3
UPDATE: Confusion over Thailand designating 11 destinations as 'high risk'– 155,000
UPDATE: Confusion over Thailand designating 11 destinations as 'high risk'
Number 4
Thailand increasingly blaming caucasians for coronavirus crisis – 154,000
Thailand increasingly blaming caucasians for coronavirus crisis
Number 5
Chinese keep arriving in Thailand, UK man spreads virus to 11 others – 153,000
Coronavirus UPDATE: Chinese keep arriving in Thailand, UK man spreads virus to 11 others
Number 6
Thai health minister has a slash at 'dirty farang' – 150,000
Number 7
2,700+ infected, 80 dead, 8 cases in Thailand – 149,000
Coronavirus UPDATE: 2,700+ infected, 80 dead, 8 cases in Thailand
Number 8
July 1 will end all lockdowns in Thailand, including international travel – 145,000
July 1 will end all lockdowns in Thailand, including international travel
Number 9
Foreigners in Thailand worried about their security – 139,000
Number 10
South Korea issues travel advisory for Thailand – 37,000
Keep in contact with The Thaiger by following our Facebook page.
Never miss out on future posts by following The Thaiger.
Thailand remembers the 16th anniversary of the Indian Ocean Tsunami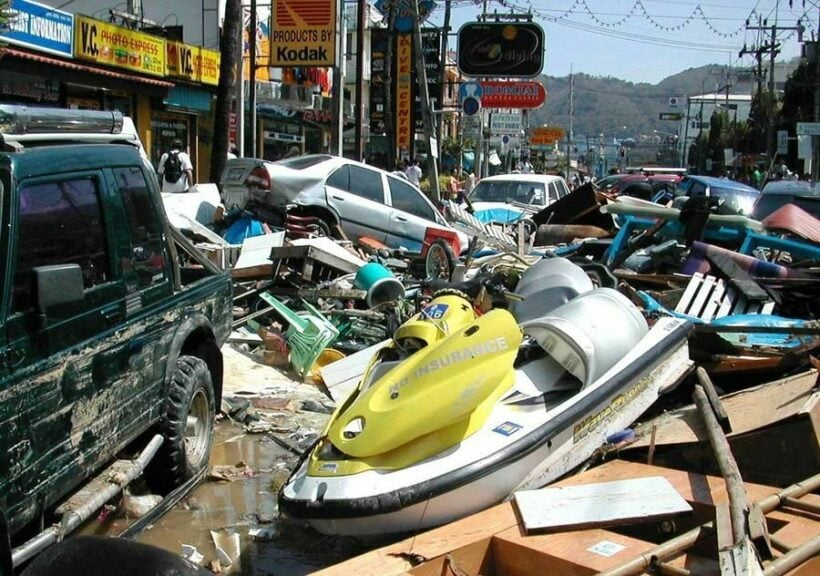 It was Boxing Day, now 16 years distant, when the Andaman Coast of Thailand, and coastlines around the Indian Ocean, suffered one of nature's most disastrous events of our generation.
The tsunami reached Phuket and provinces nearby around 10am on Boxing Day, December 26, 2004, and caused uncountable losses. Official Thai government statistics estimate 4,812 souls were lost to the waves on December 26, 2004, with another 8,457 injured and 4,499missing, presumed dead, all lost to the 3 large waves that swept inland along parts of the Andaman Coast.
While confirmed deaths in Phuket officially numbered only 259, another 700 remained listed as missing.
Up to 270,000 souls from 45 countries around the world were lost with millions affected. The coastal Thai community of Khao Lak, north of Phuket, was particularly badly affected by the waves. Poom Jensen, the grandson of the late King Bhumibol Adulyadej, and a nephew of the current Thai King, was killed whilst his family was holidaying at Khao Lak.
At the time the popular tourist communities were able to clean up and re-open some of their hotels within weeks. A year later much of the damage had been cleaned up and repaired. NGOs rushed to Thailand to assist in the clean up and identification process of the dead.
The 2004 Indian Ocean earthquake and tsunami occurred precisely at 7:59am local time on 26 December, with an epicentre off the west coast of northern Sumatra, Indonesia. It was an undersea 'megathrust' earthquake that registered a magnitude of 9.1–9.3. The tsunami and its aftermath were responsible for immense destruction and loss on the rim of the Indian Ocean. Some locations reported that the waves had reached a height of 9 metres, or more, when they hit the shoreline. Indonesia, Sri Lanka, India, Maldives, and Thailand sustaining massive damage.
Last year there were memorial events at key locations around the island of Phuket and in Khao Lak. This year's Light Up Phuket tsunami memorial event at Loma Park in Patong was cancelled due to concerns over Covid-19.
Last year's religious ceremonies included Buddhist, Muslim and Christian rituals.
16 years after the Indian Ocean tsunami swept ashore, a container at the Takua Pa police station in Phang Nga, southern Thailand, still contains personal items from the hundreds of victims whose remains are unlikely to ever be given a name.
Wallets, documents, keys, electronic items, all labeled and catalogued as evidence, await positive identification. Nearby a graveyard contains 340 bodies buried in unmarked graves but police hope that, if people came forward to identify some of the items, there is still hope that some of the bodies could rest in peace with a name attached.
Here's a story about the maintenance of the Tsunami Warning bouys.
And another with graphic footage of the 2004 Indian Ocean Tsunami as it swept ashore in Thailand.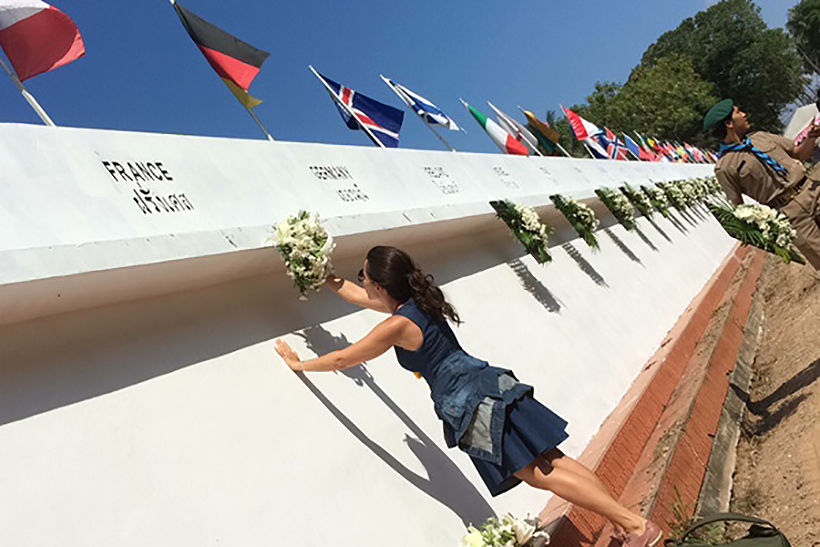 Keep in contact with The Thaiger by following our Facebook page.
Never miss out on future posts by following The Thaiger.