US Navy veteran locked up in Thai prison, family pleas for help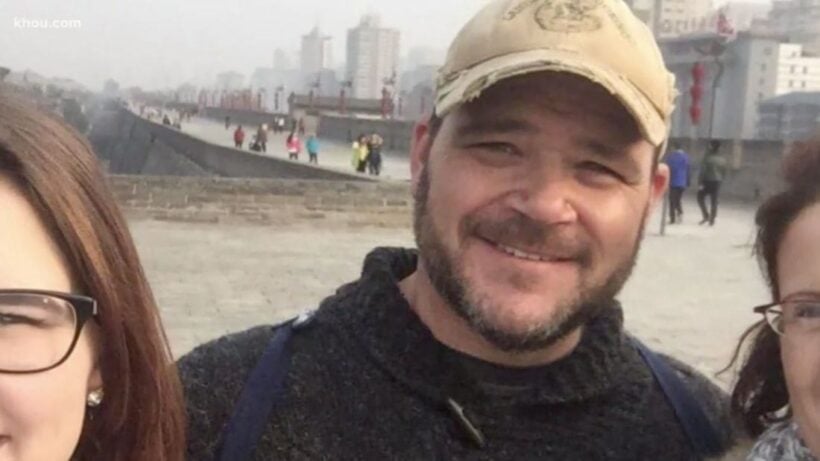 by Lauren Talarico
A US Navy veteran from Texas remains locked up in a Thai prison for something his family says he didn't do. Derrick Keller was arrested on August 20, 2018. But his family says the allegations against him are not true and they desperately want him home.
Derrick Keller's family doesn't know what to do next after their cries for help from politicians and lawyers have gone unanswered. They fear if something doesn't happen fast Keller could spend the rest of his life in a Thai prison. 44 year old Derrick Keller is from Richmond, Texas. He is a son, a husband, a father to two kids and a Navy veteran.
"He was always a jokester," his father said. "Always liked to make people laugh."
"He's the best man I've ever known," said his 19 year old son Mark Keller.
But Derrick is 16,000 kilometres away behind bars at the notorious Klong Prem Prison in Bangkok.
"We are still in shock," said Debra. "We still can't fathom what's taking place"
In 2015 Keller and his wife Tanya moved to China with their children. Tanya was offered a job she couldn't pass up as the lead dance instructor at Shenzhen Dance Academy.
Derrick gave up his trucking company in East Bernard and worked odd jobs in China. He tended bar, coached a baseball team and perused acting, a childhood passion. In 2016 the family says a recruiter reached out to him about a company looking for a "Western face." It was called Eagle Gates Group.
"The company was represented as completely legit," his brother-in-law Ryan Murray explained. "Totally legal. It would just be an acting opportunity."
Over six months, Keller acted in several corporate videos. His family says he was paid $15,000 to do so. After the job was complete, he told family he never heard from the company again, until a vacation to Thailand last August. Keller was arrested after he and his wife landed in Thailand for a vacation.
"They got off the plane and had a lot of Thailand police officers waiting for them," Murray explained.
Thai media reported his arrest and claimed he was part of a Ponzi scheme which defrauded investors of millions of dollars.
"An American actor staying in Phuket as a tourist has been arrested in connection with a multinational scam operation based in Singapore that has allegedly defrauded Thai investors of 235 million baht."
"I think at first they thought it was just a misunderstanding," Murray said. "And it turned out to be something much worse."
Keller was arrested on August 20, 2018. One day later he called his father to tell him he was being detained.
"That's the last I've heard from him," his dad said through tears. "That's the last time I heard his voice. Been bad. Horrible. Absolutely horrible. I mean, like I said, I haven't heard him. God knows I love my son."
Watch a Texas TV report about the story HERE.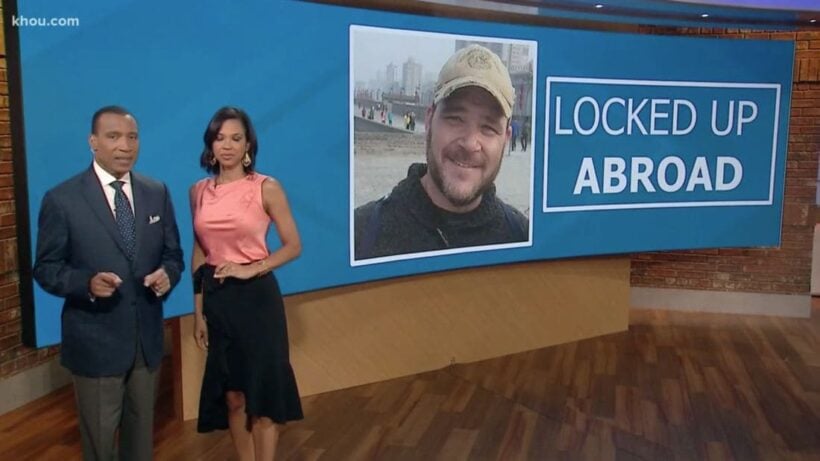 No family member has seen or talked to Keller since he has been in prison.
"I'm always scared that I'm just going to wake up to the worst information I've ever heard," cried his son, Mark.
"That something beyond horrific about this has happened to my dad like maybe he's died in incarceration or something. It's the uncertainty that really kills me."
"The prison that he's in is notorious for human rights violations," Murray explained.
"There's a lot of bribery. It's very corrupt. He's sleeping on concrete, sharing a cell with 50 other people."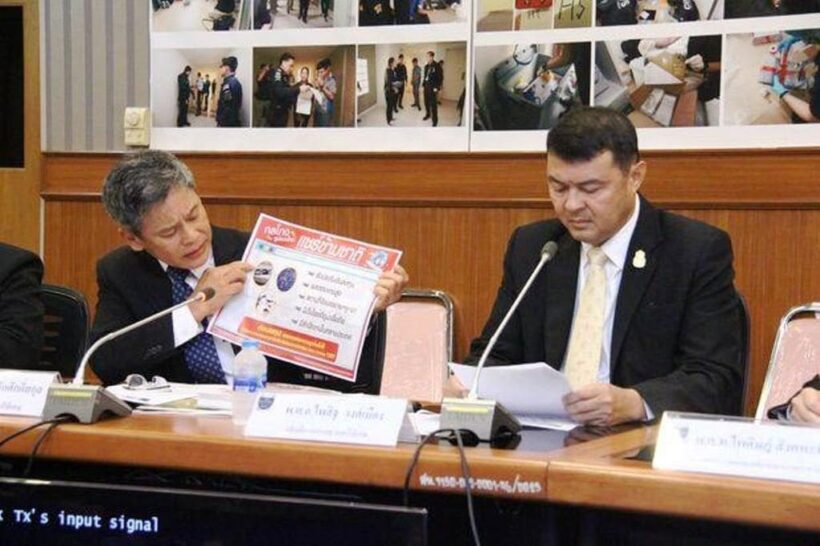 Deputy DSI chief Songsak Raksakskul (left) and DSI chief Paisit Wongmuang brief the media on the arrest of 10 suspects in the alleged Eagle Gates Group investment fraud, at the DSI offices in Bangkok.
Missionaries have related to the family that Derrick's lost 30 kilos in 10 months. The family says they've provided proof that Derrick is innocent and was simply an actor in a corporate video. They claim they've reached out to President Trump, Senator Ted Cruz, Senator John Cornyn and a long list of other local politicians but haven't been offered any help.
"The country called… he answered," said his father, a Vietnam veteran.
"When the country called… I answered. And now we call and we don't get an answer."
Derrick Keller's trial date is set for July. He's facing 35 years in prison.
"During questioning, Keelor told officers that he was an actor working in China, and was hired by a Singaporean to be Executive Director of Eagle Gates Group Co Ltd in order to build credibility and reputation for the company. The DSI noted that they would investigate Kellor's role further.
The DSI also reported that their investigations had discovered more than 1 billion baht in investment had been transferred out of the victim's bank accounts." – Bangkok Post
"The court itself, from what we've been able to find out from lawyers and our own research, has a 95% conviction rate," Murray said.
"We've been told that if he admits guilt they will be easier on him and that it's not worth fighting against. Derrick is a man of integrity… I do not see him admitting to a crime he didn't commit so that has me worried."
A change.org petition has been started. To help, click HERE.
Thai farmers and residents from four provinces unhappy about proposed motorway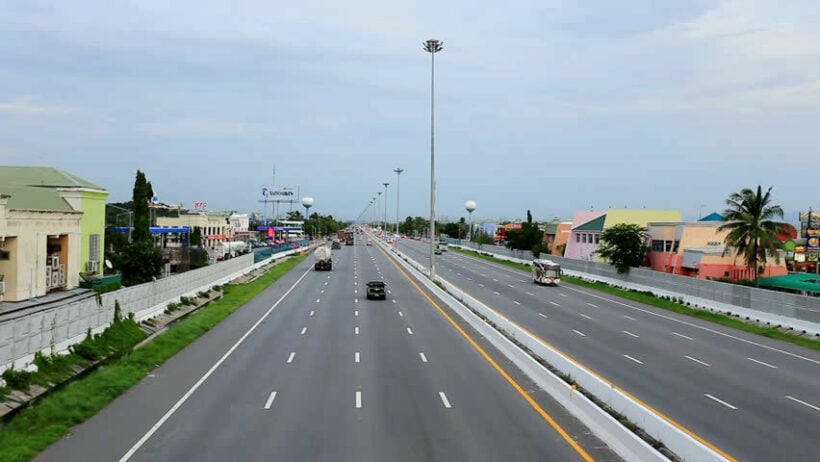 About 100 affected residents and farmers, from the Phetchaburi, Samut Songkhram, Ratchaburi and Nakhon Pathom provinces, are demanding the Thai Department of Highways scrap their environmental impact statements and start again.
The protests are over the 109 kilometre Nakhon Pathom to Cha-am Motorway.
A seminar was held over the weekend called "The Future of Petchaburi and the Motorway to the South" to provide a voice for residents. Department of Highways representatives were at the meeting to respond to resident complaints.
Unhappy residents say they were concerned the project could harm the livelihoods of local residents living in the four provinces, complaining that it will cut through farmland which is relied on to make a living.
They pointed out that the project's environmental impact statement was already expired, as it had been prepared more than five years previously. Many residents and farmers say they had never been approached about the proposal in the past and they had been 'in the dark' about the impact of the new motorway.
SOURCE: Bangkok Post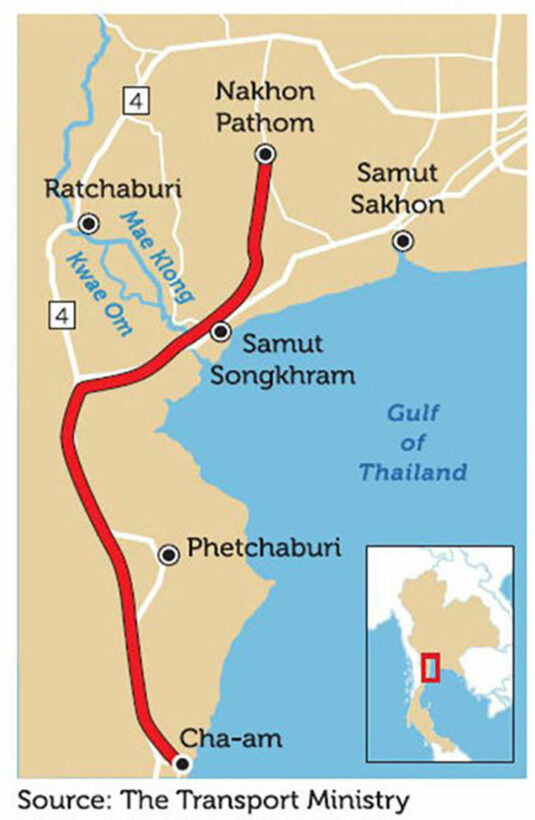 New Thai cabinet to be sworn in Tuesday in Bangkok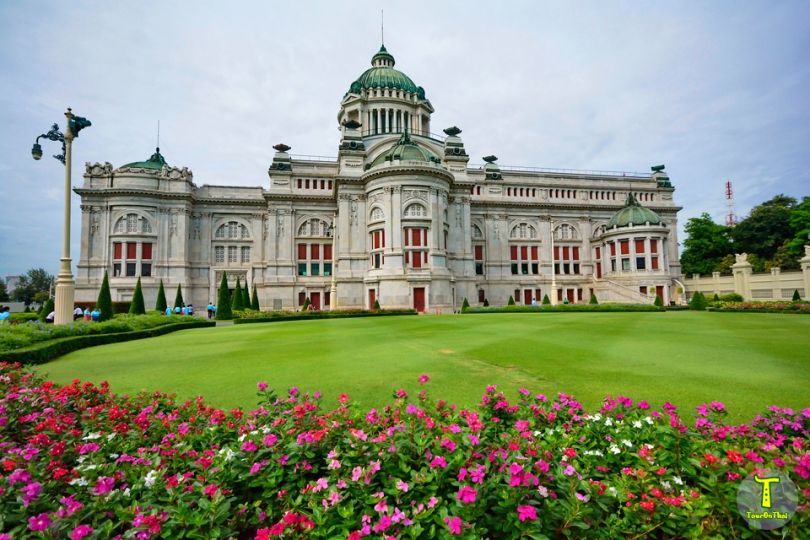 PHOTO: Amphorn Satharn Throne Hall
The new Thai cabinet will be sworn in tomorrow (Tuesday) at the Amphorn Satharn Throne Hall in Bangkok near the Dusit Palace, 3 kilometres north of the Grand Palace. The announcement was made by the the Secretariat of the Cabinet over the weekend.
All 36 Cabinet appointees will travel by shuttle leaving the Phakdee Bordin Building at Government House at 5pm.
The ministers attending the swearing-in have been instructed that they can't drive to the throne hall in their own vehicles.
They are advised to adhere to the "normal" dress code and to bring along personal and government documents relating to the official posts they will assume.
BTS Skytrain stations get maintenance checks after falling concrete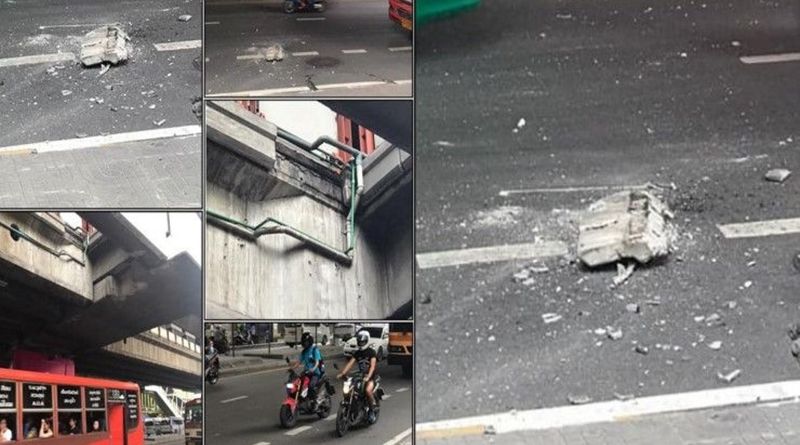 It wasn't the sky falling. It was the Skytrain Station falling on a road in Bangkok.
The Bangkok Mass Transit System (BTS) has announced maintenance work underway at 22 BTS Skytrain stations after a concrete slab fell from the Ari station onto the road below, just missing drivers.
Executive director of the BTSC Surapong Laoha-Unya said they prioritised the safety of the public and passengers so had ordered special maintenance at all 22 main stations on its green line – the Sukhumvit route from Morchit to On Nut and the Silom route from National Stadium to Surasak.
The Skytrain Facebook page announced 96 engineers and 16 cranes are carrying out the checks and maintenance…
• From 10pm on Saturday to 5am Sunday, the seven stations of Ekkamai, Phra Khanong, On Nut, Surasak, Chong Nonsee, Saladaeng and Ratchadamri will be checked.
• From 10pm Sunday to 5am Monday, the eight stations of Siam, Chid Lom, Ploenchit, Nana, Asok, Phrom Phong, Thong Lor and Taksin Bridge will be checked.
SOURCE: The Nation