Heroin making a comeback among Thai teens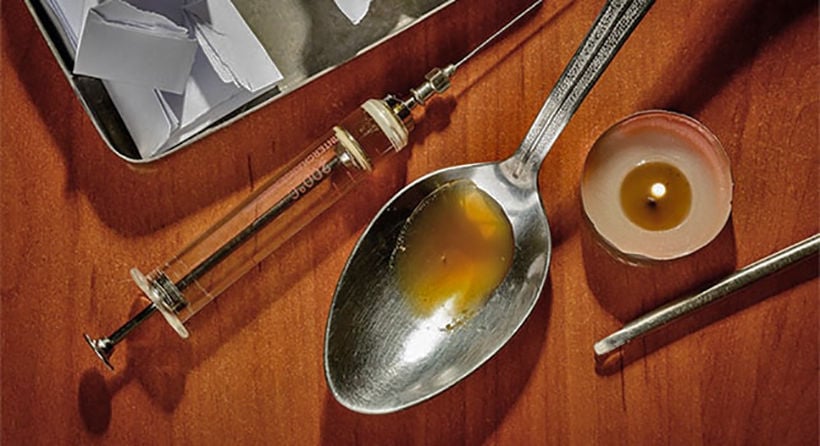 As if the spike in synthetic drugs coming from the so-called Golden Triangle weren't enough, authorities report that heroin is making a comeback in Thailand, especially among teenagers, who are often unaware of the dangers, including HIV and hepatitis C. The Office of the Narcotics Control Board reports rising numbers of teens aged 15-18 admitted to rehab programs for heroin addiction.
More than 3,700 teenagers went into rehab for heroin addiction in 2017; that number increased to 3,980 teenagers in 2019. In the first 8 months of this year alone, the number of teen addicts has already surpassed 2,900, most of whom are new addicts. Fully a third of heroin addicts nationwide are teenagers.
The ONCB's secretary-general says most heroin abuse cases were found in Bangkok, Chiang Rai, Narathiwat, Chiang Mai and Kanchanaburi. Every teen who entered rehab in those areas said they didn't realise they had taken heroin, that they thought the substance was not harmful but just some kind of powder that left them in a trance after use.
"But pure heroin is expensive and it is typically used by adults more than young people due to its steep price. Most young people can't afford to buy heroin. However, physical checks of addicted youths found heroin in their blood."
The ONCB says heroin addiction is on the rise and making a comeback among young users, but the number of addicts and those being treated addiction is still low compared with cases of methamphetamine abuse. The secretary-general says, however, that heroin is being formulated to make it cheaper and more widely available. It is also commonly found mixed with other narcotics.
Seizures of heroin from the Golden Triangle, one of the world's largest production areas along the borders of Myanmar, Laos and Thaland, have been rising every year, according to the ONCB.
The UN Office on Drugs and Crime says the Golden Triangle remains the world's largest heroin producing region. From there the drug is smuggled into Thailand through porous borders before being distributed, domestically and globally. According to ONCB records, 376 kilograms of heroin was seized in fiscal year 2017; that number jumped to 941 kilograms in 2019.
SOURCE: Chiang Rai Times
Keep in contact with The Thaiger by following our Facebook page.
Never miss out on future posts by following The Thaiger.
Cambodian dog slaughterhouse shut down, owner says he is "ashamed"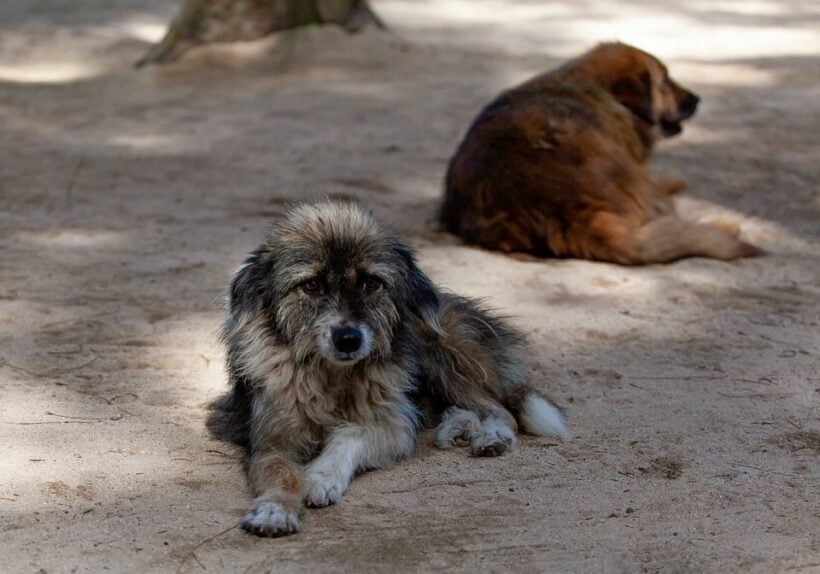 After increasing calls to end the dog meat trade, a Cambodian slaughterhouse is shutting down, with its owner saying he is "ashamed." Ouk Mol, the owner, says the dog slaughterhouse has killed more than a million dogs since opening in 1995.
According to Four Paws animal rights group, Cambodia slaughters between 2 to 3 million dogs per year, while offering the cheap meal of protein at more than 100 dog meat restaurants in Phnom Penh, its capital.
Mol's slaughterhouse is responsible for all the supply to Phnom Penh, but he says he will no longer be killing dogs, citing increasing pressure from animal rights groups and civilians alike. The 50 year old former soldier says he feels ashamed.
"But I want to quit the business because I am getting old and a lot of people have criticised me about the dog meat trade."
The operator was offered financial support from Four Paws to open a grocery store if they shut down their slaughterhouse with Ouk Mol's wife, Sao Phally, saying she is glad they have found a way out of the business.
"We were always worried about sin because of our killing. People looked at us in a bad way."
The slaughterhouse, which uses vats to drown the dogs, and blowtorches to remove their fur, slaughtered up to 200 dogs per day. Now, as of yesterday, the company has shut down, with the remainder of dogs being sent to animal charities for rehabilitation and placed for international adoption.
Phnom Penh is the 2nd city in Cambodia to follow increasing calls to close the dog meat trade, as Siem Reap banned the trade last year in a victory for animal rights groups. Until 2020, Siem Reap, Cambodia's largest tourist city, was known by rights groups as the "lynchpin" of the trade.
Despite Cambodia's efforts to begin closing down its dog meat trade, it is not the only Asian country that features dog meat as a cuisine. Consuming dog meat in Vietnam is more popular than in Cambodia, which shows the industry has a long way to go with regards to respecting animal rights.
SOURCE: Thai PBS World
Keep in contact with The Thaiger by following our Facebook page.
Never miss out on future posts by following The Thaiger.
Pattaya police raid nightclub suspected of presenting pornographic shows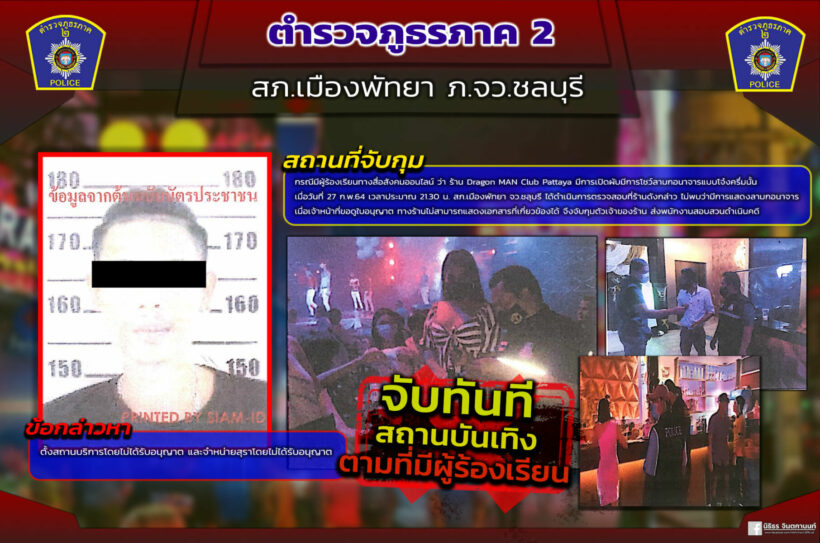 Pattaya City Police inspected a nightclub after reports that the venue was hosting pornographic shows on the weekends. Although the nightclub, Dragon Man Club, wasn't presenting a sexually explicit show when officers came by, the owner was arrested for operating an entertainment business and selling alcohol without the proper permit.
Police say a tip was made through social media from an anonymous source. Officers asked the nightclub owner for the venue's license, but the owner did not have the document at the time. Police arrested the owner. The nightclub owner was not named in reports.
SOURCE: Pattaya News
Keep in contact with The Thaiger by following our Facebook page.
Never miss out on future posts by following The Thaiger.
Bangkok Military Court issues arrest warrant for medic accused of injecting troops with fake Covid-19 vaccine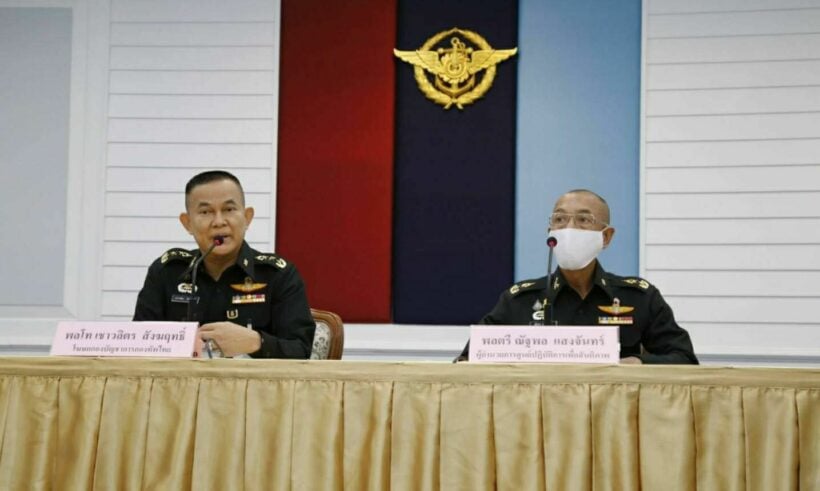 The Bangkok Military Court has issued an arrest warrant for a Royal Thai Army medic who is accused of injecting troops with a fake Covid-19 vaccine. He reportedly made more than 100,000 baht by charging troops, who were on a United Nations mission, 500 baht each for a tetanus vaccine and a fake Covid-19 vaccine, which an internal army investigation determined was just saline solution.
The Thai Army held a press conference after the medic's fake vaccine scam made headlines, saying the incident had tarnished the army's image. The field medic, who was also a lieutenant, injected more than 250 Thai troops stationed in South Sudan on a UN peacekeeping mission with the fake vaccine, claiming it was the head doctor's order, Army Army spokesperson Santipong Thammapiya confirmed. He says the medic was in the Thai-South Sudan Horizontal Military Engineering Company.
"This incident affects the image of the Thai Armed Forces and Thailand in the United Nations mission. It is a serious disciplinary offence and also violates ethical standards as the wrongdoer is a doctor."
The medic injected troops with a legitimate vaccine for tetanus as well as a saline solution shot he claimed was a Covid-19 vaccine. He charged 500 baht for the vaccine package, adding up to more than 100,000 baht, according to a UN investigation.
The medic had been sent back to Thailand. The Bangkok Military Court has now issued a warrant for his arrest. Previous reports said the medic's license was revoked, but a recent report by Nation Thailand says the Medical Council is considering whether to revoke his doctor's license.
SOURCE: Nation Thailand
Keep in contact with The Thaiger by following our Facebook page.
Never miss out on future posts by following The Thaiger.