Heroin making a comeback among Thai teens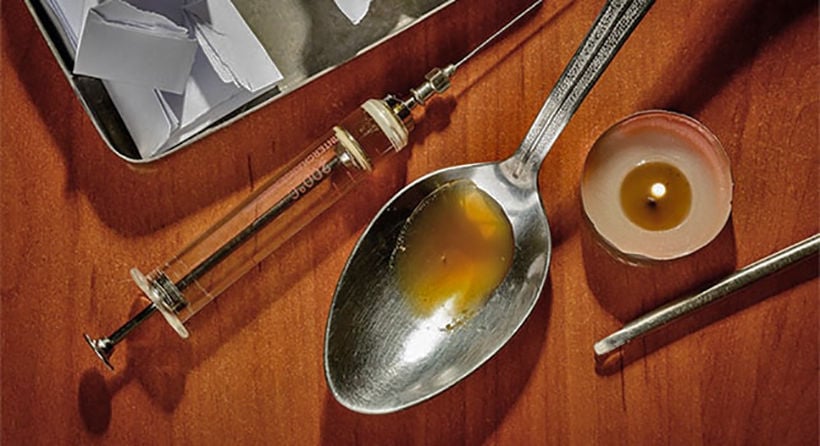 As if the spike in synthetic drugs coming from the so-called Golden Triangle weren't enough, authorities report that heroin is making a comeback in Thailand, especially among teenagers, who are often unaware of the dangers, including HIV and hepatitis C. The Office of the Narcotics Control Board reports rising numbers of teens aged 15-18 admitted to rehab programs for heroin addiction.
More than 3,700 teenagers went into rehab for heroin addiction in 2017; that number increased to 3,980 teenagers in 2019. In the first 8 months of this year alone, the number of teen addicts has already surpassed 2,900, most of whom are new addicts. Fully a third of heroin addicts nationwide are teenagers.
The ONCB's secretary-general says most heroin abuse cases were found in Bangkok, Chiang Rai, Narathiwat, Chiang Mai and Kanchanaburi. Every teen who entered rehab in those areas said they didn't realise they had taken heroin, that they thought the substance was not harmful but just some kind of powder that left them in a trance after use.
"But pure heroin is expensive and it is typically used by adults more than young people due to its steep price. Most young people can't afford to buy heroin. However, physical checks of addicted youths found heroin in their blood."
The ONCB says heroin addiction is on the rise and making a comeback among young users, but the number of addicts and those being treated addiction is still low compared with cases of methamphetamine abuse. The secretary-general says, however, that heroin is being formulated to make it cheaper and more widely available. It is also commonly found mixed with other narcotics.
Seizures of heroin from the Golden Triangle, one of the world's largest production areas along the borders of Myanmar, Laos and Thaland, have been rising every year, according to the ONCB.
The UN Office on Drugs and Crime says the Golden Triangle remains the world's largest heroin producing region. From there the drug is smuggled into Thailand through porous borders before being distributed, domestically and globally. According to ONCB records, 376 kilograms of heroin was seized in fiscal year 2017; that number jumped to 941 kilograms in 2019.
SOURCE: Chiang Rai Times
Keep in contact with The Thaiger by following our
Facebook page
.
5 year old Burmese girl raped, murdered in Tak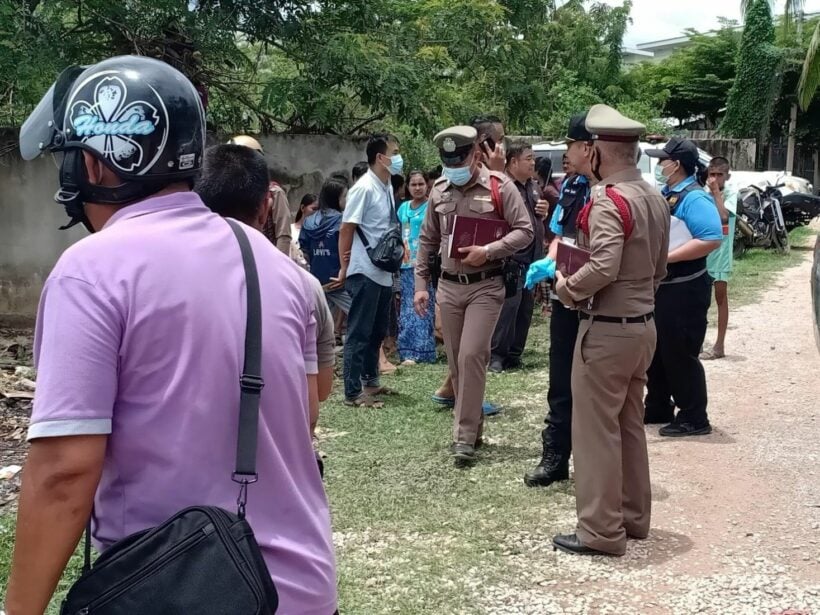 Villagers in the north western Tak province were shocked yesterday by reports of the rape and murder of a 5 year old Burmese girl. Her body was discovered in a forest in Mae Sot district. Police went to Muhajireen community in Mae Sot after being notified of the crime. They found the girl's body, her hands and legs bound with rope and her clothes torn.
It's was assumed the girl was raped and murdered. 3 suspects have been arrested while authorities await forensic test results. Mae Sot Hospital has confirmed the girl suffered internal injuries and bleeding. Doctors also found a piece of cloth stuffed in her mouth.
The community of about 100 residents were horrified by the news. They say the girl went missing at around 7pm on Friday and was found the next morning.
Witnesses claimed that they saw a man take the girl away while she was playing alone in the yard. He reportedly returned alone. It was later revealed the man had previously been convicted for rape and imprisoned for 7 years when he lived across the border in Myanmar.
SOURCE: Nation Thailand
Keep in contact with The Thaiger by following our
Facebook page
.
Man fatally shot in hunting expedition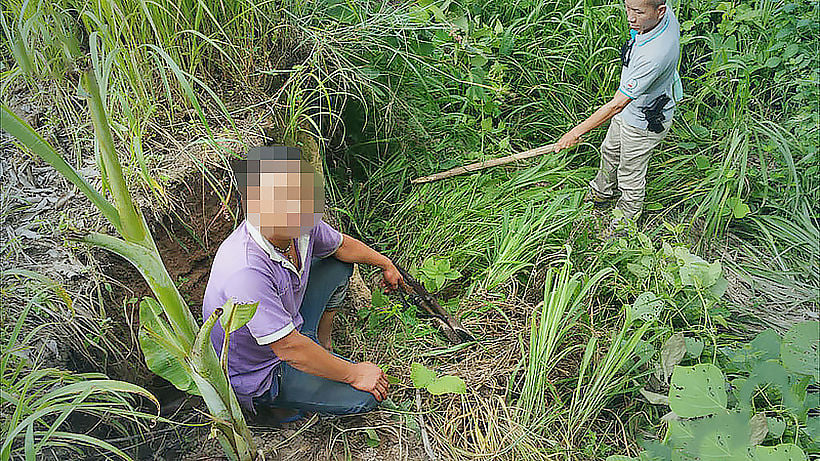 Authorities in Lamphun province, south of Chiang Mai, have arrested 29 year old Weerachai Rorwongtawan for allegedly shooting dead his friend, Phitsunu Tanupetchpan, while hunting with 2 other friends. The suspect told police he had invited his friends to go hunting with him, and that he and Phitsunu were in different areas of the forest. When he saw something moving among some bamboo, he thought it was an animal and fired. Phitsunu later died of his wounds.
Weerachai claims he was shocked to hear his friend's cries, and quickly decided to call the police and an ambulance. But the dead man's older brother pointed to inconsistencies in the alleged killer's story. He said Weerachai told him he thought Phitsunu was a wild cat and hence shot him. But when questioned by police he said he thought his friend was a rat.
He also said Weerachai did not confess initially that he had shot his brother, saying it was an accident. Police have confiscated the gun and are questioning Weerachai and the other people hunting at the same time. All were charged with use of narcotics after urine tests.
SOURCE: Nation Thailand
Keep in contact with The Thaiger by following our
Facebook page
.
Intoxicated navy officer fatally shoots police rescuer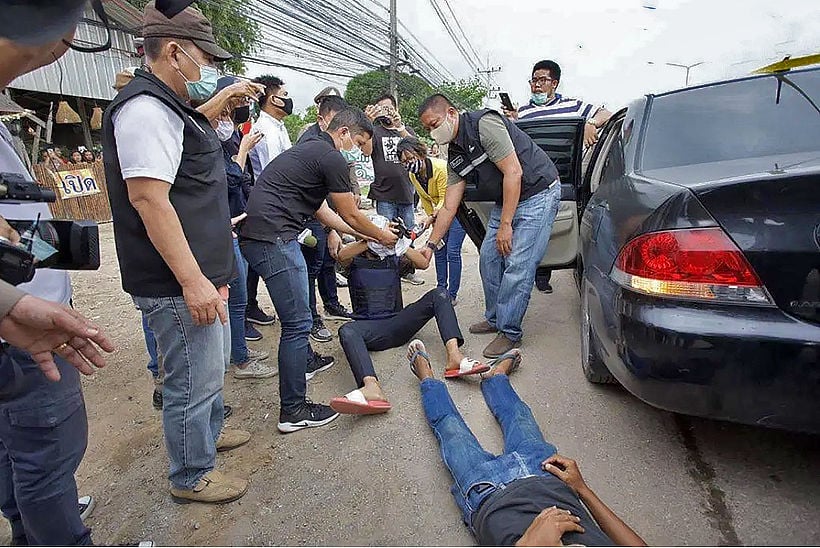 A police volunteer in Chon Buri province's southern Sattahip district was fatally shot when he tried to rescue a heavily intoxicated navy officer from his flipped vehicle. A bystander was also shot and injured. Police were alerted to the incident at around 2am. When they showed up they found 33 year old Rit-rong Yasawut, fatally injured, with inebriated 23 year old Jirat Katanyoo laying next to him.
Also at the scene was 50 year old bystander Adun Chansaeng, the owner of a nearby restaurant, nursing a gunshot wound on his right arm, and the soldier's girlfriend 23 year old Sutthina Wuttichai. She told police Jirat was drunk before driving, which resulted in him flipping the car. When Rit-rong showed up to try and rescue him, Jirat began firing at him.
Jirat had been shot 3 times in the chest and twice in the arm, and succumbed to his injuries at Somdej Phranangchaosirikit Hospital, where the others were also taken for treatment.
Police believe Jirat may have been so drunk that he started hallucinating that the rescuer was coming to attack him.
He faces charges of intent to murder, second degree homicide, brandishing a firearm in public and drunk driving. He remains in police custody and the Thai Navy has also been involved in the investigation. The case will be prosecuted by the Chonburi Military Court.
SOURCES: Nation Thailand | Thai Examiner | The Pattaya News
Keep in contact with The Thaiger by following our
Facebook page
.