Cambodian dog slaughterhouse shut down, owner says he is "ashamed"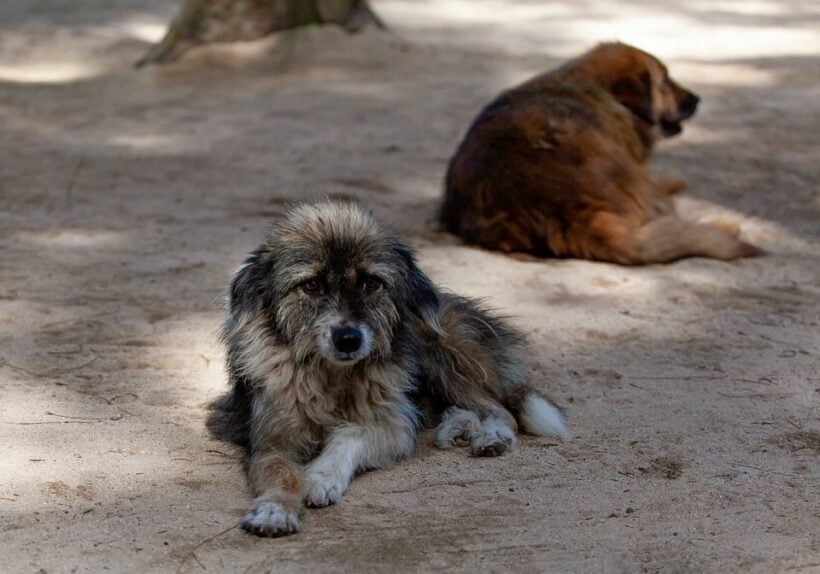 After increasing calls to end the dog meat trade, a Cambodian slaughterhouse is shutting down, with its owner saying he is "ashamed." Ouk Mol, the owner, says the dog slaughterhouse has killed more than a million dogs since opening in 1995.
According to Four Paws animal rights group, Cambodia slaughters between 2 to 3 million dogs per year, while offering the cheap meal of protein at more than 100 dog meat restaurants in Phnom Penh, its capital.
Mol's slaughterhouse is responsible for all the supply to Phnom Penh, but he says he will no longer be killing dogs, citing increasing pressure from animal rights groups and civilians alike. The 50 year old former soldier says he feels ashamed.
"But I want to quit the business because I am getting old and a lot of people have criticised me about the dog meat trade."
The operator was offered financial support from Four Paws to open a grocery store if they shut down their slaughterhouse with Ouk Mol's wife, Sao Phally, saying she is glad they have found a way out of the business.
"We were always worried about sin because of our killing. People looked at us in a bad way."
The slaughterhouse, which uses vats to drown the dogs, and blowtorches to remove their fur, slaughtered up to 200 dogs per day. Now, as of yesterday, the company has shut down, with the remainder of dogs being sent to animal charities for rehabilitation and placed for international adoption.
Phnom Penh is the 2nd city in Cambodia to follow increasing calls to close the dog meat trade, as Siem Reap banned the trade last year in a victory for animal rights groups. Until 2020, Siem Reap, Cambodia's largest tourist city, was known by rights groups as the "lynchpin" of the trade.
Despite Cambodia's efforts to begin closing down its dog meat trade, it is not the only Asian country that features dog meat as a cuisine. Consuming dog meat in Vietnam is more popular than in Cambodia, which shows the industry has a long way to go with regards to respecting animal rights.
SOURCE: Thai PBS World
📱 Download our app on Android or iOS for instant updates on your mobile
📧 Subscribe to our daily email newsletter
👍 Like/Follow us on Facebook
🔔 Subscribe to or Join our YouTube channel for daily video updates
'Vice' removes retouched pics of Khmer Rouge victims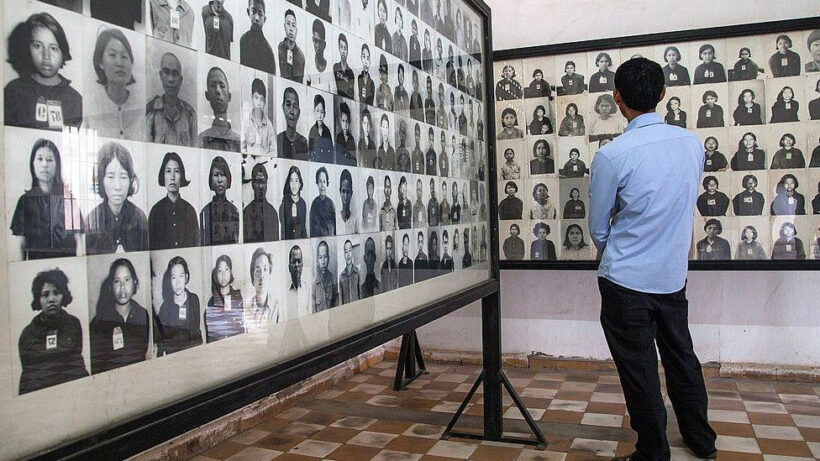 US/Canadian media company Vice has removed Photoshopped photographs of Khmer Rouge victims from its website after a furious backlash. The grim photos, originally taken before the victims were tortured and methodically killed, had been colourised and, in some cases, had smiles added.
"Vice Media Group LLC is an American-Canadian digital media and broadcasting company. Developing from Vice magazine, originally based in Montreal. Vice expanded primarily into youth and young adult–focused digital media."
Matt Loughrey, a digital artist, had colourised and 'touched up' photos from the notorious Tuol Sleng S-21 torture prison in the Cambodian capital Phnom Penh. It was at this notorious facility, previously a primary school, where 14,000 people lost their lives under the orders of Khmer Rouge leader Pol Pot. Only a handful of people survived to tell the tale of Tuol Sleng S-21 after the Khmer Rouge fell in 1979 at the hands of the Vietnamese.
Some 1.7 – 2 million people, around a quarter of the existing Cambodian population at the time, died from execution, disease, starvation and forced labour under the ruthless Khmer Rouge regime that opportunistically took over control of Cambodia between 1975 – 1979 and renamed it Kampuchea.
The Khmer Rouge led a one-party Marxist-Leninist totalitarian dictatorship and dragged the country back to a 'Year Zero' state where academics, teachers, lawyers, doctors, and clergy were targeted, tortured and killed. Even people wearing glasses were targets of their murderous regime.
Cambodian officials objected to the use of the gruesome images, noting that the digital artist had "added smiles". Cambodia's minister of culture and fine arts, Phoeurng Sackona, is quoted in a CNN article saying the use of the photos was insensitive.
"The alteration of these photographs shows an utter insensitivity for the people who died, the families who have had to continue on without their loved ones, and historical truth itself."
"The distorted photographs have needlessly once again traumatised the families and our nation."
At this stage neither Mr. Loughrey or Vice have apologised for the gaff.
The Vice article was attacked by readers, Cambodians and social media, who claimed that Mr. Loughrey had added smiles to some of the photos.
Vice has since removed the story and retouched photos from the internet.
"The story did not meet editorial standards. We regret the error and will investigate how this failure of the editorial process occurred. It included photographs of Khmer Rouge victims that Loughrey manipulated beyond colourisation."
An online petition demanded that Vice remove the article, gathering some 7,000 signatures.
(For an overview of the story of the Khmer Rouge and their murderous 4 year reign, watch 1984 movie, The Killing Fields.)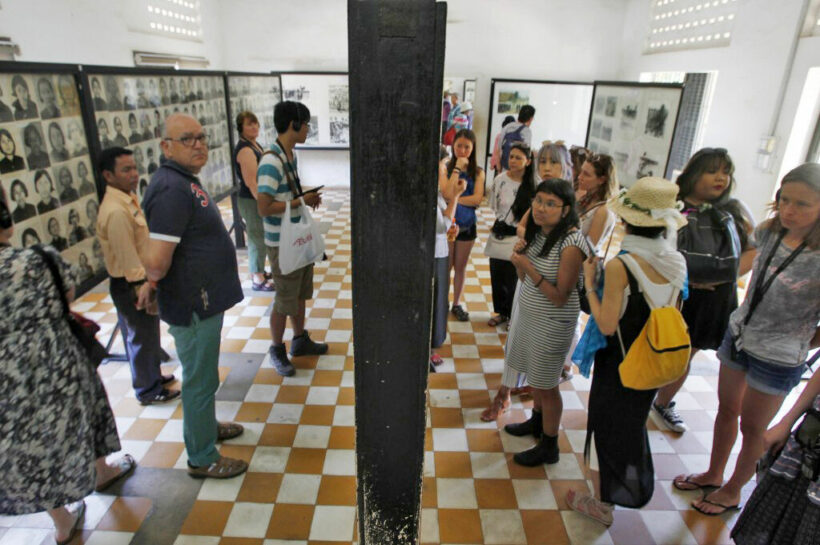 SOURCE: CNN.com
📱 Download our app on Android or iOS for instant updates on your mobile
📧 Subscribe to our daily email newsletter
👍 Like/Follow us on Facebook
🔔 Subscribe to or Join our YouTube channel for daily video updates
Cambodia threatens jail for Covid-19 quarantine violations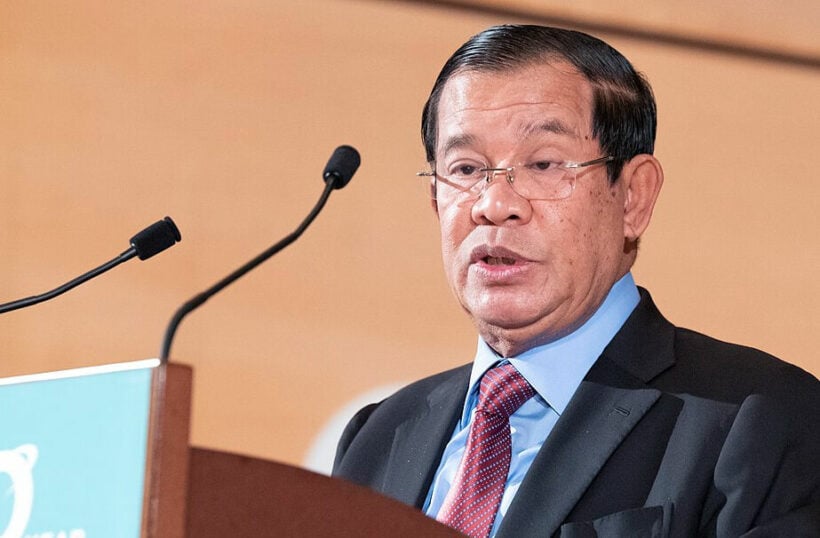 In the face of expanding Covid-19 infections in Cambodia, Prime Minister Hun Sen has warned that violators of quarantine may face prison sentences, and government workers could be fired if they don't get vaccines. More than 1,000 new Coronavirus cases were diagnosed in the last 2 days along, nearly 25% of the total cases since the pandemic began. The government has forbidden out-of-province travel and implemented evening curfews in the main city of Phnom Penh. They even shut down all the tourist attractions including the world-famous Angkor Wat temple complex.
Face masks are already mandatory now in Phnom Penh, with fines up to US $250 for anyone caught violating the order. But PM Hun Sen, himself having had a close brush with Covid-19 months ago, has imposed a 2-week quarantine and has made it clear that punishment for any rule-breakers will be harsh and swift. The government has already enacted a strict bill to curb the spread of Covid-19 in Cambodia, with prison terms of up to 20 years for serious violators. In an address broadcast on state-run television, he promised a "quick trial'.
"People who break Covid measures must be sentenced, I accept being called a dictator, but I will also be admired for protecting my people's lives."
Cambodia began Covid-19 vaccination in February, with a million citizens already receiving at least their first of two injections. In a country of 16 million, that 6% is a healthy start for their vaccination programme. The Prime Minister also declared vaccination mandatory for all state officials and members of the military. He asserted that their job was on the line if they failed to comply.
Cambodia had done well with low Covid-19 infection numbers during the pandemic, but in February, the virus tore through the Chinese ex-pat community, with the outbreak causing a surge in infections proliferating across the country. The situation is worsening now, as hospitals in Phnom Penh are running out of beds and the government is converting large halls and local schools into medical centres for mildly afflicted patients.
SOURCE: Bangkok Post
📱 Download our app on Android or iOS for instant updates on your mobile
📧 Subscribe to our daily email newsletter
👍 Like/Follow us on Facebook
🔔 Subscribe to or Join our YouTube channel for daily video updates
Tourism developments threaten Cambodia's forests and coastline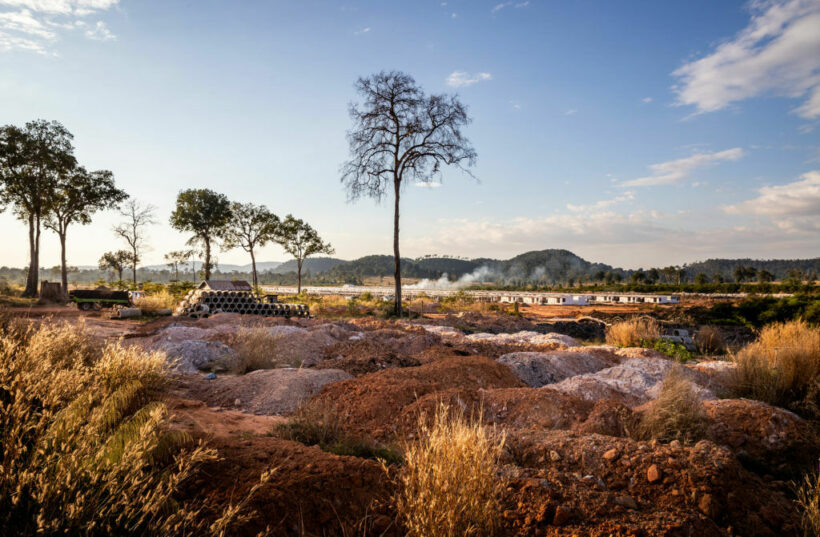 The following story is by Danielle Keeton Olsen and Roun Ry for China Dialogue, a nonprofit focused on environmental news related to China and Asia.
"Before when we wanted to eat, we just went and caught some fish, but now it's nothing like before, as all the natural resources have disappeared," says 68 year old Sen Chantha who lives in a coastal hamlet within Ream National Park in southwest Cambodia. His house faces the turquoise waters of the Gulf of Thailand.
The mangrove forests, wetlands and rocky coasts that supported abundant wildlife in the park have also attracted opportunistic developers. Cambodia's government has granted development rights for mass tourism resorts leading to deforestation and the drainage of ecologically vital mangroves.
"On the way out, you will see many big trucks clearing land all over the place… They've started clearing about four kilometres away, and they'll probably come here," says Chantha, who has lived in Prek Trabek village since the early 1990s. As forest cover has disappeared, Chantha has become a campaigner, keen to defend his community against a Chinese developer backed by the Cambodian elite.
Rights threatened
Chantha's family is one of more than 100 in his village engaged in a years-old conflict over land with the Chinese company Yeejia Tourism Development, whose concession surrounds their homes. The company has allowed them to remain in the area, but severely restricted their space to live and work.
55 year old Choeun Trop says Yeejia has taken part of her land and stopped her from collecting rattan from the forest.
Over the past 2 or 3 years, officials from the company have monitored her community tightly, at one point requiring members to carry identification cards and barring outside visitors, she says.
Trop's son, then 16, is now in jail after joining a protest against Yeejia during which some protestors dismantled a guardhouse at the entrance to the company's concession.
"We're poor. It's been very difficult, and we couldn't ask anyone to help," she says. She tried to enlist the support of 2 Cambodian human rights organisations, but both told her they could not intervene. "I cry and cry, and if I cry too much, I'm afraid I will faint again, and no one will take care of my son. My son cries because the situation inside the prison is terrible, and he has a very small space to sleep."
Forests and wetlands
Ream National Park covers 34,000 hectares of diverse landscapes that include the Prek Toek Sap estuary, low-lying mountains, miles of mangroves, seagrass beds, coral reefs and parts of two islands.
General forests cover 55% of the land, while mangroves take about 7%. A vital ecosystem for biodiversity, mangroves support many plants, fish and crustaceans, and the fisheries they nurture feed local people.
Elsewhere in the park, remote areas of dry forest, covering 13%, could still conceal one of the last populations of rare wild cattle known as kouprey, according to a 2006 report by University of Copenhagen ecologist Robert Schmidt.
When Ream was established in 1995, it faced significant levels of commercial logging and fishing – at least one-third of its area had already been heavily changed as a result of resource extraction.
Finding ways to stop this was one of the new park's main concerns, and international organisations, including the Asia Development Bank and the United Nations, were deployed to help find solutions.
Internationally funded projects concentrated on developing a management plan for the park and on training park rangers. Opening the park's headquarters in late 1998, the then-environment minister, Mok Mareth, promised Ream would be a "role model" for protected areas in the country.
But although the funded projects did manage to end commercial resource extraction, illegal logging and fishing continued to flourish, with corrupt police, navy officers and fishermen combining forces to plunder the park. Then, when international funding ended in 2000, the park was left with very little financial support.
Several reports at the time recommended ecotourism as a way to fund the park. In one from the Economy and Environment Program for Southeast Asia, published in 2001, academic Thanakvaro Thyl de Lopez outlined a "dream park" scenario, in which revenue would be generated through nature-driven tourism, allowing local people living inside the park to continue using its resources in a sustainable way.
But the report warned that this scenario would require the support of international donors, at a time when their programmes had not been renewed due to "lack of interest".
Developers descend
With the promise of sustainable tourism starting to fade, commercial tourism stepped in.
In June 2008, Prime Minister Hun Sen signed decrees granting concessions to two companies – Yeejia, and Evergreen Success & Asia Resort Development.
Yeejia was given rights over 3,300 hectares of the park, an area they named Golden Silver Bay. When reporters visited the concession in January 2021, they found around a dozen half-built hotel-sized structures, most flanked by Cambodian guards. Outside one of them, a sign reads Qin Yue Ream National Coast in both Khmer and Chinese characters. Further in, patches of newly-paved road led to clearings where rows of identical off-white cottages stood out against the raw, red earth. Another road opened out onto a fresh construction site, where excavators were levelling a hillside, the roots of the remaining trees dangling over the manmade cliffs.
The other company, Evergreen Success & Asia Resort Development, was given a concession of 2,377 hectares.
Evergreen Success is tied to Hun To, a nephew of the prime minister, who has been investigated by the Australian authorities in connection with drug smuggling and money laundering. According to a 2012 report in The Age newspaper, To was of interest to Operation Illipango, an Australian investigation into heroin concealed in Cambodian timber shipments. Plans to arrest To were derailed when the Australian embassy in Phnom Penh cancelled his travel visa.
Powerful connections
To has since become a co-director of the Lixin Group, a Taiwanese construction and property company that has already developed a hotel in Sihanoukville under the US-based brand Wyndham.
Lixin is heavily promoting its "New City" development in Ream National Park. An advertisement on the resort's WeChat channel from September emphasised the eco-tourism side of the project. But plans for the resort include massive developments inside the park, from a golf resort and a horse racing track to casinos and hotels, all flanked by mangroves.
Yeejia's rise in Cambodia has also depended on elite contacts. Company chair Fu Xianting's resumé includes time in the Chinese People's Liberation Army and then in state-owned companies, one of which brought him to Cambodia for a conference on agricultural machinery and light manufacturing.
According to a 2016 Financial Times investigation, Cambodia's Council of Ministers revoked Fu's concession in Ream after concerns about forest clearance from environmental groups. But Fu, who has close personal ties to Hun Sen, met with the Cambodian leader and obtained his support for continued development.
Yeejia's development plans for Golden Silver Bay range from casinos and luxury hotels to a conference centre and medical rehabilitation facilities. Its WeChat social media presence shows it is advertising to Chinese developers seeking a slice of Cambodia, as well as to tourists. In November, Yeejia held a small ground-breaking ceremony with Zhonghai Tianhong Real Estate (Cambodia), which has leased 4 hectares of land from the developer on a 99-year lease – the same timespan as Yeejia's 2008 concession within the park. This is despite the fact that, according to Cambodian law, concessions cannot be sold to another company without a new contract being drawn up with the government.
Neither Yeejia nor Lixin would respond to requests for comment from China Dialogue.
Ongoing destruction
Beyond the bulldozers currently clearing land in the name of tourism, illegal logging for timber has continued in Ream. Chantha, the community activist, says the state-employed park rangers conduct frequent patrols, but will release loggers who pay them. Chantha has accompanied the patrols and claims to have witnessed bribe-taking.
According to the 2001 de Lopez report, about half of rural households inside the park engaged in illegal logging in the past. Chantha and other villagers admit to cutting trees for their own use before Yeejia officials stopped them.
But things are different now. "The Ministry of Environment officials blame the community for deforestation, but it's not us," he says. "It's someone outside and hired by some oknha (tycoons) or rich businessman to come clear land here."
Meanwhile, the coast of Ream and the rest of Preah Sihanouk province is also under threat. Ouk Vibol, director of conservation in Cambodia's Fisheries Administration, says overfishing is a significant challenge, with trawlers scooping up whatever fish they can find, destroying seagrass beds in the process. The loss of mangroves due to the park's tourism developments is also having a big impact on fish stocks, says Ouk.
"If you destroy one habitat, there are real negative impacts on the species that move from one habitat to another."
Just outside the national park, a little-known Chinese–Cambodian company, Canopy Sands Development, has undertaken a massive coastal reclamation project on 427 hectares granted by the Cambodian government. The company was formed one month before it received the land. Its shareholders also chair powerful companies in Cambodia, including Prince Group, whose China-born director, Chen Zhi, has obtained Cambodian citizenship through his investments.
This and other developments along the coast, which once boasted waters teeming with lucrative squid, crab and fish, have changed local fishers' lives.
Docking just north of the Canopy Sands development, 27 year old Chan Ra says he has to be very careful where he drops his fishing lines. The traditional gear he uses to catch squid is made with large shells strung out along a line. The squid nestle into the shells for shelter without the need for bait. The shells are durable but expensive and are often damaged by the sand-dredging boats filling the Canopy Sands area, says Ra. There are still some squid to be found close to the shore, but the fisher says he has to travel further to catch crabs.
Ra lives mostly on his boat these days, because another company has been reclaiming land from the sea on the bay where he used to live. "Before we could reach home by boat, but now they're filling it with land," he says.
Ra has had to move three times due to development projects. Like many local people, he built a home without procuring an official land title – a requirement that was seldom enforced until land prices began to climb.
Nowhere is safe
32 year old Nam Then runs a small shop selling sundries on a hillside a couple of kilometres from the entrance to Yeejia's concession. He has not been directly impacted by the long-running dispute between local people and the Chinese company, whose concession overlaps their customary land. But he shares his neighbours' concerns and attends meetings about the issue at the Ream commune office.
"We share information around the community," he says. "We are the same people who have the same affections. I am also living in one part of the community, just in a different area."
In June last year, the government finally allocated land and promised titles to the three communities in the park affected by Yeejia's concession. Details have yet to be worked out, however. Then keeps a plastic folder full of documents showing the outlines of plots. Some families are missing out, he says, but he and others are watching the process closely.
Then moved to his current home and shop in 2007 after Ream Naval Academy – part of a military branch that is caught up in controversies over Chinese versus US access – decided to expand into the land near where his family lived.
"Looking back at 2007, we didn't have anything, the people were weak, information systems didn't exist, and we were living in a military zone, so when you're trying to protest, there was big pressure (on us)," he says.
The family's current home is on the other side of the same mountain. They have remained relatively undisturbed since they moved, but, on a morning in late January, Then told reporters that much of the land facing his house had been cleared. He was not sure what for. When reporters passed his house again at dusk, a digger was forging a new road around the mountain, leading back to the naval academy.
When he first moved in, Then recalls: "It was all forest, huge forest, there wasn't any road yet." Now, for the villagers of Ream "it's very difficult, because the houses are all on company land."
📱 Download our app on Android or iOS for instant updates on your mobile
📧 Subscribe to our daily email newsletter
👍 Like/Follow us on Facebook
🔔 Subscribe to or Join our YouTube channel for daily video updates