Burmese drug smuggler shot in northern Thailand shootout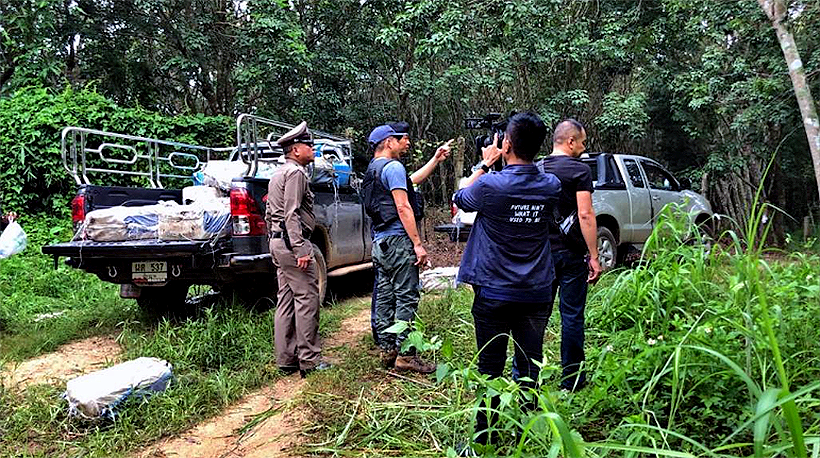 PHOTOS: Manager Online
A Burmese drug suspect has been killed in a shootout with Thai police and soldiers while attempting to ship drugs across the border into Chiang Mai's Mae Ai district early today.
The man was believed to be a fighter with the Shan ethnic group in Myanmar and a part of a group of 30 drug smugglers.
A joint force of 30 policemen and soldiers staked out a forest near Ban San Ton Du in Tambon Tha Don at 2am this morning. They spotted about 30 men in green uniforms carrying a bag each and walking through the forest to two pickup trucks waiting at the end of  dirt road near the forest. They were all armed with military-style assault rifles.
Authorities waited for the suspects to load the bags into the back of the two pickups before emerging from hiding, shouting to the men to surrender and lay down arms. Rather than laying down they responded by opening fire instead.
A gunfight ensued for about 20 minutes before the suspects fled into the forest to cross back over the Burmese border. Police then checked the spot where they found the body of a suspect who had been shot twice in the chest. Another unit managed to arrest another suspect in green military uniform. The suspect was unable to speak Thai.
Authorities also found and seized about 9.8 million methamphetamine pills inside 50 fertiliser bags in the back of the two pickups.
SOURCE: The Nation | Manager Online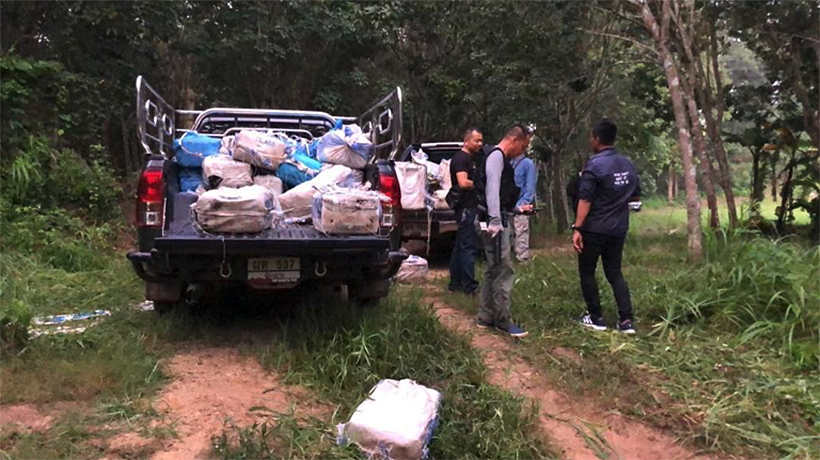 Keep in contact with The Thaiger by following our
Facebook page
.
Police arrest Chiang Mai couple over home-made CBD oil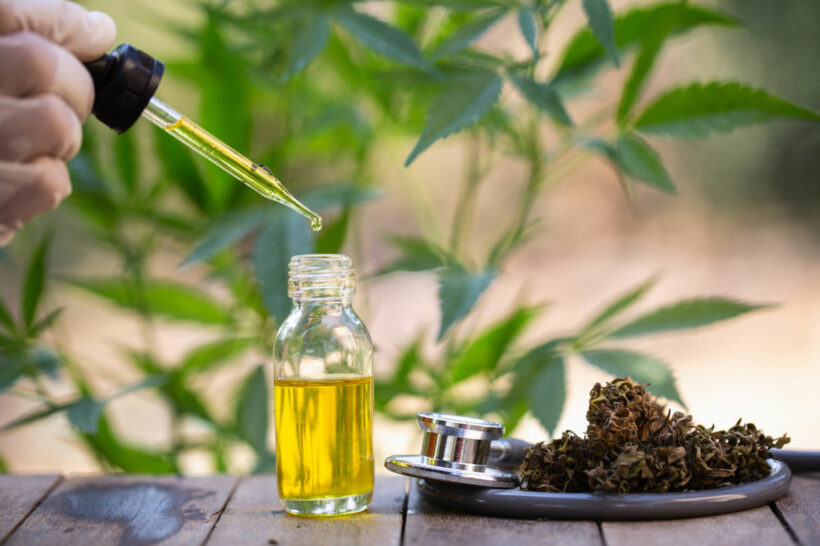 FILE PHOTO
Chiang Mai Police have arrested a husband and wife selling homemade CBD oil (Cannabidiol) online after receiving complaints that a cancer patient died after allegedly using the oil.
Police entered the house with a search warrant and found 3.4 million baht cash along with quantities of the CBD oil they were selling online. Officials received information that CBD oil was being manufactured in the house by the pair and then selling online. Police arrested 34 year old 'Nipon' and 31 year old 'Wichunee', a married couple. The police found evidence of CBD oil production and oil that was already packaged in small bottles. There were at least 30 boxes already packed ready to be shipped.
Officials seized all evidence as they prepare the case for prosecution.
Police received a complaint at the start of the month that a 39 year old woman with cancer had ordered some CBD oil from the couple. Soon after, according to police, the woman died. The relatives believe the death was related to the use of CBD oil but the claims have not been verified by medical professionals at this stage.
Thai Residents report that evidence was found in the investigation, that the marijuana was ordered from a neighbouring country. The couple has been selling their products online for over 2 years.
Wichunee told police that she graduated with a BBA Degree and started selling fruit that could "repel insects" along with some agriculture equipment, then started selling CBD oil because she personally used it and felt that the oil was a success.
She started testing it to cancer patients she knew and reported that the "results were good". This is when she decided to order marijuana from Laos, prepared the oil in their home and sold it at 1,000 baht per bottle.
Wichunee insists that the 3.4 million in cash has nothing to do with the CBD oil business and that it all came from her agriculture business.
SOURCE: Thai Residents
Keep in contact with The Thaiger by following our
Facebook page
.
Could you be a digital nomad in Thailand?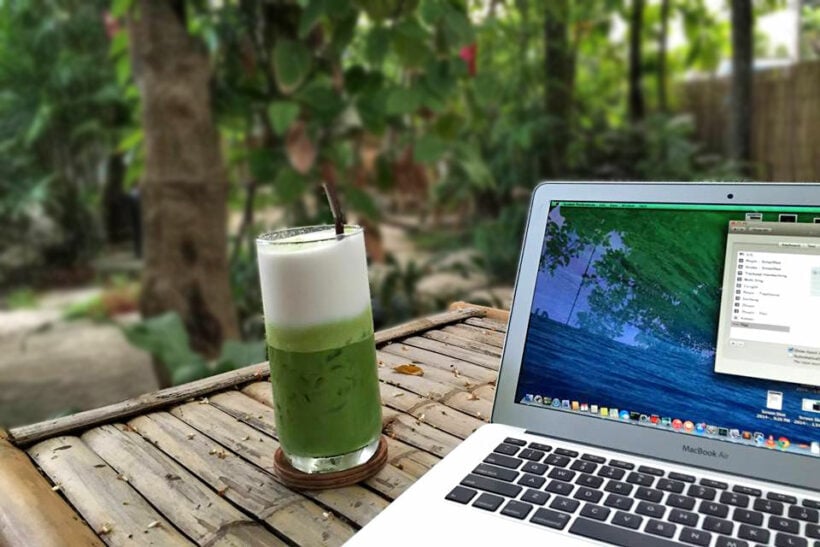 Are you a digital nomad? Working online wherever you can find a seat and wi-fi?
According to digital nomad websites, some of the most popular locations to work online around the world include Chiang Mai & Bangkok (Thailand), Budapest (Hungary), Belgrade (Serbia), Bali (Indonesia), Lisbon (Portugal) and Buenos Aires (Argentina). What do all these cities have in common? The main things is the low cost of living, a favourable climate, great scenery, cultural richness, communities of people who do the same job, and a quality quality of life for the travelling 'nomad'.
Thai PBS spoke to 41 year old Ozzi Jarvien, the pioneer of the digital nomads in Chiang Mai. He has spent more than a decade in the north of Thailand and recalls that in 2006, just before the harsh Finnish winter arrived, he wanted to work somewhere warmer, so he moved back to Bangkok. A few years earlier he had studied in an exchange program in International Business at Bangkok University. Then, returned to his home town in Finland. But in 2007, he relocated to the capital of the northern region of Thailand and established his own company, 'Iglu', a remote working community with three branches nationwide. Basically, he is the real deal in the digital nomads' world.
"The hardest part is to buy that one-way ticket. Just get the ticket and then everything else somehow sorts itself out, because it's much easier than most people think."
"Once they land here, it's easy to find an apartment, you'll never lack a place to stay. It's easy to find food and to find people to work with. I think people imagine that it's harder than it is. One big thing is that the internet is actually good and is everywhere. Even the mobile internet like 4G, it's better here than in lots of EU countries."
Having spent almost five years in Chiang Mai, the city that he loves, 37 year old Jengis Gonzalez is thinking about turning himself from a digital nomad into an expat. He used to work for giant e-commerce firm Amazon.com, which gave him the idea that there is an incredibly large online market in the US. Now he is working for a logistics company based in Chiang Mai, sending products from Thailand to the United States for e-commerce sale, primarily on Amazon.com.
He has some very practical advice for digital nomad wannabes.
"My advice would be, basically, 'have a plan'. I've met so many people who come here, thinking they're going to do something, then realising it's not working out and they don't have a plan B. So, they encounter a lot of issues, like what do I do now? I need to find a job or I need to go back home, or I should figure out a way to keep going'. So, I would say that it's a very risky thing to do".
"Don't hesitate to contact people through Facebook about Digital Nomad groups in Chiang Mai, which are very active. You can find many people doing the same job as you, so your questions will be answered."
29 year old Lilly has been a casting agent for movies for more than 10 years but finds 99% of her work is online these days so prefers to move around and travel, whilst working.
"I live the flexibility and the chance to travel and meet awesome people whilst earning the income to make it all possible. I hit all sort of hurdles along the way but love the adventure. Keep you mind open, make sure you DO work whilst you're travelling and the lifestyle can be great. I tend to move around south east Asia but always end up coming back to the magical island of Phuket."
The biggest problem of being a digital nomad is finding a visa to suit your needs. If you're a real nomad, and spending time in multiple countries and following the weather, the seasons or the festivals, then you can probably get by with tourist visas (although, officially, you're unable to work on a tourist visa). Being a digital nomad in Thailand you should read up about the visa options and see what is practical and will suit your lifestyle.
Read about the Smart Visa and digital nomad life HERE.
And The Thaiger even included them in our list of Top 10 types of expats in Thailand HERE.
ORIGINAL ARTICLE: Thai PBS World
Keep in contact with The Thaiger by following our
Facebook page
.
Chinese netizens want to know what caused panda Chuang Chuang's death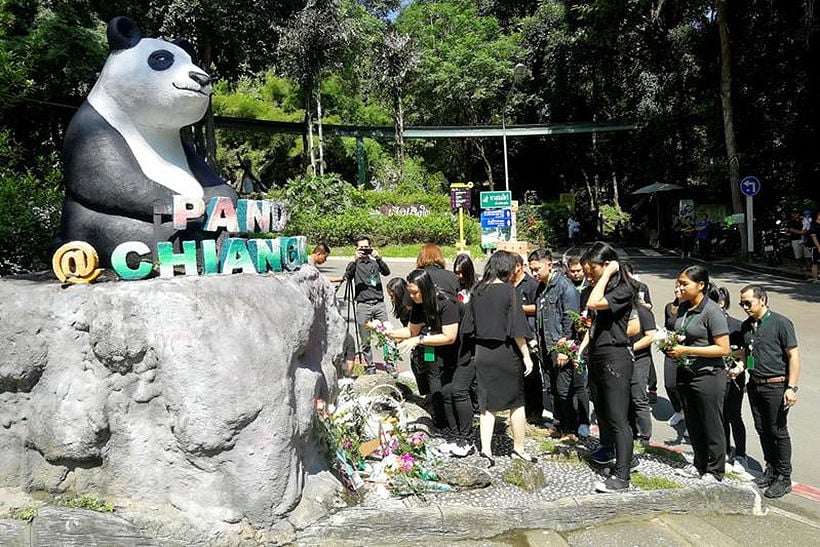 PHOTO: Mourners leave flowers outside the panda enclosure where Chuang Cuang died this week
The "suspicious circumstances" of Chuang Chuang's demise drew more than 260 million views on social media platform Weibo."
Chinese experts have now arrived in Chiang Mai to investigate the death of a beloved giant panda Chuang Chuang, who died at the Chiang Mai Zoo earlier this week at the age of 19.
Millions of Chinese netizens are questioning the cause of the panda's sudden demise.
A resident of Chiang Mai Zoo since October 2003, Chuang Chuang died Monday aged 19 after years of living in a climatised enclosure with female panda Lin Hui.
The pair were on loan from the southwestern Chinese city of Chengdu as part of Beijing's so-called "panda diplomacy" and were supposed to be returned in four years time.
Pandas can live up to 30 years in captivity and Chuang Chuang's sudden death is raising questions about his care.
China "urgently dispatched panda experts" to investigate the cause of death, according to a statement released by Chiang Mai Zoo, and a Chinese-Thai "joint working team" will perform an autopsy.
Thailand has long obsessed over Chuang Chuang and Lin Hui, as the notoriously sex-shy pair had struggled to conceive and were shown video clips of successful panda couplings in an attempt to stir their libidos.
Thanks to artificial insemination, Lin Hui finally gave birth to Linping in 2009, spurring a widely watched live 24 hour "Panda Channel".
The news has struck a chord among Chinese internet users, as trending discussions on the "suspicious circumstances" of Chuang Chuang's demise drew more than 260 million views on social media platform Weibo.
Users criticised the zoo for giving him mature bamboo – usually harder and used to make furniture – as food, though it remained unclear if photos shared were actually of Chuang Chuang.
"Bamboo?? Sure these aren't wooden sticks?"
Others expressed concerns for his female counterpart, using a hashtag "We want Panda Lin Hui to come home".
"The countries that rent giant pandas can keep them if they raise them well, or else they should send them back," said Ningbo Ni Shao, a local media outlet.
The Chinese consulate in Chiang Mai, a city in northern Thailand, released photos on their website Wednesday of Chinese and Thai officials mourning Chuang Chuang, placing flowers by a framed photo near the zoo's entrance.
SOURCE: Agence France-Presse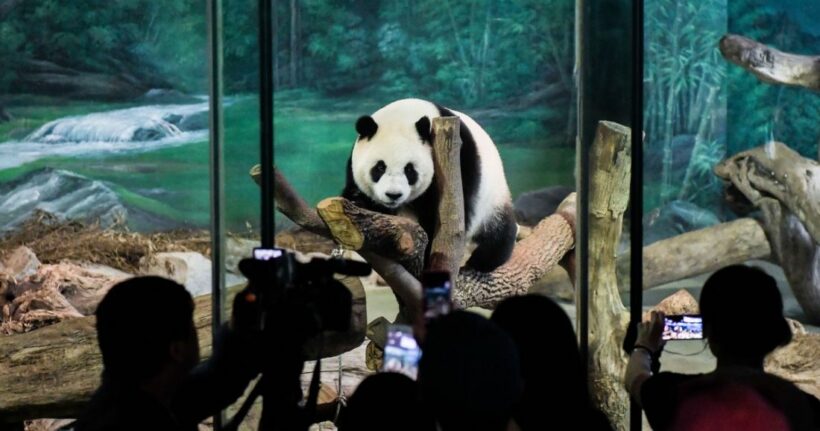 PHOTO: South China Morning Post
Keep in contact with The Thaiger by following our
Facebook page
.