Police announce nationwide crackdown on air pollution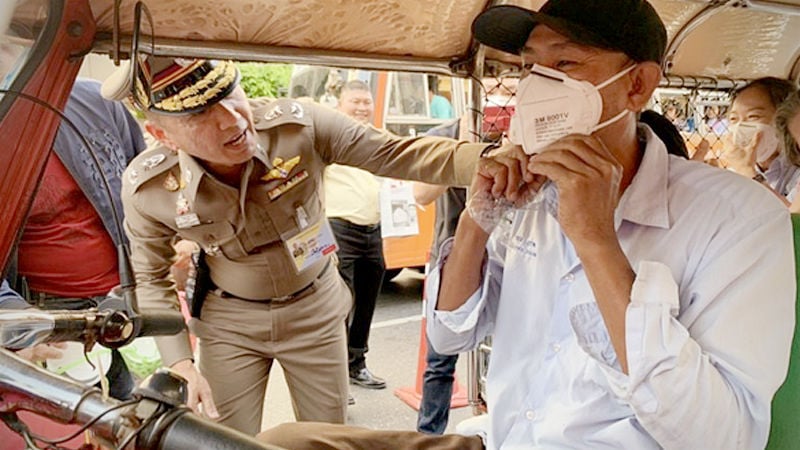 The Royal Thai Police are preparing measures to counter the PM2.5 problem by tackling the sources of air pollution in areas reported with poor air quality, a spokesman said on Sunday. (PM2.5 is particulate matter having a diameter of less than 2.5 microns)
"National Police chief Pol General Chakthip Chaijinda has ordered deputy chief Pol General Suwat Jaengyodsuk to be the central administrator of these measures. They are to be enforced at traffic routes, industrial factories, construction sites and burnt crop fields where the PM2.5 comes from nationwide."
The measures are as follows:
1. Increased frequency and thoroughness of emissions inspections on routes around big cities, especially Bangkok and surrounding provinces.
2. Random inspections at public bus and van terminals, distribution centres, as well as at businesses that use multiple trucks.
3. Coordinate with road construction contractors to reduce air pollution and restore traffic lanes as quickly as possible after construction ends to minimise traffic congestion.
4. Coordinate with related agencies to enforce laws against industrial pollution as well as illegal burning of garbage, forests and crop fields.
5. Improve traffic flow to reduce congestion and ensure that no one parks cars on the sides of main roads, blocking traffic and increasing emissions.
6. Use public relations measures to discourage vehicle owners from parking with the engine on and encourage them to regularly check their vehicles' condition.
Police will also work with private partners to distribute free surgical masks for road users in areas with poor air quality throughout Bangkok.
SOURCE: The Nation

AirVisual
Keep in contact with The Thaiger by following our
Facebook page
.
Never miss out on future posts by
following The Thaiger
.
Economic concerns put Bangkok's ban on 10-wheel trucks on hold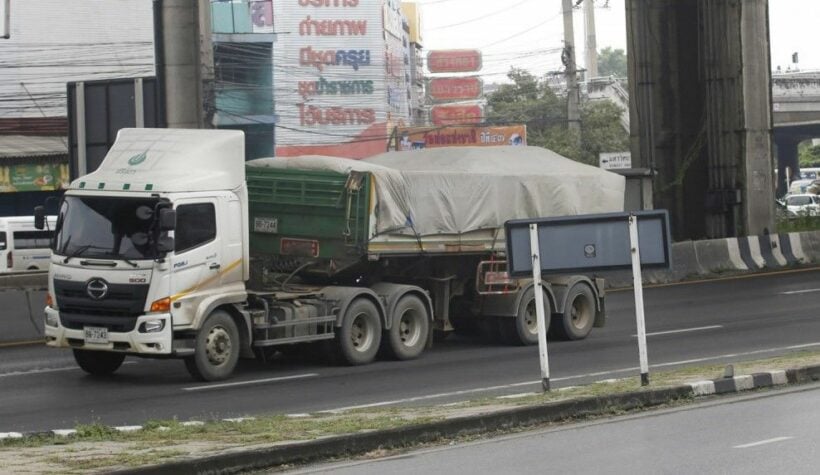 Officials in Bangkok have decided to delay a proposed ban on 10 wheel trucks in light of the current economic challenges affecting the transportation and industrial sectors. The proposed ban was aimed at reducing PM2.5 air pollution in the capital and was expected to come into force from December 1 – 28.
Particulates – also known as atmospheric aerosol particles, atmospheric particulate matter, particulate matter (PM), or suspended particulate matter (SPM) – are microscopic particles of solid or liquid matter suspended in the air – Wikpedia
PM2.5 refers to particulate matter (solid and liquid particles) with a diameter of less than 2.5 micrometres that remain suspended in the air for longer. They can be the result of burning fuel and are the primary cause of smog.
Commenting on the decision to delay the ban indefinitely, Deputy National Police chief Damrongsak Kittipraphas says the relevant authorities agreed the timing is not right.
"The police have discussed with related agencies, including the Department of Industrial Promotion, Pollution Control Department, the Thai Chamber of Commerce and the Public Transport Association, and agreed to postpone the rule indefinitely. The members at the meeting were concerned that the rule could obstruct the operation of the industrial and transportation sectors that are starting to recover from the economic contraction. Therefore, the related agencies promised to study the issue thoroughly, as well as explore other options to prevent and reduce PM2.5 air pollution in Bangkok."
However, Damrongsak says that from December 1, authorities in the capital will be clamping down on large polluting vehicles, adding that those emitting clouds of black smoke are one of the biggest contributors to air pollution.
"We will send officers to perform random checks at bus terminals and truck operation centres. The inspection will be recorded via video camera to ensure transparency of police work."
SOURCE: Nation Thailand
Keep in contact with The Thaiger by following our
Facebook page
.
Never miss out on future posts by
following The Thaiger
.
New national haze forecast website gives 3 day forecasts at 70% accuracy rate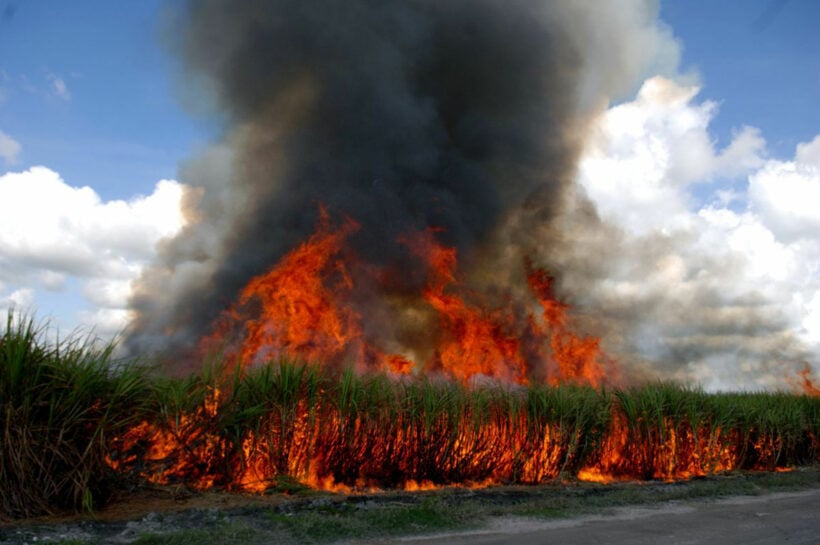 Thailand is getting a new national haze forecasting website that is capable of giving a 3 day forecast at a 70% accuracy rate. The Pollution Control Department is unveiling the "Mekong Air Quality Explorer" platform, which was named after the area is was originally designed to monitor. The PCD teamed with the USAID and NASA, the latter of which has permitted the use of its data from its GEOS-5 satellite-which ranks as one of the world's most accurate parameters for gauging atmospheric levels of PM 2.5, black carbon and nitrous oxide.
Aekkapol Aekakkarararungroj, the project chief, helped develop the new model, which came as part of ongoing efforts to capture the overall picture in the Mekong Region, which has been strongly affected by the burning season in northern Thailand.
"From now on, anyone can access the haze website to check the PM2.5 situation in advance and the department will use the information to better implement measures to limit the impact of air pollution on people's health and the local environment."
Aekkapol says the forecasting website will also provide detailed nationwide air quality data right down to the district level, as it has begun importing air quality and PM data from its air monitoring stations in Bangkok and surrounding areas. Additionally, it is using data from 14 other provinces nationwide.
Today, PM2.5 levels are forecasted to be moderate with a small rise to be seen tomorrow in Bangkok, Samut Prakan, Nakhon Pathum, Samut Sakhon and Nonthaburi provinces. Aekkapol says people living in these areas should expect guidance from local authorities on the best steps to take to minimise their exposure.
Thailand's PCD Director-General Attapol Charoenchansa says that further development is underway to enable an even more precise estimates, right to the sub-districts and individual highways.
SOURCE: Chiang Rai Times
Keep in contact with The Thaiger by following our
Facebook page
.
Never miss out on future posts by
following The Thaiger
.
Residents express health concerns as smog engulfs Pattaya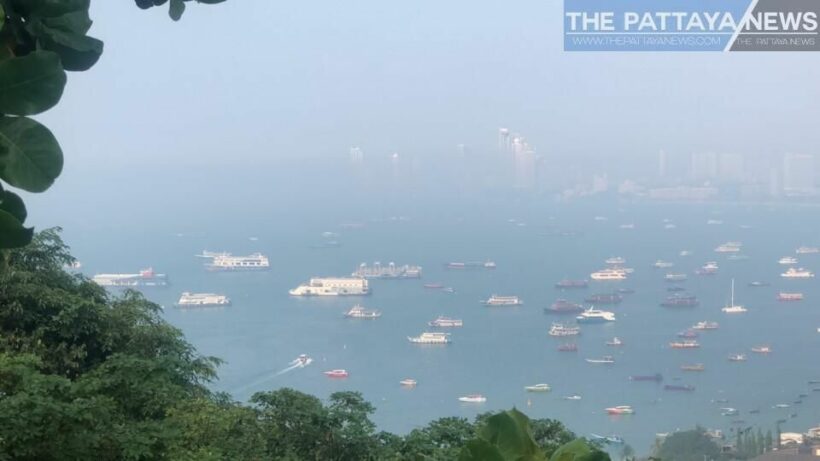 Pattaya residents have expressed concern over air pollution, as the eastern coastal city finds itself engulfed in smog. The Pattaya News reports that the deterioration in air quality has been ongoing for a number of days, with a cloud of haze obscuring the bay and neighbouring islands.
Residents are advised to wear masks when outside and to limit outdoor exercise, according to officials, who have so far not clarified what the cause of the pollution might be. It comes as mass sugar cane burning is taking place in farming communities around the country, an activity that has caused air pollution problems in the past. While sugar cane burning is technically illegal, residents say the law is not strongly enforced, resulting in an annual rise in air pollution levels.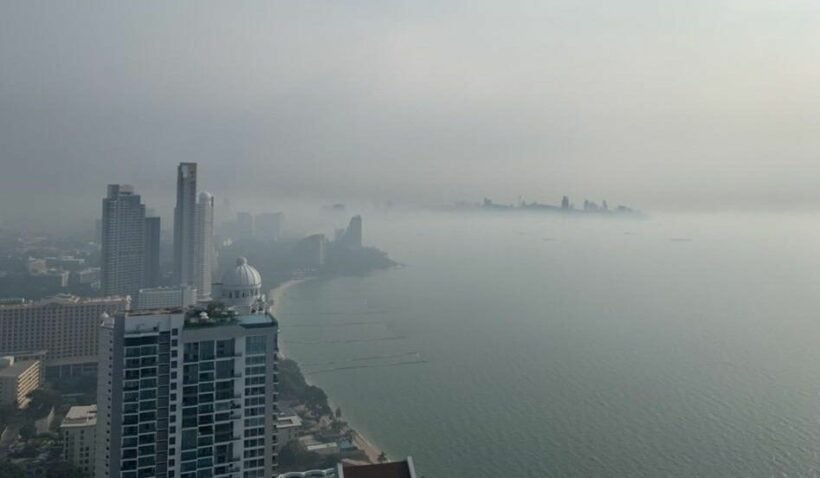 PHOTO: The Pattaya News
Netizens are urging the government to do more to prosecute farmers and large companies found indulging in the practice. They are also calling on sugar cane customers to reject burnt produce, in the hope it will force producers to use cleaner harvesting methods.
In the past, officials have pointed to tourist traffic, including airplanes, boats, and buses, as being a possible cause of the pollution. However, with air quality continuing to deteriorate, despite the current significant decline in air travel and tourist numbers, that hypothesis seems unlikely.
SOURCE: The Pattaya News
Keep in contact with The Thaiger by following our
Facebook page
.
Never miss out on future posts by
following The Thaiger
.