12 things to do for the perfect long holiday in Hua Hin this weekend 2023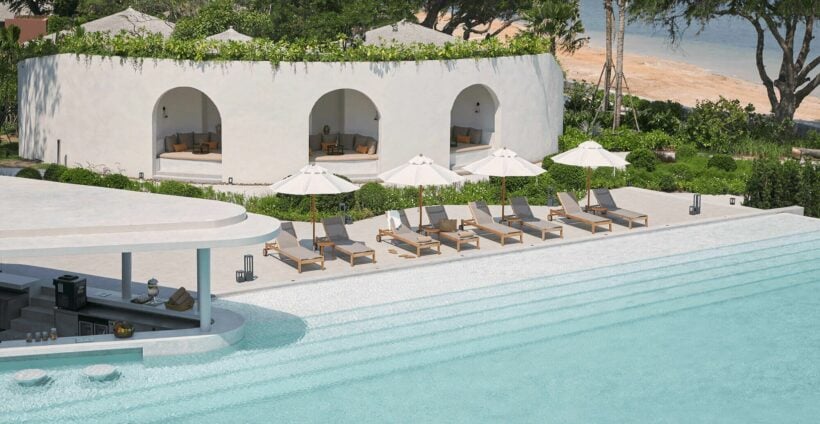 The upcoming four days weekend (4th – 7th May 2023) is the perfect time to take a little trip to take your mind off the stresses of daily life. And what better way to enjoy the long holiday than to go on a road trip to Hua Hin? Located only 3 hours away from Bangkok, Hua Hin is the perfect destination for those who don't want to spend too much time on travel. And the seaside resort town is filled with fun things to do. From beautiful beaches to trendy cafes, here are 12 things to do in Hua Hin for a memorable long weekend trip.
1. Relax on the beaches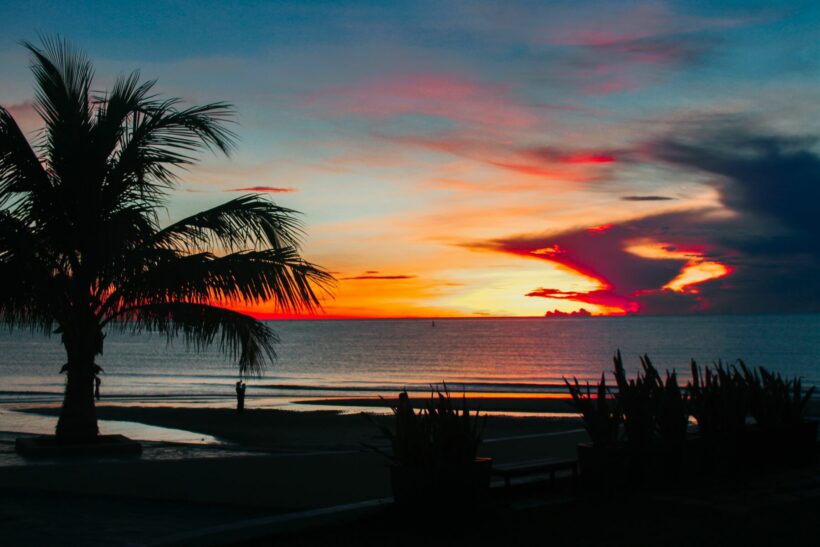 Upon arriving in Hua Hin, you should naturally head to the beautiful beaches. Thanks to its location on the western side of the Gulf of Thailand, Hua Hin boasts some of the most breathtaking beaches in Thailand. Give your eyes a much-needed break from the busy concrete jungle scenery of Bangkok by visiting the most popular Hua Hin Beach. With an almost 8 kilometers stretch of fine white sand, there are lots of activities you can enjoy, such as jet skis and banana boats.
There are some sunbeds offered for visitors as well, perfect to work on your tan while reading your favorite book. Or, have some splashing time and swim in the ocean! Hua Hin Beach is also lined with beachfront resorts, which are great if you want to have the beach right outside your door during your holiday.
If you're looking for something more secluded, head to the Khao Takiab beach. Situated 7 kilometers south of Hua Hin, it's a lot more secluded and offers the perfect opportunity to experience the real Thai culture. At one end of the beach, you can find the popular Monkey Mountain, which is a hill that is filled with macaque monkeys. With a short climb up the hill, you'll find a beautiful Buddha temple. And since the hill overlooks the bay area, you can get a spectacular view of the ocean.
2. Go cafe hopping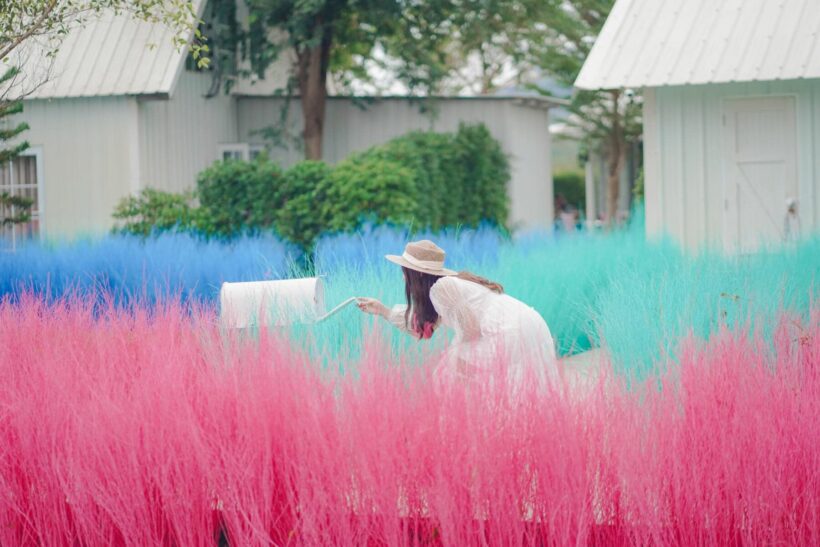 Did you know that Hua Hin is dotted with Insta-worthy cafes? Not only are they beautiful, but they also offer delicious dishes in a relaxing atmosphere. That's why cafe hopping is one of the best things to do in Hua Hin. The most popular is the Memory House Cafe, which offers a feast for both your eyes and your taste buds. The cafe is widely known for its magical field of multi-colored grasses that serve as a great backdrop for colorful fancy photos. It's best to come in the morning when the field's beauty is at its peak. But beyond its magnificent rainbow field, the Memory House Cafe also serves a delicious menu. Their signature drinks come with a cute sleeping bear on top, and their dessert will definitely satisfy your sweet tooth.
After taking some pictures for your Instagram and indulging in some sweet treats, head to Eureka Beach Cafe for a mouthwatering, savory lunch. The beachside cafe serves freshly-made pasta, so be sure to try one of their pasta dishes, such as the Hotate Truffle Cream Fettuccine. For drinks, the famous Kai Kem (salted egg) Latte is a must-try. Since the cafe is located right at the beach, you can enjoy your scrumptious meal while relaxing and watching the waves.
For dinner, hop to the Airspace Hua Hin, a vintage cafe with an aircraft theme. A sizable plane (based on the Wright Brothers' original plane) hangs gracefully from the ceiling of the roomy cafe/restaurant, which is also furnished with aviation-related memorabilia. In addition to its unique decor, get ready to have your mind blown by the delicious food and fragrant coffee. From Thai to Western cuisines, everything is made with top-quality ingredients and special attention to detail.
Hua Hin Vegan Cafe and Wine is a welcoming spot for everyone, especially those who love plant-based food. You can enjoy a wide variety of tasty vegan dishes made from fresh, local ingredients. As you dig into your meal, you'll find it's perfect for vegans and non-vegans alike. The cafe offers a great wine list, with organic and vegan-friendly options. These wines are just right for pairing with your meal.
3. Splurge in the shopping centers and markets
Ready to shop until you drop? With a plethora of amazing markets and shops, shopping is among the best things to do in Hua Hin. Whether you're looking for antiques, summer accessories, or unique handicrafts, you'll find anything you want here. The Cicada Market is the place to go for everything art-related, such as artifacts, handmade items, and home decor. The Market is divided into 4 zones, including a zone for handmade items, an amphitheater for live performances, a zone for art products, and a zone for Thai and international cuisine.
For those looking to sample drool-inducing street food and cheap cocktails in the beachside town, the Hua Hin Night Market is a must-visit. Aside from delicious food, you'll also find many shops selling crafts, beachwear, jewelry, Buddhist tokens, and unique lamps.
Another spot for shopping you shouldn't miss out on is the Hua Hin Market Village. It's the first large-scale shopping and entertainment center in the town, with a food hall, a range of international brands, and a multiplex cinema. Plus, it's fully air-conditioned, making it a great place to escape from the heat.
4. Enjoy the delicious food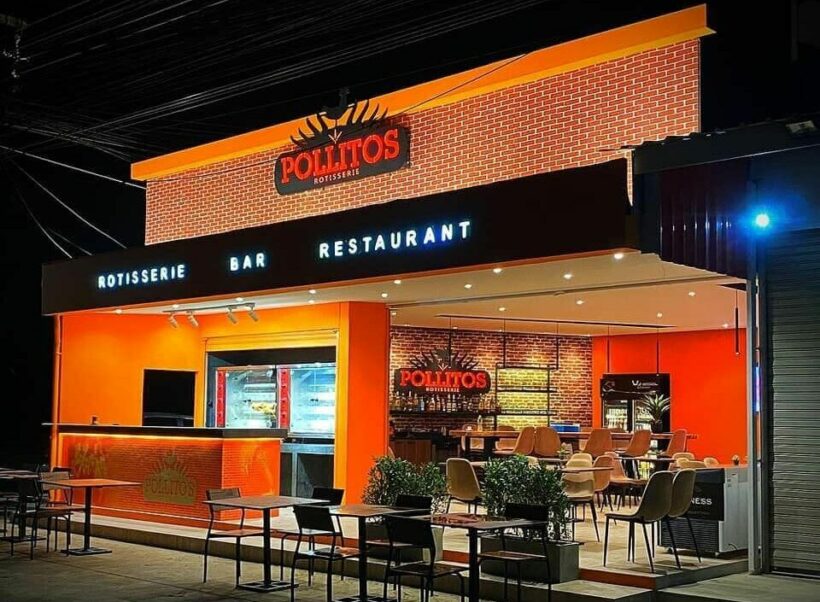 When it comes to delicious food, there's no shortage of great restaurants to visit in Hua Hin. The Mom's Kitchen Soi 6 is the best place to go for homemade Thai and Western food. It's easy to see why this restaurant is almost always busy. First of all, the food is delicious, and the price is reasonable. Moreover, the owner learned to cook in Germany, so the German dishes are especially tasty. Be sure to try the beef roll with red cabbage and mashed potato, which is incredibly fulfilling and delicious.
Are you a lover of Indian food? Hua Hin has a number of great Indian restaurants to tingle your taste buds, including the Shiva Indian Restaurant on the side street of Soi 88. This restaurant has quite a big following in Hua Hin, thanks to its authentic quality and exceptional service. The curries are fantastic, so be sure to try some! Beware, though; the food is pretty spicy. Therefore, don't forget to tell your preferences when ordering.
For something a little different, visiting Pollitos is an absolute must during your long weekend trip this July. Do yourself a favor and order the whole chicken meal. Not only is the chicken juicy, but also bursting with flavor that'll make your tongue dance with happiness. Other items on the menu, like the chicken burger, chicken wraps, and chicken Masala also have an immaculate taste. And for such huge portions, everything is inexpensive.
5. Relax in amazing hotels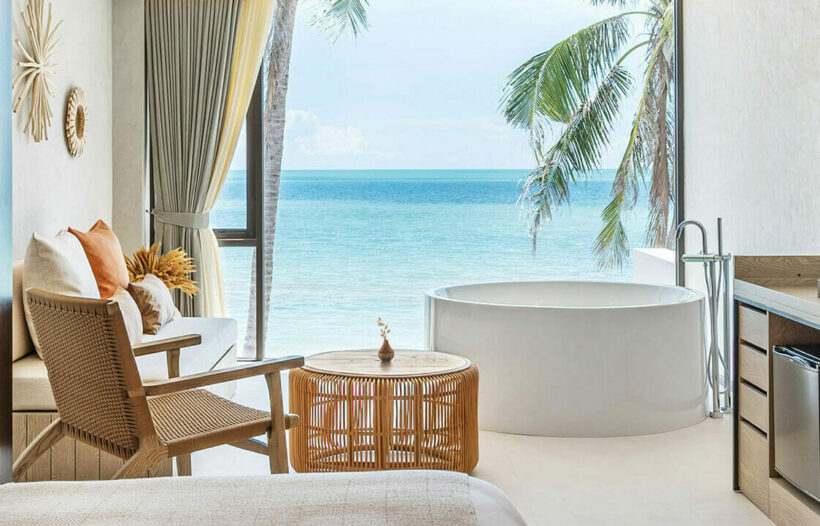 When it comes to rest and relaxation, there are numerous fantastic hotels in Hua Hin to choose from. The Vala Hua Hin is a top staycation spot that you should try in the seaside town. The spacious rooms offer plenty of opportunities for rejuvenation. And since it's a beachfront resort, you can enjoy breathtaking ocean views from your room.
If you're in the mood for a luxurious stay, InterContinental Hua Hin can be a great choice. Thanks to its ideal location on Hua Hin beach, you'll have easy access to Hua Hin's famous attractions. But you don't really have to go anywhere to enjoy a good time. The lavish hotel has everything you'll ever need for a glamorous holiday, from luxuriously designed rooms to a prime stretch of white sandy beach, eight amazing restaurants, and a signature spa.
For an escape from the buzz of Hua Hin, the SO/ Sofitel Hua Hin should be on top of your list. It's located on a quiet beach near Cha-Am, so you can enjoy complete relaxation. The stylish hotel boasts playful artwork and contemporary architecture. For unparalleled tranquillity, stay in their signature private pool villas.
Need a distinct place to stay during your holiday? Stay in the beautiful Marrakesh Hua Hin Resort & Spa. Inspired by the rich and colorful culture of Morocco's Marrakech, the hotel is perfect for a romantic escape with your special someone. Spend your days in the seductive hotel rooms, try delicious cocktails in the beach bar, or indulge in Argan Oil Therapy at the spa.
7. Get in touch with nature at Mangrove Forest Hua Hin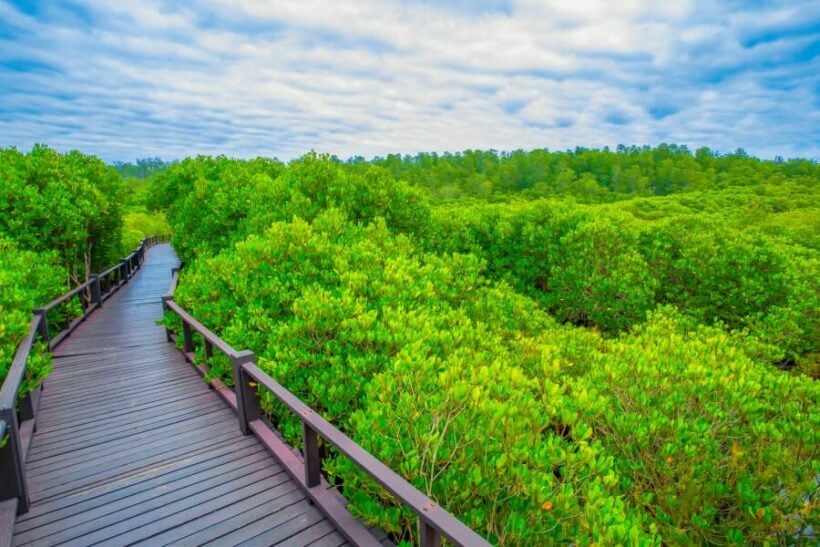 One of the best things to do in Hua Hin is to immerse yourself in nature at the mangrove forest, The Pranburi Forest Park. The park is famous for its enormous, lush mangrove forests and winding pathways that take visitors to every part of the area. Pranburi Park is the ideal getaway from some of the buzzing city life because of its unspoiled views and natural beauty.
The best part is that it's essentially free, making it a fantastic day trip from Hua Hin. Along with the serene and magnificent environment, you'll also get to witness a wide variety of plants and wildlife, many of which are unique to Thailand.
7. Visit the Hin Lek Fai Hua Hin Viewpoint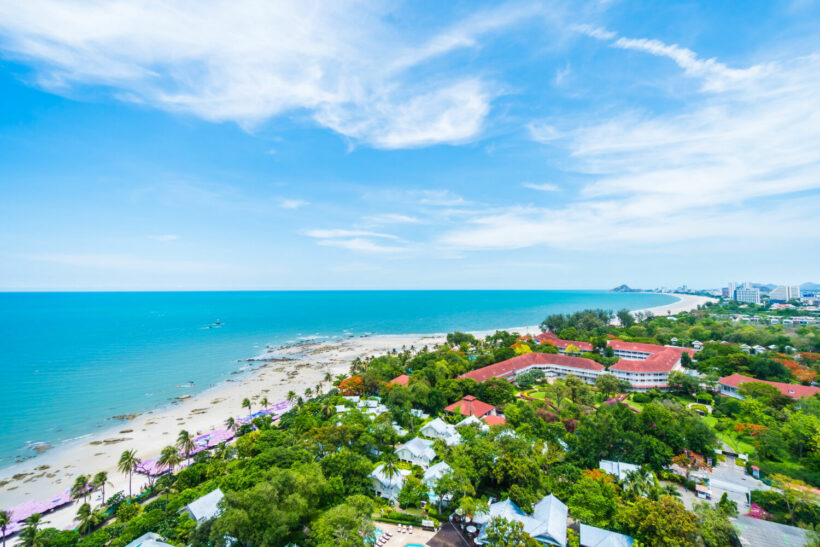 For some fresh air and striking scenery, the Hin Lek Fai Hua Hin Viewpoint is not to be missed. Standing 163 meters high, it offers a magnificent bird's eye view of the resort city and its coastline. It's a wonderful spot to explore since it has a park, landscaped gardens, and even a coffee shop at the top of the hill.
At the top of Khao Hin Lek Fai, there are six distinct viewpoints. If you turn your head to the north, you can see Cha-Am's shoreline. The unusual shape of Khao Takiab (also known as "Chopstick Hill") is readily visible from the south. You can also view the Royal Hua Hin Golf Course's well-kept fairways in the distance as you look down on the city's center, as well as the Gulf of Thailand in the distance.
8. Have a splashing time in the waterpark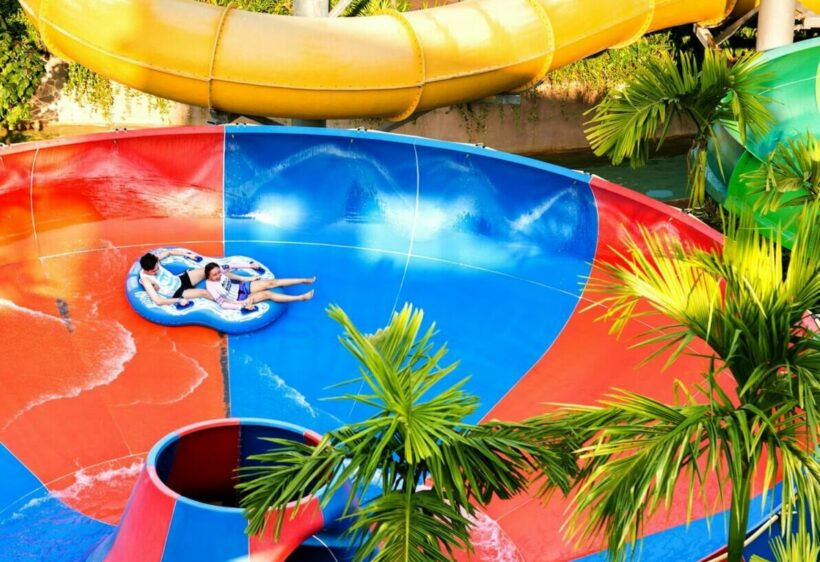 There are plenty of opportunities to enjoy a splashing time with your family in Hua Hin, especially in Thailand's scorching summer this year. One of the best things to do if you're looking for a refreshing time is to go to a waterpark, such as the Vana Nava Hua Hin. Dubbed Asia's first water jungle, you'll find the world's best rides, slides, and various other attractions hidden deep inside tropical jungle surroundings.
There are four zones within the Vana Nava Hua Hin water jungle. Your kids will have an exhilarating time in Vana Wonderland. For the whole family, there's a lazy river, kiddie cove, coconut beach, and infinity pool. Are you a thrill seeker? Try the climbing wall or chang the surf zone in the Adventure Zone. There are also plenty of rides for adults, including the Master Blaster and the Freefall by TrueMove H.
9. Visit the beach clubs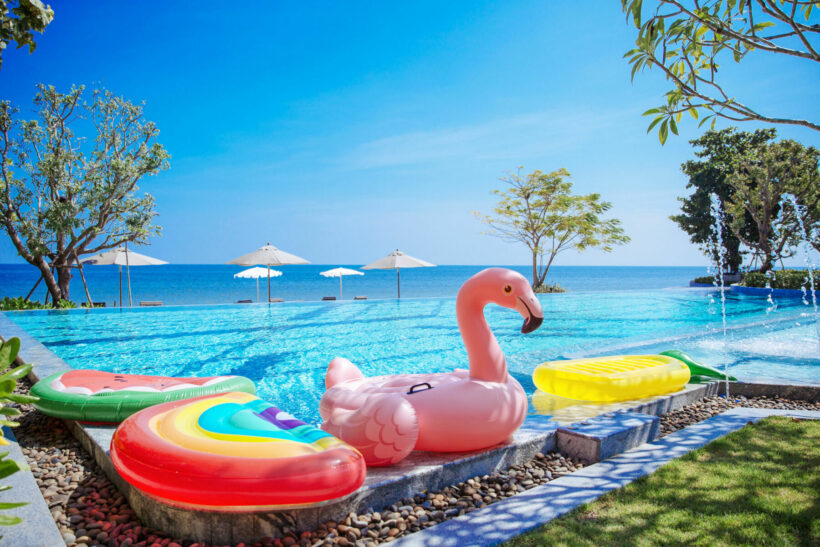 With brilliant infinity pools, sensational DJs spinning by the beach, and inventive cocktails, visiting a beach club is a high priority on the list of things to do in Hua Hin. Imagine reclining on a sunbed while sipping a piña colada and listening to some great beats and the sound of the waves. The most famous beach club is the Coast Beach Club and Bistro Hua Hin, which offers a range of delicious cuisines and drinks and boasts the ultimate tropical vibes.
For sun seekers and music lovers, visit the Baba Beach Club. Since it's part of a luxury hotel that prides itself as a 'Music Lovers Hotel,' you can expect great quality music played during your time there. The beach club also held regular parties and events, perfect if you need vibrant entertainment during your holiday.
10. Savour delicious seafood in Cha-Am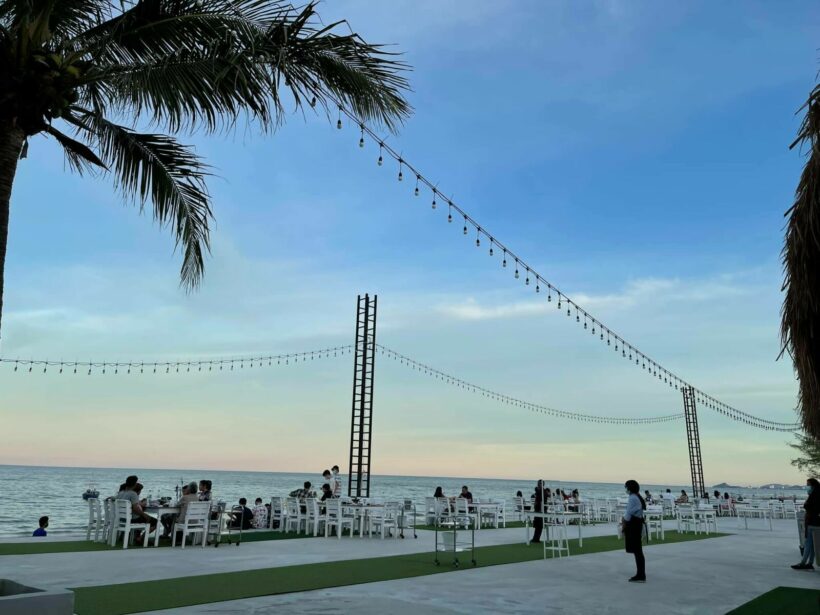 While you're visiting Hua Hin, why not drop by Cha-am- another quiet beach retreat situated 20 km north of Hua Hin. Cha-am is your go-to city for fresh and reasonable seafood! Go to the Dao Talay Seafood Restaurant for some of the freshest seafood in Thailand. The most popular is the crab meat with yellow curry powder and egg called neua boo pad pongari and hard shell clams known as hoy dalub pad cha. Want to enjoy seafood right at the beach? The Chomview Seafood is another great seafood restaurant to visit. Enjoy some mouthwatering seafood while watching the ocean waves dancing in front of your eyes.
11. Take a Vineyard Tour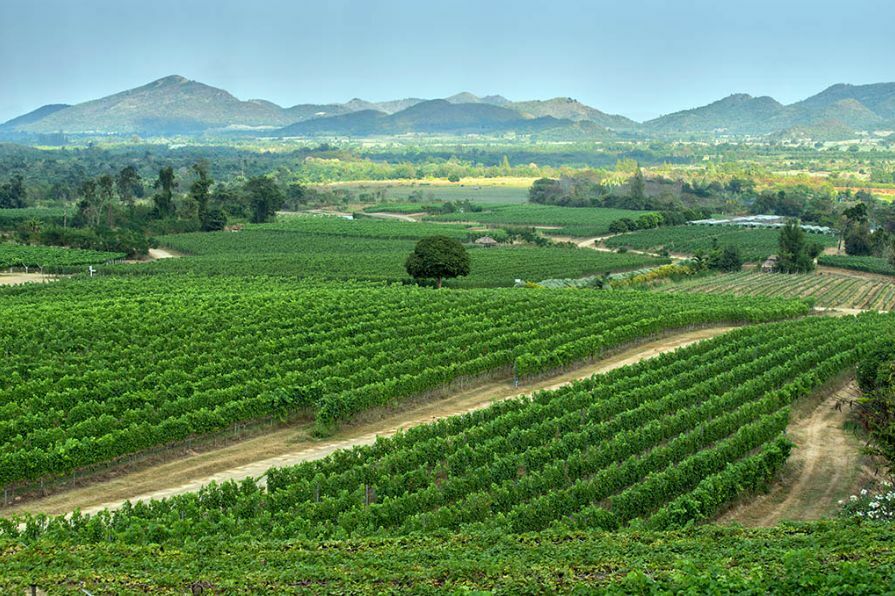 Hua Hin Hills Vineyard, a scenic and charming attraction, is nestled in the countryside near the popular beach town of Hua Hin. With lush, rolling hills and beautiful landscapes, the vineyard offers a unique experience that sets it apart from other things to do in Hua Hin.
Established in 2004, the vineyard spans over 560 acres and belongs to Siam Winery, a top wine producer in Thailand. They mainly grow Monsoon Valley wines, crafted to pair well with Thai cuisine. When you visit Hua Hin Hills Vineyard, you can enjoy a guided tour. During the tour, you'll learn about grape cultivation and wine production in a fun and engaging way. This activity is perfect for both wine enthusiasts and casual visitors. After the tour, you can take part in a wine-tasting session. Here, you'll sample a variety of wines, such as white, red, and rose. Often, these tastings are paired with Thai dishes, letting you experience the harmony between Thai cuisine and Monsoon Valley wines.
Besides wine-related activities, Hua Hin Hills Vineyard offers picturesque spots for picnics. There's also a beautiful restaurant called "The Sala" where you can dine with a breathtaking view of the vineyard. Furthermore, you can try activities like cycling or taking a ride in a grapevine tram, which allows you to explore the picturesque surroundings at your own pace. With its beautiful scenery and diverse activities, Hua Hin Hills Vineyard is an ideal destination for a memorable day trip, offering something for everyone. So, when you're looking for things to do in Hua Hin, be sure to include a visit to this enchanting vineyard on your list.
12. Visit must-see temples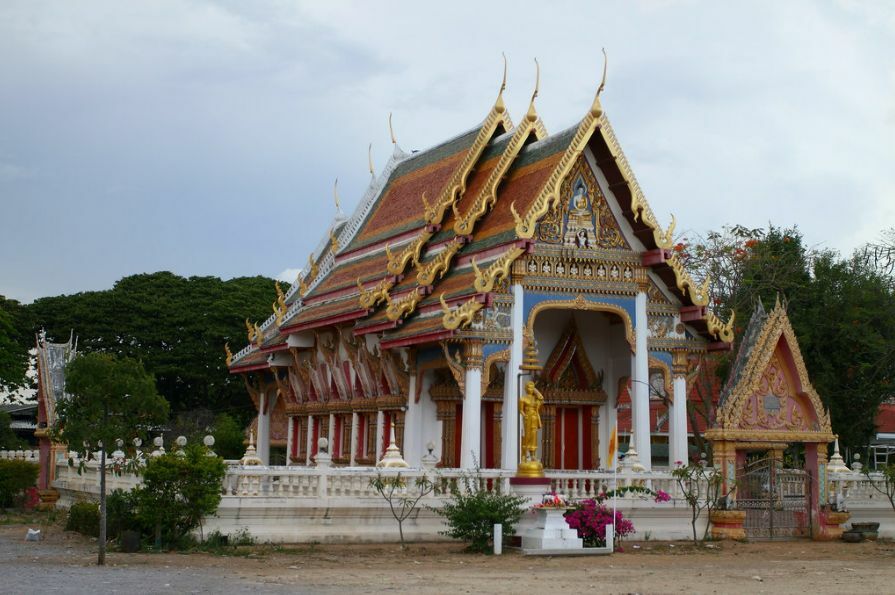 Hua Hin offers a perfect mix of cultural heritage, natural beauty, and must-see temples, making it an ideal destination for spiritual exploration. Start your temple tour at Wat Huay Mongkol, where you'll find the largest statue of Luang Phor Thuad, a legendary Thai monk. The temple is surrounded by beautiful gardens and ponds, creating a peaceful space for reflection.
Next, make your way to Wat Khao Takiap, situated at the base of Monkey Mountain. As you wander the temple grounds, take in panoramic views of Hua Hin and its stunning beaches. Keep an eye out for the many monkeys that call this area home. Afterward, head over to Wat Tham Khao Tao, a unique temple located inside a cave on Khao Tao Mountain. Here, you'll experience a serene atmosphere, admire a large reclining Buddha statue, and enjoy breathtaking views of the nearby landscape.
Don't forget to visit Wat Hua Hin or Wat Ampharam, the main temple in the town. Nestled in the heart of Hua Hin, this temple hosts several important Buddhist ceremonies throughout the year. Lastly, explore Wat Bor Fai in the northern part of Hua Hin. Known for its beautiful architecture and tranquil setting, Wat Bor Fai is surrounded by lotus ponds and lush greenery, making it a perfect spot for relaxation and contemplation.
A temple tour in Hua Hin is not only a spiritual journey but also an opportunity to discover the rich history, architecture, and natural beauty of this charming coastal city. So, make sure to include these incredible temples on your list of things to do in Hua Hin and create unforgettable memories during your visit.
So, ready for an amazing long weekend trip to Hua Hin this weekend?
Guides
Hua Hin Travel
Things To Do
Travel

Join the conversation and have your say on Thailand news published on The Thaiger.
Thaiger Talk is our new Thaiger Community where you can join the discussion on everything happening in Thailand right now.
Please note that articles are not posted to the forum instantly and can take up to 20 min before being visible. Click for more information and the Thaiger Talk Guidelines.