UPDATE: Thailand confirms 106 new coronavirus cases, 3 more deaths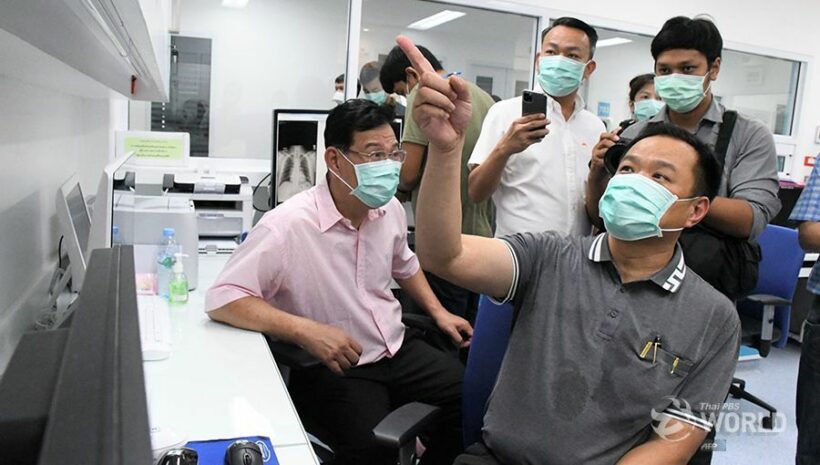 UPDATE: New cases announced in Phuket (below).
ORIGINAL STORY: Thailand health officials have reported 106 new Covid-19 coronavirus infections today, bringing the total to 827 in the Kingdom. The number of new cases is lower than the 122 recorded yesterday.
The Ministry of Public Health has also reported 3 additional deaths from the virus in the past 24 hours, bringing the total to 4.
A Public Health Ministry spokesman says the 3 deaths were patients who had previous health complications, including a 70 year old man with tuberculosis, a 45 year old man with diabetes and a 79 year old man with unspecified health problems.
Meanwhile local media are reporting 4 new cases in Phuket, including an unnamed medical official.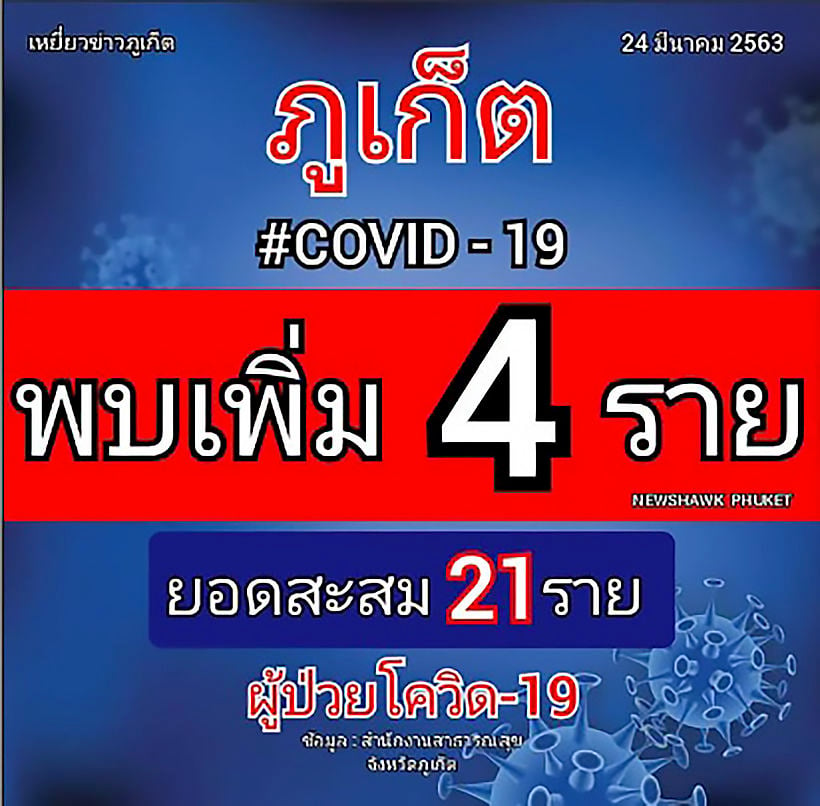 Since the start of the outbreak, 57 patients have recovered and gone home, leaving 766 still being treated in hospitals. The cabinet will meet today to discuss a raft additional measures to cope with the coronavirus pandemic in Thailand.
In Phuket, local media outlet Newshawk Phuket today reported 9 new cases of the Covid-19 coronavirus on the southern resort island, bringing the total to 26, up from 17 yesterday.
• Case 18 is a 33 year old Thai woman, a waitress at Soi Bangla in Patong district. She fell sick on March 16.
• Case 19 is a 56 year old Frenchman who arrived in Phuket Mach 15 and fell ill on March 18.
• Case 20 is a 25 year old Swedish air hostess who arrived in Phuket on Friday.
• Case 21 is a Thai woman, aged 35, who "had contact with foreigners." She became ill on March 20th
• Case 22 is 26 year old Thai woman, also believed to have caught the disease at Soi Bangla Bangla, and also became sick on March 20.
• Case 23 is 27 year old Thai dancer at Soi Bangla Bangla. She fell sick on March 22.
• Case 24 is a 28 year old Thai man, a bouncer in Soi Bangla, who became sick on March 19.
• Case 25 is a Thai woman, aged 62, who recently traveled to Switzerland and got sick abroad. She returned to Thailand to seek treatment.
• Case 26 is a Frenchman, aged 62, a golf teacher who recently travelled to Germany and Spain.
SOURCE: Bangkok Post | Phuket People's Voice | Newshawk Phuket

Keep in contact with The Thaiger by following our
Facebook page
.
Nearly 300 Thais stranded at the southern border, paperwork issues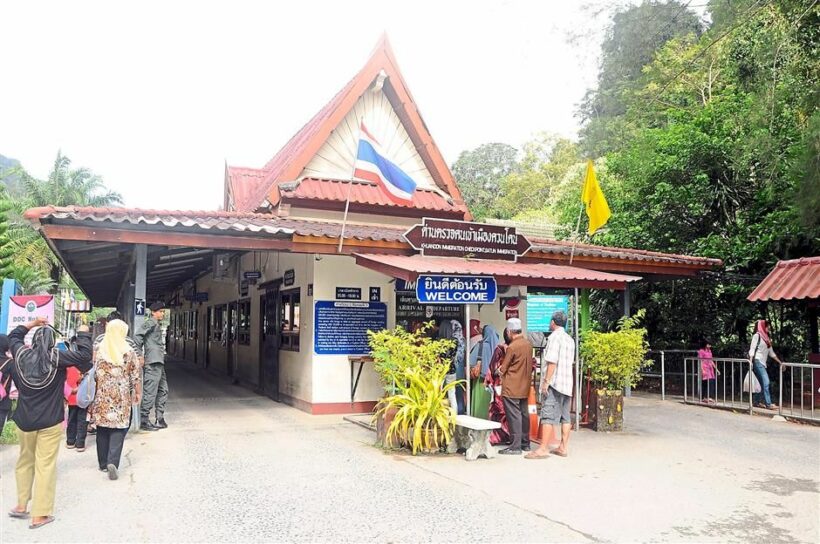 Around 300 Thais trying to return to Thailand are stranded at the Wang Kelian immigration checkpoint in northern Malaysia's Perlis State. On the other side is Thailand's Wang Prachan checkpoint in Satun's Khuan Don district. They've been denied entry after failing to comply with the strict new regulations set by the Thai authorities.
Thailand and Malaysia have closed their checkpoints along the southern border. The two countries do not allow entry by foreigners via these checkpoints except their own citizens.
Thai nationals are meant to be permitted to return to Thailand via the Wang Prachan immigration checkpoint in Satun. But to be eligible, the Thai nationals are required to contact the Thai embassy in KL or a Thai consulate in Malaysia to get a formal letter of their residential status in Thailand. The Thais are also required to obtain a health certificate which are issued not longer than 72 hours previously.
250-300 Thais, most of them who worked as crew on Malaysian fishing boats, but live in Satun, as well as some Thai tourists, converged on the Wang Kelian checkpoint from around 9am yesterday. But they were denied entry by the Thai immigration police because they failed to produce all the requisite paperwork.
By 2pm a meeting was held between Thai and Malaysian authorities on the Thai side of the border. All the talking wasn't able to resolve the situation and the Thais were told they could not cross into Thailand.
Eventually, after hours of negotiations, the Satun Governor Veeranan informed the throng that the Thai consulate in Penang, would speed up procedures so that the stranded Thais would be able to return home.
Keep in contact with The Thaiger by following our
Facebook page
.
Beaches in Phuket closed until further notice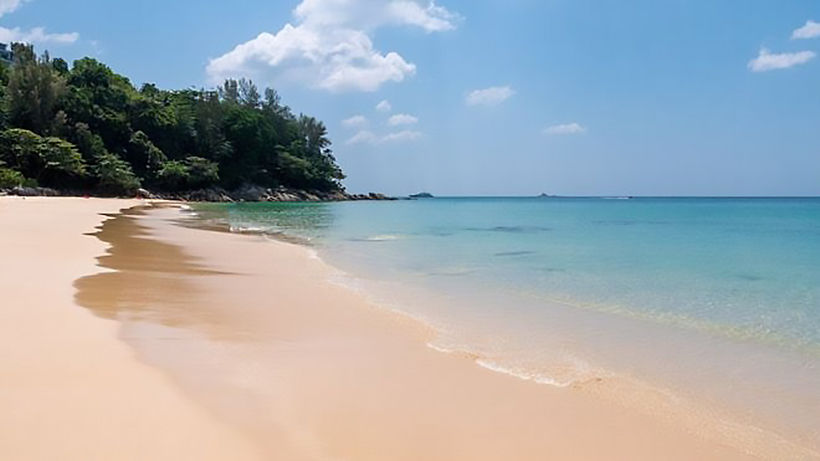 The world famous beaches of the southern resort island of Phuket are now closed indefinitely in another effort by provincial officials to fight the spread of the Covid-19 coronavirus. Governor Phakkhaphong Thawiphat, who is also heading up the Phuket Communicable Disease Committee, made the announcement yesterday. The closures extend to zoos and all venues offering animal shows for tourists. Bangla Road in Patong is also closed.
"The decision is part of an effort to better control and prevent the spread of the new coronavirus. By the governor's authority under sections 22 and 35 of Communicable Disease Act, these places will be closed temporarily until further notice."
Those who violate the order could be jailed for up to one year and/or fined up to 100,000 baht.
All nine Thai airlines have suspended flights, and many, if not most hotels in the province have closed and say they will not receive new tourists. Management are trying to figure what to do with all their staff and are asking the Thai Finance Minister and workplace authorities for clarification over employee salaries and leave entitlements during the crisis.
The governor "sought cooperation" from both locals and foreigners staying in Phuket to remain indoors from 8pm to 3am beginning yesterday until further notice, effectively placing the province under a virtual curfew, except in cases of URGENT matters.
The Public Health Ministry reported 143 new cases across the country in the past 24 hours today, bringing the total confirmed cases in Thailand to 1,388. One more patient died, bringing total deaths to 7 nationwide.
As of today, confirmed infections in Phuket stand at 53, the highest among southern provinces. 7 have recovered and returned to their homes, 46 are under treatment – none of them is considered 'critical'. Test results are pending for 97 other people.
A total of 944 people are "under scrutiny" while 794 have tested negative, according to the Phuket provincial health authority.
SOURCE: The Nation
Keep in contact with The Thaiger by following our
Facebook page
.
Thailand confirms 143 new coronavirus cases, 1 more death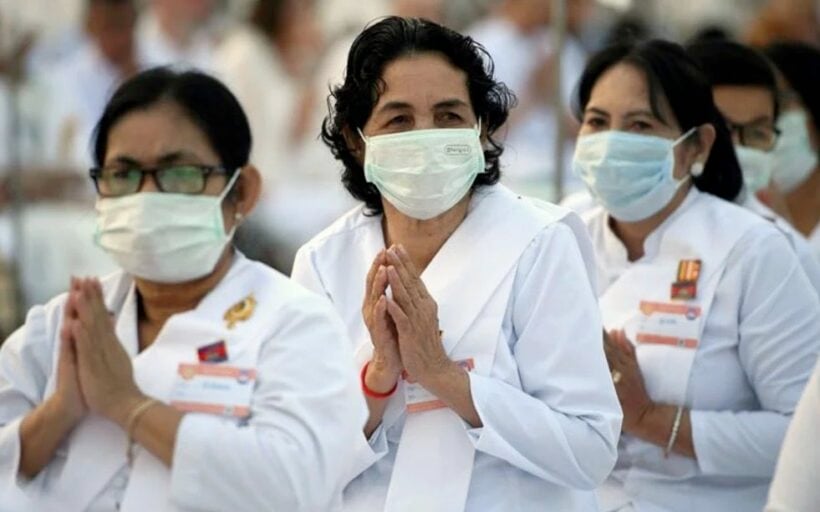 Thailand's Ministry of Public Health and its Department of Disease control announced 143 new confirmed cases of the Covid-19 coronavirus at their daily press briefing today in Bangkok (March 29), up from yesterday's 109 new cases. There has been 1 additional death, bringing the national Covid-19 toll to 7.
The latest figures brought the total cases to 1,388 across 57 Thai provinces – 1,032 of the patients are Thais. Bangkok has a total of 515 cases, followed by Nonthaburi with 58 and Phuket with 53.
A state of emergency has been in effect nationwide since Thursday and travel heavily restricted, with checkpoints along major roads to prevent a mass migration to the provinces as newly unemployed people try to return home.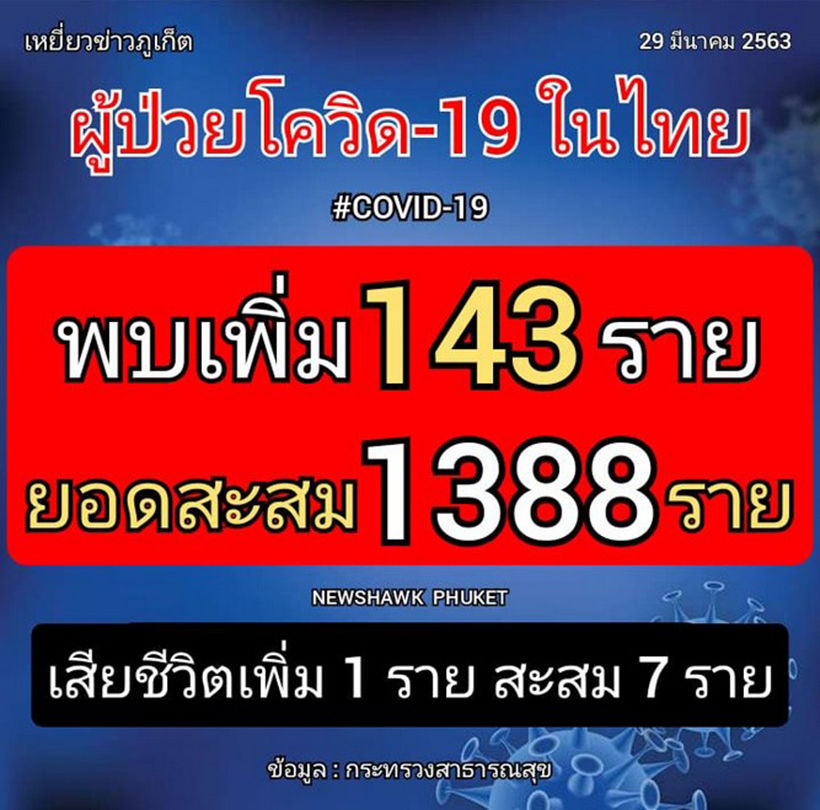 The Public Health Ministry stresses the need for people to stay home to prevent the spread of the virus.
"People should stay at their places and stop social activities for a week. A 24 hour curfew may have to be imposed if people continue to ignore our warnings."
Keep in contact with The Thaiger by following our
Facebook page
.