34 year old returns from Bangkok, attends a wedding, tests positive for Covid-19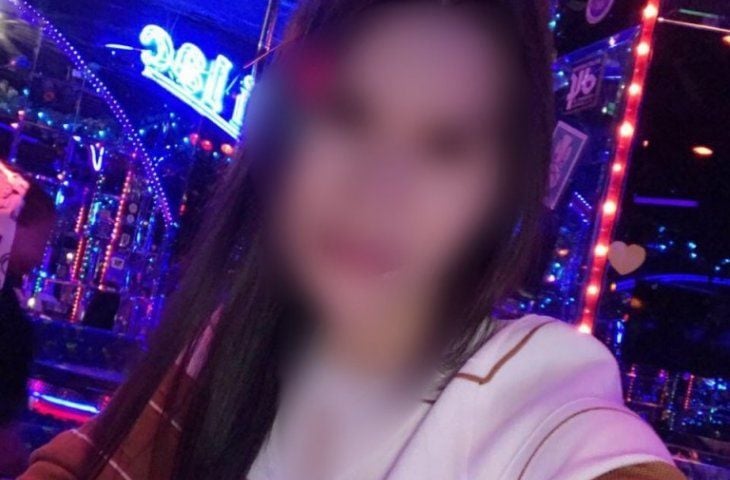 A 34 year old woman, who has since been tested as positive with Covid-19, returned by bus from Bangkok to her home in Roi Et, north east Thailand, to attend a wedding.
After results confirmed her case, officials are now scrambling to track down hundreds of guests that also attended the wedding. Governor of Roi Et, Wanchai Konggasem, reports that there are now 3 Covid-19 patients in the province, as of yesterday. The third patient is a 34 year old female who had returned from Bangkok.
The woman was working as an employee in an entertainment company long Sukhumvit Road. She travelled from Bangkok to the north east on a bus and arrived at the Phon Thong Bus Station in Roi Et on March 15. Not long after returning to the province, the girl went to a relative's wedding on March 18 and 19 in the Phon Thong District.
The woman has also told authorities that she went to buy food at a local convenience store on March 20. She started developing a fever along with a sore throat on March 24. She checked in at the Roi Et Hospital.
The woman is still at the hospital. According to information she's provided, there are about 120 people who have come into contact with her around Roi Et, as well as passengers on the bus. All of these individuals will need to be quarantined. At this stage only 20 have been tracked down and now being watched for any symptoms. Officials are still searching for the other hundred.
The other 3 Covid-19 cases in the province include a male and a female patient. They too travelled back to Roi Et from Bangkok. The female also works at an entertainment business in Sukhumvit and the male is a boxing expert at the Rajadamnern Thai Boxing Stadium.
Thousands of Bangkok workers headed home after the BMA closed down businesses in the capital last weekend.
SOURCE: Sanook.com | Thai Residents
Keep in contact with The Thaiger by following our
Facebook page
.
Never miss out on future posts by
following The Thaiger
.
Thai medic cautions against reducing quarantine period for foreign tourists
On one side there is a push to re-open Thailand's borders to re-start the beleaguered tourist industry. On the other hand Thai officials are try to keep Covid-19 contained and fear the re-opening of the borders. Even the suggestion to reduce the quarantine time from 14 to 7 days is not gaining support from health officials.
Now, a doctor from the Faculty of Medicine at Bangkok's Chulalongkorn University says reducing the quarantine period for foreign tourists would be inviting disaster. Dr. Thira Woratanarat made his statement after a suggestion from the Tourism and Sports Minister that quarantine could be halved if all goes well when Thailand re-opens its borders to a limited number of foreign tourists.
"In Thailand, if we decide to follow the proposal to reduce the quarantine time to 7 days, it would be an invitation to disaster."
Thira points to a growing number of cases in many parts of the world, with around 350,000 new cases a day reported worldwide. The number of total deaths from the virus has now reached the 1 million mark.
For its part, the government says Minister Pipat Ratchakitprakarn's proposal is not under consideration and that all foreign tourists will still be subject to mandatory 14 day quarantine. Officials say until the global pandemic situation improves, current restrictions remain in place.
A plan is underway to allow a limited number of foreign tourists to return to the Kingdom under a Special Tourist Visa scheme. The visa is due to be approved today when PM Prayut Chan-o-cha chairs a meeting of the government's Covid-19 task force.
SOURCE: Nation Thailand
Catch up with the latest daily "Thailand News Today" here on The Thaiger.
Keep in contact with The Thaiger by following our
Facebook page
.
Never miss out on future posts by
following The Thaiger
.
Covid-19 deaths surpass 1 million whilst more reports emerge about former patients' "brain fog"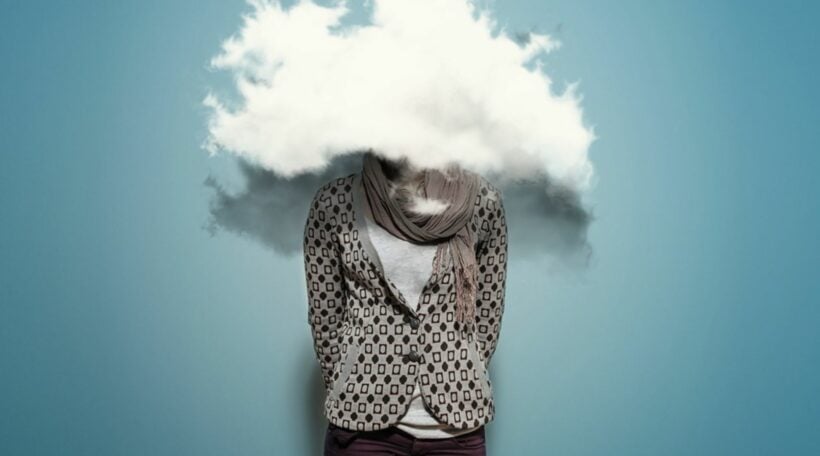 The world's Covid-19-related deaths has passed the 1 million mark overnight as the the cycle of the world's lockdowns and re-openings are getting mixed results. As of this morning, Thai time, the number of total deaths has reached 1,002,389, with 4,000-6,000 deaths still being recorded, globally, every day. And rising. On a more positive note, the number of daily deaths continues to level off, even dropping some weeks, as treatments continue to improve and the virus is better understood. At this stage, officially, only 0.42% of the world's population has so far been infected, according to worldometers.info.
The milestone comes in a week where another report from the UK catalogues the "brain fog" experienced by former Covid-19 sufferers.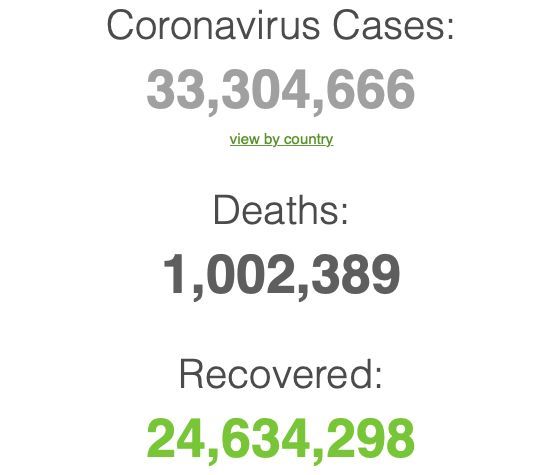 The current hotspots for the virus, now 9 months in circulation, of new daily cases is led by India. Yesterday, India added 82,000+ cases to the world total whilst the US is showing a resurgence in new cases after dropping the average down during August. There is also a resurgence in new cases in parts of Europe, including the UK, which is now recording more new cases than it was at its peak in the first wave in April and May this year. The following graphs records the top 10 countries for new Covid-19 cases recorded yesterday…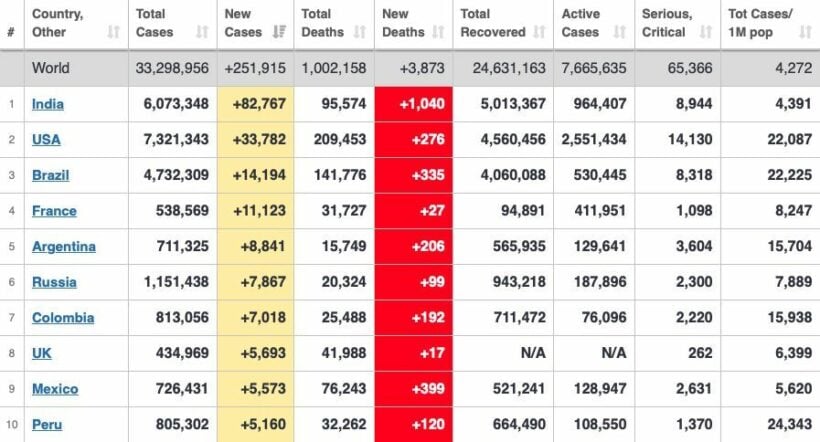 SOURCE: worldometers.info
Both South America and India are showing the highest rates of new cases, in pure numbers, whilst US health authorities are concerned about the latest surge in new cases as the country starts to head into its autumn and cooler weather.
Meanwhile, more former Covid-19 patients, even those who only suffered mild symptoms, continue to report about long-term effects from the coronavirus.
In Canada, some 130,000 Canadians have recovered but some patients report that they're experiencing "debilitating side effects" months after their infection. Canadian scientists report that they are finding some of the long-term effects of Covid-19 include heart damage as well as neurological issues like "brain fog" and "difficulty thinking". Other patients are reporting hair loss, fatigue and even painful lesions called "Covid toes," many weeks or even months after infection.
One study based out of Italy reports that nearly 90% of patients who have recovered from Covid-19 reported at least one persistent symptom two months later.
39 doctors wrote about these "long-haulers" and their battle with Covid-19 and their persistent symptoms in a manifesto published in the British Medical Journal. Following the report, the doctors called on politicians, scientists and public health officials to conduct more research into chronic Covid-19 symptoms and to create additional clinical services.
"Failure to understand the underlying biological mechanisms causing these persisting symptoms risks missing opportunities to identify risk factors, prevent chronicity, and find treatment approaches for people affected now and in the future."
The reports also defined the affected patients as not in the current list of "at risk" Covid-19 patients – usually elderly with underlying conditions – but instead representing a much wider demographic of younger and healthy patients who were experiencing the post-Covid symptoms.
SOURCE: BBC | CTV News
Keep in contact with The Thaiger by following our
Facebook page
.
Never miss out on future posts by
following The Thaiger
.
IATA proposes Covid testing before travelling to replace quarantine on arrival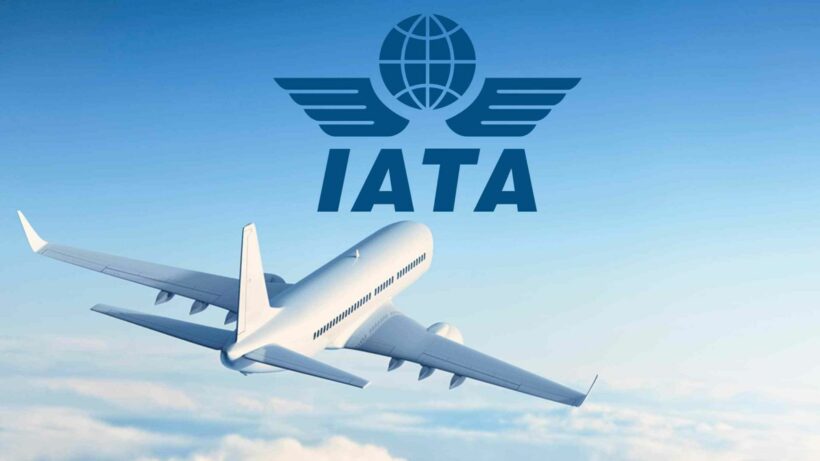 The International Air Transport Association is proposing travellers to take a Covid test prior to departure to replace worldwide mandatory quarantines on arrival. The push comes after it announces that international travel is down by 92% this year due to the Covid-19 pandemic. As many countries are imposing mandatory quarantines that can be not only expensive but up to 14 days long, the IATA is calling for all countries to work together to create a pre-flight testing requirement in all airports.
Alexandre de Juniac, IATA's Director General and CEO says that Covid testing is getting faster, cheaper and more accurate, which is why it is urgent to help kick-start the world economy by doing away with mandatory quarantines.
"The key to restoring the freedom of mobility across borders is systematic Covid-19 testing of all travelers before departure. This will give governments the confidence to open their borders without complicated risk models that see constant changes in the rules imposed on travel. Testing all passengers will give people back their freedom to travel with confidence. And that will put millions of people back to work."
He says the removal of such quarantine requirements for nations like Canada and UK would also help those nationals to leave their countries confidently by knowing that accurate testing would be in place. IATA has also asked for feedback and says of those travellers polled, 65% agree that if a person tests negative for Covid-19, then they should not have to undergo a quarantine on arrival. 84% also agree that, instead, travellers should be required to get tested with 88% even agreeing that they would submit to testing as part of the travel process.
Over 5000 travel businesses have reportedly backed the IATA's proposal after submitting an open letter to the president of the European Commission, demanding the EU to take action. However, testing and later vaccinating 7.8 billion people could prove to be a monumental task, one that may take months to devise a streamlined plan to carry out.
SOURCE: Travel Off Path
Keep in contact with The Thaiger by following our
Facebook page
.
Never miss out on future posts by
following The Thaiger
.