Thailand News Today | Tourist arrivals postponed, Will Boss return?, deadly centipede | October 8
To get all the latest news and information about Thailand, go to thethaiger.com. Like and subscribe our YouTube channel too. Go on, right now 🙂 You can also LIKE our Facebook page facebook.com/thethaigernews to get even more information about Thailand.
Anti-corruption commission to re-investigate handling of "Boss" hit-and-run case
The "Boss" hit-and-run saga drags on, now with the National Anti-Corruption Commission saying it's received a copy of an independent report on the handling of the case and plans to compare it with its own findings.
Meanwhile, as investigation follows investigation, the whereabouts of Vorayuth "Boss" Yoovidhya, heir to the Red Bull empire, remain unknown. The assistant national police chief says officers are concerned about the chances of finding and bringing him back to Thailand to face charges, which include reckless driving causing death and drugs charges including the alleged use of cocaine.
So far, 7 police officers have been implicated in the anti-corruption commission's report, accused of mismanaging the case against Boss and colluding to get him off.
Former Muay Thai champion dies after poisonous centipede bite
A 52 year old former Muay Thai champion has died from a blood infection after he was bit by a giant poisonous centipede. Dokmaipa Por Pongsawang was bit only a few days ago, but didn't seek medical treatment until he was seriously ill, experiencing chills and dizziness.
The Kalasin Hospital director says the former fighter died from a severe blood infection. The fighter also had diabetes.
Anger as CCTV shows accused Sarasas teacher undressing female student in front of male teacher
A furious mother is accusing the teacher at the centre of abuse allegations at a private school, of sexually assaulting her daughter by undressing her in front of a male teacher.
The incidents happened at the Sarasas Witaed Ratchapruek School, in the central province of Nonthaburi.
Last week Ornuma Plodprong admitted to her abusive behaviour but said she would press charges of defamation against the parents who were accusing her of the assaults, all caught on CCTV. She's already been fired and charged with assault.
Now, new CCTV footage shows her undressing a female student in front of a male Filipino teacher, further infuriating parents. The teacher has apologised to parents, saying she will withdraw charges of assault she had previously filed against them.
(MAIN STORY) First batch of Special Tourist Visa arrivals for Phuket 'postponed'
If you were a traveller, trying to get accurate information about how and when you could return to Thailand, you'd be rightfully confused. So are we.
Now it looks like that the arrival of the first Special Tourist Visa travellers, headed for Phuket, has been postponed to at least until the end of the month. Scheduled charter flights for Scandinavian and Chinese travellers have been pushed back to at least the end of October.
Just as the first passengers were scheduled to arrive, the arrival dates have been shuffled back again as, according to local Phuket tourism officials, "preparation for receiving foreign travellers are not complete".
Now, adding to the confusion, the Public Health Minister contradicted that information yesterday afternoon and said that a plane of Chinese tourists is still arriving today. Phuket airport officials have also said they're 100% ready with hundreds of trained personnel.
The number of tourists, the preparations, confirmed flights, precise arrangements – all up in the air. The Phuket Governor, Thai Public Health Minister, TAT Governor and Phuket Airport officials are all saying different things.
Our best guess is that the mercurial Public Heath Minister has again mis-spoken and that the flights have indeed been delayed until at least October 25.
Dengue fever surges 400% in Northern Thailand province, compared to 2019
The northern province of Mae Hong Son has become a dengue fever hotspot as the number of cases more than quadruple compared to the case numbers of last year.
The northern province currently has the Kingdom's highest number of cases of the mosquito-borne illness, recording nearly 1,400 infections and 1 death this year. The most number of cases are 10-14 year olds, followed by those aged 15 to 24.
Crane rips roof off truck transporting migrant workers in Bangkok, injuring 9
9 migrant workers have been injured after a passing crane tore the roof off their truck on Bangkok's Wireless Road. The incident occurred near the Japanese Embassy at around 9.30pm last night. Police and rescue workers who arrived at the scene found a 6-wheeler truck with its roof completely ripped off by a crane.
Dive team searches for couple's bodies in Bangkok's Chao Phraya river
A dive team was sent to Bangkok's Chao Phraya river early this morning to search for the bodies of 2 people who are believed to have been swept away by the river's current. The current was so strong, divers had to stop their search until the water was more calm.
The couple was seen walking to a pier by the Rama VIII Bridge when they appear to have fallen in. The search continues.
Keep in contact with The Thaiger by following our
Facebook page
.
Never miss out on future posts by
following The Thaiger
.
Thailand News Today | Immigration deadline, quarantine update?, arrests averted | October 30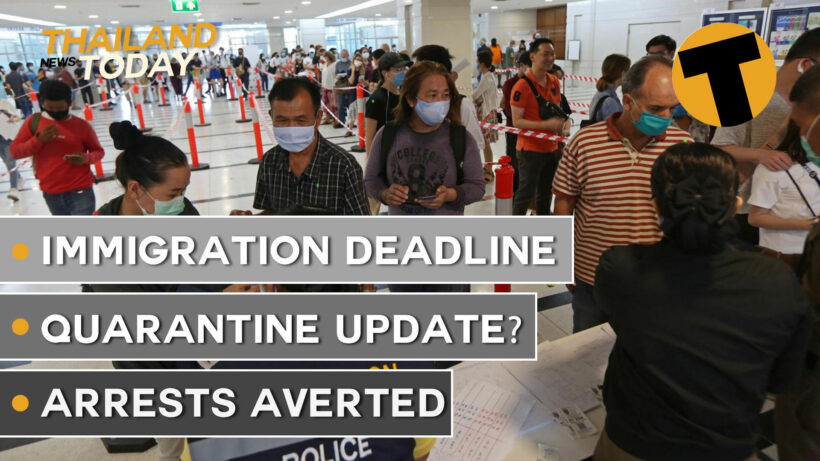 Last day of the week and all the main stories from around Thailand. Thailand News Today, a bit late today but here it is…
Some immigration offices open tomorrow for last minute visa extensions
The latest amnesty is up tomorrow (October 31) and some immigration offices will be open for those who still need sort out their visa extensions.
Those who miss the deadline could face fines for overstay, immigration officials warn. The extensions all go into effect from November 1 and allow a 60 day stay.
Some immigration offices that are typically closed on Saturdays will be open tomorrow for those filing for extensions. Immigration Bureau commissioner Sompong Chingduang says immigration offices on Chaeng Watthana Road in Bangkok and at Muang Thong Thani in Nonthaburi, just outside Bangkok city, will be open tomorrow from 8.30am to 4.30pm. Check with your local immigration office.
Court rejects bid to arrest activists who led march on German Embassy
A bid to apprehend 5 anti-government activists who led a march to the Germany Embassy on Monday has failed, after a court in Bangkok rejected a police application for arrest warrants.
The Bangkok South Criminal Court has turned down the application for arrest warrants.
The 5 would have faced charges of sedition and other offences. But the court told officials to instead issue a summons, given that the protesters are students who only gathered for a short time and are unlikely to flee.
On Monday, protesters marched to the German Embassy to submit a petition calling on the country's government to investigate whether Thailand's Head of State conducted official business while in Germany. Which nicely segues to the next story…
German government does not believe the Thai Monarch broke the law on conducting state affairs
The German government does not believe the Thai Monarch broke the law on conducting state affairs during his time in the German state of Bavaria.
Germany says His Majesty the King has not violated the European country's ban on conducting foreign politics on German soil where he resides. The government in Berlin briefed lawmakers this week, saying the Thai Monarch is allowed make occasional decisions regarding Thai state affairs, but he cannot continuously conduct business from overseas.
So far, the German government says they do not believe the King Maha Vajiralongkorn "continuously" conducted Thailand state business during his residence in Bavaria.
PM to visit Phuket on Monday as island's economy lies in tatters
PM Prayut Chan-o-cha is heading to Phuket on Monday, where he will meet with local business leaders and discuss proposals to help revive the southern island's devastated tourism sector.
Despite Phuket Models and any number of promises from the Thai tourism sector, Phuket remains in a perilous situation whilst the government keeps its borders closed. Almost 100% of Phuket's economy is derived directly or indirectly from tourist traffic.
Health officials propose reducing quarantine to 10 days
Health officials are suggesting cutting mandatory quarantine for international arrivals to 10 days. We've heard it all before but the idea has risen to the top of the Health Minister's file again.
Health Minister Anutin Charnvirakul says the proposal will be submitted to the CCSA for approval. It's hoped that a reduction in the quarantine period could help revive Thailand's battered tourism sector. Only a tiny handful of STV tourists have arrived on the the tourist visa over the past month. The health minister said…
"The priority now is to strike a balance between people's health and the economy. Thailand still has to rely on foreign tourists. Re-opening the country to foreign visitors will help put the economy back on track."
The Minister didn't say where all these tourists might come from or speculate when a reduction on the quarantine period might be introduced.
Police arrest woman for allegedly selling fashion dental retainers
Police have arrested a woman for allegedly selling and fitting fashion dental retainers and braces.
Police seized equipment used for making dental casts and retainers found at her home in Ratchaburi and charged the 27 year old with illegally fitting fashion dental retainers.
The woman has allegedly been selling the retainers on a Facebook page under the name since November 2017, targeting mostly teenage students.
In Thailand, braces and retainers are a fashion trend and also seen as a symbol of wealth. The Thaiger suggests that if you want a set of straight teeth, go to an orthodontist.
Floods in NE Thailand as Vietnam mops up after typhoon
Flooding persists in four north eastern provinces, including Nakhon Rachasima as of this morning. All in the wake of the weakening tropical depression that crossed the Vietnamese coast on Wednesday as Typhoon Molave.
'Molave' was the most powerful typhoon to hit Vietnam in 20 years. The remnants of the tropical depression are now centred over the west of Thailand where it continues to drop plenty of rain.
At least 35 people are dead, 100s injured, and 50+ missing in Vietnam as disaster mitigation authorities are now reaching some of the worst hit areas in central Vietnam.
Keep in contact with The Thaiger by following our
Facebook page
.
Never miss out on future posts by
following The Thaiger
.
Lockdown may contribute to Thailand's rise in dengue fever cases, study suggests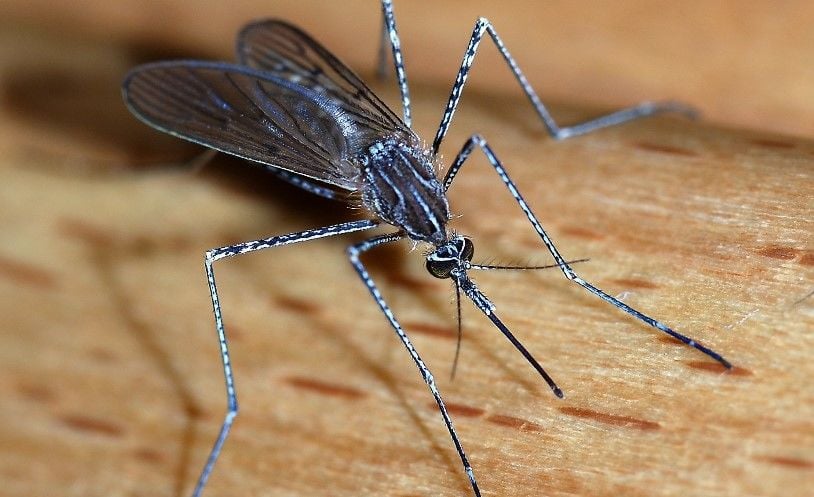 Social distancing and lockdown measures may have contributed to a rise in dengue fever in Thailand, according to a recent study funded by the Singapore Ministry of Health's National Medical Research Council.
Researchers, which included scientists from the University of Singapore, examined dengue fever cases in Malaysia, Singapore and Thailand. No impact on the dengue transmission was found in Malaysia or Singapore, but in Thailand, they found that social distancing may lead to an increase in the number of coronavirus cases. They say the largest impact is in Bangkok Researchers say social distancing is expected to lead to 4.32 additional dengue fever cases per 100,000 people in Thailand each month.
Many people in Thailand stayed at home during lockdown measures put in place to control the spread to the coronavirus, but the study found that people in Thailand are typically bitten by dengue-carrying mosquitos at home rather than at work. Some people even travelled back home to their home provinces to be with their families during the lockdown period.
"Although it is possible for dengue infections to occur in workplaces, it was found in one study that 60% of dengue cases live less than 200m apart came from the same transmission chain, revealing that residential areas are a focal point of transmission."
Reported dengue fever cases in 2019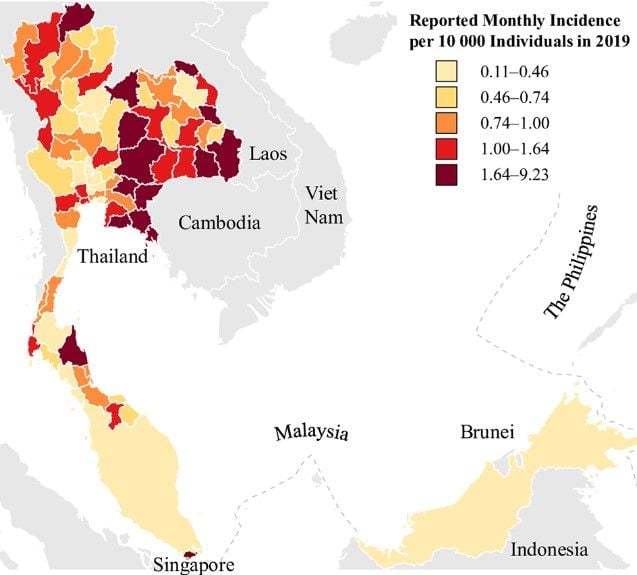 Reported dengue fever cases in 2020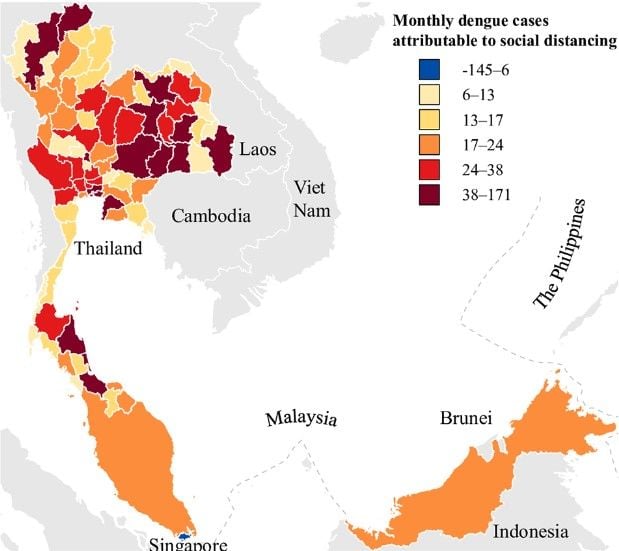 To read the full study click HERE.
Keep in contact with The Thaiger by following our
Facebook page
.
Never miss out on future posts by
following The Thaiger
.
Man arrested for allegedly driving with monitor lizards tied to his motorbike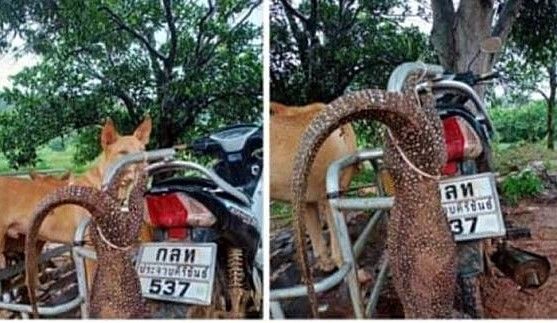 A man was arrested on animal abuse charges for allegedly catching water monitor lizards, tying them to his motorbike and driving around Prachuap Khri Khan, south of Phetchaburi province.
The man, who is identified as Chaowalit, posted photos on Facebook of lizards tied up to the back of his motorbike. One photo shows a large monitor lizard tied up to the back of the bike, hanging upside-down. Apparently, Chaowalit has been posting photos for about 4 months now on Facebook page on wildlife hunting.
Officials from the Kui Buri National Park were notified about the photos and a team of special unit officers were sent to Chaowalit's house to arrest him. He was charged with catching and harming protected wildlife as well as violating the Wild Animal Reservation Protection Act. If found guilty, he could face up to 10 years in prison and a fine up to 1 million baht.
SOURCE: Nation Thailand
Catch up with the latest daily "Thailand News Today" here on The Thaiger.
Keep in contact with The Thaiger by following our
Facebook page
.
Never miss out on future posts by
following The Thaiger
.