Phuket Property Watch: Color-blind vision for the future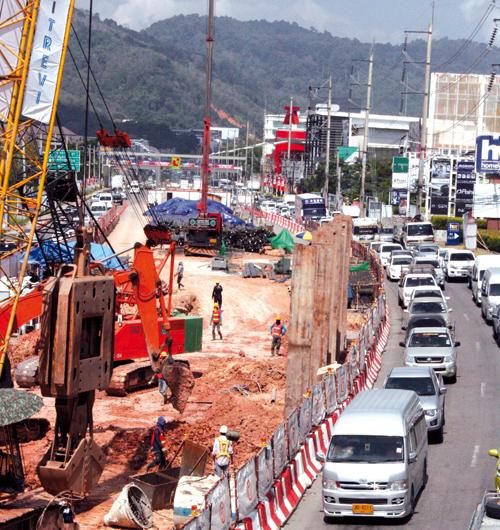 PHUKET: The island's coconut-esque social media is simmering over political events in shirt-dom. Red, yellow, white and blue. For those who know me, I am firmly a black shirt kind of guy. Yes indeed, day in and day out I just love those casual tees. In case anyone is wondering, yes, I do have a large drawer in my closet brimming to the top with monotone black t-shirts.
Sure the black tee thing has been done to death, and in many cases, has been quite literally fatal. Just look at the Ramones, who dropped like flies, or Steve Jobs. The MIBT (Men in Black Tees) look to be an endangered species. Yet as I type away on this column, my blackness somehow finds the light of a summer solstice in this world gone mad.
Recent comments made by Thai Deputy Prime Minister Plodprasop Suraswadi about the on-off-on-and finally dead Phuket International Convention and Exhibition Center have only deepened the national political divide between the Pheu Thai and the Democrat parties.
No river-high mountain-deep here, it's off into the abyss, like the impossible task of raising the Titantic. In fact you could liken the ill-fated Mai Khao convention behemoth to the Titanic. Call in James Cameron and Leo DiCaprio to sort this out –Terminator fashion.
As we begin the blame game, once again, out comes that old trump card –the lack of environmental approval. Bring in the spoiler – those innocent sea turtles. Just how innocent are they? I see a conspiracy here, remember those elusive ninja clad apparitions who were never found during the Bangkok political crisis a few years ago? I watch a lot of movies and TV and know all about Ninja Turtles. Could the current debate be an island version of Turtle-gate.
Now I am not going to embroil myself in local politics and weigh in on the great divide – Thailand, like everywhere else in the world, be it west, east, north and south, is lumbering under the crushing weight of big government. Here you have a giant elephant in the room, and the room is a fourteen square meter space at a Tune Hotel. Sure it's cheap and cheerful, but the poor pachyderm can hardly find a place to sit down, much less move. We now know if he tried to make a call for help that Air America would be listening. Mr Obama we know who you are.
But the biggest shame and disgrace for Phuket, which remains one of the leading tourism destinations in Asia, is seeing its mojo hijacked by political greed and envy. Indonesia, which is Southeast Asia's biggest economy, has invested billions into its flagship 'Brand Bali'. An infusion of billions of dollars in infrastructure, which will be capped off by the APEC event to be held there this year.
Thailand on the other hand, has massively failed to understand the pulling power of 'Brand Phuket' and has squandered the opportunity to strengthen its image. Pride and prejudice rule in today's house of cards. Singapore gets it. So does Myanmar, Indonesia, Malaysia and the Philippines. Invest in world class infrastructure and you secure a seat at the table. Don't and you might well be out back washing dishes. Yet, as I find myself here, gazing out on the sunny street, the reality of things sink in. Phuket's convention center, just like the sporadic Bangkok-led land scandals, remain largely the sparring grounds for warring clans from different sides of the political divide.
From hero to zero and back again in 30 seconds – I'm not holding my breath for any resolution by either party, but can only point out that this island needs an agenda which is color blind when it comes to red and yellow.
At the end of the day, the private sector will decide whether a convention center is warranted, and if it is, go ahead and develop it. It's no different in the Western world – leave this kind of business to the professionals and try not to get in the way.
As for the shirts, perhaps let's have a national black tee day to soothe the tortured souls of the few who misguide so many. Maybe even give some to the turtles, after all there just might be something to this Turtle-gate thing.

Bill Barnett is the Managing Director of C9 Hotelworks and can be contacted through C9hotelworks.com.
Keep checking our online Phuket Property pages, join our Facebook fan page or follow us on Twitter @PhuketGazette for the latest local, national and international property news updates.
— Bill Barnett

Join the conversation and have your say on Thailand news published on The Thaiger.
Thaiger Talk is our new Thaiger Community where you can join the discussion on everything happening in Thailand right now.
Please note that articles are not posted to the forum instantly and can take up to 20 min before being visible. Click for more information and the Thaiger Talk Guidelines.