Investing in Phuket – Strong fundamentals in a beach location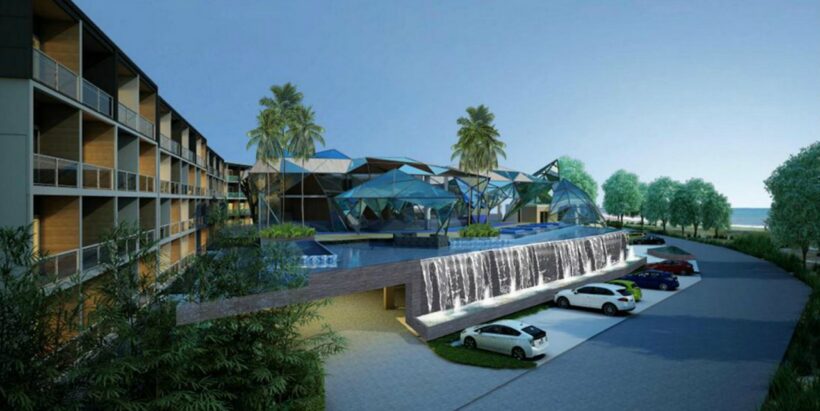 ADVERTISEMENT
Phuket Property Perspectives presented by Phuketbuyhouse.com
With Phuket now being ranked as the fifth top holiday destination in the world, tourism is hotter than ever, attracting more and more buyers per year than ever before. Whether it be for investment or residential purposes, the demand is rapidly growing and we can now see a range of properties available to suit all types of buyers. Not only is there a strong desire to invest, people also purchase for lifestyle choices as well as the dream of owning that second holiday home.
There are many other factors that have also contributed towards the island's successful real estate industry and furthermore incentivized people to reinvest. We have seen the island develop in many different ways, quite specifically when it comes to the amount of diverse entertainment now available. Phuket now has so much to offer from world exclusive beach clubs to themed water parks and Phuket has tremendously internationalised itself.
There has been an increase in the number of schools, shopping malls and international hospitals built. The Thai baht has also played a role and remained a stable currency causing people to feel more secure about investing in Thailand. In terms of taxation, the taxation is reasonable and much lower than that of most other countries. We have also seen Phuket undergo many infrastructural changes to help support the capacity of a growing tourist market.
Over the years, there have been a number of condominium and villa developments appear all over the island to help facilitate this demand. These include basic entry-level properties to real high-end luxury properties. What is particularly attractive about the market from an investment point of view is that buyers have an opportunity for strong capital growth and high rental returns, which a big factor in their decision is making process. The level of investment is of course area dependent. For example, areas of Phuket such as Rawai, Chalong, Nai Harn Kata, Karon, Patong, Kamala and Surin have experienced the most rapid growth within the last 2 years.
One should also consider that if they are wanting to rent out their property, many now have good rental management companies appointed. Mostly these services are offered by one company and where one can use this to their advantage in their decision-making process if looking to purchase a particular off-plan unit. If this is the case, and the developer has chosen to work with a large, highly credible, national or international rental management company and you consider these large companies have their reputation to uphold, you can expect most of the due diligence will have been one to ensure this will not in any way hurt their reputation.
In the past few years, we have seen an increase in developers building projects that offer a hotel style setting, whereby a large well-branded hotel chain will manage the properties. This new trend seems to be taking shape all over Thailand. What is particularly interesting with this kind of concept is that you are then able to have your property rented out using their brand. Having such a name endorse the project means they have a strong reputation in the rental market and therefore known either nationally or internationally. This gives buyers more confidence in the projected rental estimations provided as their will most certainly be a long-standing proven track record showing returns earned in the past. The good thing is the projected estimations all show a conservative occupancy and average rate for clients to consider. There are a few projects on the island that offer just that.
Phuket is also popular for those who like the idea of rental guarantee schemes. Here you can choose projects offering anything from 7-10% guaranteed return per year to incentivize the buyer and available from three to five years. These are good guaranteed returns if you were to consider banks give little in terms of interest these days, so many would rather invest in property and earn a decent yield each year.
Looking at some of these areas on the island, you have the following properties around…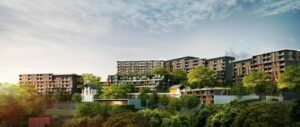 Kamala has a new upscale development under construction and set along the very exclusive part of millionaire's mile. The project will offer a 5-star luxury hotel style setting and be managed by the well-known international hotel chain "Ramada Plaza" KAM5469. This is a unique concept as they will offer great facilities such as cable car, meditation garden, very large luxury spa, waterfall throughout the project and iceberg theme style lobby, with large communal swimming pool. The developer is trying to create a tropical paradise setting with the benefits of being right across the road from the beach. Units are all the same studio size at 34 square metres and can be combined to offer 2 bedrooms. Prices start from 3.9 million baht for the garden view and 5.2 million baht for the sea view. Rental guarantee available 7% for 5 years.
Also in Kamala there is a new high-class housing complex consisting of 12 private elite villas with 2 and 3 bedrooms KAM5602, very close to Kamala beach. Villas are designed in a modern style with soft light color finishing to create a peaceful atmosphere and homeliness. This fantastic housing complex includes two bedrooms with a private bathroom, spacious wardrobe and a comfortable terrace overlooking a beautiful garden and a swimming pool. Indoor area is 207 square metres and prices start from 11.9 million baht.
In Bang Tao, there is a Hot OfferBAN5655, which is a great deal and exceptionally good value for money. This 4-bedroom villa is located on a very large property. The size is 1,233 square metres and ready to move in priced at just 28.9 million baht.
Just five minutes away we come to Surin offering another very good high-end development SUR5308 also under construction. The New project is set on the hillside, walking distance from Surin and Bang Tao beaches. The project consists of seven residential buildings presenting stunning panoramic sea views. Designed by the professional team, these condominiums have blended authentic Thai art with modern technologies. The apartments are 36 square metres and 1 bedroom. The project will offer rooftop gardens, five infinity pools, clubhouse, library, fitness spa, sauna and two large communal swimming pools. Units are available from just 3.99 million baht and the option to join their rental program is also available.
Moving up further north, the area of Layan offers this 3-bedroom penthouse apartmentLAY5830 and is a total area of 564 sq. m. The location is great as it is just 5 minutes' drive to Nai Thon beach. The apartment is ready to move in and available fully furnished. Guarded car parking is onsite 24hrs. Priced at 17.7 million baht.
Lately we have also seen the area of Mai Khao expanding with more developments appearing. Just five hundred meters from the white sand beaches of Mai Khao, surrounded by five-star hotels, a 10-minute drive from the international airport and 5 minutes away from an amazing golf club, you will find these apartments MAI5542. Located in one of the elite areas of the island, Mai Khao Beach, the project was designed for the people who appreciate comfort and personal space. This condominium consists of 8 levels and 320 apartments, including units with one and two bedrooms. The residence has been created to strengthen the potential of its gorgeous site stylish tropical theme, constructed using eco-friendly materials. There is a lobby, a reception and a restaurant near the pool, as well as a huge parking lot and 24-hour security. Price starts from 2.4 million baht – unit 36 square metres.
Also in the Mai Khao area, you have this premium-class Phuket beachfront condominium project MAI4866. This property offers a range of layouts and sizes which are ideal for either residential or investment purposes. The entire project comprises of six three-story condominium buildings and three five-story buildings, a total of 206 residential units in sizes from 59.50 to 263.50 square meters. Two-bedroom units available from 87 to 96 square metres. Facilities also include a car park for 100 vehicles, a superb, large and well-maintained garden, swimming pool, a fitness room, WiFi internet and a dependable 24-hour CCTV security system. Moreover, here you are close to many leading five-star hotels, fine international restaurants and luxury spa. Two bedroom units are available here from 9.8 million baht.
South of the island, we have the lovely area of Nai Harn offering this condominium project NAI5797 which is a short 10-minute walk to Nai Harn Beach. This project will offer a total of 237 units with beautiful views of the surrounding mountains and landscape. Construction is due to start in January 2018 and will be completed in August 2019. Units are from 40 square metres and price starts at 4.5 million baht.
To find our more go to Phuketbuyhouse.com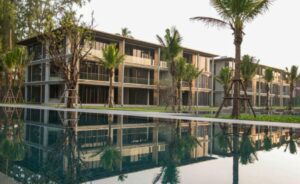 Keep in contact with The Thaiger by following our
Facebook page
.
Never miss out on future posts by
following The Thaiger
.


Interested in more property news or buying property in Thailand - check out FazWaz today!

TAT announces update to compulsory Covid-19 insurance for foreign visitors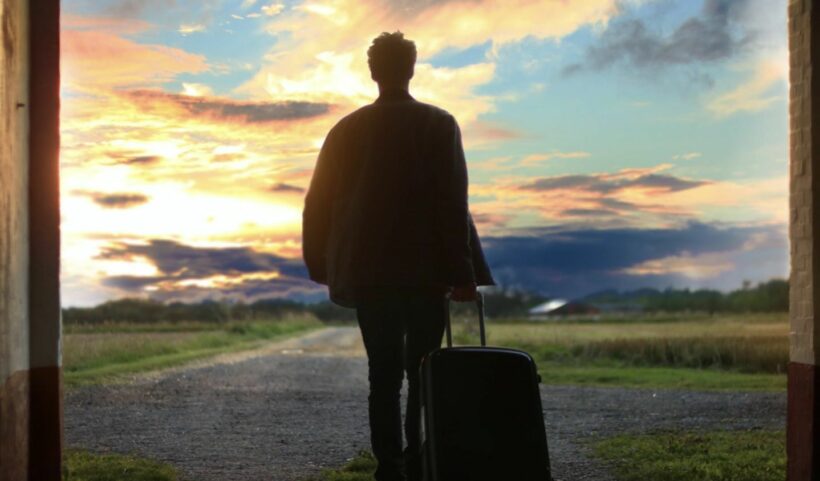 The Tourism Authority of Thailand has announced today an update about compulsory Covid-19 insurance. They say it's now "conveniently" available online in a one-stop-shop. Up to now the compulsory Covid-19 insurance, a pre-requisite before foreigners can come to Thailand, under any visa, was through selected insurance providers at their own websites. The Thailand Office of Insurance Commission has allowed the review of its policy, making it easier to find and purchase the compulsory insurance.
"Foreign travellers will enjoy the following advantages of purchasing an OIC-endorsed medical insurance policy, which is available online HERE."
The update provides additional clarity and ease for people looking to travel to Thailand at this time.
"The Tourism Authority of Thailand is pleased to share the latest announcement that foreign visitors will be able to purchase compulsory Covid-19 insurance policy online prior to visiting the Kingdom."
TAT Governor, Yuthasak Supasorn says the compulsory insurance is part of any package of documents that will need to be completed by foreigners entering Thailand at this time.
"A medical insurance policy with at least US$100,000 coverage or about 3.16 million baht for possible Covid-19 treatment is among the official documents required from foreign visitors planning to visit Thailand."
"TAT hopes the Covid-19 insurance protection program, under the regulation of the OIC, offers additional peace-of-mind for foreign visitors and hopefully makes it easier for inbound travellers before departing from their country of origin."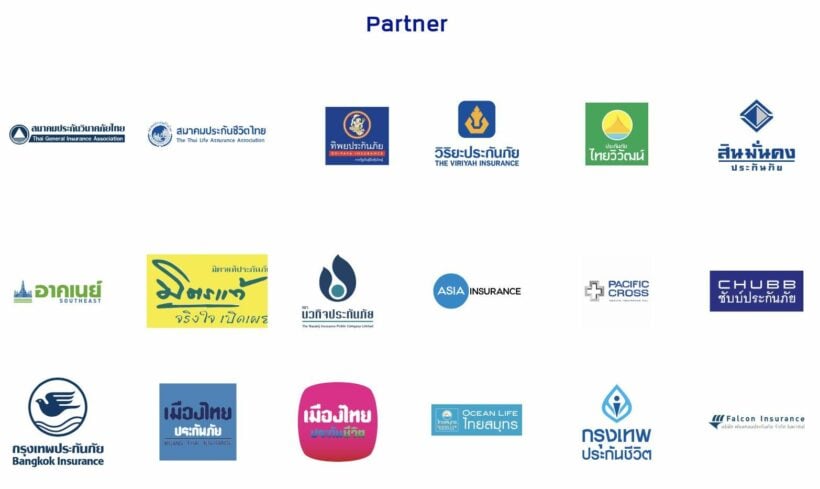 The Thai General Association and the Thai Life Assurance Association, plus 16 leading and non-life insurance companies in Thailand are partnering together with the oversight according to regulations from the OIC to offer the Covid-19 insurance protection program to foreign visitors.
The insurance policy has been approved by the Thai government and can be used in the Thai visa application process. Coverage begins immediately upon arrival in Thailand.
No need for advance payment or out-of-pocket expenses when admitted at private hospitals nationwide. Insurance coverage does not exceed US$100,000 or about 3.16 million Baht.
In the case of death from Covid-19 infection, the insurance company will provide a life insurance benefit of USD $100,000 or about 3.16 million Baht to the beneficiary.
The insurance premium cost is reasonable, the process is overseen by the OIC, and purchase can be done efficiently online.
Thailand's public health infrastructure and healthcare facilities, as well as healthcare professionals are recognised as some of the best in Asia for treating infectious diseases.
Here's an example of some of the costs for packages that vary from 30 days to 1 year. The premiums range from 1,600-4,800 Baht for 30 days of coverage; from 2,880-8,640 Baht for 60 days; from 3,840 – 12,160 Baht for 90 days; from 7,680 – 23,040 Baht for 120 days, and from 14,400 – 43,200 Baht for one year.
The Thaiger recommends that, before you make any other travel arrangements about a trip to Thailand, including the booking os flights or ASQ hotels, you should make general enquiries at the Thai Embassy or Consulate-General in your country.
SOURCE: TAT
Keep in contact with The Thaiger by following our
Facebook page
.
Never miss out on future posts by
following The Thaiger
.
The World's 50 Best Foods… Thai massaman curry tops the list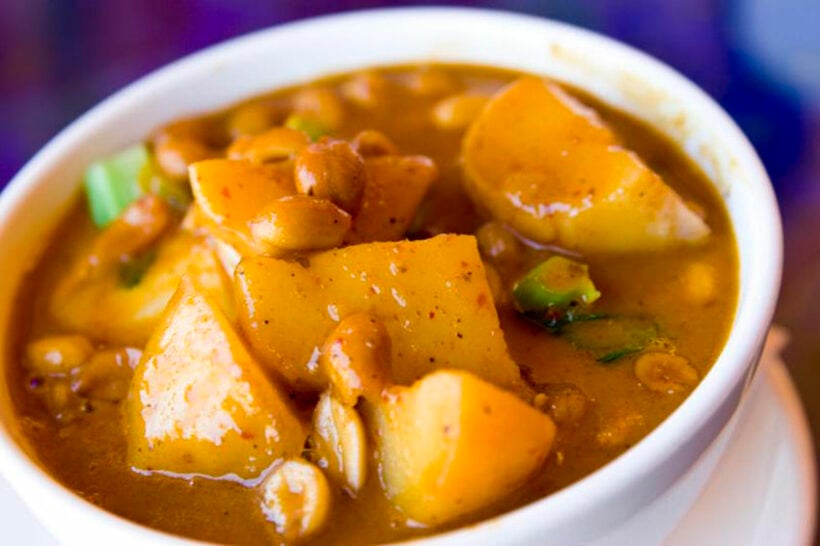 The humble Thai massaman curry has topped a list of the World's 50 Best Foods, compiled by the CNN Travel team. Thailand's smooth coconut milk and potato-based curry (add meat, tofu or vegetables of your choice) comes in at Number 1, with 2 other popular Thai dishes also making it into the World's Best food list.
The hot and spicy shrimp/prawn soup, Tom Yum Goong, comes in at Number 8, with papaya salad, aka somtam, in 46th place (mai phet please!) Tell us your favourite Thai dish, and why, in the comments section (below).
CNN Travel says its staff conducted extensive research on global cuisine to find the 50 best dishes ever created. Nice work if you can get it…
Italian pizza, Mexican chocolate, Japanese sushi, Chinese Peking duck, Penang Assam laksa, Malaysia and German Hamburger also top the delicious list.
Here's what the writers had to say about the 3 Thai dishes that made the top taste grade…
First Place, Massaman curryEmphatically the king of curries, and perhaps the king of all foods. Spicy, coconutty, sweet and savoury. Even the packet sauce you buy from the supermarket can make the most delinquent of cooks look like a Michelin potential. Thankfully, someone invented rice, with which diners can mop up the last drizzles of curry sauce. "The Land of Smiles" isn't just a marketing catch-line. It's a result of being born in a land where the world's most delicious food is sold on nearly every street corner.
Eighth Place, Tom Yum Kung
This best food Thai masterpiece teems with shrimp, mushrooms, tomatoes, lemongrass, galangal and kaffir lime leaves. Usually loaded with coconut milk and cream, the hearty soup unifies a host of favourite Thai tastes: sour, salty, spicy and sweet. Best of all is the price: cheap.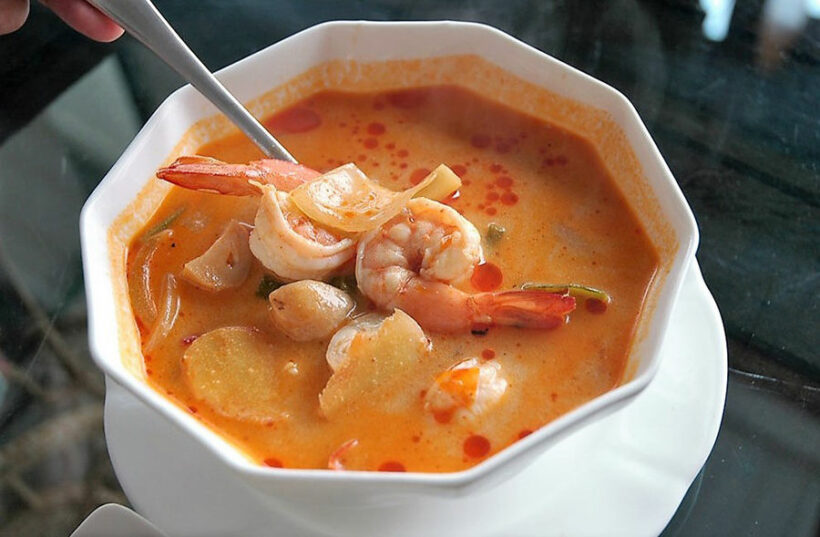 PHOTO: Richard Lee on Flickr
46th Place, Som Tam/Papaya salad
To prepare Thailand's most famous salad, pound garlic and chilies with a mortar and pestle. Toss in tamarind juice, fish sauce, peanuts, dried shrimp, tomatoes, lime juice, sugar cane paste, string beans and a handful of grated green papaya. Grab a side of sticky rice. Variations include those made with crab (som tam pu) and fermented fish sauce (som tam pla ra), but none matches the flavour and simple beauty of the original.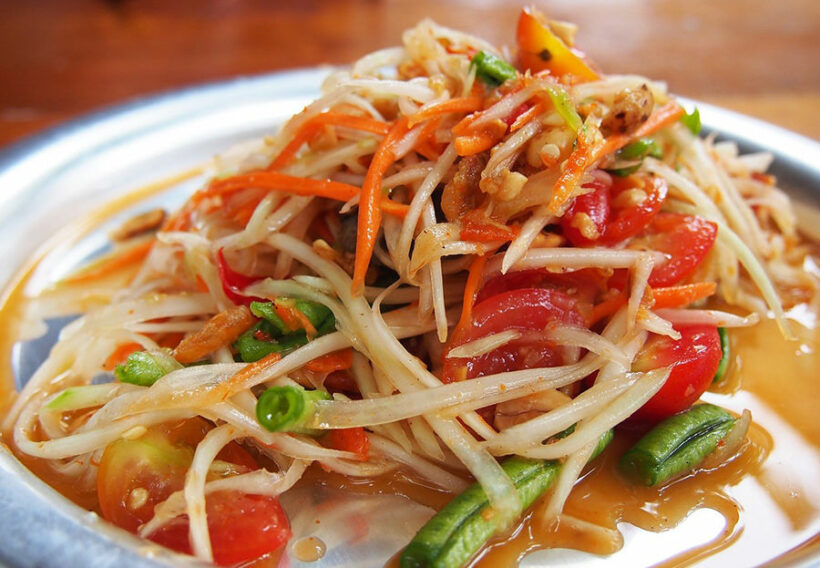 PHOTO: www.needpix.com
SOURCE: Thai Residents | CNN Travel
Keep in contact with The Thaiger by following our
Facebook page
.
Never miss out on future posts by
following The Thaiger
.
Bangkok Airways add 3 new local routes to their schedule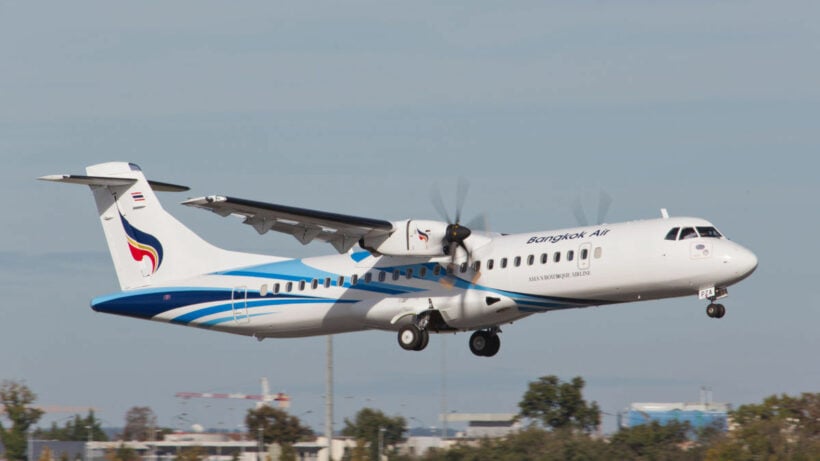 Some domestic routes are being added as local routes continue to expand. This time Bangkok Airways has announced it's resuming its Samui-Phuket, Phuket-Hat Yai and Phuket-Pattaya/Rayong (U-Tapao) flights.
The first additions to the schedule will be the Phuket-Samui flights resuming this Sunday, October 25, and the Phuket-Pattaya flights start again next Tuesday, October 27. The Phuket-Samui flights will be operating on Sundays and Wednesdays only on the airlines' ATR72 turbo prop regional planes, same as before.
A casual search on the Bangkok Airways website, for a return flight from Phuket to Samui on November 1, then back to Phuket on November 8 indicates the cheapest fare (promo) is 2,430 baht. Coming back, the cheapest fare we found, again labelled 'promo', was 2,630 baht. Bangkok Airways operate as a "full service" airline and don't compete with the country's discount airlines. But they operate these three routes exclusively – like it or leave it.
Bangkok Airways say that the flights will be operated "with the highest preventive measures and standards". Around the country the Civil Aviation Authority of Thailand have eased a few of the onboard restrictions, including the start of catering services which were originally banned under the initial flight rules when domestic routes started flying again at the start of July.
The daily direct services between Phuket and Hat Yai are also being operated on the ATR72 aircraft. The flight to Ha Yai leaves Phuket at 8.40am and arrives at Hat Yai at 9:.45am. The return flights leave Hat Yai back to Phuket at 10.25am each day. The route was very popular for the airline before the 'disruption' when airlines had their fleets grounded in April.
The service between Phuket and U-Tapao, linking the party city with the party island, will operate on Tuesdays, Thursdays and Saturdays, again with the ATR72. Phuket to U-Tapao will leave at 12.10pm and then from U-Tapao to Phuket at 4pm on the three days. U-Tapao is about a 50 minute drive from Pattaya and the airport also serves the greater Rayong area.
Keep in contact with The Thaiger by following our
Facebook page
.
Never miss out on future posts by
following The Thaiger
.