Phuket Lifestyle: Nishamon Paiboonnukulkij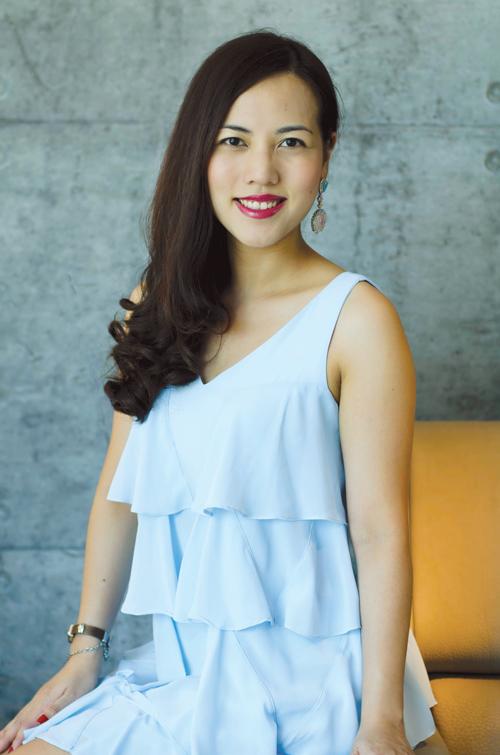 PHUKET: Nishamon 'Eve' Paiboonnukulkij was in Phuket recently to meet prospective customers before launching an Italian furniture store, Natuzzi.
The showroom is the latest branch of Euro Creations, a Bangkok-based leading retailer and importer of high-end home furnishing. Nishamon, the company's marketing manager, is charged with driving Natuzzi forward and making it known.
Nishamon, 27, holds a degree in education (with a major in business education) and Master of Management in international business management. A talented and creative marketing expert, Nishamon has invented a unique approach when promoting a product.
"To make people remember," she says, "you must offer a glimpse into a trendy lifestyle and not just any single product. For example, when I organize a launch for elegant furniture such as Christopher Guy, I may include a fashion show and feature top-notched sports cars, or designers' watches, etc."
With an eye for details and a creative bent of mind, Nishamon stays abreast of the latest trends in fashion and design and injects this savoir-faire into her marketing.
"Design tends to be a seasonable affair and changes yearly. The dominant colors of last year were purple, turquoise and pink. This year's trend will be mainly orange and that's reflected in Natuzzi sofas as well. My marketing strategies are in tune with these changes to keep our merchandise fresh and appealing to discerning consumers."
With this in mind, many of Nishamon's cutting-edge product launches in Bangkok were always the talk of the town as she unabashedly plays with taste and invention.
"For me, a launch is akin to a performing art, a story, in which there is a definite beginning, a middle and an end. It adds depth to presentation, especially in home furnishing shows, which tend to veer on the conservative side. I like to be the one to break the mold."
Nishamon, who has been working for Euro Creations for two years now, is based at its headquarters in Bangkok. However, she will visit Phuket often to meet what she calls "the company's strategic partners."
According to her, these are villa owners, new hotels, property developers and even a few luxury yacht owners.
Having worked for an international marketing company before and traveled extensively, Nishamon says she is used to the challenges of long distance management. At Euro Creations, she is backed by a team of four women who are "super competent, hard-working and highly presentable." They are all tuned in to Nishamon's way of working, which is, in her own words, "fast and furious."
Nishamon says she inherits the hard working ethics from her mother. "In fact, all the women in our family are go-getters. My sisters and I are alike in that we hate to leave things unfinished."
However, living life in the fast lane ("I am both hyper and extreme at the same time") and being a perfectionist can result in moments of anxiety and self-doubt. To counter that, Nishamon turns to Vipassana or Buddhist meditation, a discipline she practices on a weekly basis, either at home or at a weekend retreat. She also eats vegetarian food whenever the opportunity arises. "It makes my skin glow," says Nishamon.
When our conversation turns to the AEC (Asean Economic Community) and how Thailand can prepare for its commencement in 2015, Nishamon comes up with an interesting observation:
"I think Thailand is ready. The country is blessed with many creative talents."
— Nanthapa Pengkasem
Keep in contact with The Thaiger by following our
Facebook page
.
Out of 37 countries, Thailand has the worst pension system, says Bloomberg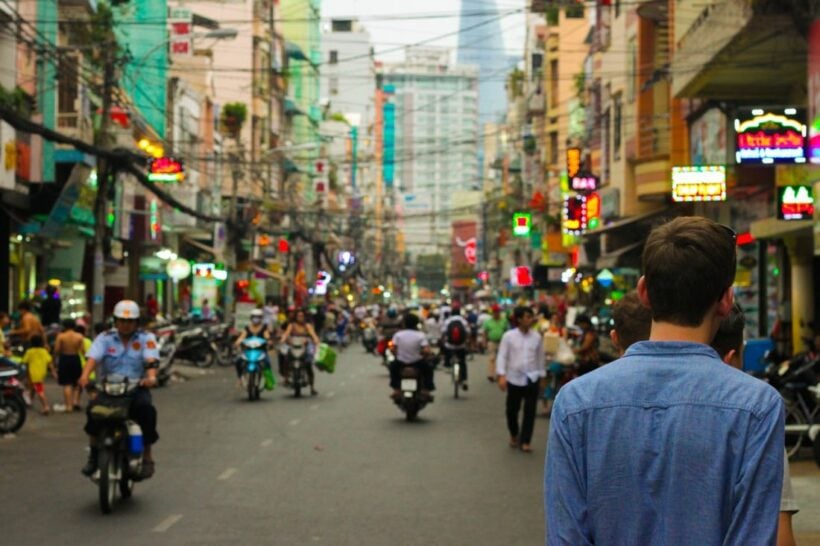 Thai Residents reports that on Sunday, Bloomberg published an article on the world's best pension systems, using information gathered from the 2019 Melbourne Mercer Global Pensions Index.
The survey looked at the pension systems of 37 countries with metrics including employee rights, savings, the number of homeowners, growth of assets, and growth of the economy. The purpose of the analysis was to determine what was needed to improve state pension systems and to gauge the level of confidence citizens had in their state pension system.
The Netherlands and Denmark were found to have the world's best state pensions, with Australia, Finland, Sweden, Norway, Singapore, New Zealand, Canada, and Chile next. Out of all 37 countries, Thailand finished last, with what the report described as an extremely ineffective and ambiguous system.
"Thailand was in the bottom slot and should introduce a minimum level of mandatory retirement savings and increase support for the poorest."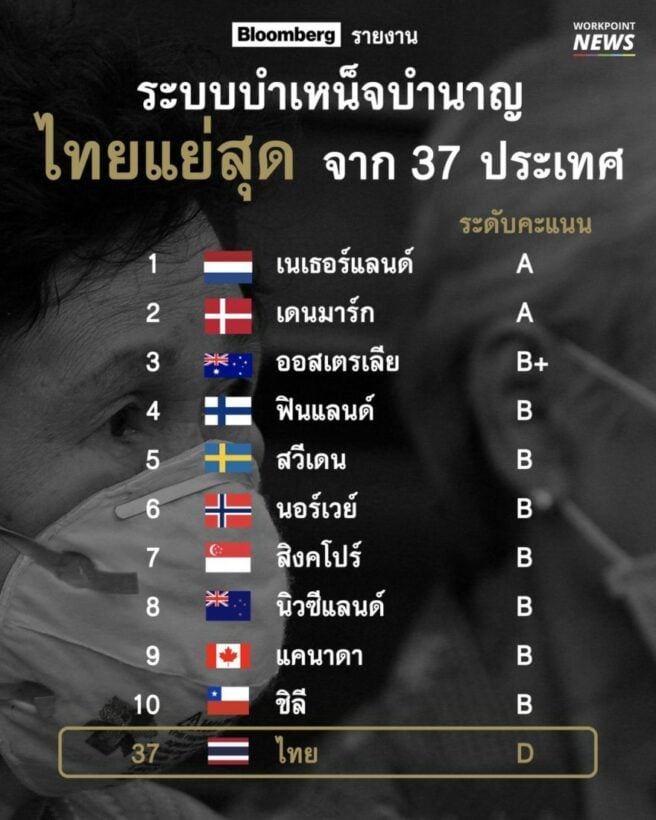 Photo: WorkpointNews
Thai Residents states that only those employed within the government system in Thailand are eligible for a pension based on salary. For most Thai citizens, pension amounts vary from 600 baht to 1,000 baht a month, depending on the recipient's age.
A report carried out by The Securities and Exchange Commission (SEC) advises Thai citizens to have at least 4 million baht saved by the time they retire, but Thai Residents reports that 60% of Thai retirees have less than 1 million baht in savings, with one in three citizens who have reached retirement age are forced to continue working in order to survive.
SOURCE: thairesidents.com
Keep in contact with The Thaiger by following our
Facebook page
.
Tax on salt content being considered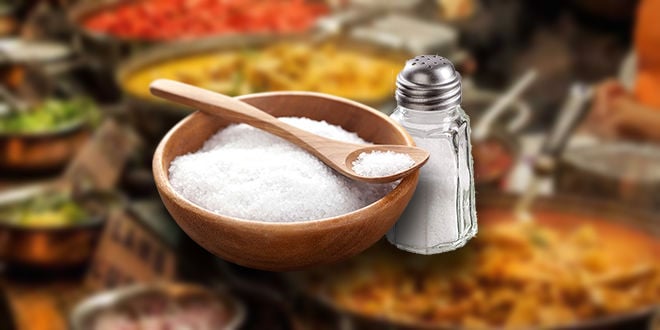 The Excise Department is considering imposing a tax on the salt content of food to encourage food producers to reduce the sodium content of snacks, instant noodles and seasoning cubes.
The director of the Office of Tax Planning said that the department is discussing a limit on the amount of sodium food can contain, in line with the standard set by the World Health Organization (WHO), which is 2,000 milligrams of salt per day.
In reality, Thai people consume an average of 1,000 milligrams per meal, making their daily intake well above WHO guidelines, according to the director.
He said any tax imposed would be at a level which would encourage food producers to reduce the sodium in their processed food without being punitive, adding that the proposal isn't intended to generate more tax revenue, but to help protect the health of consumers. Excessive sodium in the diet can lead to high blood pressure and kidney disease.
Fish sauce, soy sauce and salt would not be taxed.
SOURCE: thaipbsworld.com
Keep in contact with The Thaiger by following our
Facebook page
.
Water shortage warnings in 22 provinces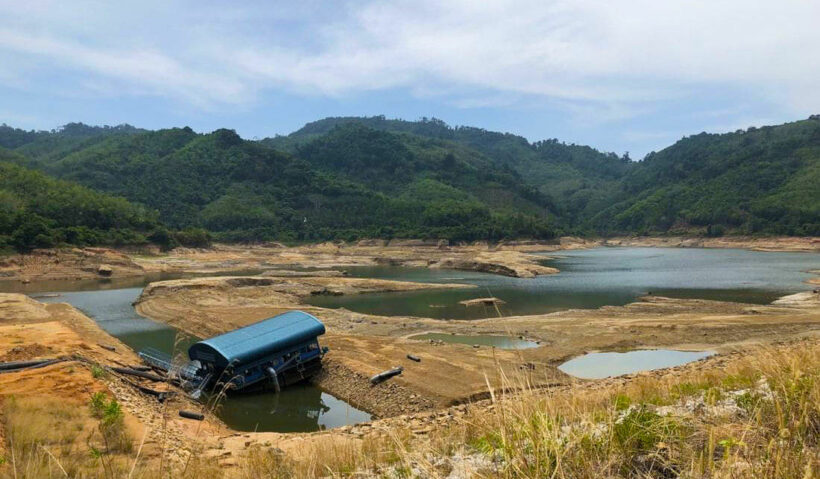 People living in 22 Thai provinces are being warned to prepare for shortages of drinking water during the upcoming dry season, due to start on November 1st.
The warning was issued by the National Water Resources Office, citing low levels in reservoirs, which are the main sources for tap water production waterworks in 22 provinces.
Areas at risk identified by the office are in northern, north-eastern, eastern and southern provinces.
Measures have been adopted by agencies charged with dealing with water shortages. including dredging water channels to allow greater volumes of water to flow into reservoirs, drilling underground wells, enlarging storage ponds and the purchase of water to supply to those in urgent need.
The Royal Irrigation Department has announced that people should use water sparingly.
There are currently about 6 billion cubic metres of usable water in reservoirs in the affected provinces, with 5 billion cubic metres reserved for consumption and ecological preservation, leaving only 1 billion cubic metres for use in agriculture.
This means farmers in the Chao Phraya river basin may not be able to grow a second crop of rice this year.
SOURCE: thaipbsworld.com
Keep in contact with The Thaiger by following our
Facebook page
.