Kata Rocks mixing it up with the 'Best of Mixology'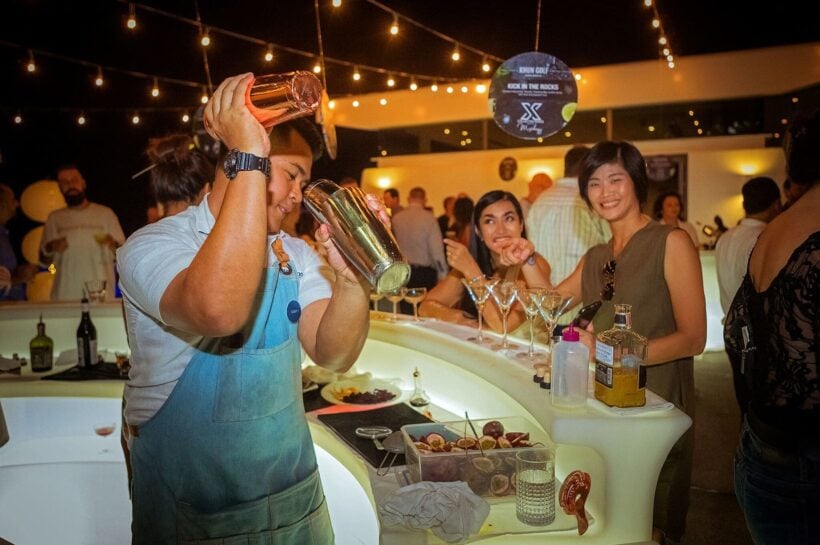 Kata Rocks' Collective Series 10 'Best of Mixology' returned on September 2 with some of Asia's top mixologists pouring their hearts out into every signature handcrafted cocktail.
Following an amazing Phuket sunset at the resort's hip bar and infinity pool area, Collective Series 10 proved to be a huge success. 100 guests partied into the night with refreshing handcrafted cocktails in tow, along with grooves from DJ Fabuloops and live saxophone performances.
Kata Rocks' Collective Series continues to infuse Phuket's culinary culture with a bold new perspective, creating experience-based events that celebrate outstanding food, handcrafted cocktails and luxury lifestyle.
'Collective Series 10 Best of Mixology' took this to another level, transforming Phuket's fine cocktail culture by spotlighting the skills of Asia's top mixologists from Thailand and Singapore.
These included Jamie Rhind and Ann Pinsuda from the Bamboo Bar, Mandarin Oriental, Bangkok; Michele Montauti from Mikys Cocktail Bar Bangkok; David Cordoba (AKA Mr Daiquiri) from 28 Hongkong Street, Singapore and Chaisiri Buranagit (AKA Khun Golf) Head Mixologist, Kata Rocks.
According to Scot Toon, General Manager of Kata Rocks, the star power and talent of Asia's finest bartenders at Collective Series 10 helps raise the overall luxury level of brand Phuket. "We are very proud to further elevate craft cocktail awareness on Phuket. Many hotels around the region focus on Michelin-starred chefs, at Kata Rocks we present 'Michelin-quality mixologists' that allows Phuket to experience these epic cocktail artists first hand.
"Guests were treated to a master class by inventive mixologists, who showcased their personal take on up-and-coming cocktail trends to look out for this year," Mr Toon, added.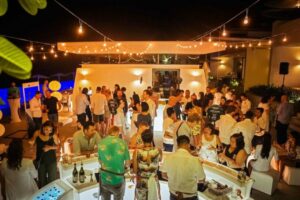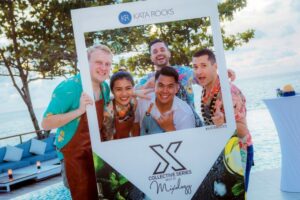 PHOTOS: Kata Rocks
- The Thaiger & The Nation
'Miami Vice' comes to Kata Rocks – Collective Series 13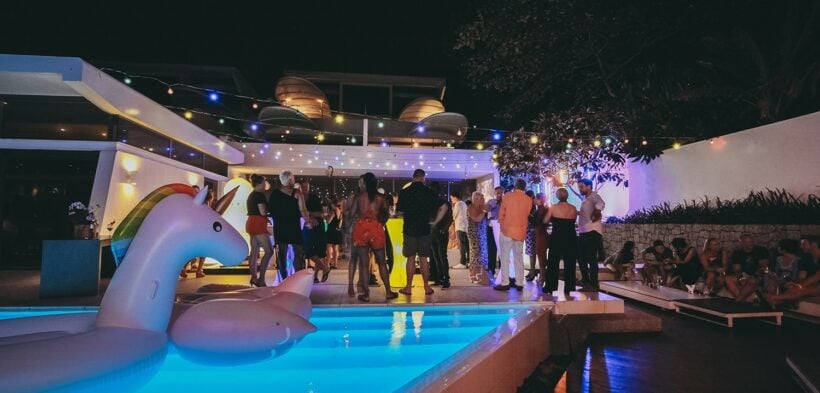 Kata Rocks' Collective Series 13 – 'Miami Vice' – brought the heat to Phuket, retro-1980s South Beach style, with another classic event that captured the imagination of the attending guests and loyal patrons. 
The evening featured exceptional pan-Latin American cuisine featuring ceviche, tacos, mini burgers and other mouth-watering canapés, plus live DJ entertainment. DJ Shane OB got the party started with the epic sounds of Phil Collins 'In the Air Tonight', Michael McDonald's 'Keep Forgetting', Bill Withers 'Just the Two of Us', The Spinners 'I'll Be Around' and Will Smith's 'Miami', creating a whole new group of Miami Vice aficionados in Phuket.


Infinite Luxury Marketing Director, Michael Nurbatlian, said, "set by our iconic infinity pool and deck area, it was a phenomenal evening with a great time had by all. The apparel was the perfect complement to our glow stick bracelets, neon light décor and of course flamingos floating in the pool," Michael added.
Kata Rocks' CS13 'Miami Vice' showed once again why the Collective Series remains Phuket's most innovative, fun and intimate party, having created its own fresh identity that celebrates outstanding food and handcrafted cocktails. CS13 also produced four of the most fun and memorable cocktails to date, including 'Gloria E', 'Miami Vice', 'Top Gun' and 'Pornstar Martini'.


How to Trust – Annie's story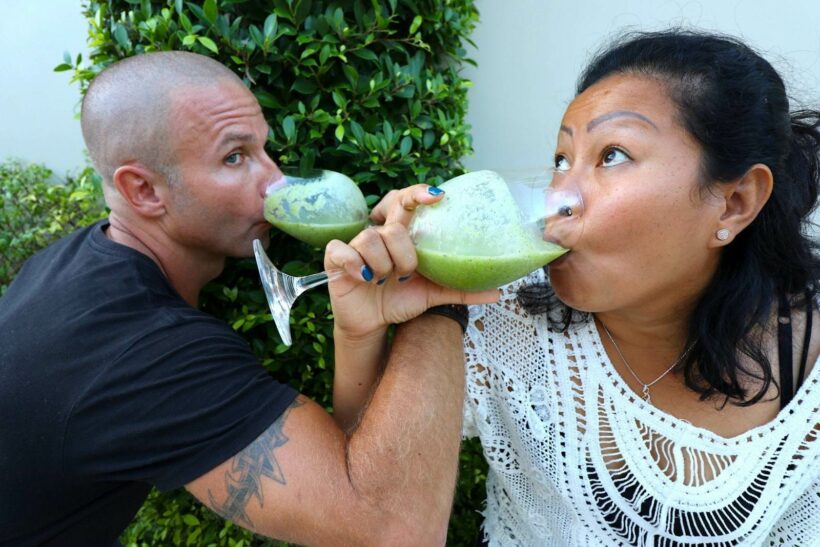 Putting yourself out there in the uncertainty, and exposing your raw vulnerability is downright scary. Who said charging after your dreams with courage and conviction was going to be EASY?
Starting your own business and making a vision become a reality requires an enormous amount of patience, persistence and perseverance. It's so easy to double down on fear and what's happened to you in the past. It's so much easier to just be a dreamer and not a DOER.
Courage is the great equaliser that doesn't hold you hostage to your past.
Annie  shared with me her 3 secrets of starting Coffee Tribe Phuket and how we can all add a little more courage and conviction into our lives:
• Why? You need to be brutally honest with yourself and ask this very important question: Why are you DOING this?  This is where honesty and self awareness will build an absolute rock solid foundation.
• Passion trumps money for chasing after success. Success isn't something you get; its something you bring. It's time we start reevaluating success and failure.
• Are You Ready? There will be an enormous amount of disappointment and an overwhelming sense that you can't trust yourself. You have to be willing for the brick walls. The brick walls are not meant to keep us out but to challenge us… "How bad do you want this?"
There is only one person who can answer this question.
Making your dreams a reality requires an enormous leap of faith. You are going to run into the brick walls and acquire a few new shiny blisters. Annie also pointed out that in the first few years of starting Coffee Tribe she had countless nights of no sleep, an incredible amount of stress and lost sight of her 'Why'. Annie ran out of fingers on her hands with all the times she wanted to quit and cash in her chips.
The dots are never going to connect and make perfect sense.
Let's look at your track record up to this point in your life. Have you been able to handle everything that has come your way? What makes you so certain that you will not be able to handle the brick walls?
Head to Coffee Tribe in Rawai to experience Annie's dream.

World's Top 50 Restaurants – Thailand scores in the top ten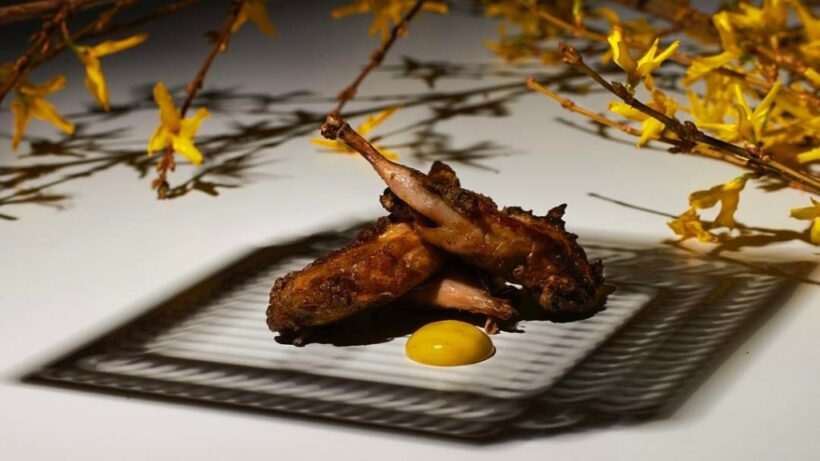 PHOTO: Robb Report
European eating establishments have dominated this year's Top 50 Restaurant list. The leading fine dining venues of 2018 were revealed at a ceremony in Bilbao, Spain.
This year, culinary masterminds from five continents gathered in the Spanish port city of Bilbao for an award ceremony to name the 50 best fine dining joints for 2018 and, most importantly, crown a champion.
For 2018, the top prize went to Italy's Osteria Francescana and head chef Massimo Bottura, whose dazzling and sometimes surreal reworkings of classic Italian recipes saw him return to the top spot he first held in 2016.
While European eateries continued to dominate the awards, known as the Oscars of the fine dining world, all five continents were represented, with Bangkok's Gaggan at five on the list and Lima's Central at six.
According to organisers, the results were compiled from an "independent" voting panel of 1,000 judges that were subject to adjudication.
Anthony Bourdain, the CNN presenter, writer and chef who often railed against the kind of fine dining establishments celebrated by the awards, was also remembered.
"His honesty, his determination and his stubborn truth telling changed our industry for the better," said William Drew, group editor of the World's 50 Best Restaurants.
Here is the Top Ten restaurants in the list…
1. Osteria Francescana (Modena, Italy) *best restaurant in Europe*
2. El Celler de Can Roca (Girona, Spain)
3. Mirazur (Menton, France)
4. Eleven Madison Park (New York City) *best restaurant in North America*
5. Gaggan (Bangkok) *best restaurant in Asia*
6. Central (Lima, Peru) *best restaurant in South America*
7. Maido (Lima, Peru)
8. Arpege (Paris, France)
9. Mugaritz (San Sebastian, Spain)
10. Asador Etxebarri (Axpe, Spain)
Read the rest of the story from CNN HERE.