Good music is forever – Phuket Events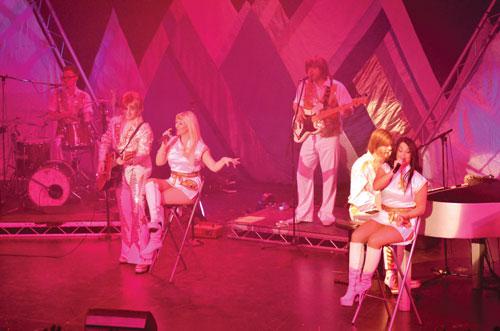 PHUKET: Mamma mia, Phuket's gone crazy!
The tickets for the upcoming Abba Forever show sold out in days. Guests from as far as Manila, Paris and Shanghai are coming to the island to sing along and dance to the evergreen hits of the legendary Swedish pop group – Abba!
But not to worry – if you missed the chance to buy tickets for the first show, we have a surprise for you!
A second Abba Forever gig will take place on November 9! Tickets are on sale now.
And it's a show not to be missed. If there's somebody who can do it like Abba did, it's them. Abba Forever, arguably the best Abba tribute band, has been impersonating the famous Swedish pop group for more than 15 years. And now they are coming to Phuket to take you on a journey back to the 1970s and bring the joy of real live music to the island. The Phuket Gazette talks to band member Jane Ellis to learn more about their act, history and passion for music.
How did it all begin and why did you choose Abba?
I was brought up with the music of Abba played by my parents and as we got older my sister and I used to get their albums for Christmas, so I have always been a fan since I was a small child. It wasn't until years later when I was already in the performing industry that I decided to put it together, and with my love of the music, Abba was the obvious choice!

What is the hardest part of recreating Abba's performance and what brings you the most joy?
It was to replicate the two girls – Agnetha and Frida – they are both outstanding vocally and they have exceptional ranges, so they are hard acts to follow. People remember their distinctive sounds so you have to try the best you can to emulate this and hopefully do it justice. And musically it is extremely challenging and very often underestimated.
To replicate this band live isn't so easy, and many tributes fall into the pitfalls of mime and tracks. Abba Forever has taken the time to break down all of the parts, arrangements and vocal harmonies to recreate this tribute the best it can with the finest of musicians. And this is why Abba Forever has been so successful and stands out from the rest. To perform this fantastic music, live on stage with all the music and harmonies, we are very fortunate to do what we do, and you can't beat the feeling of doing it.
Any particular gig that left a strong impression on you, or a whole tour?
This is so difficult to choose, so to narrow it down I would say touring Sweden, which is obviously the home of Abba. There we felt an immense pressure at these large concerts and [our obligation to perform well] for the people and fans of Abba, and rightly so, although it was very nerve-racking, but I felt immensely privileged.
Another concert was in South Africa, at a stadium in front of 22,000 people alongside some of their biggest stars. I don't think I have ever seen so many people at one time – let alone performed for them! It was a once in a lifetime experience that I shall never forget.
Finally, closer to home we performed at the Opera House in Manchester. It's probably the finest venue and closest to home for me, so to have the opportunity to be able to perform there with Abba Forever, I was very proud.
Do you use many costumes during a show? How long does it take to prepare all the makeup and lights?
Depending on the length of show we are performing, we try to have as many costume changes as possible. We have many bespoke, lavish costumes so we like the opportunity as much as possible to show these off.
Regarding hair and make-up, it doesn't take very long at all as we have it down to a fine art now! Back in the UK when preparing for concerts it can take several hours to set up the sound and lighting.
Is Phuket the right place for music from the cold country of Sweden?
From a personnel point of view, I think you can play Abba anywhere at any time; people around the world love the music of Abba. With the latest blossom of Mamma Mia, the musical and film, even the children of today know the songs of Abba and it has stood the test of time and let's hope with the warmer climate of Thailand its people enjoy it too!

ABBA was a phenomenon of the 70s and 80s, yet now, in 2013 you are fully booked, with a constant flow of gigs. It seems that Abba really is forever. Do you have an idea why?
The music is so well written and in great detail. There is so much going on even though they just appear to be simple, catchy tunes. The songs and lyrics are so clever and it's easy to see why they are still being played; they are just fantastic and some of the best songs ever written.
Who are the people who come to your concerts? Any particular age group, background? With so much new music around, why do people still want to listen to older songs?
Any age of the spectrum at today's concerts, but before the influx of say, Mamma Mia, it was from middle aged upwards really, but it's great to see the youth of today singing along. That's why I think people do still enjoy these songs as opposed to the charts of today; you can just sing along and they are great, feel good melodies!
The tickets are priced at 1,200 baht and the authorized sales points are:
The Phuket Gazette Offices in Koh Kaew (map here)
The Tour Desks at all Laguna Phuket Hotels
The Ticket Sales Desk in front of Central Festival's 'Central Food Hall' (on the ground floor near Burger King, KFC, Swensons, et al)
The Boat Lagoon office of Events International (contact Khun Sonu on 091-326 0276)
Keep checking our Lifestyle pages for the latest happenings across Phuket. Alternatively, join our Facebook fan page or follow us on Twitter.
— Maciek Klimowicz

Join the conversation and have your say on Thailand news published on The Thaiger.
Thaiger Talk is our new Thaiger Community where you can join the discussion on everything happening in Thailand right now.
Please note that articles are not posted to the forum instantly and can take up to 20 min before being visible. Click for more information and the Thaiger Talk Guidelines.